The best braised red cabbage recipe you will come across. Different to traditional German red cabbage as it includes bacon. Could this be the best German red cabbage recipe ever?
A dish that holds a special place in my heart, and stomach. My mother would traditionally make this ever Christmas, and Christmas wouldn't be the same without it.
Served with roast turkey and baked vegetables. It is one of the highlights of our Christmas Eve dinner. The other highlight, of course, is Piragi (Latvian bacon buns).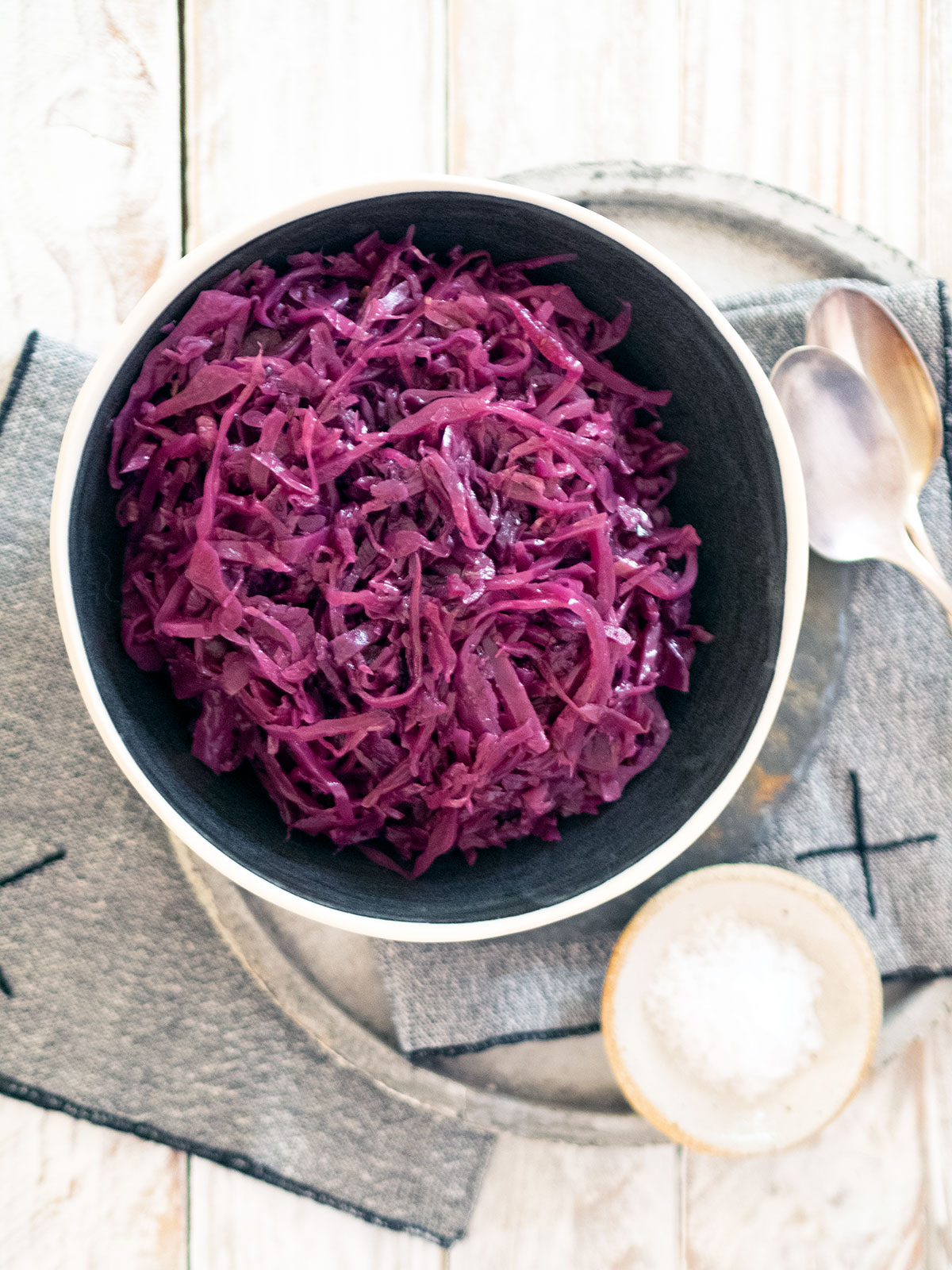 I would class Mum' braised red cabbage more French style than a German red cabbage recipe. Due to the omission of apple and addition of bacon to the sautéed red cabbage. Also, that her cooking skills were based on French fundamentals.
But when you look at the use of caraway, clove and vinegar, hello mild sauerkraut! A good splash of red wine rounds out the robust and full flavours of this braised red cabbage beautifully.
I seriously have no idea where Mum's recipe originated, and sadly I can no longer ask her. It really is all a guessing game now, but it is a dish I remember her making from my first Christmas memories. A family traditional red cabbage, a Christmas staple.
Recipe Hazard Zones
Slow and steady wins the race with this recipe. You want to braise the red cabbage slowly. It needs to be tender and have had time for the flavours to develop.
Special equipment for this recipe
None, just a sharp knife, cutting board, heavy based pot (with lid) and a spoon.
Special Ingredients for this Recipe
You can use either fresh or canned red cabbage for this recipe. The result will be different, but both just as delicious. I often use fresh these days as canned/tinned can be hard to find. I do prefer using canned or tinned, I think due to the nostalgia.
What to do with any leftovers
The beauty of this dish is that the braised red cabbage can be frozen. It freezes very well. Simply defrost, reheat and serve. It will keep well in an airtight container in the fridge for a few days too.
If you do end up making this very close to my heart recipe, then please let me know! You can find me on Instagram and Twitter.
Sara xxx
Become a subscriber and don't miss a single delicious recipe, restaurant review or travel adventure.