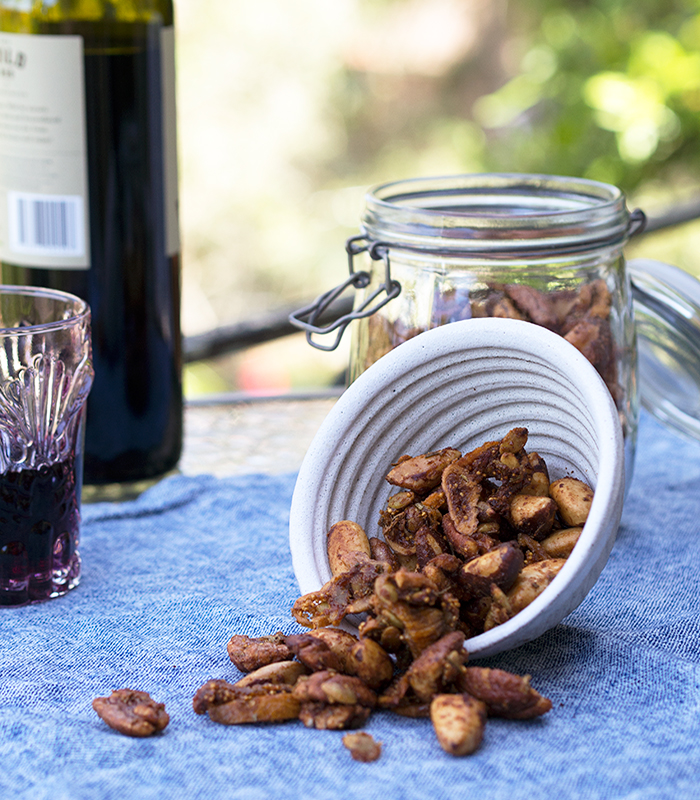 Christmas can be so commercialized and quite stress inducing at times. Buying gifts is probably the main part of Christmas that gives me a cold hard case of stresss. It isn't the presents for my immediate family and closest friends, that's easy. It's the presents that you are obliged to give to those just outside your inner circle.
The great Aunt you only see once a year, or the new girlfriend of a niece or nephew. I think you get the picture. They are family, important, you are spending time with them over Christmas, but you really have no idea of their wants or needs.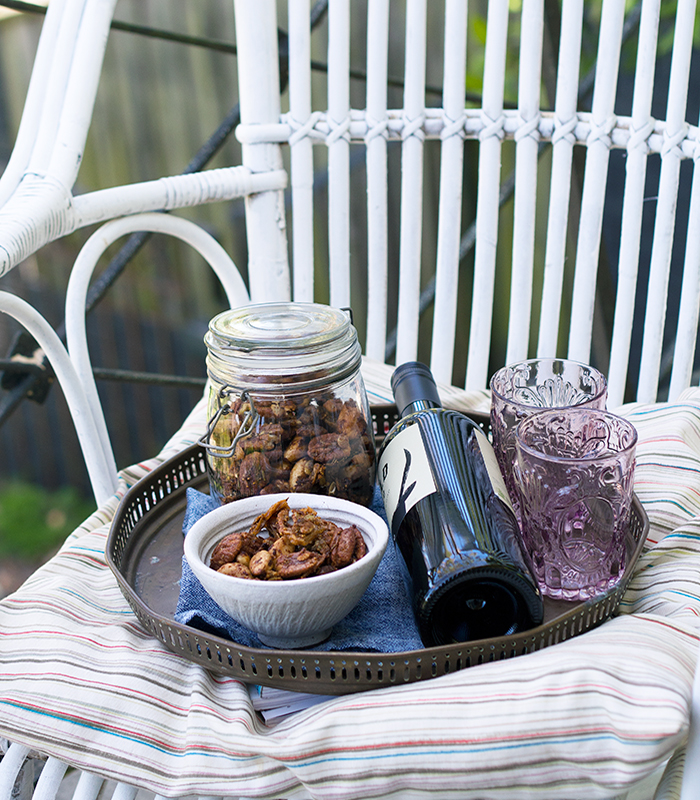 That's where the homemade gift comes in handy. Not only do you avoid Christmas present buying chaos at the mall, but you give something unique. Edible homemade gifts are the best gifts. The ones where you take good quality raw ingredients and make something a little spectacular. Biscuits and Christmas cakes, even pudding or tarts are a great idea. They always taste better than store bought, wrap them beautifully and it really is something special.
My nut recipe was developed as part of Best Recipes' Home Cook Hero competition. Last month they were looking for a Home Cook Hero with a great easy dessert recipe, you probably saw my Affogato Tarts. This month it's all about homemade gifts.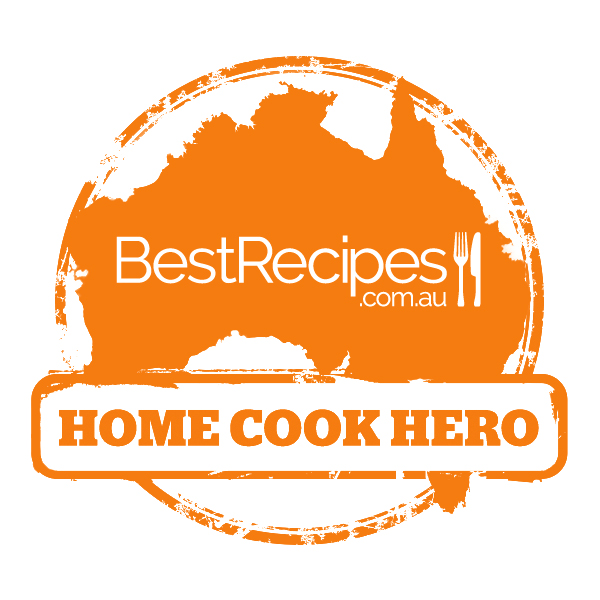 Best Recipes has an amazing collection of recipes, and with Christmas around the corner shining a spotlight on homemade gifts will be wonderful resource for us all. As well as recipe inspiration, you can add your own homemade gift recipe for a chance to become November's Home Cook Hero, win $1,000 and be published in Super Food Ideas Magazine.
I personally like to make savoury gifts, mainly because there does tend to be a lot of the sweet stuff circling at Christmas. Homemade cheese biscuits or crackers are a great idea. I also like the gift to not necessarily a typical Christmas food. That's why I like to make flavoured roasted nuts, they are pefect to enjoy after Christmas is over and most people are relaxing on summer holidays.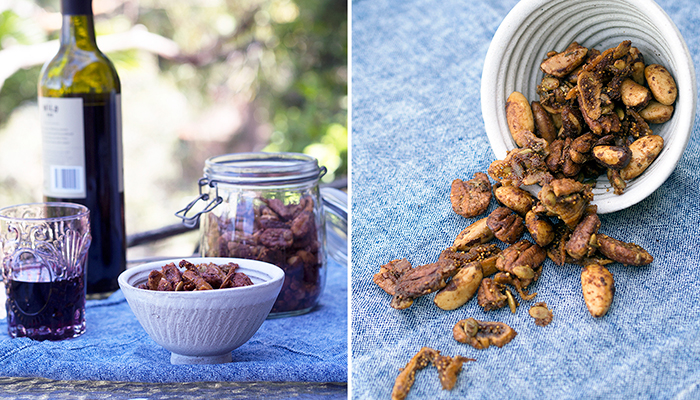 Nothing in the shops can compare to home roasted nuts. Firstly you can choose what nuts you want to use and the ratio. So in other words you aren't buying a packet of expensive peanuts that has a token macadamia and pecan in it.
You can chose flavours a little outside the normal. Use native Australian spices or play around with your favourite combinations of sweet, salty and savoury.
Which is exactly what I wanted to do with this recipe. I wanted a nut mix that was different to what you could easily purchase. That's where the use of dried white figs came in.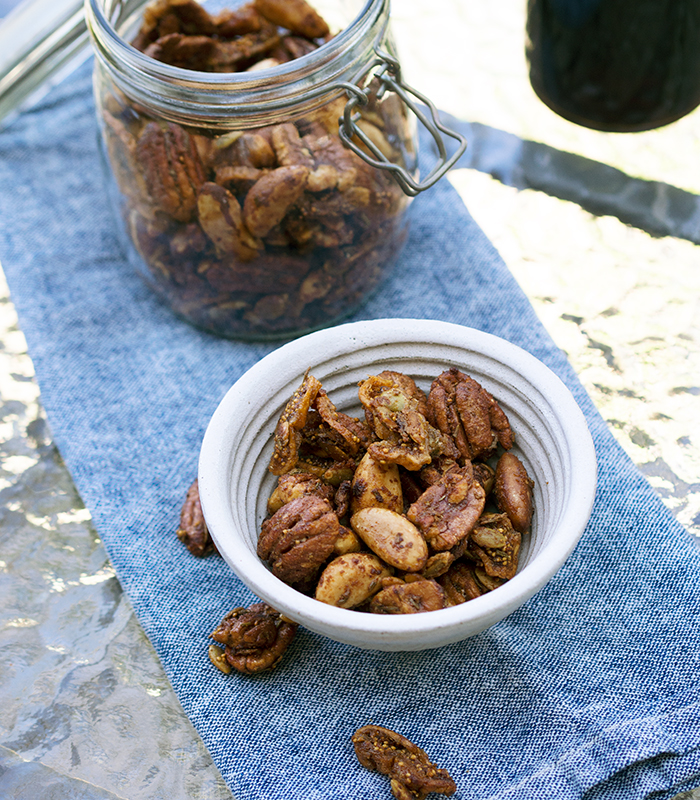 Something quite magical happens when roasting the nuts and the figs. Some of the gooey fig innards mix in and become part of the flavouring. The rest of the fig crisps up and becomes candied by the sugar used in the recipe. It really is a brilliant combination.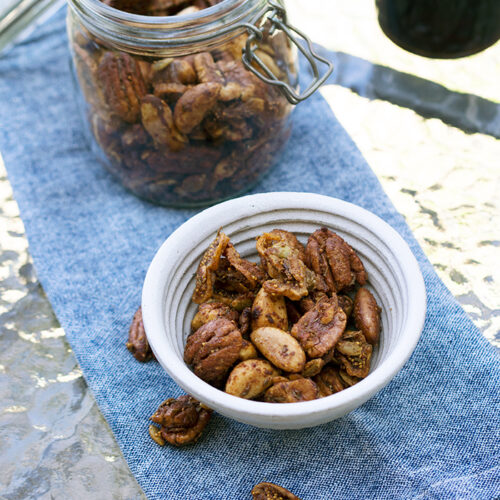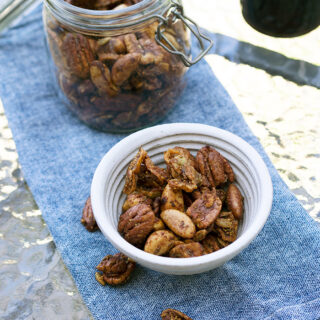 Brazil, Pecan and Fig Roasted Nut Mix - Edible Gifts
Ingredients
1

egg white

beaten until frothy

¼

cup

+ 1 tablespoon maple sugar

1

teaspoon

Worcestershire sauce

½

teaspoon

cayenne pepper

extra hot

½

teaspoon

Tabasco sauce

½

teaspoon

salt

1

tablespoon

fresh rosemary

finely chopped

1

cup

brazil nuts

1

cup

pecans

¼

cup

pepitas

½

cup

approximately 3 dried white figs

finely sliced
Instructions
Pre-heat oven 180 deg C (360 deg F). Line a large baking tray with baking paper.

In a medium bowl place egg white, maple sugar, Worcestershire sauce, cayenne pepper, Tabasco, salt and rosemary. Whisk until thoroughly combined.

Add nuts and dried figs to the bowl. Mix until all ingredients are coated completely.

Spread nut mixture over the baking tray, spreading it out as much as possible.

Cook for 25 minutes making sure to turn the nuts at least three times during cooking. You will need to do this more so towards the end to get even roasting. Be careful not to burn your nuts.

The mixture will be sticky when you remove it from the oven. Remove the baking paper with nuts from the baking tray. Leave on the kitchen bench to cool. Once completely cooled, place in an airtight container.
Nutrition
Serving:
1
grams
Calories:
1704
kcal
Carbohydrates:
36
g
Protein:
37
g
Fat:
165
g
Saturated Fat:
27
g
Sodium:
1330
mg
Fiber:
18
g
Sugar:
5
g
Did You Make This Recipe?
I do a happy dance when people share how they went. Tag me on Instagram or Twitter @bellyrumbles & #bellyrumbles
These nuts have heat, but aren't chili style hot. Using maple sugar gives deeper subtle sweetness to the mix. The result is quite different to using caster sugar or maple syrup. In fact you don't really get a maple flavour as such, it melds in with the other flavours. Plus there isn't any stickiness that you get as a result of using maple syrup.
The beauty of this recipe it is extremely easy to make. In fact I ended up making two batches.
When the first batch came out of the oven they smelt and tasted so good I knew stopping the boys from eating them would be near impossible. There was a high possibility that they would be all gone before I could photograph them the next day. Therefore to ensure there was plenty I whipped up a second batch to eat there and then.
I have to say I am over the moon by the result of this recipe and know that you will be too.
Sara xxx
Please note this is a sponsored article