Late last year I was invited to a media discovery weekend in the Broke Fordwich Wine Region of NSW. Not heard of Broke Fordwich? Not surprising, it's often overshadowed by its faster paced cousin, Pokolbin in the Hunter Valley.
I have visited the Hunter many times, but never travelled the short 10 minutes from the busy epicenter of Pokolbin to pay Broke Fordwich a visit. Actually most people I spoke to before and after visiting had little knowledge of the area whatsoever.
A sleepy and tranquil area, which makes the tour busses and cars of Pokolbin feel a million miles away. This is what the Hunter Valley use to be like. The Hunter Valley I fell in love with in the 80s.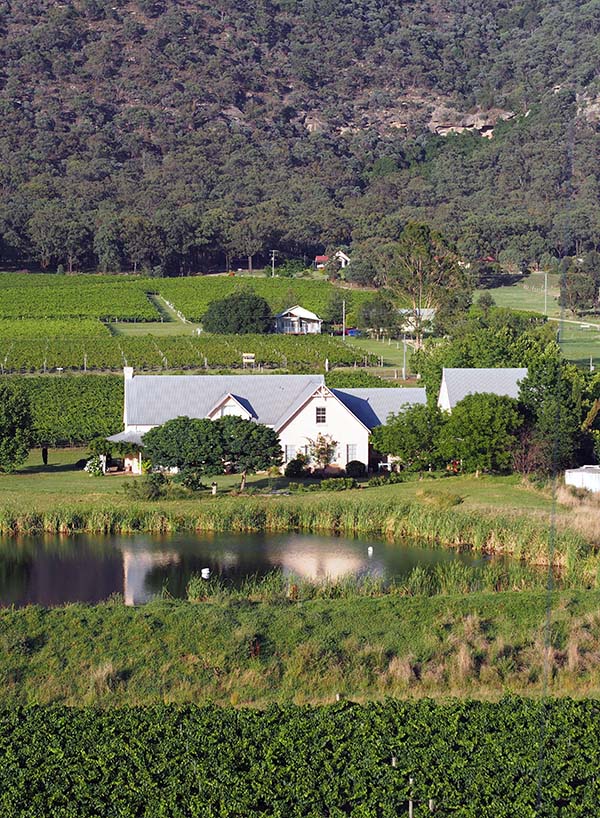 Broke Fordwich's vineyards and farms are nestled in the foothills of the picturesque Brokenback Mountain Range. Throughout the day, as you travel around some of the regions oldest vineyards, the scenery alters as the sunlight plays on the mountain range. Sunrise is particularly stunning, sunset with a glass of local wine in hand, even more so.
Do I want to tell you about Broke Fordwich? No, not really. I would rather keep this area out of the media, not promote it and make sure it retains its current Zen like quality.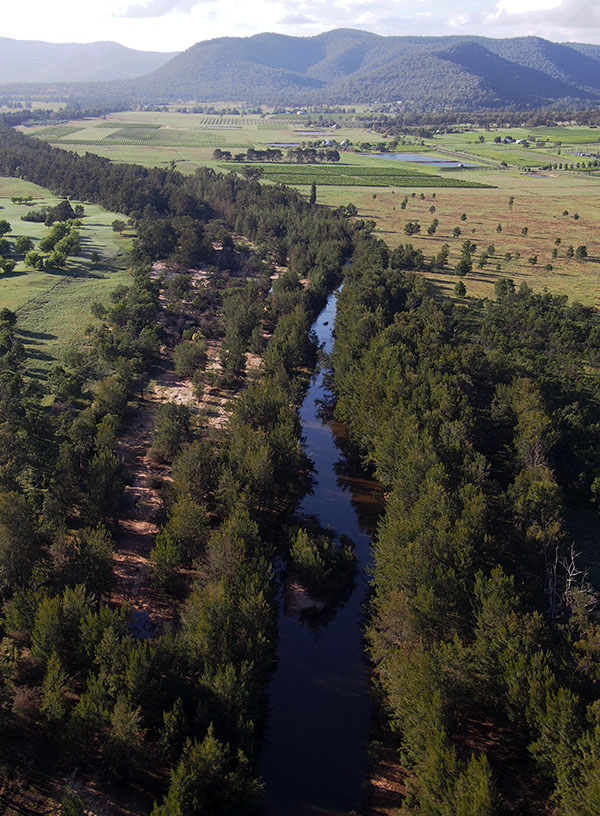 As one vineyard owner jollily said to me, "we want people to come, just not too many of them". I totally understand and respect his comment. Broke Fordwich is a special slice of the Hunter Valley. But if you do visit, you will be warmly welcomed with open arms.
My ballooning experience is how I know sunrise is particularly stunning. Sunrise really isn't an event I drag myself out of bed for, but when a balloon flight has been arranged, I will make an effort to get up at 4.30am.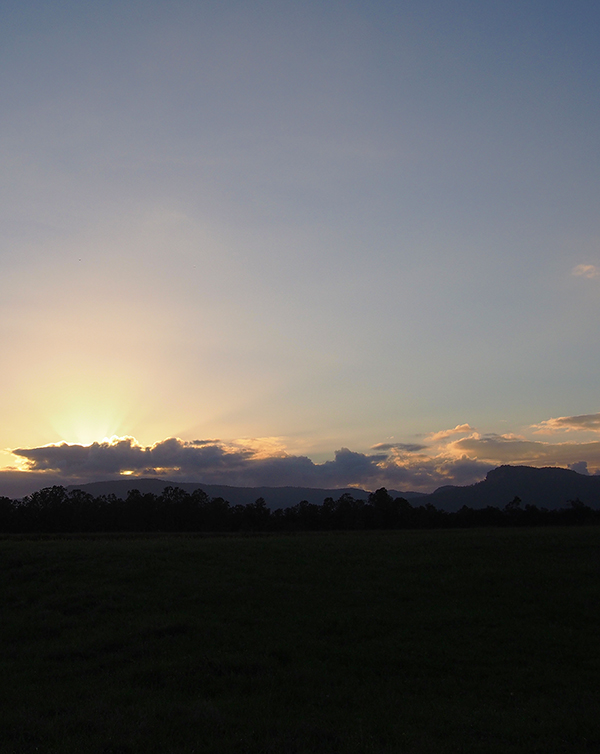 My travel tales of Broke Fordwich will appear slightly in reverse on Belly Rumbles. The balloon flight took place on the last morning of our Broke Fordwich adventure, but I feel it is the perfect place to start.
The night before the flight we attended our second wine dinner of the visit at Nightingale Wines (also where we were staying). It had been a late night with lots of wine sampled from various vineyards. Let's just say I wasn't too thrilled when the alarm went off 4 hours after going to bed.
Rubbing sleep from our eyes, sans makeup, clothes thrown on and not actually as grumpy as expected, my partner in crime, Amanda, and I make it to the meet up area in Broke on time. It's pitch black and we walk up to the guys from Beyond Ballooning staring off into the pre-dawn heavens. We look, we squint, we look again to where they are pointing, but we can't spot the helium filled balloon, which was let go to check wind directions.
The rest of our group turn up, and into the back of Beyond Ballooning's truck we pile and head to the paddock where it was planned to lift off. Another balloon is released. It is quite surprising how far you can watch a black balloon float off into the distance if you keep your eye on it. At one stage it looked like we may have not made liftoff due to wind directions, but after moving to another paddock, the wind gods smiled on us and we were off.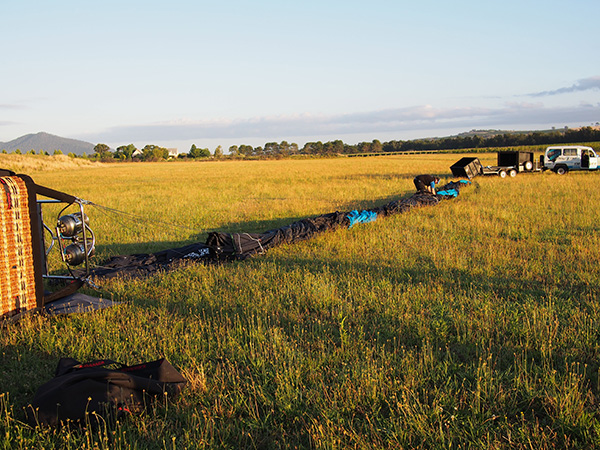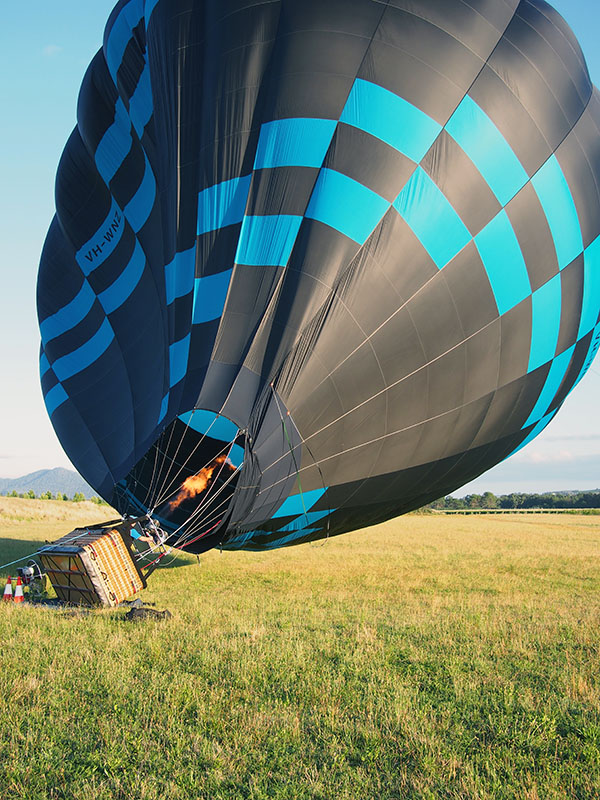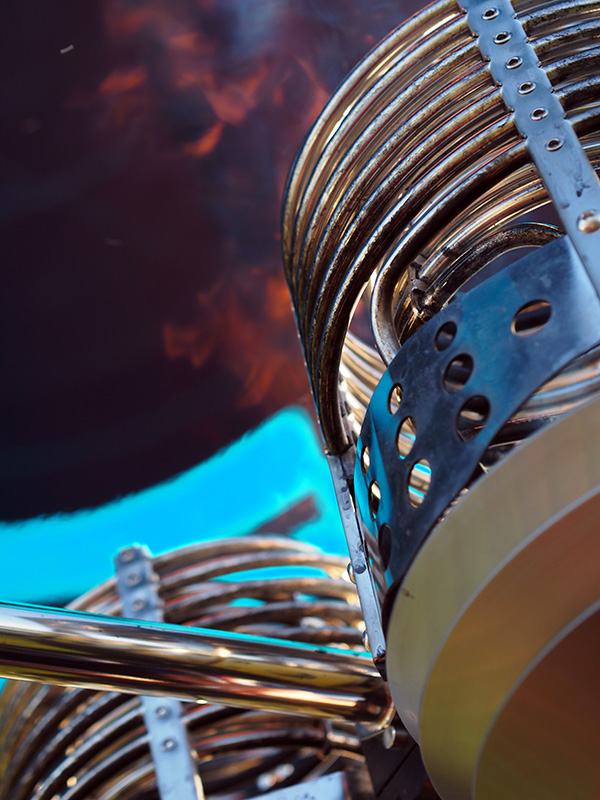 With the balloon filled with hot air, it was time to discover from the air what we had spent the rest of the weekend driving around.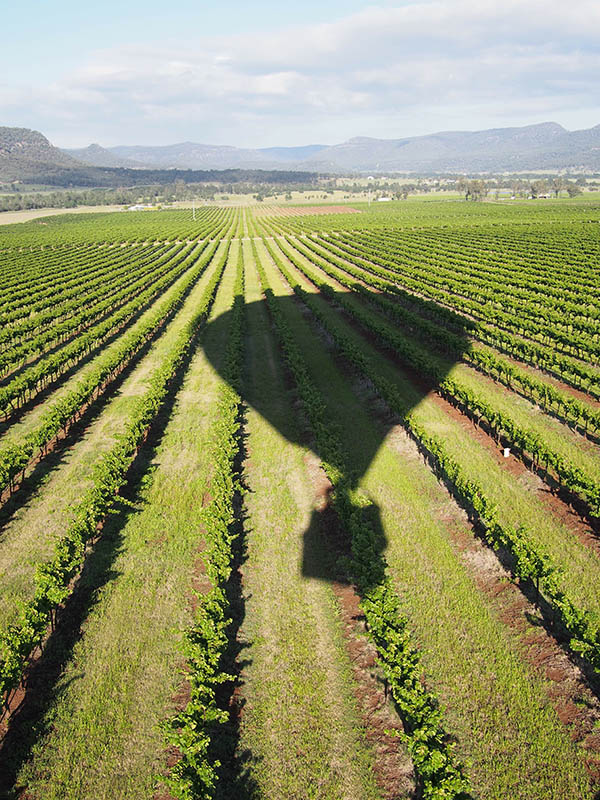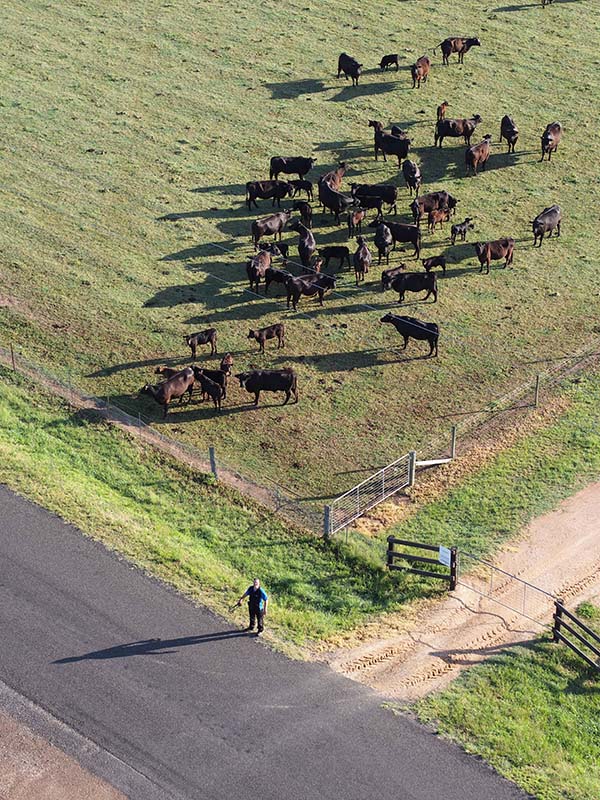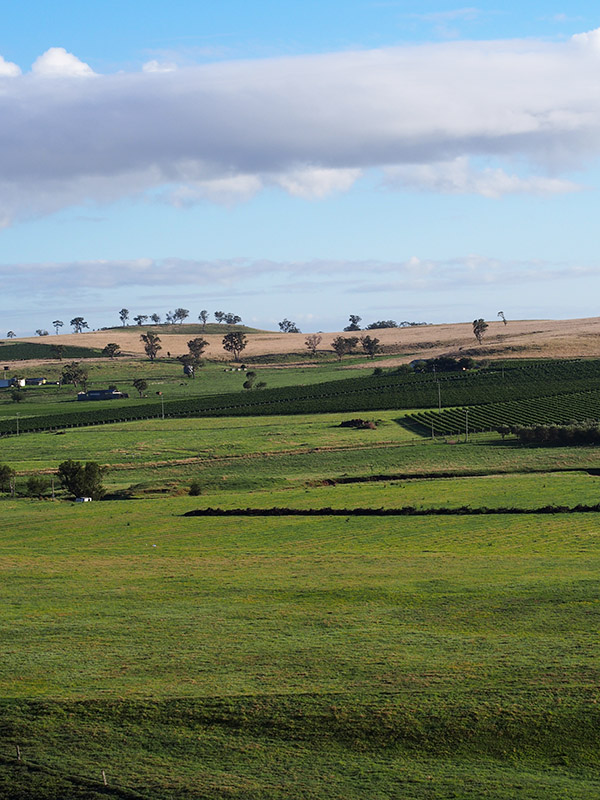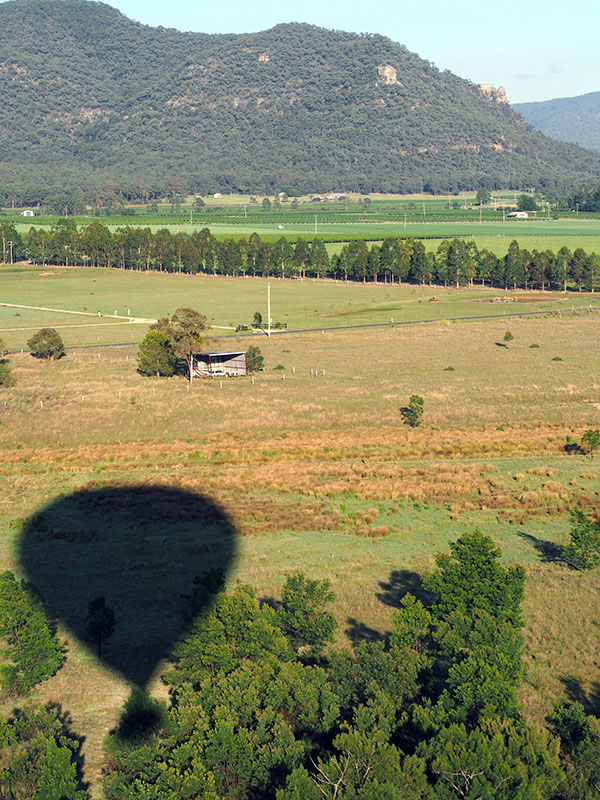 This picture is solely to prove that we were actually in the balloon. Was a fantastic experience, my first time hot air ballooning. Plus I will let you in on a little secret, I'm afraid of heights and was initially nervous on how I would react in the balloon. Surprisingly I felt rather safe in the basket. Plus the gorgeous scenery of Broke Fordwich quickly took my mind away from the fact I was in a basket dangling from a balloon that was at the mercy of the elements. Was really an amazing experience and the perfect way to see the area.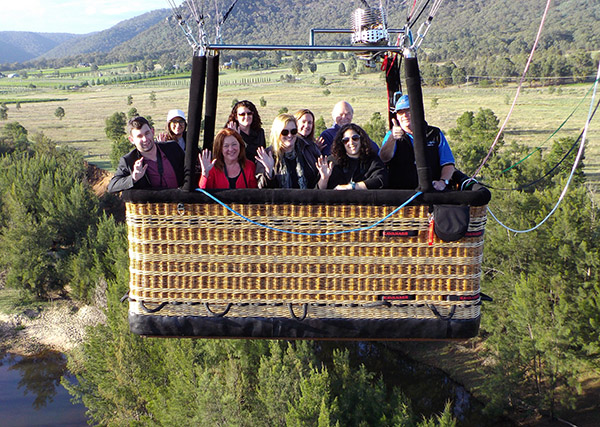 Sadly all good things must come to an end. The bonus of the flight ending is that we stood inside the balloon while it was deflating. A major inner six year old moment. Was so much fun!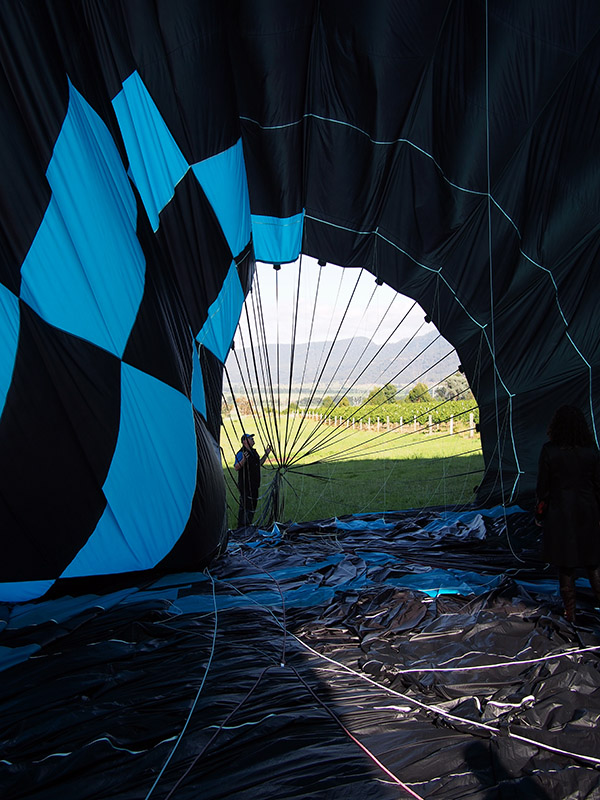 Beyond Ballooning is a family owned business operating out of the Hunter Valley and is the area's premier hot air balloon flight company. They cater for flights for two to 10 people.
For more above Broke Fordwhich photos please head to my album here.
Sara xxx
Beyond Ballooning
www.beyondballooning.com.au
Tel: 1300 HOT AIR (1300 468 247)
Belly Rumbles and guest visited the Broke Fordwich Wine Region as guests of the Broke Fordwich Wine & Tourism Association and Nightingale Wines.