Apologies for how late my review of this week's Recipe to Riches product is today. Has been a bit of a stress filled day at Belly Rumbles' HQ. More about our overflowing sewerage and my cloud accounting woes in a future post. Let's just cut to the chase as it is nearly Thursday as I type this.
Episode 10 of Recipe to Riches this week. That means only one more winning recipe to come before the all over winner is announced in episode 12. This week it was all about classic dishes.
I will be honest, I wanted Andrew & Judy's Grand L'Orange Roast Duck to win. I know a lot of people enjoy duck but aren't comfortable cooking it at home. They have tried and failed, and not bothered to try again. Or the thought of cooking duck is just too daunting. I also do enjoy the odd duck breast. This ready to heat product I thought was a winner.
Alas, I knew the duck wasn't going to win. My theory was that the finished dish would have been priced way too high to make it a viable contender. This was sort of confirmed by judges comments. Luv-a-Duck do an okay pre-made range of duck dishes, but the range isn't cheap. With those figures in my head, I knew the duck wasn't going to make it.
I didn't want Justine's Lamb Shank Risotto to win. Purely as I don't eat lamb, nothing against Justine, she seemed very lovely.
My second preference for winner, Susie, made it through with her slow cooked oxtail stew.
I am not put off by oxtail. According to the marketing research on the episode, quite a few people are. Oxtail doesn't necessarily come from an ox. The term use to reference the tail of an ox or a steer. Today it refers to the tail of cattle. It is also classed as offal. For those of you that wouldn't touch offal with a ten foot pole, this is a great one for you. Slowly cooked, with wine, herbs and vegetables, it makes the perfect hearty winter casserole.
Oxtail is a relatively cheap cut of meat. The Free Range Butcher, which have excellent quality free range meat, sell it at $13.99/kg to the general public. So I can only assume that it would be considerably less wholesale and not acquired from a free range animal.
Packet Information
Ingredients: Oxtail 60%, red wine 15%, onions 8%, water, brown sugar, tomato paste (tomato, citric acid), malt vinegar (barley and wheat), colour (150C), garlic paste (garlic, salt), soy sauce (water soybeans, wheat, salt), natural flavours (yeast extracts, natural vegetable flavour), modified maize starch (1422), canola oil, thyme, orange zest 0.16%, herbs, vegetable gums (410,415,412).
Allergen advice: Gluten, soybean, sulphites. May contain, egg, milk.
General: There are 2 servings in one pack, and one serving is stated at 200g. One serving is 1850kJ/442Cal. One serve has around 40% of your recommended daily intake (RDI) of total fat, 47% RDI saturated fat, 69% RDI protein, 4% RDI carbohydrates, 12% RDI sugar and 13% RDI sodium.
The product is made in Australia
Price: $10.99
Preparation is easy. A few minutes in the microwave, let it rest and then serve. The hardest part is making your mashed potatoes to go with it.
I am going to keep it short and sweet. Completely disappointed in this product.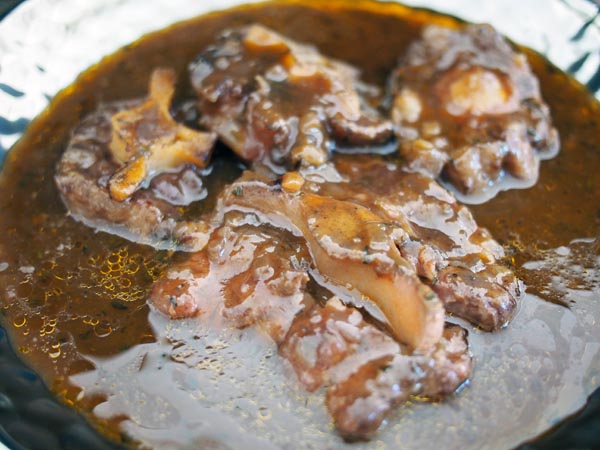 The meat of the oxtail was tough as rubber shoe soles. Not really sure what went wrong there.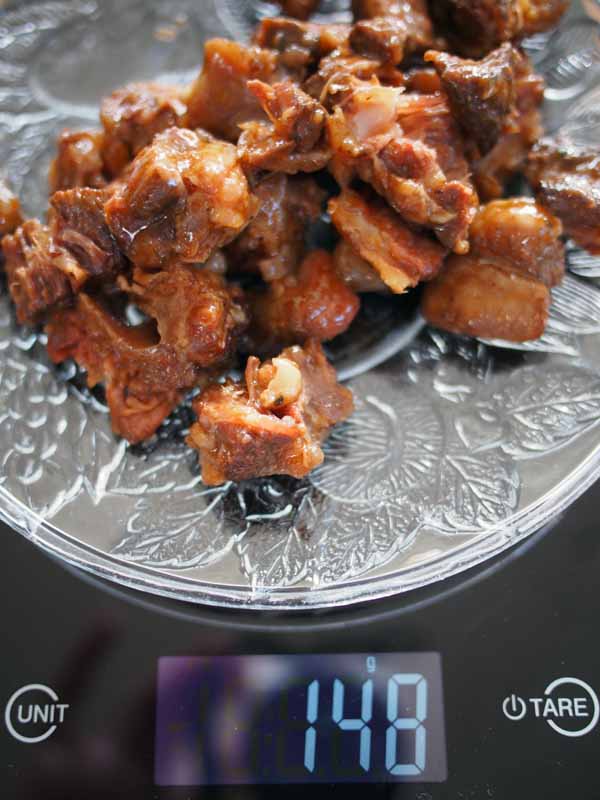 When I separated the meat from the tail bones, which wasn't easy for some of them as the meat was clinging fast, I ended up with 148grams of meat. That equates to 74grams of meat per person for dinner.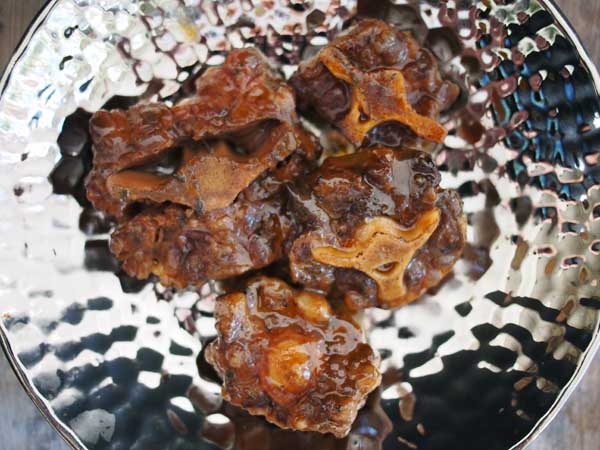 stew without the sauce, what you get
You could say that the sauce was on the generous side, 250ml all up. Very oily, and surprisingly sweet. You couldn't taste red wine or notable herbs.
I felt the product was way overpriced for a cheap cut of meat/offal. Considering half the weight would of been the weight of the tail bones. You are paying $10.99 for 1 cup of sauce and 150grams of meat.
Sadly after taste testing this product, I didn't eat it. Sally had oxtail stew for her dinner.
Like every Recipe to Riches winner, I wanted to enjoy this product. I know these contestants are putting their hearts and souls into their food. I also know that what we end up with at Woolworths on Wednesday is completely different to the dishes that win the judges hearts.
I had an interesting chat to the 'powers that be' at Recipe to Riches HQ last week. If you have been following the show, the final episode will explain why there are differences between the winning recipe and the final product available to purchase. Getting a winning recipe transformed in to a product on the supermarket shelves isn't as easy as it seems.
Congratulations Susie for being this weeks' winner and I wish you all the best with the rest of the competition.
Do tell dear Belly Rumbles' reader, what did you think of the three recipes last night, who do you think should of won?
Sara xxx
Belly Rumbles is in no way connected to Recipe to Riches, Woolworths or any of the contestants
Episode 1: Concetta's Croqs

Episode 2: Sara Jade's Chilli Con Carne

Episode 3: Hickory Hollow Smoked Sauce

Episode 4: Manju's Authentic Vegetable Samosas

Episode 5: Sweet Billie's Chocolate Sandwich Cookies

Episode 6: Chocorn

Episode 7: Golden Greek Pizza Base Kit

Episode 8: Rosie's Kitchen Almond & Meringue Biscuits

Episode 9: Rude Boy Rib Sauce