I love American candy, Butterfingers, Reeses Peanut Butter Cups, Reeses Pieces, Baby Ruth, Almond Joy, and list just keeps on going. Luckily most are available in Australia, saves pleading with Miss Iowa to send me mercy packages.
I was originally going to make some Butterfinger biscuits, using my choc chip biscuit recipe and substituting the Butterfingers. When I went on a little reconnaissance mission on the net, I found that Butterfinger Blondies recipes were popping up everywhere.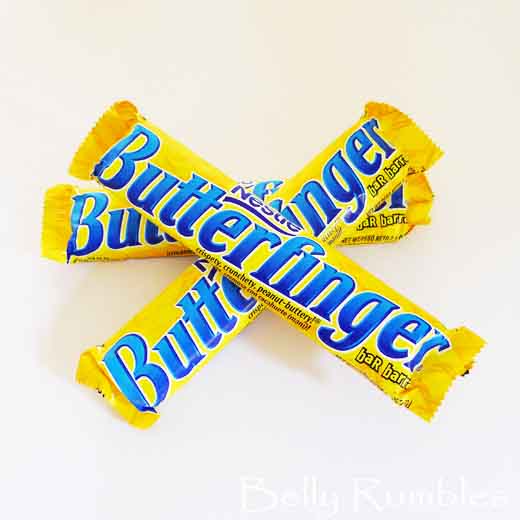 It's Sunday afternoon as I write this and the blondies were made earlier today. They seem to be popular as the boys have managed to eat half of them so far. Just caught Josh opening the container yet again and flicked him a death stare of "shut the lid kid and come back later".
They have are buttery, peanutty and toffee gooey goodness from the Butterfingers, traces of chocolate and are extremely addictive.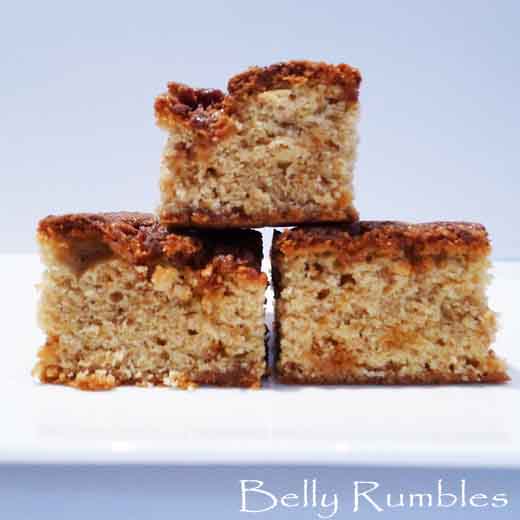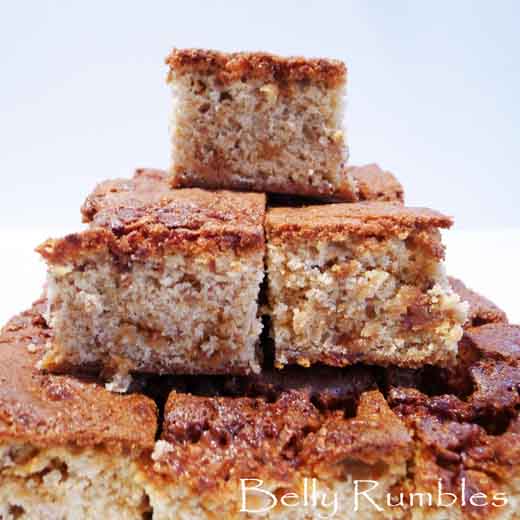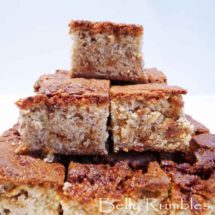 Ingredients
2 ¼

cups

plain flour

1

teaspoon

baking powder

¼

teaspoon

salt

150

grams

butter

2 ¼

cup

brown sugar

3

large eggs

1½

teaspoon

vanilla

4

x 59.9 gram Butterfinger bars

smashed up
Instructions
Preheat oven at 180?C.

Combine flour, baking powder and salt in a medium bowl.

Cream butter and sugar in a large bowl.

Beat in vanilla and eggs, one at a time.

Then mix in flour and 1c of crushed Butterfinger in to the butter mixture.

Spread mixture in to a 25cm square tin (or your favourite brownie tin) that has been lined with baking paper.

Sprinkle the rest of the crushed butterfingers over the top of the blondie mix.

Bake for approximately 40 minutes, until blondie is cooked through.

Place on rack to cool and then cut in to squares.
Nutrition
Calories:
119
kcal
|
Carbohydrates:
8
g
|
Protein:
1
g
|
Fat:
8
g
|
Saturated Fat:
5
g
|
Cholesterol:
40
mg
|
Sodium:
119
mg
|
Potassium:
57
mg
|
Sugar:
5
g
|
Vitamin A:
4.5
%
|
Calcium:
1.8
%
|
Iron:
1.3
%
They are truly delicious and a nice change to brownies which I regularly make. If you can get your hands on some Butterfinger bars, is well worth whipping some up. I wonder what Baby Ruth blondies would be like?
Sara xxx