Thrilled to discover another decent coffee joint in The Shire. Though I am kicking myself. I have walked past Café 2232 countless times over the past three years to visit Sally's vet a few doors up. You could say that Sutherland Veterinary Clinic is a second home for us of late. It was after dropping Sally off again for a procedure, yet again, that Josh and I decided to call in and have breakfast.
Café 2232 is situated on the 'other' side of the tracks. Prime location directly opposite Sutherland train station and just down from the main bus terminus. You could say that this is the 'quite' side of Sutherland.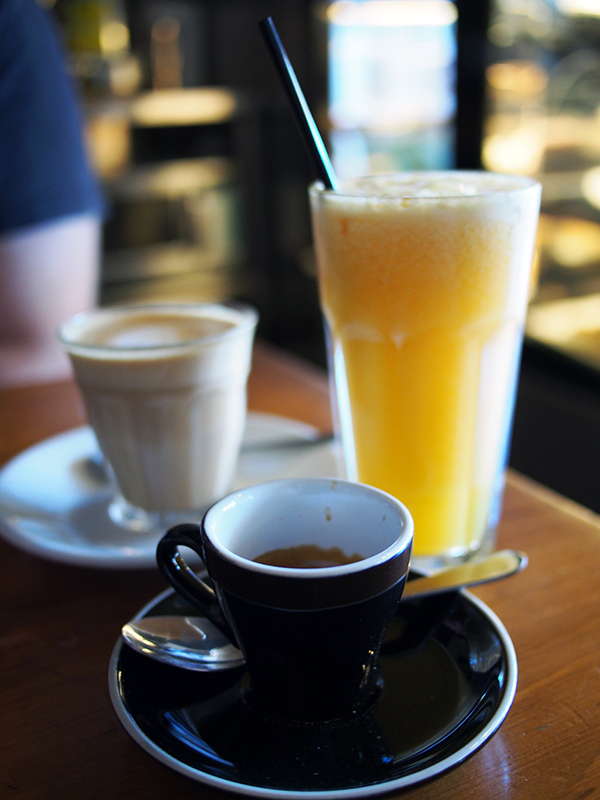 coffee $3.50 & orange juice $5
The food is standard fare, but good value and honest. Orange juice is freshly squeezed, big bonus brownie point for that.
Café 2232 do coffee well. Their coffee comes from specialty coffee roaster Delano in Wollongong. The brew is called Black Stallion, from single origin beans, especially for the cafe. I feel the name is quite befitting due to the very buff barista behind the counter.
Josh orders a big breakfast. Two fried eggs, tomato, bacon, mushrooms and sour dough with a regular coffee. It is basic and good value for $12. No complaints from Josh.
I originally wanted the prosciutto, bocconcini and tomato on focaccia. Unfortunately they were out of bocconcini, and I decided on a toasted ham and cheese croissant. It was what it was, I ate it, all fine.
There is a decent cabinet filled with cakes. I spied mars bar and rocky road cheesecakes. There is also a selection of ready to go meals, frittatas, sausage rolls, and quiche.
If you are in the area, well worth stopping in for a coffee, juice, smoothie and a slice of something nice.
Sara xxx
Cafe 2232
43 East Parade, Sutherland, Sydney
Other cafes close by
Jack of Hearts and Jude – sister cafe with the same retro vibe and great coffee
Kuro Neko Ramen – the first ramen joint to open in the Shire
Como Grill – pub food with water views
Blackfish Cafe & Grill – right on the water at Como + dog friendly
Left Bower – house roasted beans with 70s vibes