Weekends are made for indulgent breakfasts and brunches. Preferably ones that have been made for you, not at home (cleaning up factor), but out at a cafe. A little spoiler, something more than the traditional mid-week breakfast, a piece of toast or bowl of cereal hastily scoffed before heading out the door to work.
Carss Park Cafe is a hidden gem within the Carss Bush Park near Blakehurst. One of those cafes that the locals know about. Actually the park is a hidden gem as well. Cheekily hidden behind a nursing home, hotel and houses.
The only tiny indicator of its existence, visible from the Princess Highway, are the sport fields. Even then nothing is given away of the rolling grass lawns of the park, bush walking tracks, humongous children's playground and netted public swimming The perfect place for a picnic, there are even BBQs, all on the banks of Kogarah Bay.
Within this park is Carss Cafe & Grill. Located within view of the playground so mum's can sit outside and enjoy a cappuccino while watching their offspring frolic and play. For those kidless amongst us, take in the views of the river or park. Alternatively grab a seat inside.
It's a Saturday morning and a relaxed breakfast is decided on before a busy day of renovation shopping. It has been ages since the last time I visited the cafe. Not quite sure why it has taken so long for me to return. On my last visit I had an amazing mushroom breakfast, and it is due to Mushroom Mania that I am prompted to visit.
Sadly our visit is off to a bit of a rough start. The person who eventually greets us seems to be somewhere else, quite aloof. We are seated, and there we sit, and sit. No menus, just dumped and forgotten about. About 10 minutes later Mac has had enough, and goes to find out if it is order at a counter, do we get menus, if it is table service, basically what the is situation. After a not so gentle prod, menus come out and we are then served by another person that seems to be more on the ball and quite friendly.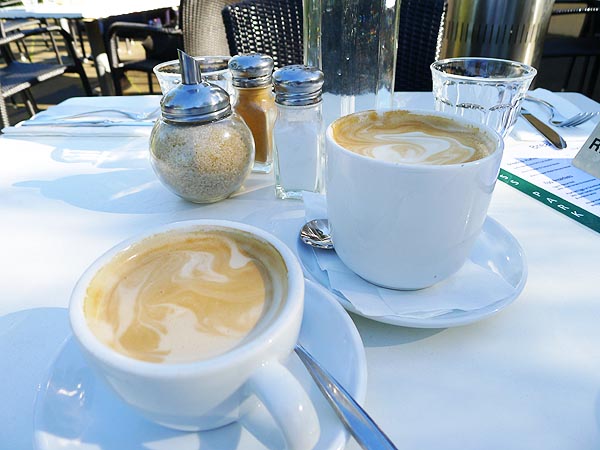 flat white $4 & latte mug $4.50
The coffees are very quick to come and I promptly burn my tongue on my latte in my Saturday morning stupidness. More of a large flat white and way hotter than expected.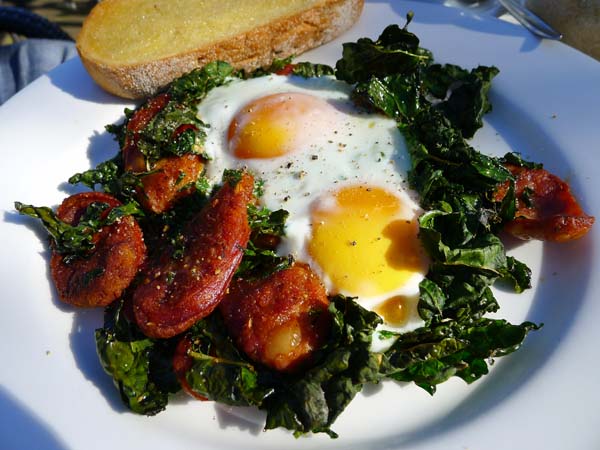 baked chorizo sausage & egg $18.50
The eggs sit in a nest of fried chorizo and cavolo nero, which is crispy around the edges. The eggs are lovely and runny, yolk spilling their sunshine on poking.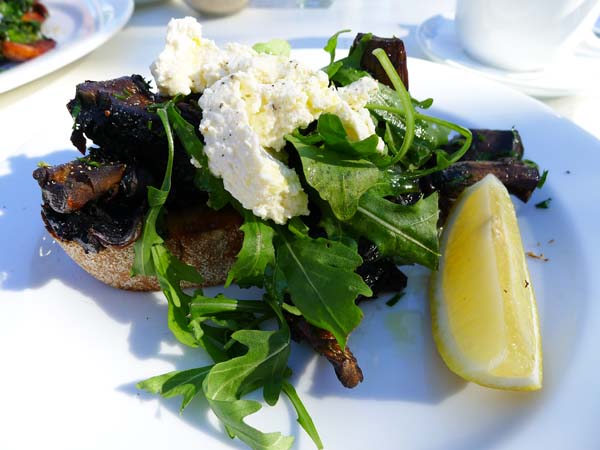 sautéed field mushrooms $17
This is the same dish I had ordered a few years ago. When I saw it on the menu, I just had to have it. Sautéed field mushrooms, served on a thick slice of sourdough, topped with ricotta, rocket and a wedge of lemon to squeeze. They are good, but not as good as I remember. The butter which they were meant to have been sautéed in and mentioned parsley were a little lacking for taste. The mushrooms themselves were massive!
Do tell dear Belly Rumbles' reader, do you like to indulge in breakfast or brunch out and about on the weekend?
Sara xxx
Carss Park Cafe & Grill, Carwar Avenue, Inside Carss Bush Park, Carss Park, Sydney
Tel: +61 2 9547 2567
This post is sponsored by the Australian Mushroom Growers, but please note that Belly Rumbles paid for their own meal at Carss Park Cafe & Grill and all opinions are their own.
More Eats in the Area
Sunny Harbour Seafood – they do more than yum cha
Peacock Trattoria – local dining at Kyle Bay