The Aussie Burger is a national icon, close to many Australians' hearts and stomachs.  Beetroot is a must, but the question is, a true Aussie burger with the lot or not? Either way you will love them.  Plus you can't get anymore Australian than an Aussie burger on the barbie.
Every year Aussies celebrate Australia Day, 26th January.  What better way to celebrate than with a good old fashioned Australian barbeque.  Steaks and snags (sausages) are always delicious.  You could even throw a prawn (Aussies don't say shrimp) on the barbie.
I think that Aussie burgers are the way to go.  Your stomach and tastebuds are going to agree with me. 
Why not try our  beer can burger recipe on the barbeque too!
"A burger with the lot mate" a common cry at the local milk bar when growing up.  Sadly, these days, the Aussie milk bar is as easy to find as a Tasmania Tiger.  May not completely extinct, but they are few and far between.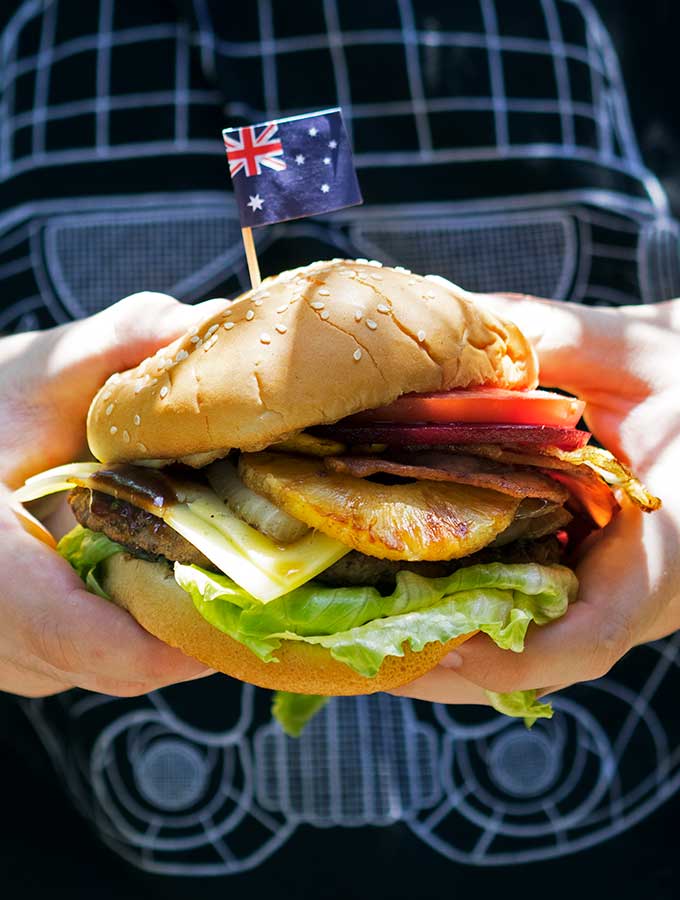 Most Australian burger joints these days sway to the fancier side of the bun with American influence.  Instead head to the local greasy spoon (take away) and you will find a traditional Australian burger.  You'll even be able to order a burger with the lot.   A burger with the lot is large, groaning under the ingredients and impossible to get your laughing gear (mouth) around. …