Ms Lily and I had been on one of our regular movie "dates" and I was prepared for the question of "are you hungry?  what do you want for dinner?".  It was a case of follow me, no arguments, I have somewhere I really want to try.
So off we pranced around the corner from Event Cinemas in to Bathurst Street to the Chefs Gallery.
We didn't have a booking and only had to wait a few minutes before we were offered a table or to sit at the bench where you can view the chefs cooking.  No detailed thought needed, guide us to the bench please.
It is very entertaining watching the chefs make the noodles and dumplings in front of you.  Ms Lily and I do love to people watch at the best of times and by the time our first course turned up we had created all sorts of back stories on the chefs.  Hmm probably shouldn't of shared that, they were nice stories, honestly.
While watching we notice that they all have chin/mouth guards on.  I wonder to myself if they are in the habit of whacking themselves with the noodles while they shake, stretch and toss them into silky noodle strands?  I am sure it is more to do with general hygiene.
The menu is not too extensive but has a fantastic variety of goodies on offer.  As usual I procrastinated on what to order as it all sounded really delicious.
First up was Tataki Wagyu beef with a moderate Sichuan style spicy dressing $12.90.  This was truly mouth watering.  The seared beef sliced thinly served on top of mint leaves with a spicy chilli dressing on top.  It had just enough bite for me to give heat without over powering the delicate rare wagyu.  We both agreed that we loved the dish and would make the visit back to Chefs Gallery for that dish alone.  Well actually, I was secretly trying to work out how I could replicate the dressing at home.
I wanted to order the Guo Tie, lightly pan fried prawn dumplings, $11.90, to which Ms Lily had a take it or leave it attitude.  When they turned up we were both pleasantly surprised.  Perfectly fried dumplings, crispy on the outside and tender prawn on the inside.  I do love my dumplings and these were delicious and I was really happy I had made a good choice.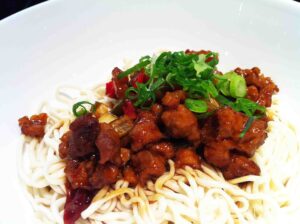 Noodles, you just have to have noodles when they are being freshly made right in front of you, and we are here to try them.  It was a hard decision, I wanted to eat it all, but eventually we decided on the diced chili chicken tossed with handmade noodles, $12.90.  Hint, so as the noodles don't all stick together mix it up when you get it. The noodles are perfect, evenly thin and smooth, these guys are true machines!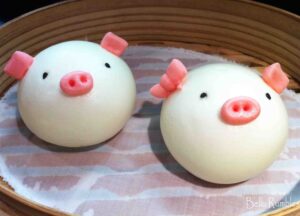 Beside the handmade noodles and dumplings it was actually the three year old inside me that was craving to try a certain dessert dumpling that spurred my visit.  I am such a child at times, but who can resist the most gorgeous looking steamed "piggy face" dumplings, $5.90.  The piggies are filled with black sesame paste and served warm.  Also, don't you just adore the little bow on the girl piggie?  They are too cute for words!
We had an entertaining delicious dining experience and I would recommend a visit to Chefs Gallery.  Staff were pleasant and helpful, even though at one stage we almost had to tackle one to help us, but after that we were fine.
Sara xxx