When you think of pear recipes, does your mind tend to wander towards, cakes, muffins, crumbles, poached pears? I know mine does. When I was contacted by Kellie from Impact Communications in regard to a competition they were holding during National Pear Month, I originally hummed and hawed about participating. The reason for taking my time to say yes was basically due to being flat out. I decided to participate, but I made the decision to push myself and come up with a savoury recipe using pears.
I do have one staple savoury pear recipe I whip up on the odd occasion. Is perfect for lazy Sunday nights. A thick slice of pane di casa toasted, topped with thinly sliced prosciutto, pan seared pears, drizzled with balsamic vinegar and them finished off with shaved parmesan cheese. Sounds good, doesn't it? It is, regard that as your bonus recipe of the day.
Deciding I wasn't going to use my good old staple recipe, I searched my brain to come up with something a little different. Marry some flavours together that I thought would work well. Guess what? The recipe I developed rocks! The filling works so well with the chicken, not over powering, and the flavours meld well together. The addition of lemon in the butter and sage sauce adds the perfect amount of acidity to cut through the rich butter and lift the dish.

I really hope that you all enjoy this Belly Rumbles' original recipe.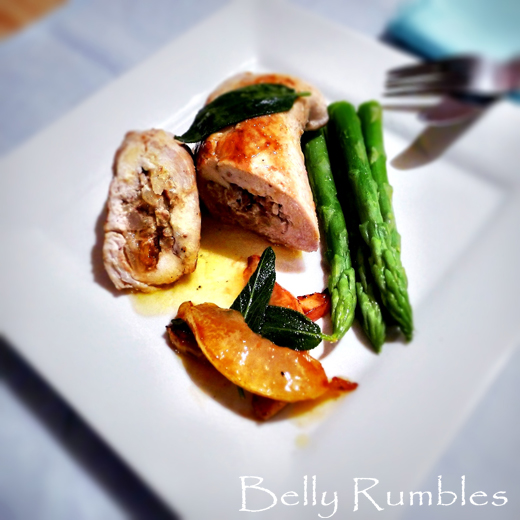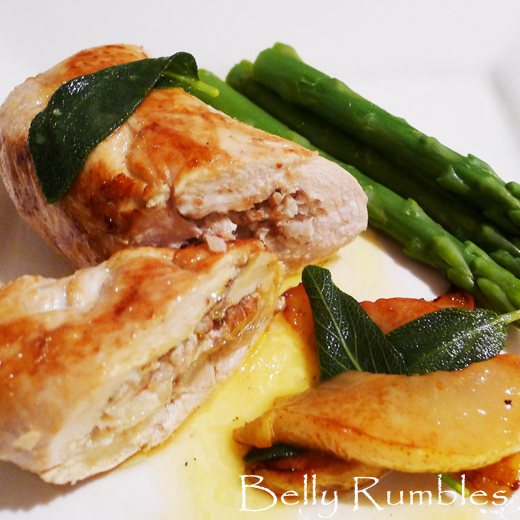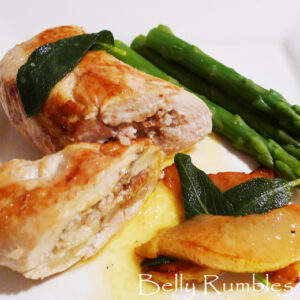 Pear & Pecan filled Chicken Parcels with Butter Sage Sauce
Serves: 4 Prep time: 35 minutes Cooking time: 15 minutes
Ingredients
4

chicken fillets

40

ml

2 tablespoons olive oil

1

pear peeled & finely chopped

60

grams

½ cup pecans finely chopped

40

grams

½ cup parmesan cheese grated

50

grams

butter

40

ml

2 tablespoons lemon juice

12

sage leaves

1

pear

Salt & pepper
Instructions
Pre-heat over at 180 degrees Celsius.

Trim and butterfly chicken fillets. Between two pieces of plastic wrap or baking paper, pound the fillets until approximately 6mm thick. Set aside while preparing filling.

In a medium bowl combine pear, pecans and parmesan cheese. Season to taste with salt and pepper.

Lay pounded chicken breast out and place ¼ of the mixture on the fillet. Press the filling together slightly and bring the two long sides of your chicken together, one side over lapping the other until tight. Secure with a tooth pick. Then fold each end of the chicken over and secure again with tooth picks to make a secure parcel. Repeat with the remaining three pieces of chicken.

Heat a heavy based non stick pan with 1 ½Tolive oil.

Place chicken in pan and brown well on all sides.

Remove from pan and place in a lined baking tray and place in the oven to finish cooking for 15 minutes. While your chicken finishes cooking prepare the butter and sage sauce.

Core and de-stem your pear, leaving the skin on. Cut you pear in to 12 wedges.

In a clean pan, add ½T of olive oil. Once hot add pear wedges and brown either side. Remove pear from pan and set aside.

Add butter to the pan and melt. Once melted add sage leaves and lemon juice. Cook over medium heat until a white foam appears. Season with salt and pepper. Add pears back to the sauce to warm through.

Remove chicken from oven and remove tooth picks. Plate chicken parcels and spoon over sauce and plate pear wedges. Serve with favourite vegetables or salad.
Nutrition
Serving:
1
grams
Calories:
600
kcal
Carbohydrates:
16
g
Protein:
24
g
Fat:
49
g
Saturated Fat:
15
g
Cholesterol:
148
mg
Sodium:
368
mg
Fiber:
4
g
Sugar:
9
g
Did You Make This Recipe?
I do a happy dance when people share how they went. Tag me on Instagram or Twitter @bellyrumbles & #bellyrumbles
Do tell dear Belly Rumbles reader, so you use an ingredient normally associated with a dessert or sweet recipe for a savoury one?
Sara xxx