Sarah from Simply Cooked was our November Daring Cooks' hostess and she challenged us to create something truly unique in both taste and technique! We learned how to cook using tea with recipes from Tea Cookbook by Tonia George and The New Tea Book by Sara Perry.
I have attempted cooking with tea before. Grand ideas of tea smoked duck's egg. Let's just say that was a bit of a disaster as stupid here forgot to line her wok with aluminium foil. Oh yes, tea mixture went straight in and burnt itself solid to the base of my wok. Poor wok was only fit for the bin after that.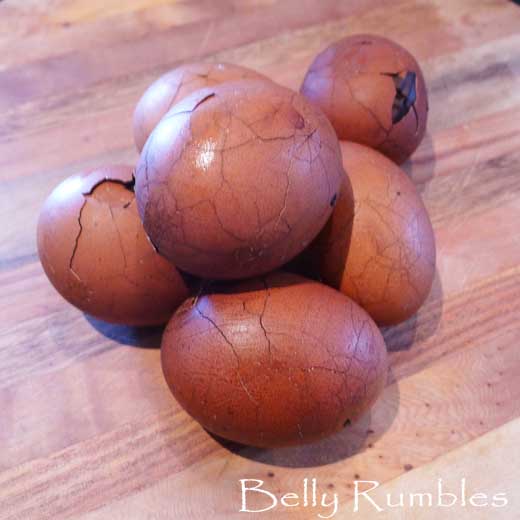 I was excited when I saw Sarah's challenge as it was a chance for me to play with tea again. I have been out of town for part of this month and life just seems to be in hyper drive at the moment. I took the easy way out on this challenge, which is a shame as Sarah offered us some wonderful recipes. I decided to make the easier Chinese Tea Eggs.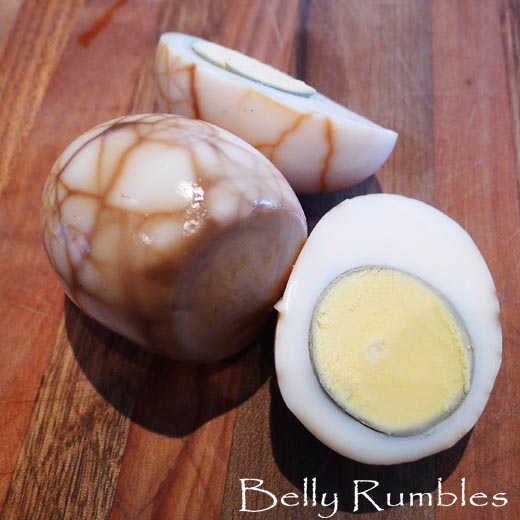 Firstly I have to say the end result is visually stunning. I love how the tea mixture stains the eggs. I didn't leave my eggs steeping in the mixture long enough, and there was only a slight tea/five spice flavour to them.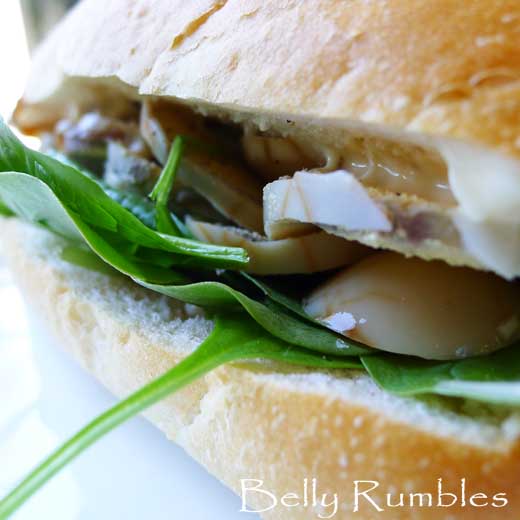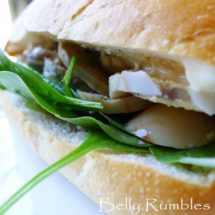 Ingredients
6

eggs

any size

2

tablespoons

30 ml (6 gm) black tea leaves, or 4 tea bags

2

teaspoons

10 ml (5 gm) Chinese five spice powder

1

tablespoon

5 ml (3 gm) coarse grain salt

toasted sesame seeds

to garnish
Instructions
In a large enough pot to avoid overcrowding, cover the eggs with cold water. Bring to a boil over medium heat and simmer for twelve minutes.

Remove the eggs with a slotted spoon and keep the cooking water.

With a spoon, tap the eggs all over until they are covered with small cracks. This can also be done by tapping and rolling the eggs very gently on the counter.

Return the eggs to the pan and add the tea leaves or bags, Chinese five spice powder, and salt. Cover the pan.

Heat gently and simmer, covered, for one hour.

Remove the pan from the heat and let the eggs cool down in the liquid for 30 minutes.

Remove the eggs from the liquid. Peel one egg to check how dark it is; the others can be returned to the liquid if you wish to have the web-like pattern darker. Allow the eggs to cool fully.

To serve, peel and slice the eggs in halves or quarters. Sprinkle with toasted sesame seeds.
Nutrition
Calories:
67
kcal
|
Protein:
5
g
|
Fat:
4
g
|
Saturated Fat:
1
g
|
Cholesterol:
163
mg
|
Sodium:
1225
mg
|
Potassium:
79
mg
|
Vitamin A:
240
IU
|
Vitamin C:
0.2
mg
|
Calcium:
33
mg
|
Iron:
1.3
mg
DID YOU MAKE THIS RECIPE?
I love knowing when readers make my recipes, tag me on Insgragram @bellyrumbles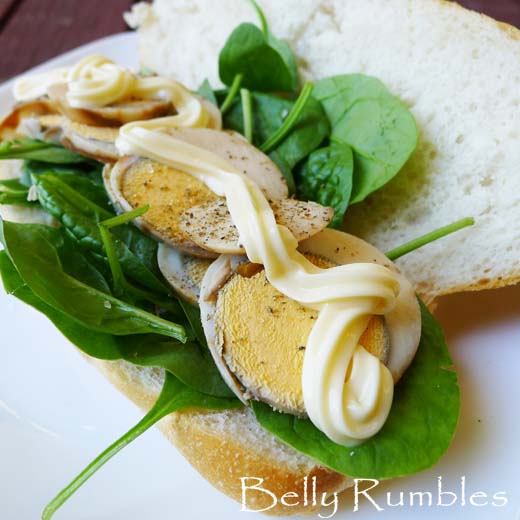 What did I do with my eggs? I had visions of making egg wraps with coriander (cilantro), spring onion, lettuce, chilli, carrot etc. Sort of a Chinese style Vietnamese fresh spring roll, but with bread and egg instead of rice paper and pork. Nope that didn't happen. I was running late for work, where I was going to make this marvellous concoction for my lunch, and didn't have time to stop and get some of the ingredients. I had to choose the next best alternative. Eggs, baby spinach, a good sprinkling of black pepper, some sea salt and a slop of mayo. The ultimate egg and mayo roll!
Sara xxx