As much as I love a good chocolate cheesecake recipe, I love a simple ice cream recipe more. This would have to be the easiest chocolate cheesecake ice cream recipe you could make.
The beauty of this recipe, beside the absolute ease of making, is that it is extremely versatile. You could say it is the little black dress of ice creams. It can be served simply scooped into ice cream cones or made a little more fancy by using it as the main element in a dessert.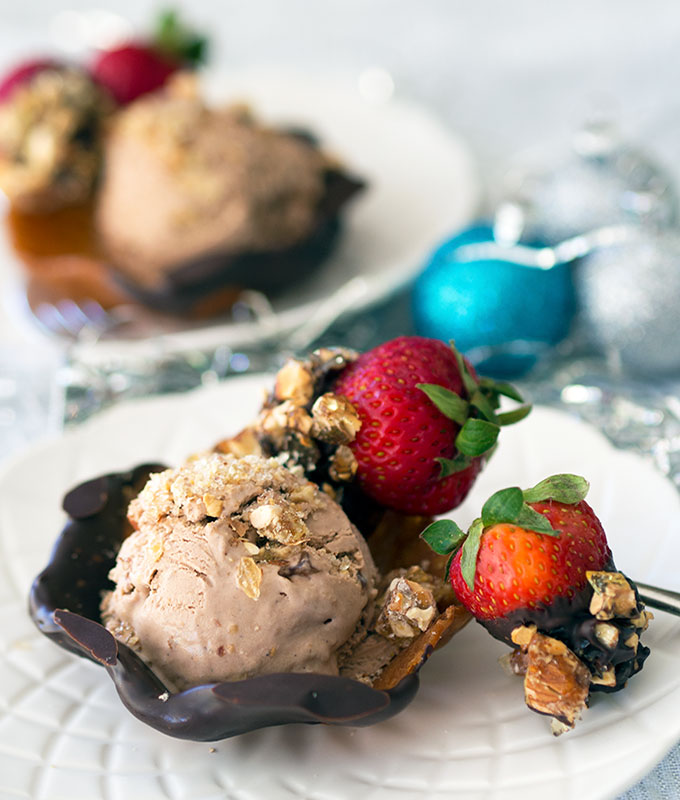 What makes this ice cream so easy is the key ingredient, PHILADELPHIA Chocolate Block (thanks to Philadelphia Australia for samples). The Chocolate Block is packaged like their standard 250 gram cream cheese. When you open up the packet you will be pleasantly surprised to know that it also has the same consistency as their standard cream cheese.
I have to add that it tastes really good, sadly a little too good. I only say sadly as warning bells were ringing as I scooped mouthful after mouthful straight from the packet for 'tasting' purposes. It tastes fantastic straight up. I instantly thought of spreading it directly onto a toasted English muffin and then topping it with fresh strawberries for an easy and luscious breakfast treat.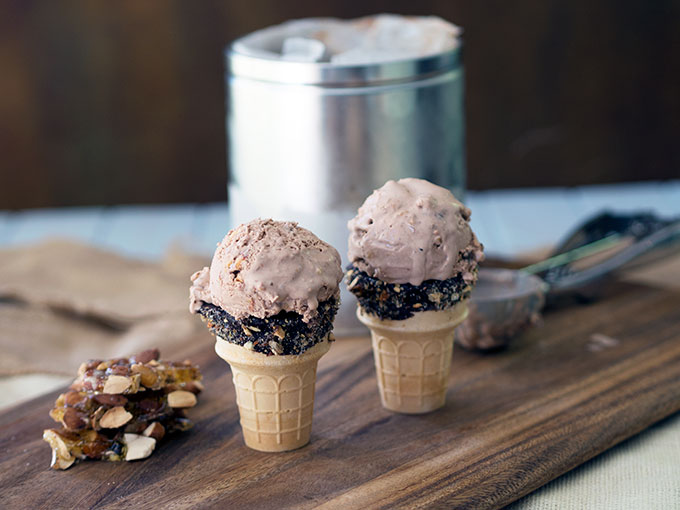 By using the Chocolate Block it means you can refrain from using eggs in your recipe. A nice bonus for those with egg allergies. The cream cheese will add that thickness needed for an ice cream base, which is usually achieved by making custard. Which means no messing around with custard making!
How does the ice cream taste? It's rich and creamy with a light cheesecake tang. The almond praline adds a lovely roasted toffee depth.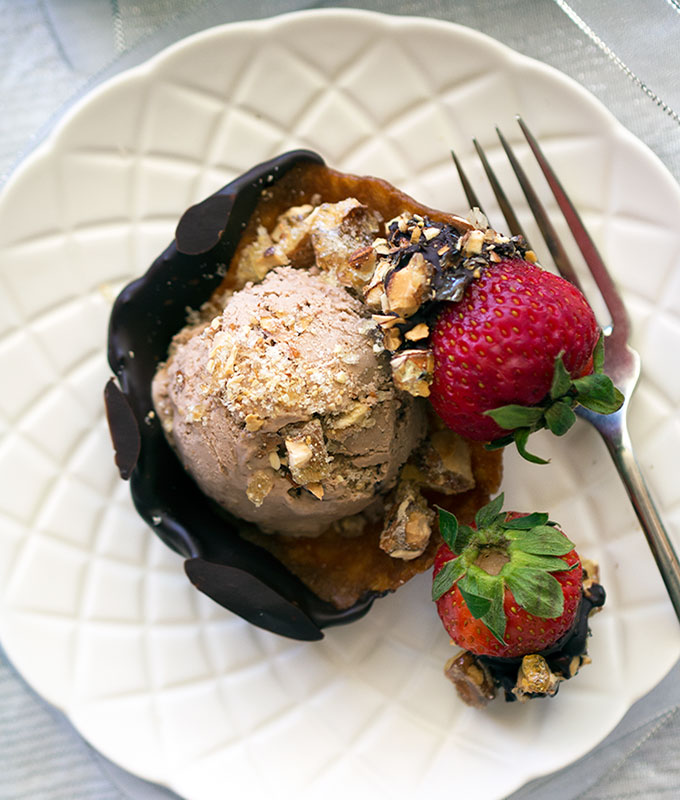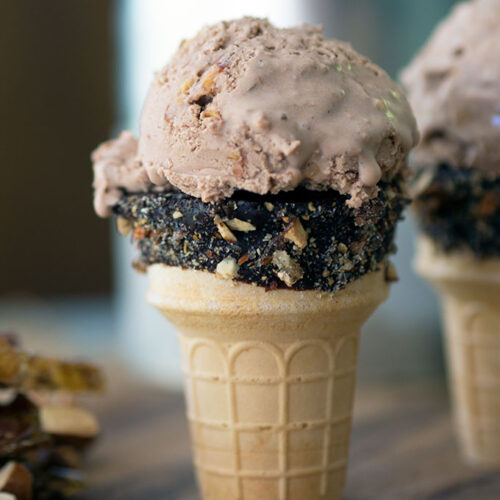 Chocolate Cheesecake Ice Cream, so rich and decadent with scrumptious almond praline.
Ingredients
250

grams

chocolate cream cheese

-

cut into cubes

300

ml

cream

½

cup

milk

¼

cup

caster sugar

1

teaspoon

vanilla bean paste

250

grams

raw almonds

1 ½

cup

sugar

½

cup

water
Instructions
Place PHILADELPHIA chocolate block, cream, milk, sugar and vanilla in a medium size saucepan. Over a medium low heat warm mixture, continuously stirring, until the PHILADELPHIA chocolate block has melted and sugar has dissolved. Do not bring the mixture to the boil or simmer.

Once all ingredients are combined, remove saucepan from heat and place mixture into a jug. Cover jug with plastic wrap and place in the fridge to chill.

Once ice cream mixture has completely chilled, churn in an ice cream machine as per the machines instructions. Once churned are ready to place in a container, mix through 1 cup of deep roasted almond praline. Store finished ice cream in the freezer.

To make the deep roasted almond praline

Preheat oven 180 deg C (360 deg F). Place almonds on a baking tray and roast for around 5 - 10 minutes until they are well roasted. Keep an eye on them, checking constantly, you want them to be a medium golden colour.

Once they have reached the desired colour remove from oven immediately and remove from baking tray to a rack to cool.

Place sugar and water in a medium saucepan. Stir over a medium heat until the sugar has dissolved completely. Brush down any sugar crystal on the side of the saucepan with a wet pastry brush. Once all the sugar has dissolved bring sugar syrup to the boil. Do not stir the sugar syrup once it comes to the boil. Continue to boil until the syrup turns a deep golden colour.

Remove from heat and pour over almonds. Wiggle and tilt baking tray until toffee spreads evenly over the almonds. Leave to cool and set.

Once cool and set break into pieces and store in an airtight container.

You will need 1 cup of praline for the ice cream recipe. Take pieces of almond toffee and place in a zip lock bag. Smash the toffee gently with a meat mallet (flat side), until you have small chunks. Remaining almond toffee can be used to decorate or just eaten straight out, it's delicious.
Nutrition
Calories:
306
kcal
|
Carbohydrates:
13
g
|
Protein:
10
g
|
Fat:
24
g
|
Saturated Fat:
8
g
|
Cholesterol:
45
mg
|
Sodium:
197
mg
|
Potassium:
272
mg
|
Fiber:
2
g
|
Sugar:
8
g
|
Vitamin A:
475
IU
|
Vitamin C:
0.2
mg
|
Calcium:
180
mg
|
Iron:
0.9
mg
DID YOU MAKE THIS RECIPE?
I do a happy dance when people let me know, tag me on Insgragram @bellyrumbles #bellyrumbles
As I mentioned previously, serve it simply or jazz it up a little. I decided to dip a few standard ice cream cones into dark chocolate and then rolled them in excess praline. Placed them in the fridge to harden and then scooped some ice cream on top. Simple to prepare, but looks and tastes great. A fun one you can do with the kids as well.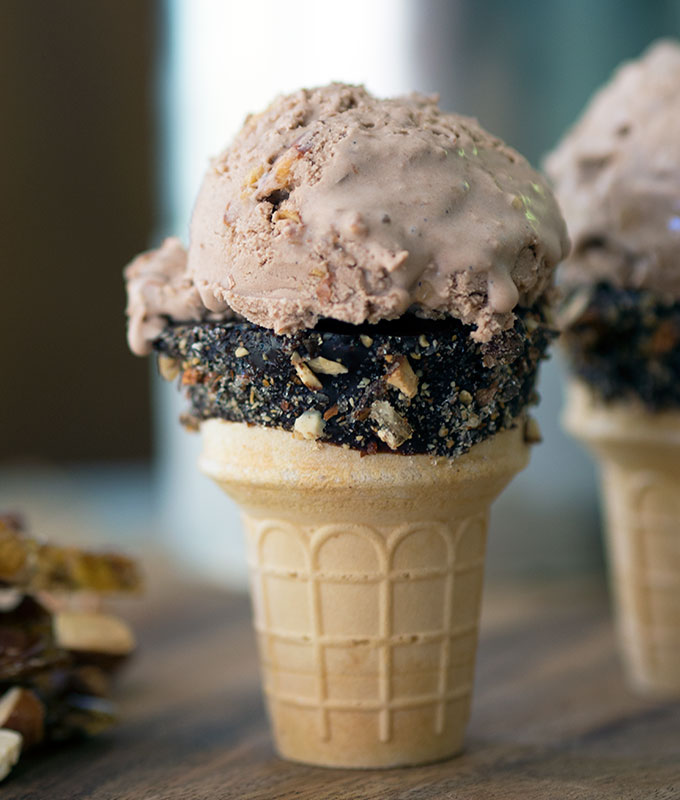 To show how easily this ice cream transforms into an easy but impressive dessert, I simply added some store bought brandy snap baskets and strawberries. The baskets were partially dipped in some dark melted chocolate as well as the strawberries. The strawberries then rolled in some praline. A dessert that is very quick and easy for entertaining.
Sara xxx
Don't miss one delicious recipe, restaurant review or travel adventure. Sign up to our weekly newsletter below to keep updated. There is also bonus content just for subscribers.
Belly Rumbles would like to acknowledge its partnership with the Philadelphia Australia for this post. This recipe was created, developed and photographed by Sara McCleary using Philadelphia Chocolate Block.