I experiment in the kitchen all the time, I can't help myself. I'm always tweaking recipes, adding this, taking away that, using different flavours. One of my favourite recipes is one that was handed down to me by my mother, Biscotten Torte. She does not claim fame to its invention, and we aren't sure where the recipe was originally sourced. All I know is that when I make it the boys go bonkers, they love it.
I have never played around with this recipe. I have thought on the odd occasion of how I could make it more 'Christmassy', but never went any further than that. That is, until I was seeking out Spekulatius cookies for Christmas. Having Spekulatius in the pantry at Christmas time is a tradition in our household. Come to think of it, they are always bought, never made. May have to change that next year.
As I picked up the packet of Spekulatius to purchase, a giant light bulb appeared on top of my head, bells went off, an idea was born. Why not use Spekulatius in my Biscotten Torte? With that thought I picked up another packet and added it to my shopping basket.
Spekulatius were an obvious substitution in the original recipe. The cookies are rich in spices, cinnamon, nutmeg, cloves, ginger and cardamom. The filling of the torte is almond, and I feel a perfect match with those flavours.
I was right, the Spekulatius worked perfectly. I did add an extra layer of filling to the torte, to give a denser texture than the original. The filling is slightly different, but all the key ingredients are there.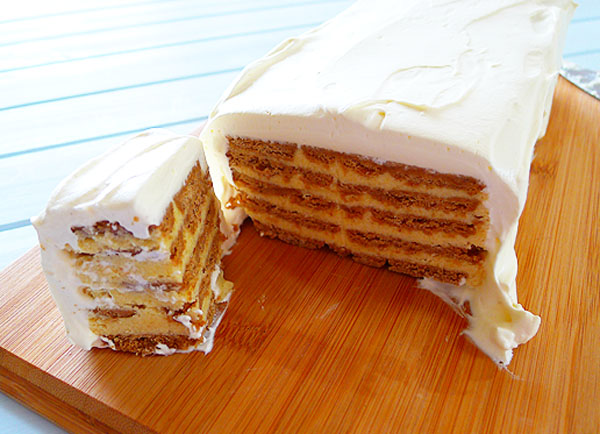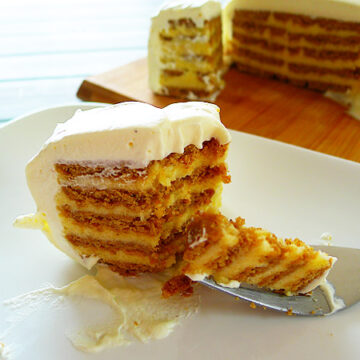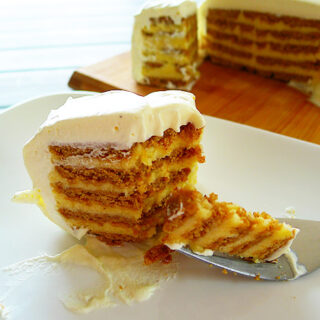 Christmas Recipe: Spekulatius Torte
Ingredients
30

Spekulatius cookies

125

grams

butter

you cannot substitute margarine

½

cup

caster sugar

2

eggs

separated

125

grams

ground almonds

Few drops of almond essence

½

cup

milk

2

Tablespoons

rum

be generous

300

ml

cream

Vanilla bean sugar
Instructions
Cream butter and sugar until light and fluffy.

Beat egg yolk into creamed mixture, add ground almonds and almond essence.

Beat egg whites until stiff peaks form. Fold half in to the creamed mixture, then fold in the remaining egg whites.

Combine rum with ½c of milk.

Arrange six biscuits lengthwise in two rows, beside each other, on aluminium foil. Brush the biscuits liberally with the rum/milk mixture.

Spread the biscuits evenly with ¼ of the filling. Top with another lay of biscuits and brush liberally with rum/milk mixture. Continue as before until all mixture is finished and you have ended with a layer of biscuits (again brush liberally with rum/milk).

Wrap up in foil and refrigerate overnight, best left for 24 hours.

Before serving remove torte from foil and place on serving plate.

Whip cream with vanilla bean sugar. Cover torte with whipped cream. You can decorate with chocolate if you desire. Once finished, refrigerate once again until ready to serve.
Nutrition
Serving:
1
grams
Calories:
520
kcal
Carbohydrates:
37
g
Protein:
7
g
Fat:
38
g
Saturated Fat:
18
g
Cholesterol:
127
mg
Sodium:
279
mg
Fiber:
2
g
Sugar:
19
g
Did You Make This Recipe?
I do a happy dance when people share how they went. Tag me on Instagram or Twitter @bellyrumbles & #bellyrumbles
It is important when making this torte, that you are very generous when brushing the Spekulatius with the milk/rum mixture. Don't be scared, give the cookies a few brushes over, let that soak in and then another few brushes for good luck. The filling is a little more solid (due to the removal of milk) to make spreading easier for the extra torte layer. Due to this, if you are light handed on brushing your biscuits with the milk/rum mixture, your torte will be a little on the dry side.
This torte is designed to be made ahead of time. I recommend at least 24 hours wrapped in the fridge before being covered with cream before serving.
Do tell dear Belly Rumbles reader, are you an avid tweaker of recipes like me?
Sara xxx