The warm wooden interior of Churrasco is extremely inviting on this cold winter's night down at Coogee Beach.  Upon entering  the first thing you notice are the rows of long swords holding various meats being rotated over hot BBQ coals.  It smells fantastic.  We are shown to one of the long wooden communal tables by a smiling staff member.
Churrasco is an all you can eat Brazilian BBQ where a selection of barbecued meats, vegetables, salads and antipasto items are served rodizio style at your table.  For $44/person you can eat as much as your heart desires.  It is wise to come on an empty stomach.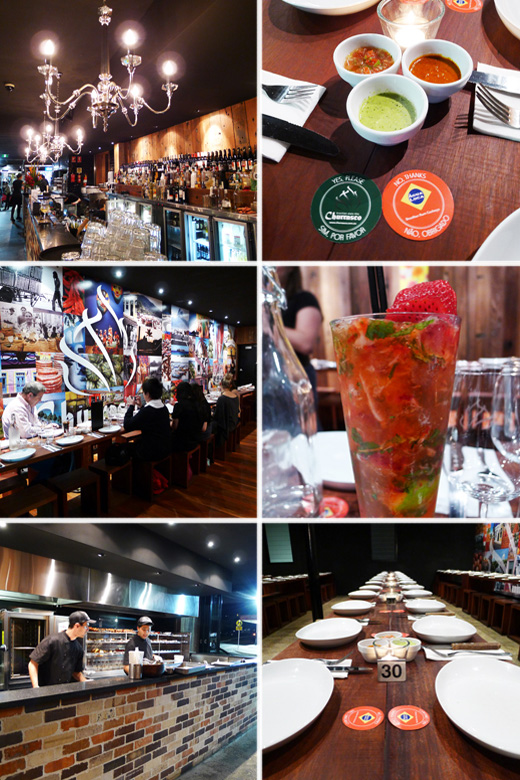 Part of the fun are the small cardboard discs at each place setting.  The green side says 'sim, pot favor' or 'yes please' and the red side 'não, obrigado or 'no thanks'.  Ours are green to go with a 'yes please'.
Already on our table is a trio of sauces, chimmi churri, tomato salsa and a mild green chilli sauce to accompany the various meats on offer.  A selection of sides are also bought to the table, Brazilian style rice, black beans and forofa (toasted cassava flour mixture with bacon & shallots).  The forofa reminds me of potato salad.
There is an extensive cocktail list with both traditional and Brazilian themed drinks.  I settle on an Amazon Iced Tea ($18)  which is a take on my cocktail of choice, Long Island Tea.  Quite tasty but doesn't seem to have the same punch as the original.  For those not wanting cocktails there is a rounded wine and beer list with a good selection of wines by the glass.  Wines from Australia and New Zealand and appropriately Brazil, Chile and Argentina.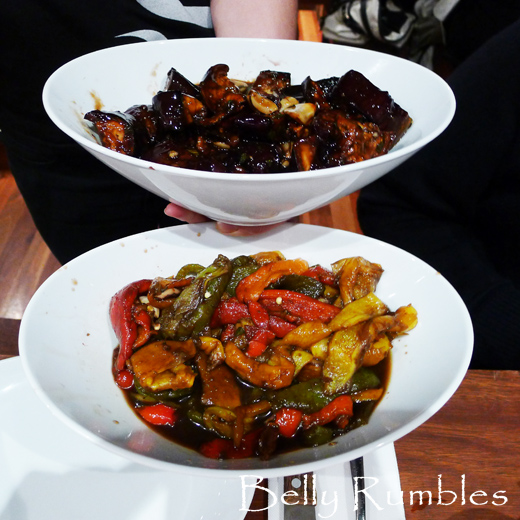 marinaed eggplant & buttered capsicum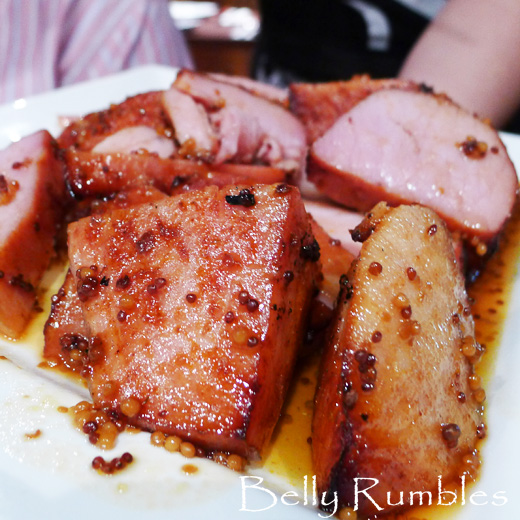 ham glazed with orange & seeded mustard
A large variety of dishes are bought around to choose from.  My favourite of the evening would have to be the tender smoky ribs, the meat falling off the bone.  Two other standouts of the night, chicken hearts, surprisingly tender as they can be chewy, and the peppered sirloin, again lovely and tender.  Some of the meats that come around are chewy, surprisingly the scotch fillet and eye fillet are.
The cheese bread are light round tasty pillows that you could easily fill up on.  Another surprising favourite is the grilled pineapple, sweet, charred and juicy, it complements the meats wonderfully.
Being extremely full we forego dessert, but do indulge in some of the fried banana that is bought around, they are a couple of mouthfuls in size, just right.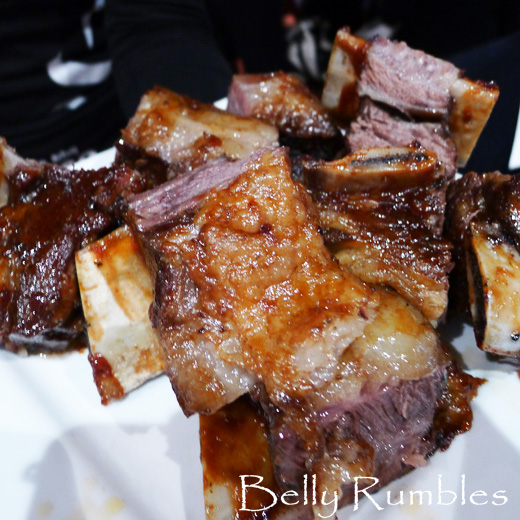 beef ribs with Churrasco sauce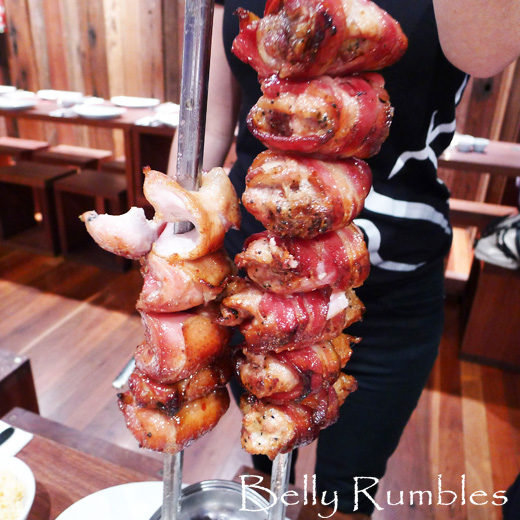 chicken thigh in honey & soy sauce and chicken thigh wrapped in bacon
Churrasco $44/person $19/children (6-12 years)
Beef:  rump cap with ginger & soy, baby beef with Churrasco BBQ sauce, sirloin crusted with mix of peppers & spices, Brazilian style scotch fillet, rump cap served with parmesan sauce, sirloin served with mild green chilli sauce, rump cap served with mushroom & bacon sauce, eye fillet, beef ribs with Churrasco sauce (Wednesday only)
Chicken:  chicken thigh wrapped in bacon, chicken thigh in traditional Brazilian sauce, chicken thigh in honey & soy sauce, chicken wings marinated with chilli, chicken hearts, chicken sausage.
Lamb:  lamb rump marinated in lemon & oregano, lamb rump with chimmi churri.
Pork:  pork belly served with sea salt & fresh lime, pork leg served with green chilli sauce & herbs, pork ribs with Churrasco sauce (Wednesday only), ham glazed with orange & seeded mustard, pork chorizo.
Salads & Antipasto:  roasted potato, BBQ cheese, cheese bread, BBQ pineapple, fried banana, BBQ zucchini, BBQ capsicum, slow roasted eggplant, shoestring fries, Churrasco salad, rocket & parmesan salad, iceberg lettuce salad, Greek salad.
My advice is to plan what you want to eat and don't fill up on the potato chips that are bought around.  The one downside is the restaurant gets rather noisy when it fills up, making it quite hard to hear what your dining companions are saying.
Do tell dear Belly Rumble's reader, do you enjoy all you can eat restaurants and what is your plan of attack?
Sara xxx
Belly Rumbles dined as a guest of Churrasco, Coogee.