Have you ever toyed with the idea of climbing Mt Fuji, the tallest and most famous mountain in Japan? Fuji san peaks at 3776M, and along with Mt Tateyama and Mt Hakusan makes up Japan's three holy mountains.
Having a long standing love affair with Japan after many visits, I found myself thrusting my hand up like an enthusiastic school girl to join some keen hiker buddies of mine to climb said mountain. It may have been the vast quantity of wine consumed that night. Or was I being carried away by the group's hyper enthusiasm. Whatever it was the next morning I started to second guess what I had committed myself to.
Reassuring myself that Mt Fuji doesn't look that high from a distance. Quite honestly it looks rather squat as you hurtle by on the Shinkansen between Kyoto and Tokyo. Plus it is 'only' 1,548M shorter than Mt Kosciuszko and I've climbed that.
As preparation for our adventure of climbing Mt Fuji, a lot of research was undertaken. I uncovered all sorts of information, experiences as diverse as the human race itself. All so different that you started to wonder if these people were really climbing the same mountain.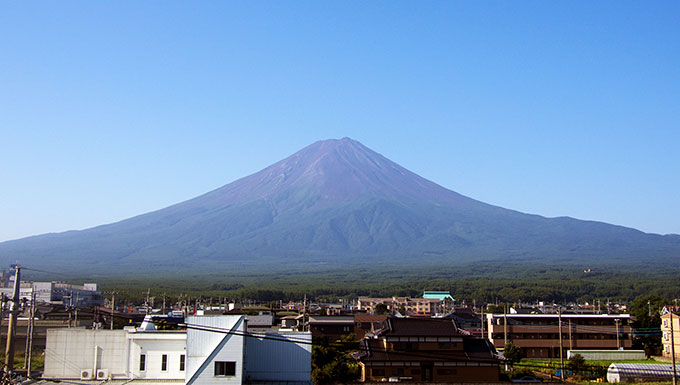 First bit of advice, ignore the climbing Mt Fuji recants from people that climbed in a pair of runners and a tee shirt. To start with they are inhuman maniacs, and can keep moving fast enough not to suffer from hypothermia. Ignore the stories from friends who blissfully share their 4 hour leisurely hike to the top and back. Chances are they were climbing another mountain or are now suffering from dementia. Be kind to them but don't believe them.
I had read and heard it all before I left for climbing Mt Fuji. I trained every second day before I left for quite a few months. I even bought myself a stair machine. I lost around 15kg and was the fittest I had been in a long time. As I wasn't climbing by myself there was pressure to not let my team down. A team of far more experienced hikers than I.
Even when I was packing all my hiking gear the night before my flight to Narita, I still hadn't quite decided if I would climb to the top or not. There were other hikes planned on the trip, ones that I was really looking forward to. No matter how much I psyched myself up for climbing Mt Fuji, I wasn't feeling the climbing Mt Fuji love.
Japanese saying; "A wise man climbs Mt Fuji once, only a fool climbs it twice."
This experience of climbing Mt Fuji is a combined effort of two hikers. The girl who climbed to 6th Station and decided it really wasn't for her. The guy who made it all the way to the top to see the sunrise, and made it back down again.
The climbing Mt Fuji story starts with The Girl…..
Climbing Mt Fuji – Kawaguchiko to Yoshida Trail 5th Station
We chose Kawaguchiko as our base for climbing Mt Fuji. A pretty lakeside town that is easy to access via train. It is also the perfect home base if you decide to use the Yoshida trail to the top of Mt Fuji.
The Yoshida Trail is one of four trails that lead to the top of Mt Fuji from various areas around the base of the mountain. Yoshida is the most popular trail for hikers due to ease of access from Tokyo and the number of mountain huts along the trail. The downside to this is of course that it is the busiest trail to take. Alternative trails are Subashiri, Gotemba and Fujinomiya.
We start out from our accommodation relatively early to organise tickets for the Mountain Bus, which we take us from Kawaguchiko Station to the main start of the Yoshida trail. Of course you can start your climb of Mt Fuji at the "base" or 1st Station but most people choose to start at the Mt Fuji 5th Station or "General Management Station". This is the last point where you have vehicle access, either by bus or car. It's all on foot from this point on.
The Mountain Bus takes just over an hour to get to the 5th Station from Kawaguchiko, and costs ¥1,540 one way or ¥2,100 return. Go for the return ticket. After walking up and down Fuji san you are going to want to catch the bus back to town.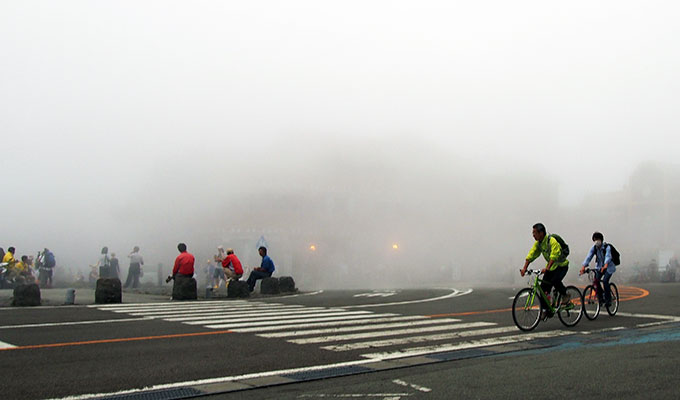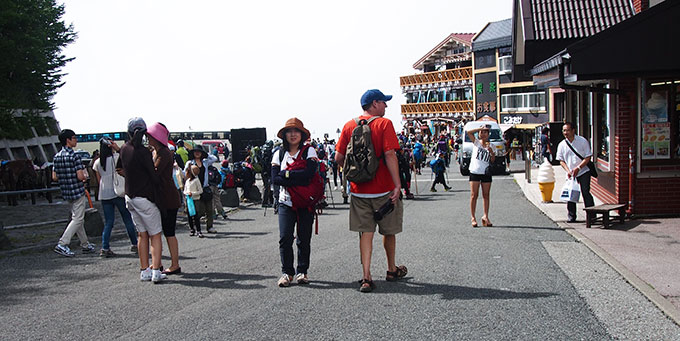 Once we arrived at 5th Station I felt like I had just teleported to a Swiss ski resort. It is the strangest feeling. A couple of chair lifts would not look out of place. Actually a couple of chair lifts to the top would be rather welcomed! The lack of snow could be put down to snow makers not working and walking sticks resemble ski stocks all too closely.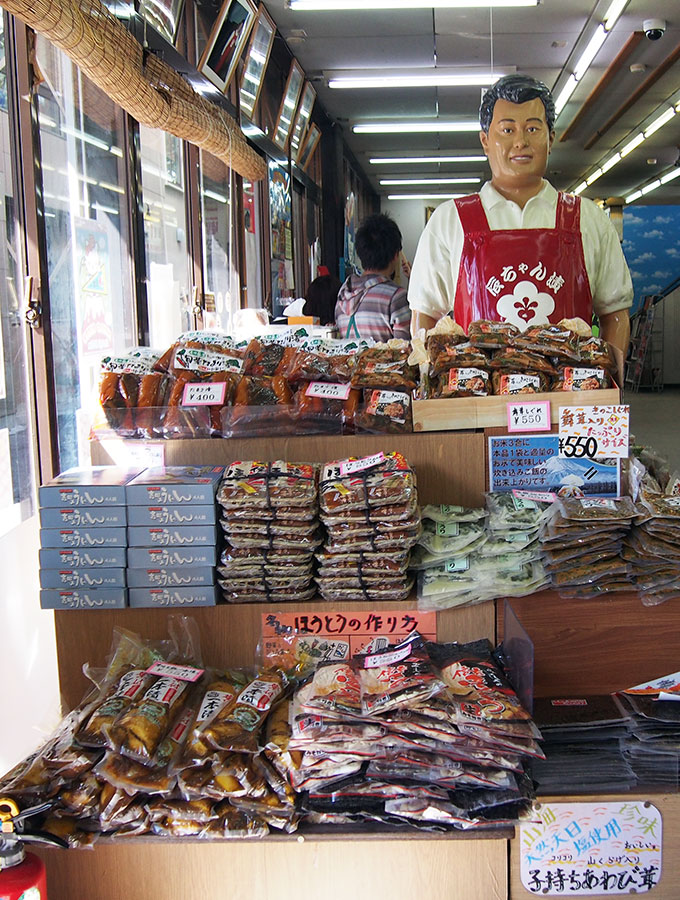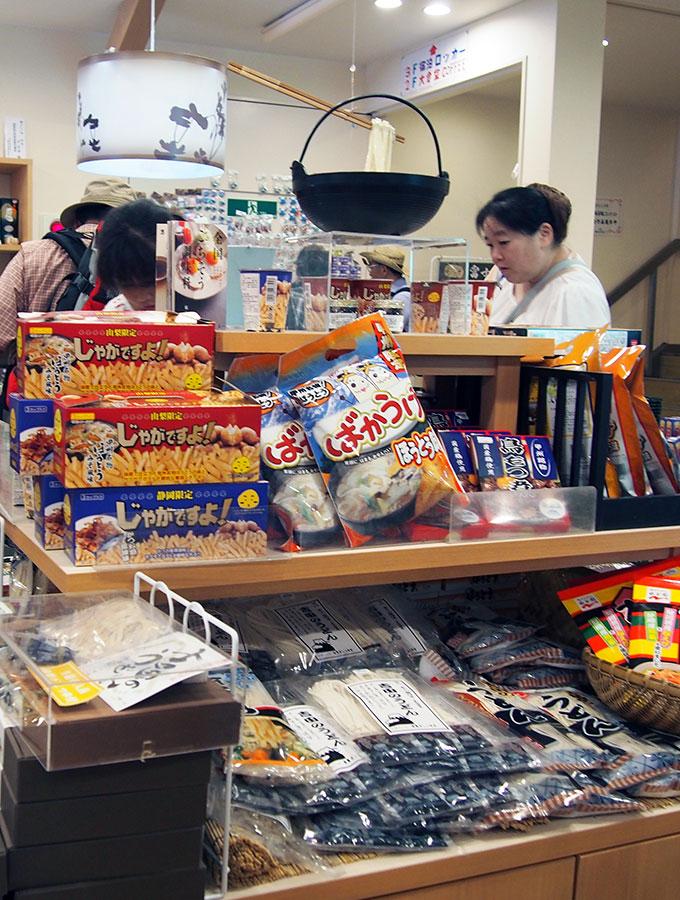 There are a few restaurants and shops at this station, and architecturally they all have a ski resort vibe to them. You can enjoy a hearty meal before starting your climb, an ice cream or other snacks, and pick up last minute supplies. Of course you can purchase numerous souvenirs including the ubiquitous hiking "stick", which probably feels like you are carrying a tree after a few hours of lifting it up and down. I do suggest any souvenir purchasing takes place once you are back from your climb.
The buzz and activity around 5th Station is worth experiencing. There are those that are only coming as far as this point, to stand on Fuji san and look around or walk a shorter day walk up or around. Then there are the others, the ones getting ready to climb and perhaps spend the evening on the mountain.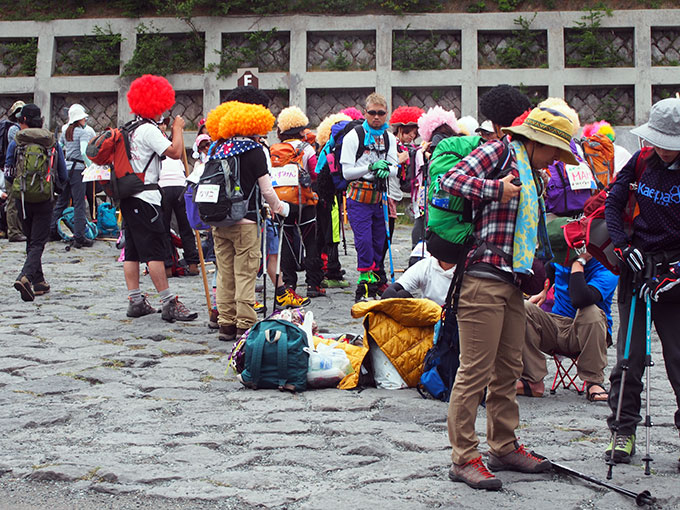 It really is a strange and eclectic mob of people, the serious hikers, the lonely individuals, couples and groups. Then there are the large organised hiking tours that have a guide to get them up the mountain. Theses are predominantly large groups of Japanese from various clubs, schools or companies walking together. You easily recognise them, they are the ones wearing funny wigs, or strange costumes. It really is a spectacle to behold.
You do not need a guide to get you up the mountain. The trail is well marked and there will be hundreds, or more likely, thousands of other people climbing with you. You aren't going to get lost.
To give you an idea of the foot traffic during Mt Fuji's climbing season, there are 19 huts on the Yoshida trail that offer accommodation. Accommodating 3,548 people in total and seem to get booked out most nights. You'll probably find a place to unroll your swag last minute, but don't count on it.
Climbing Mt Fuji – Yoshida Trail 5th – 6th Station
When I read the above heading I feel like an epic fail. One station of climbing doesn't sound like much at all. In the grand scheme of things it isn't.
The hike between the 5th and 6th Station is the calm before the storm. Compared to the rest of the climb the stretch between these two lower stations is quite picturesque in parts. The dark green vegetation contrasting against the dark grey volcanic soil and rock. It was overcast and drizzly the day we climbed and the contrast in colours seemed magnified by the low lying clouds wisping around.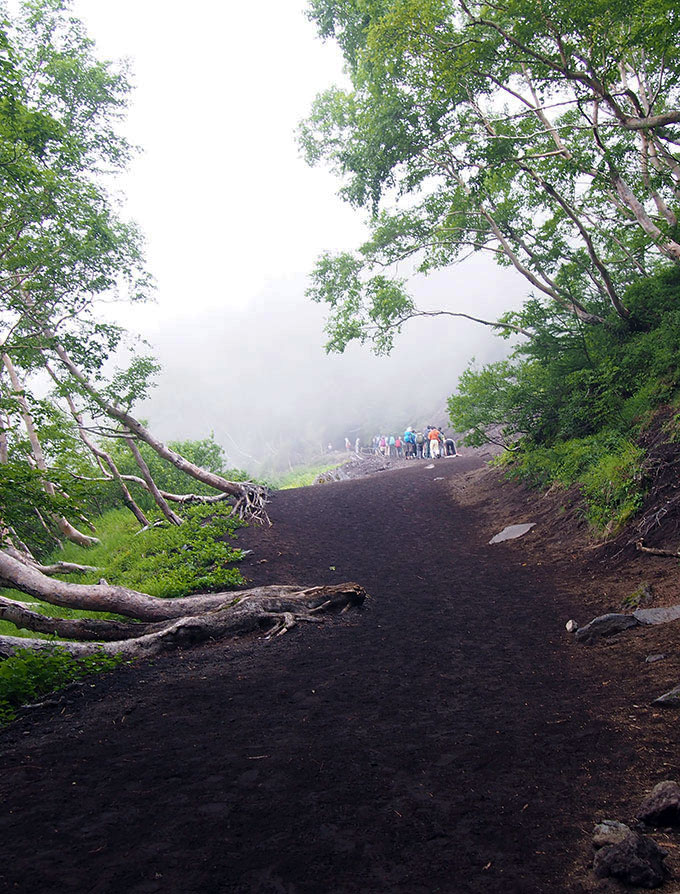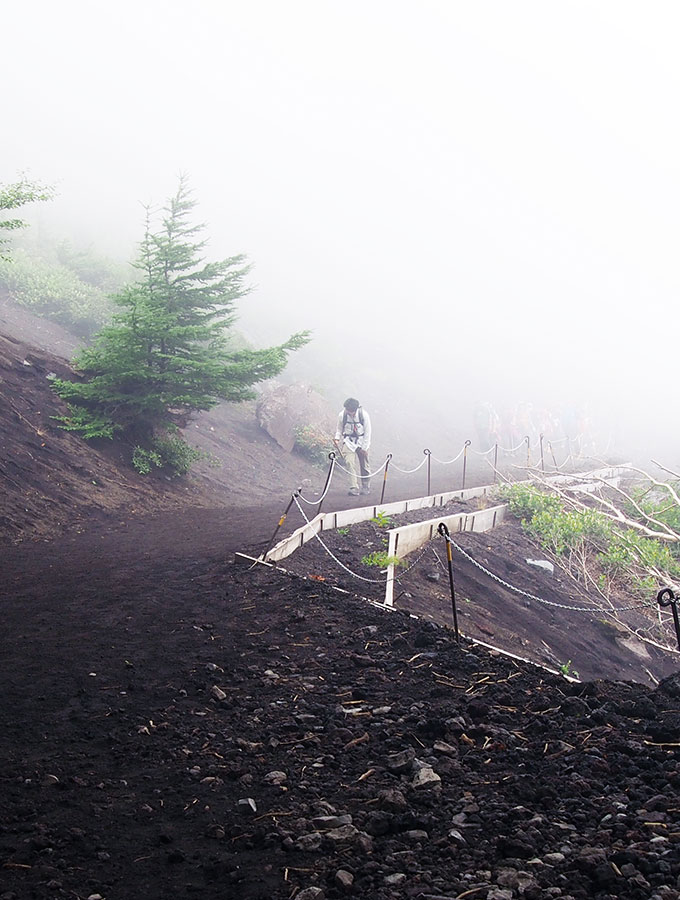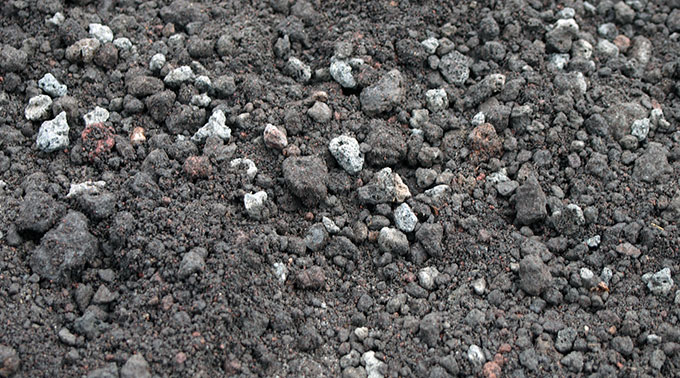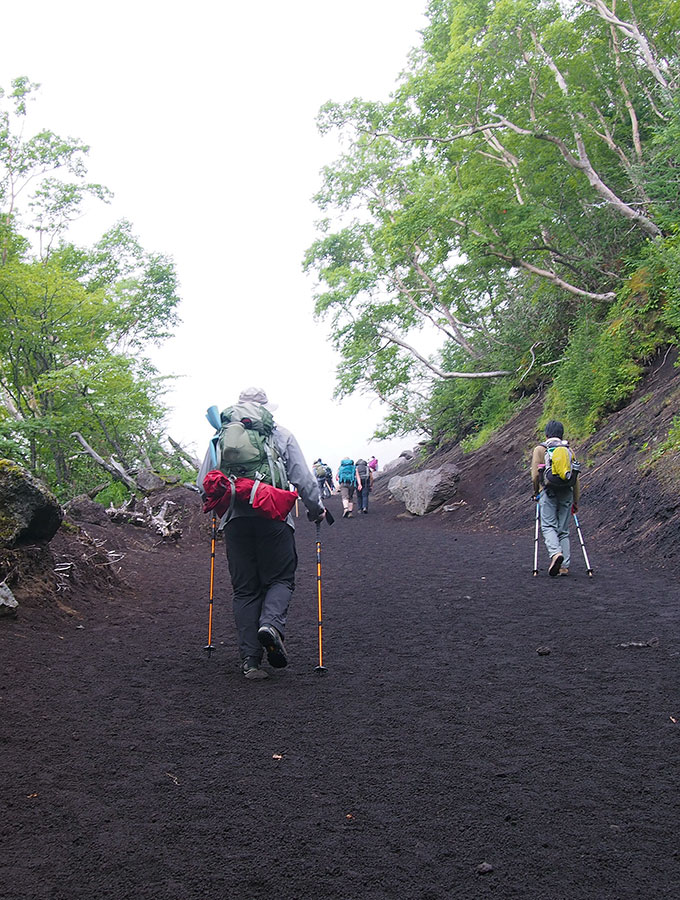 It may look pretty but it's a bitch to climb. Though compacted in most parts you are climbing over soil and loose rock and it will give your ankles and legs a good work out. Take a lead from the Japanese climbing groups, take it slow, small steps. Fuji san isn't going anywhere.
I would say we were walking for a couple of hours, but it felt like an eternity. As you leave the dark fertile volcanic soils that can sustain life you walk through a concrete tunnel designed to protect against rock falls. As you emerge from the other side you have reached the 6th Station and the moonscape that is Mr Fuji.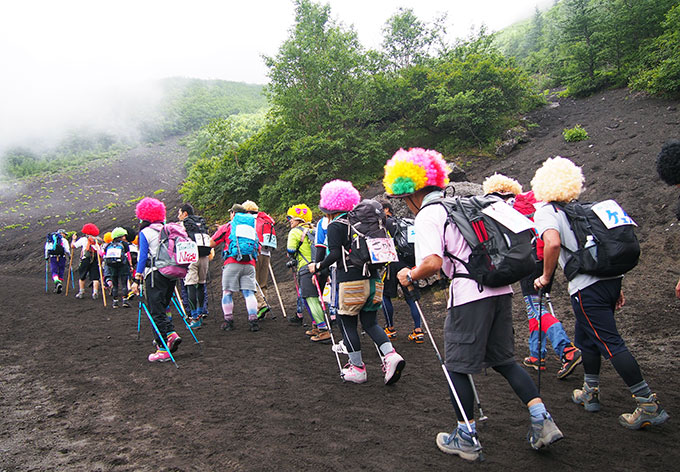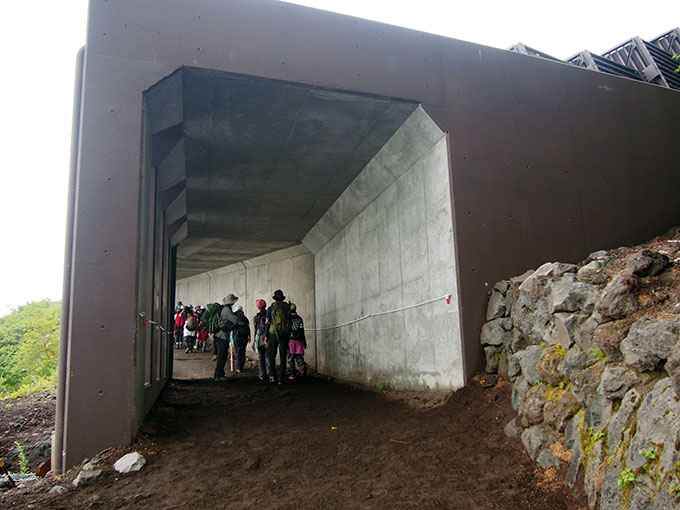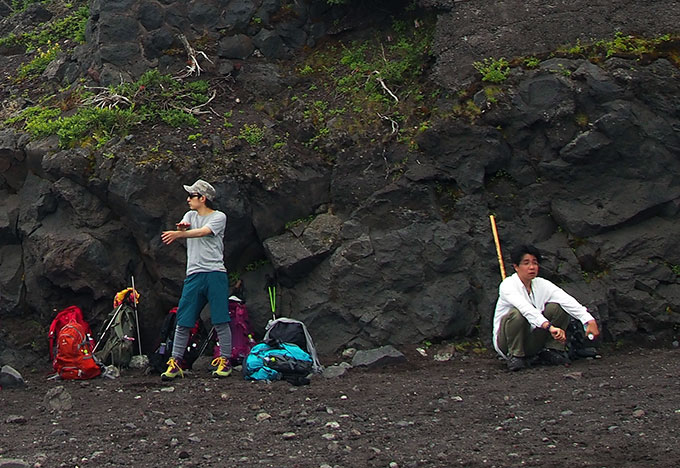 At this point I had to make a decision. I was with a group of experienced hikers and when you hike as a group you stay as a group. Sure there may be some distance between the lead and the tail end, but you never leave anyone behind.
I knew I was going to be the straggler, and 7th Station was the point of no return. If I continued to hike up from here and got to say 8th or 9th Station and decided I wanted to spit the dummy I would be walking down in the dark and perhaps miss the last bus. Not a great scenario.
Other hikers reading this will understand. Sometimes hiking can be a bit of a mind game when you are tired, sore, probably grumpy and have a fair way to go until you get to your destination. Generally you fight through it, get past that point. I wasn't yet at that point, but I had a feeling by the time I was half way between 7th and 8th Stations I was going to be.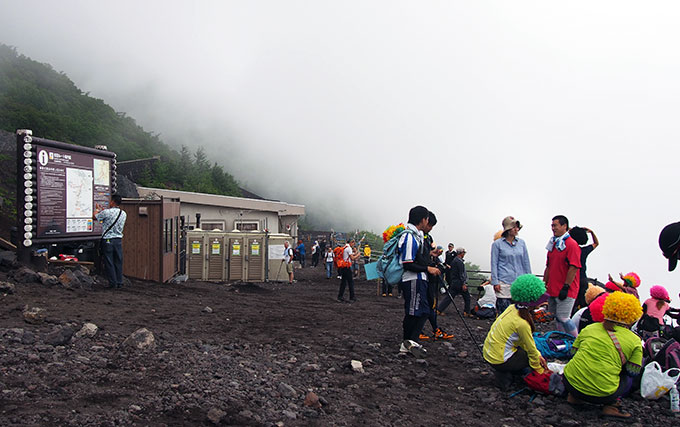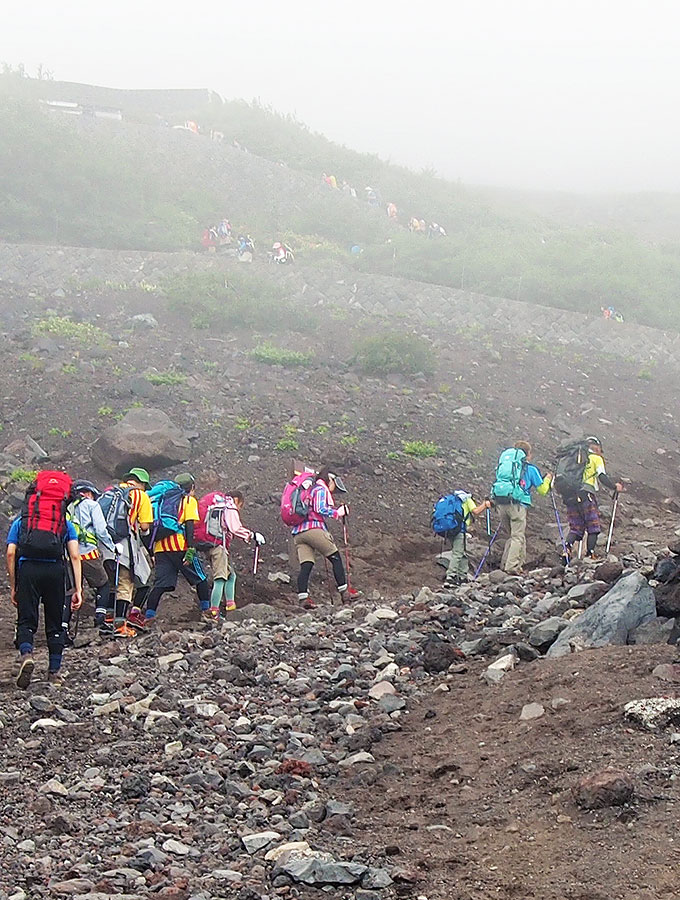 I cast my eyes upwards at the trail heading up Mt Fuji. When I say up, I mean up, there is no respite from this climb. It is up the whole way. It was overcast and it looked like heavier rain was on its way. I stood there watching the bobbing heads of a Japanese group with clown wigs start to slowly trudge up the rocky "stairs" and over boulders. At that moment I decided, it just wasn't for me. I had seen enough.
I turned back to Kawaguchiko. It really wasn't an easy decision. There were months planning this trip. I was giving up. I was letting my team and myself down. I tried to hide my emotional tears as I walked back down the way I came, passing those making their way up Mt Fuji. I felt like a failure.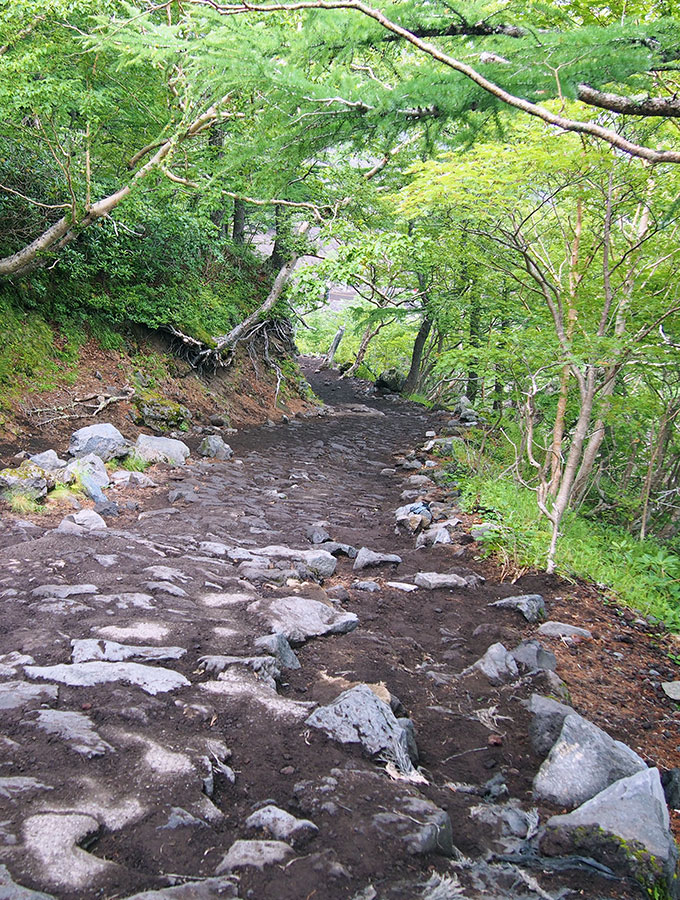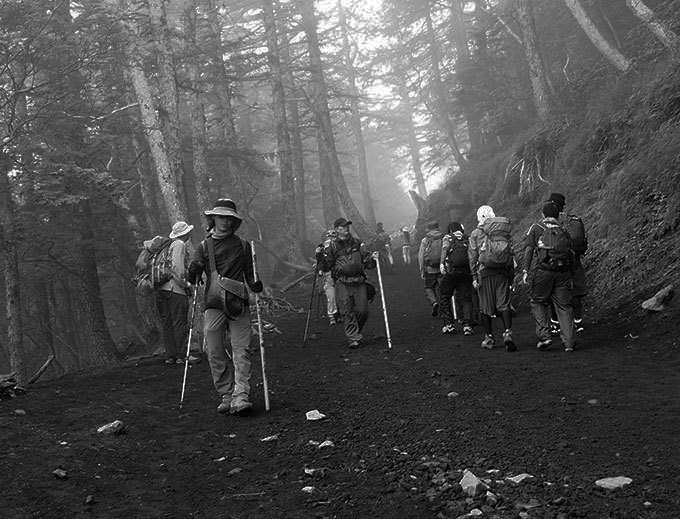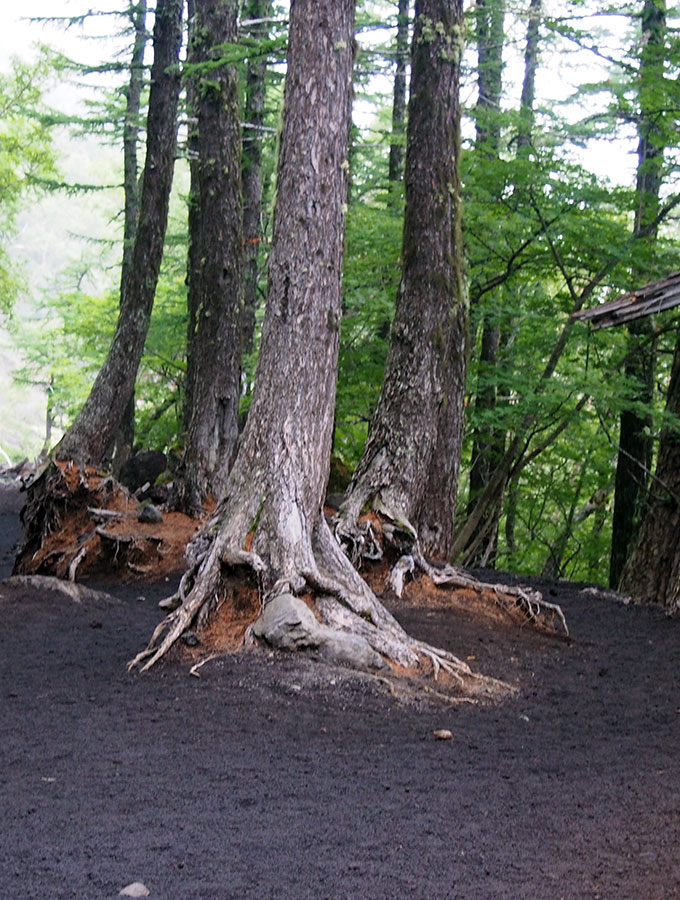 It became apparent how steep some of the sections were when walking down, you just don't notice them ascending. Eventually back at 5th Station I bought some souvenirs and lined up for the bus back to Kawaguchiko. For the whole trip back on the packed bus I wondered if I had made the right decision.
Fate works in mysterious ways. When I arrived back in Kawaguchiko, streets had been closed and the lake foreshore was lined with people and food stalls. I had come back to be greeted by the summer fireworks festival.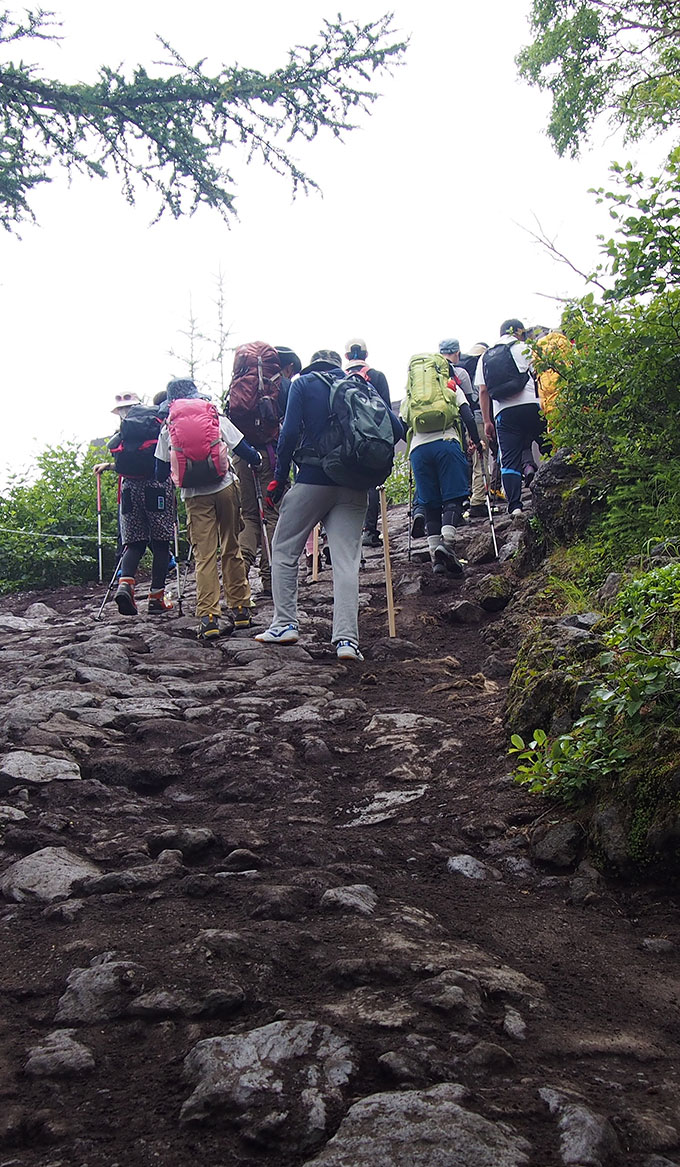 Slogging it out in the rain climbing Mt Fuji over night, versus spending the evening watching fireworks and eating Japanese street food. Funny how things work out, I'm pretty sure that the festival was my true destiny that evening.
But for The Boy climbing Mt Fuji was another story…..
Climbing Mt Fuji – Yoshida Trail 6th – 7th Station
They say that the Yoshida trail is the busy one. Well that's true enough. The number of walkers on the trail is one of the defining memories of this tramp. Big groups with funny hats, school kids, walking clubs, possibly team-building events from various companies and small groups of friends. The trail is full of people. This is not a walk where you are alone. Ever. You can always see people.
From 6th station, at 2,390M, you are above the trees. Looking up the trail as it switches back and forth there are lots of people climbing this mountain.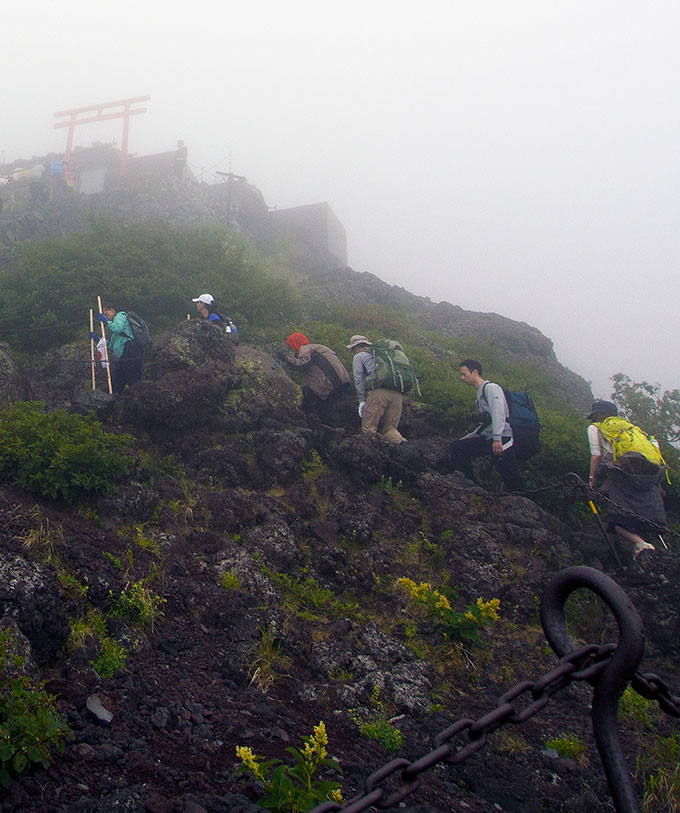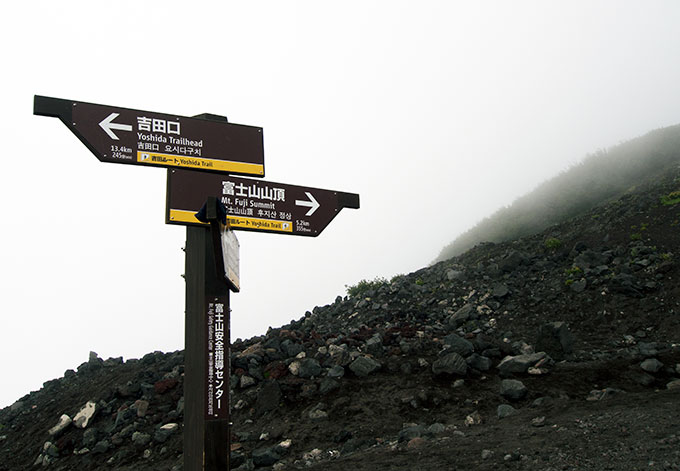 Reading up on this recently I found out that on the busiest days in 2015 there were over 7,000 climbers per day. The normal weekday average is about 2,400 and the weekend about double that at 4,600 per day. This felt like a normal kind of day, but so much more busy than any of my normal overnight hikes in Australia.
The walk from 6th – 7th Station is up an engineered walking path. Wide enough to fit the crowd, to pass others and climb at your own pace. It winds up a series of switchbacks moving you up the mountain at not too steep a grade. After the softer under foot between 5th – 6th Stations, this harder pack makes a nice change on your feet. But from here it's all just vertical and you start to realise that all the work you did on the Stairmaster as preparation will come in handy.
From fifth station the overall walk is "only" about 7.5km but with about 1,400M of vertical. The guidebooks say about five to 7 hours up and about 3 down.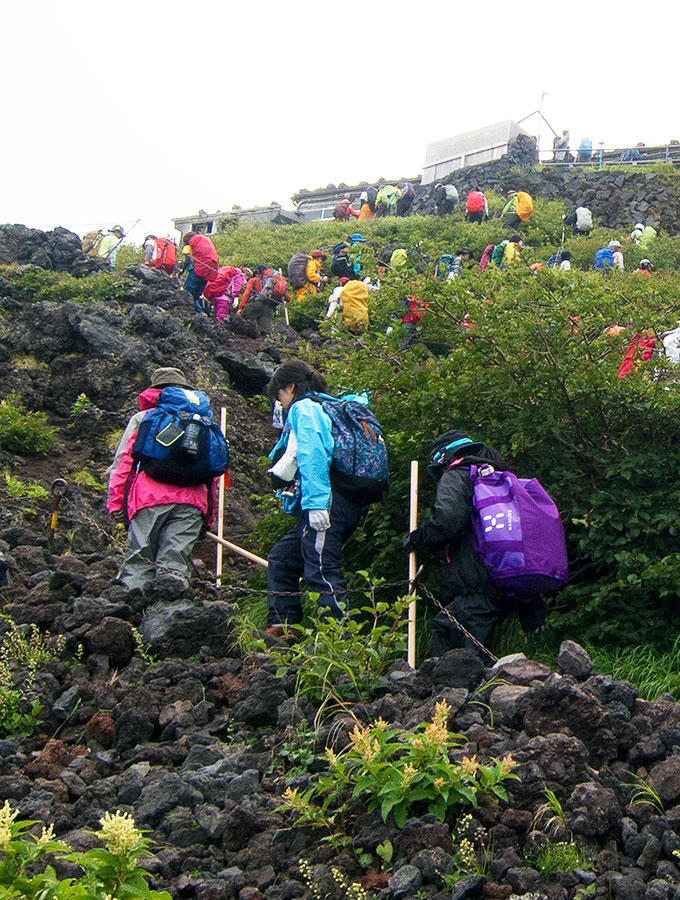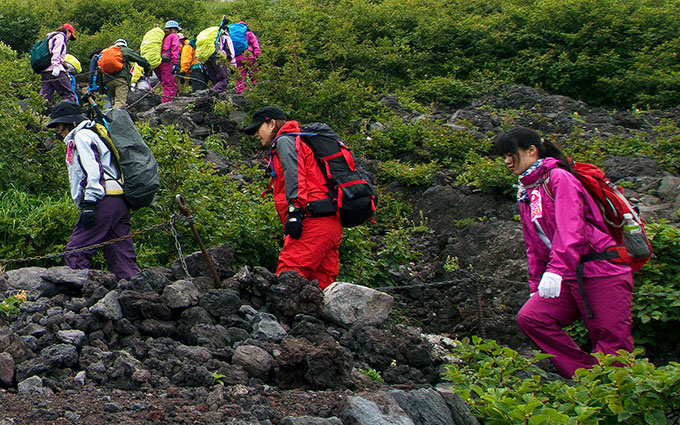 Looking about I see lots of different kinds of gear being used. There is some very expensive new gear being broken in, but also a good amount of well worn kit. Most of the climbers are Japanese. Judging by their gear a lot of them get out and walk often.
Given that this is going to be a short overnight hike and I'm going to be sleeping in a hut I really only have a very basic set of kit. My rain jacket and a light down jacket, gloves, beanie, spare socks and my sleeping bag, water and some snacks I picked up in Kawaguchiko that morning. Oh, and a head torch and trail map. I'm using a comfy little pack with hip belt that I use for these kinds of short walks. I also have my camera on my shoulder clip and I'm using my hiking poles.
In terms of gear the only thing worth mentioning is that I ended up carrying too much water, probably two to three kilos too much. You can buy water on the mountain, snacks, and even little useless cans of oxygen. My tip is to carry some spare water but to top up by buying as you go.
I'm pretty comfortable during this stretch, I plug into some music and just take in the views. The climb up to the next station takes about an hour. There are lots of boulders, little bits of green in the middle of black, typical volcano views. It's grey and cool, perfect climbing weather so far.
Climbing Mt Fuji – Yoshida Trail 7th – 8th Station
7th Station is at 2,700M. And here you come across the first set of huts. The huts are big, but nicely pushed back into the mountain so they don't overwhelm. The trail generally passes straight in front of the main eating room of the hut and there is a service window where you can buy this and that. For ¥200 you can have your wooden hiking stick stamped. For this reason, there are often groups of people clustered here. It can be a good place to stop for a break and a chat. Most of the huts also have bio toilets. These also cost about ¥200 to use.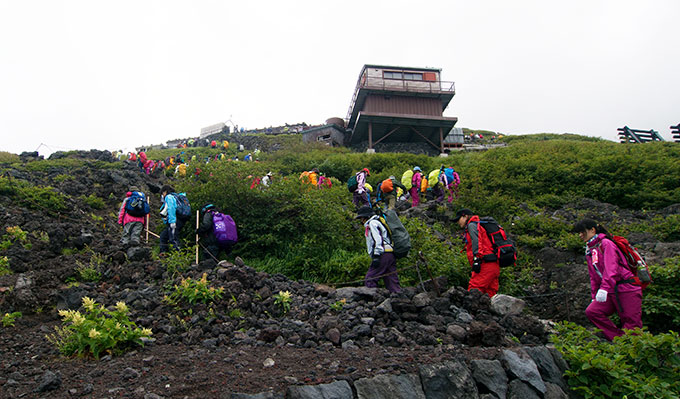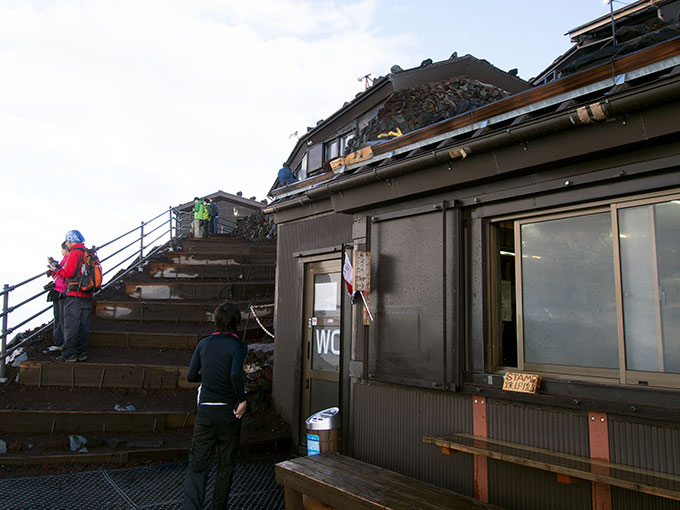 After researching the different options to summit Fuji the plan was to push through to a lodge around 8th Station and grab a few hours of sleep before heading back out to catch the sunrise. From Kawaguchiko I had tried calling a few huts and had managed to make myself understood enough to have spots booked in at Fujisan Hotel. One of the larger huts and sleeps 350.
Reservations are about A$65 with a meal and less without. I had heard it was best to make reservations or you may be left to sleep it out on the trail. Some of the huts I passed had vacancy signs, so unless you are hiking on the weekend I think you can just take a chance. In total there are about 40 mountain huts, which sleep nearly 7000 people on the mountain across the four trails.
If you like to book ahead and need help with language you can use a hut booking service.
I was thinking hard about that hut as I continued climbing up between 7th and 8th station as a steady cold rain had started to fall. I was thankful for my gear and saw plenty of others using disposable plastic ponchos getting wet. Feet up in a hut at this point would be very nice.
At good pace it should take you about 100 minutes to go from 7th – 8th station but in the rain, then up into the clouds through the wet mist, I think it took about two hours with a couple of breathers and taking care with footing.
There are plenty, probably too many trail markers.
They tell you how far up you are and how far to the next station, in minutes. In the rain they were a constant reminder of how many steps still to take, and unlike during other walks I was unable to just switch off to find a good mental space for this part of the walk.
Climbing Mt Fuji – Yoshida Trail 8th – 9th Station
Somewhere above 8th station (3,100M) we broke through the clouds and rain into blue skies. With the wet gone the going was a lot more pleasant. Only a little while later we made it to the hut, the Fujisan hotel (at 3400M).
I have stayed in many huts in NZ but this is on a completely different scale. Very basic, but able to stack and rack 250 climbers. You sleep side by side in long platforms in large rooms going up the mountain.
Dinner and resting feet was wonderful. Dinner was super simple, just curry and rice. But I didn't have to cook it, and that worked just fine. I was then able to take some time standing outside watching the sunset and the lights of Kawaguchico turn on far below. It was absolutely beautiful, cool and crisp. For a moment almost quiet with only a few people around.
The plan was to wake round 1am, have some breakfast and complete the climb. So I headed back inside to crash. It was only around 8pm but like many nights in the mountains you turn in early with nightfall.
If you have never been in a hut it may be worth having a read about hut etiquette. Common sense, keeping quiet and keeping shoes-off should cover most of it.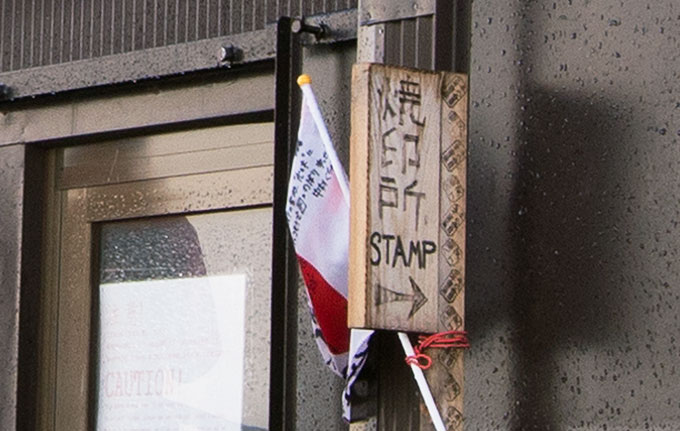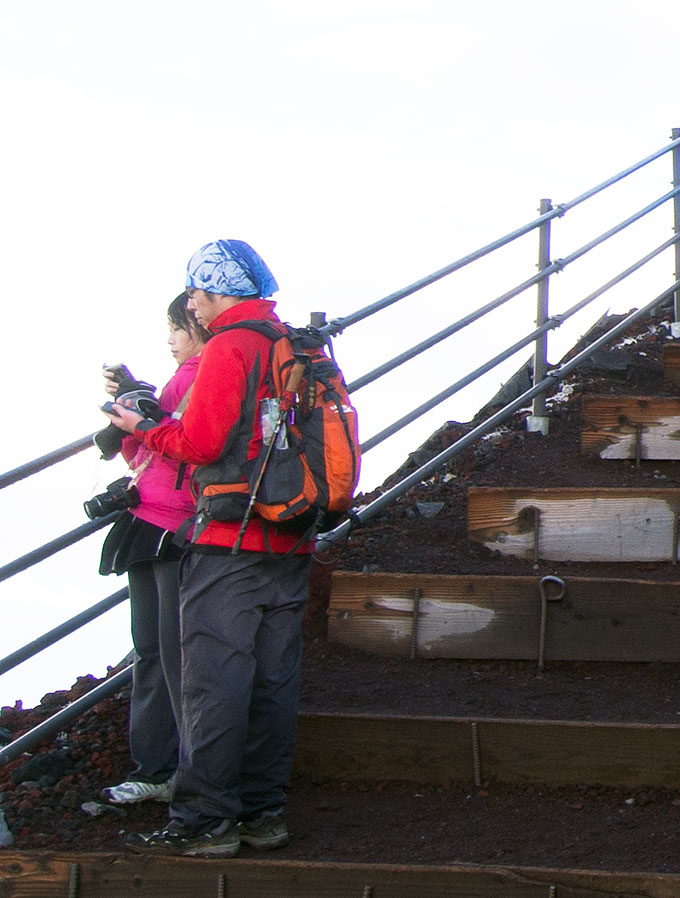 The hut provided bedding. Sleeping bags are lined up on top of futon mats, with an extra blanket available if you get cold. Pillows are also provided. I had my sleeping bag with me but used the one provided and it was fine.
Toilets are charged so make sure you bring change. Like most places in Japan the toilets worked and were clean, although no fancy high-tech toilets.
The hut crew or some kind of hive mind woke us round 1am. I'm not sure I ever fully fell asleep, but it was nice to rest my legs and listen to an audio book for a few hours. My suggestion is to bring earplugs or something to listen to because it isn't ever completely quiet or dark. Breakfast was bento box style provided by the hut and eaten quickly as the hut team tries to move you through the main room in small groups.
Then we walked out the door to find a queue, a queue on a mountain at 2am!
My suggestion, if you're climbing during the weekend or holidays it might be better to start even earlier than 2am. We certainly wanted to move faster than the average pace of the crowd. But in the end it wasn't too bad. Everyone is keen to get up the mountain and we had a number of funny conversations with different groups on the way up.
I was not very cold but others were. I recommend having good cold weather kit even in summer. While I didn't use them during the climb I certainly appreciated having my gloves and beanie while waiting for sunrise at the summit.
Climbing Mt Fuji – Yoshida Trail 9th – 10th Station
Walking slowly up the mountain, head torches on, you climb past the last huts and the slower climbers as the trail narrows. Goraiko-kan located at 8.5 Station is the last hut at about 3450M. From there you climb past the torii gate with the two stone Komainu (lion dog) statues at 3600M, which is 9th Station. Almost there!
Just below 9th Station I saw the silhouette of Fuji reflected as a vast negative space on the clouds above. The sun was still hours away from rising but it was an amazing sight.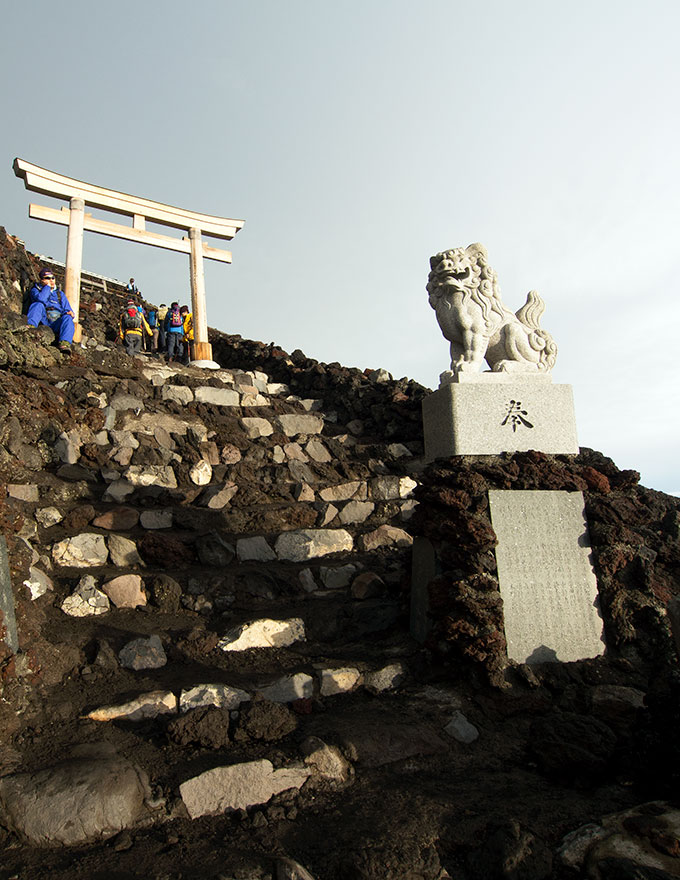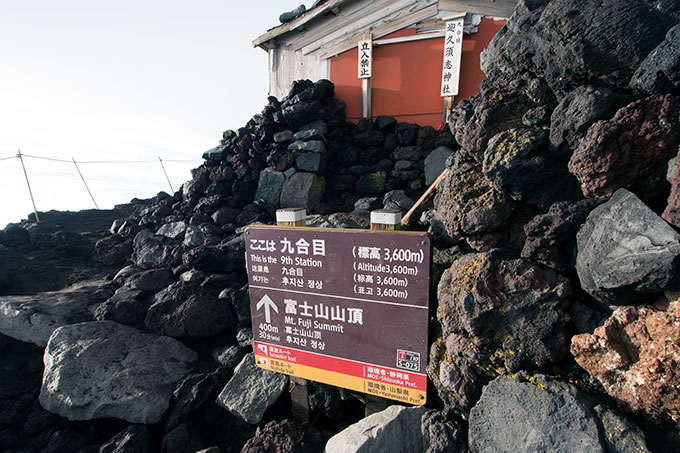 I really enjoyed the walk in the dark. It felt so appropriate, almost like a pilgrimage shared with other walkers, everyone keen to see sunrise together. Instead of being bothered by the crowd it felt like we were helping each other up by walking together. One long chain of walkers.
Looking back down the mountain at one point I saw just how many climbers were still far below. Surely many would not make it up for sunrise. I am really glad we chose to stop high on the mountain and only do a little of the climb in the dark.
I didn't experience any altitude sickness, although I have in the Rockies at a similar altitude. I saw others who did, both in the huts and as we climbed up in the dark. The only thing I can advise is that the cans of air that are sold in the huts do very little to help.
Climbing Mt Fuji – Summit
The summit of Fuji, just like the climb, is an amazing experience.
Once you pass between the stone guardian dogs and through the torii gate you will see the Kusushi Shrine immediately in front of you. Kusushi is one of the eight "peaks" at the top of Fuji around the crater. Behind the shrine is a row of shops known as the "Fuji Ginza."
Shops, on the top of a mountain? Hardly the sunrise experience I had imagined.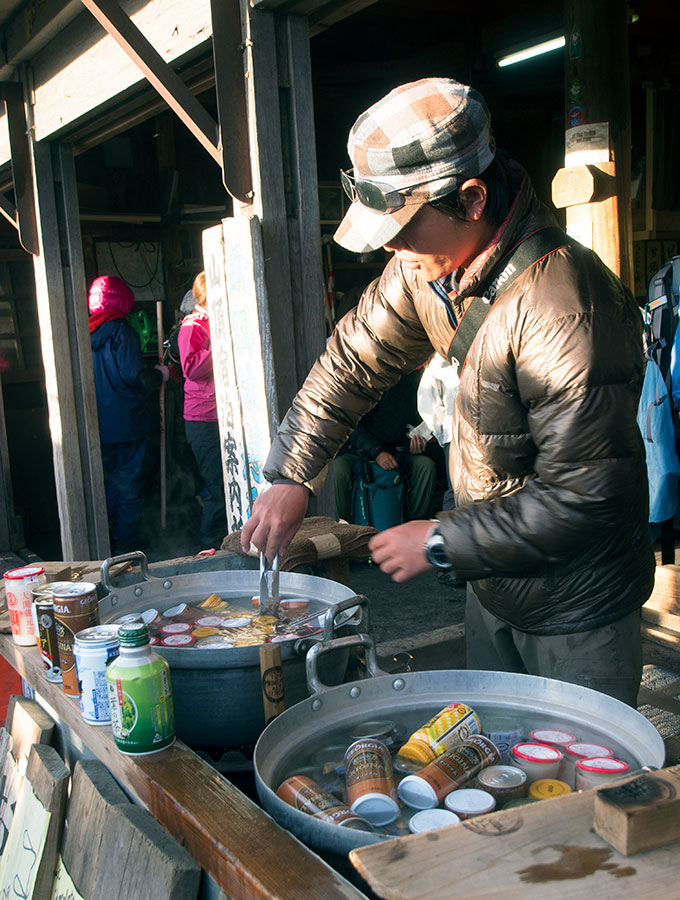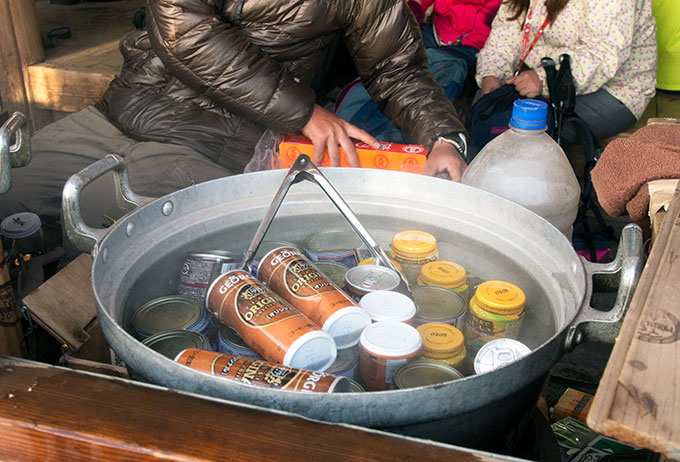 On the plus side, buying a can of sake and a can of coffee out of a drum of boiling water at 3:30 am is pretty cool. We cracked the cans while looking into the dark and watching the slow moving snake of lights coming up the mountain. Then we went to find a spot to wait for sunrise.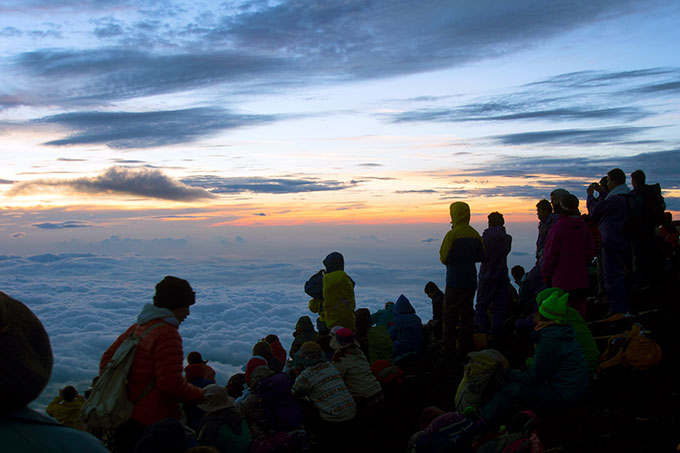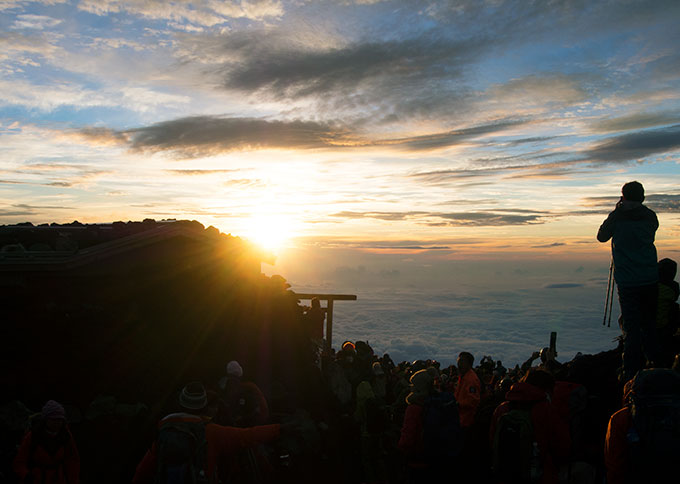 The surprise was not how great sunrise was, it was as amazing as expected. In Japanese Goraiko is "The coming of the light" and is usually used specifically to refer to the sunrise on top of Fuji. It was worth the climb. The clouds below started coming alive and we watched it unfold. Reds, magic blues and purples. A sunrise with clouds is always beautiful. Watching it from a mountain is magic. And from Fuji, for me, a bucket list tick.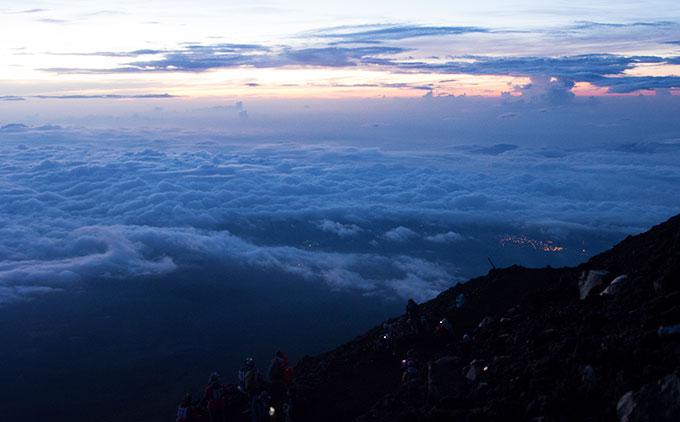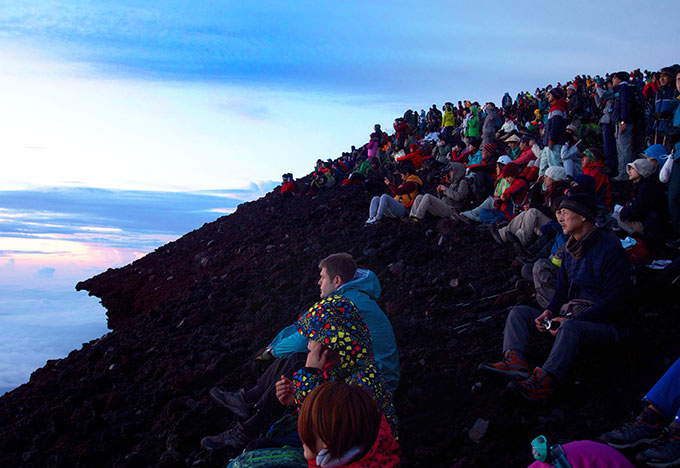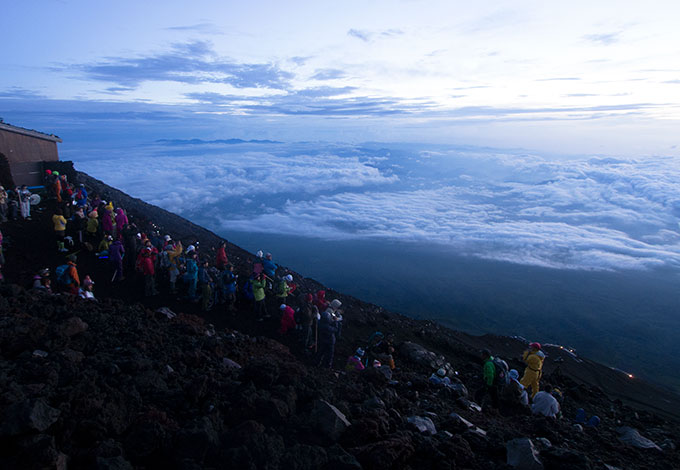 The surprise again was the crowd. With my focus on the sunrise I was alone enjoying the beauty of those slow moments. When I turned around I realised that at least some of the long snake of climbers had joined us, and those that had made the summit before us. The crowd was as amazing as the sunrise.
Walking around after the Goraiko I saw Japanese army guys, climbing teams, people in dress up. An amazing sea of climbers all enjoying the early morning light from such a special place.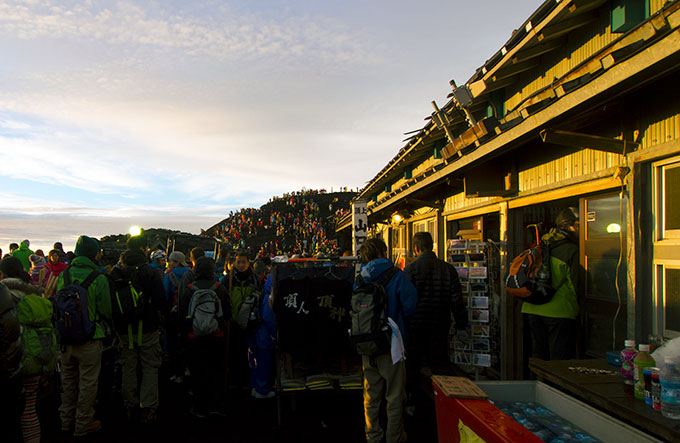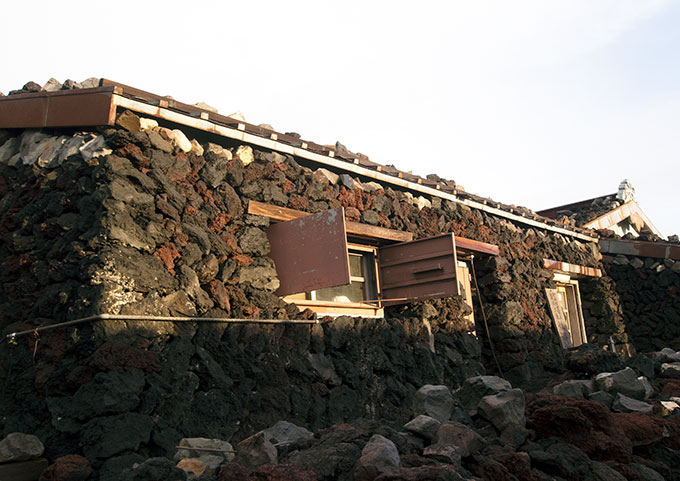 After a light snack and drink we went round the crater. This takes about 1.5 hours to get round the 4km circuit and gets you up the highest peak, Mt Kengamine, which is the highest point on Mt Fuji at 3776M. Again, sleeping high on the mountain and moving early is a good tip because the crater walk can be quite crowded.
Climbing Mt Fuji – Back Down
From 5th to 10th Station you will climb 1,425M in height, but only cover a distance of around 7.6km. It's not that far really in terms of numbers but can feel a lot further. The average time to climb is six hours, and I think I did it in seven or so with the rain, the crowd and some breaks.
It will only take you three hours to come back down. And if your thighs are going well, it is LOTS of fun.
The trail down is different from the trail up. It is groomed every night like a ski slope and you can bounce down on a much softer base digging in your heels and almost running down the mountain with giant steps. Especially with hiking sticks it was just a blast to move quickly down and then look back up at how far we had come in such a short amount of time.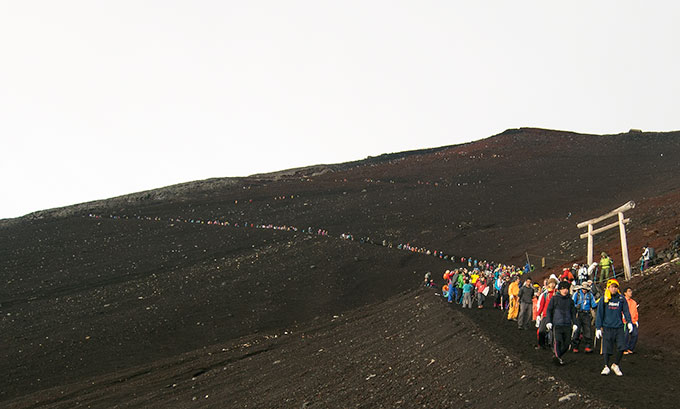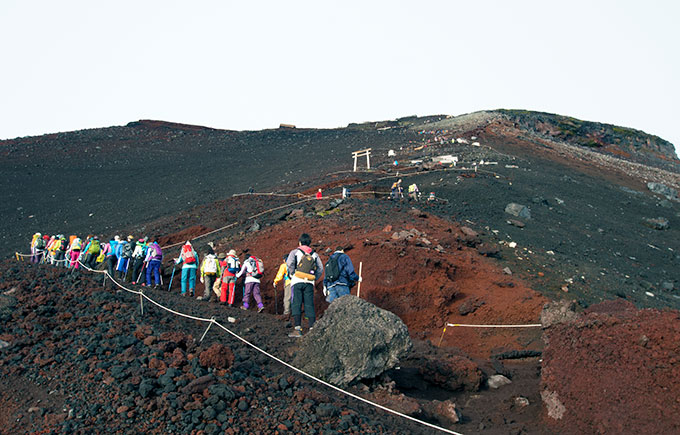 Do make sure you follow the right trail markers. As you dash down you may miss the right trail as it splits into two. We met a few people who needed to back track and they looked absolutely shattered at having to climb again.
Going down also provides continuous views over the landscape below. Too often walking up the focus was on the mountain itself and how far up each switchback looked. On the way down the views are amazing and I probably appreciated them even more.
Back at 5th Station, as I waited for the bus back to Kawaguchiko it was fun to see the groups about to make their trip up the mountain. The crowd had become normal. This mountain enjoys the company and has a lot to share. The trail is well maintained. The huts work well and cope with the large numbers of locals and foreigners who want to make this climb part of their lives.
And as for that Japanese saying "A wise man climbs Mt Fuji once, only a fool climbs it twice."
I would be a happy fool to climb it again!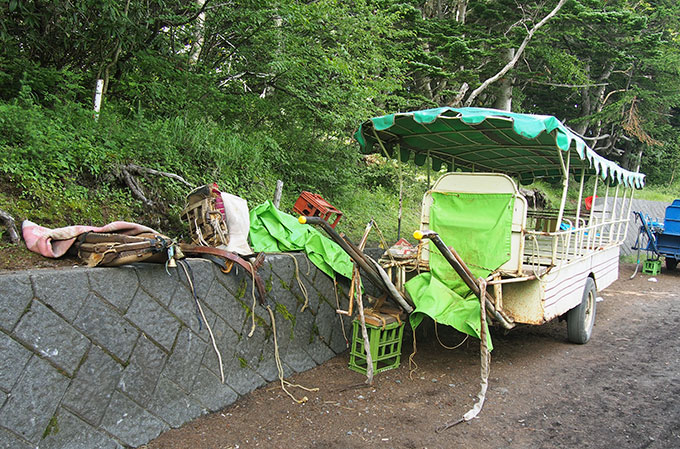 Two very different climbing Mt Fuji experiences, one made it and one didn't. Even though I decided to not continue to the to summit, on the day, once back down I felt I had made the right decision.
Though I will admit now, after looking through photos, and both Elbee and I reliving the story, I wish I had continued climbing Mt Fuji to the summit.
Sara xxx
Become a subscriber and don't miss a single delicious recipe, restaurant review or travel adventure.
Subscribe to our mailing list