If you can choose only one fine dining experience in Auckland, then I suggest Clooney. Which is exactly what I did as soon as I knew I was flying over the ditch from Sydney. In fact Clooney was my first eating port of call when I disembarked my Emirates flight.
I have to admit, and I'm sure I'm not the only one. When I think/say Clooney a suave Nespresso sipping George springs to mind. With this Clooney the names you need to remember are Tony and Jacob. They are the ones behind tantalising your tastebuds when visiting this Freemans Bay establishment.
Tony Stewart is Clooney's owner and Restaurant Manager. He opened Clooney in 2006 in what was once a derelict warehouse and transformed into an industrial glam space. Clooney wasn't Tony's first venture on the Auckland hospitality scene, that was a lounge bar in the 90's. It was Clooney that cemented firmly on the Auckland food scene as a top restaurateur.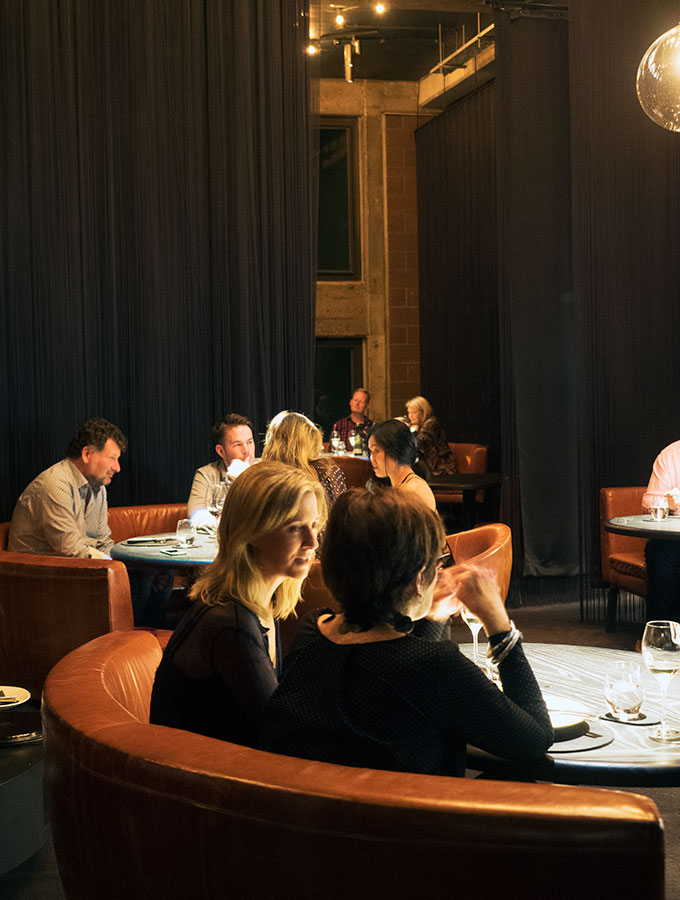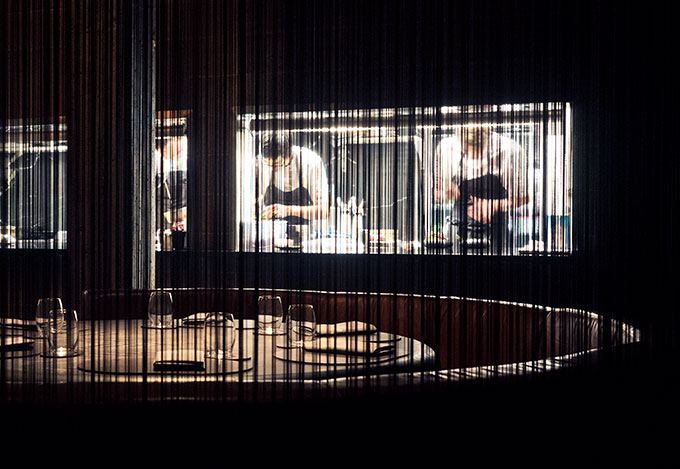 The greeting is warm and friendly on arrival, being 10 minutes early it's a visit to the bar area at the front of the restaurant before dinner. There are a few small tables and seating at the bar. I choose the bar as it is fun to watch the action.
Having a look at the drinks menu I note that quite a few of Clooney's specialty cocktails have a Japanese twist. I can't help ordering the Suica, spiced kurokirishima imo shochu, watermelon, yuzu, wasanbon and matcha. Ordering this cocktail has noting to do with the ingredients, but the fact I carry a Suica card around in my wallet. Those familiar with Tokyo's transport system will know what it is. This makes for a great conversation starter with the Japanese bar tender, who put it on the menu as his little joke.
With table ready its time to head to the main dining room. Caramel coloured leather booths are dotted the room, with plenty of room between dining parties. Long black curtains act as a room divider in the former factory space, but it is the black string like curtains sectioning off parts of the room I find visually interesting. They remind me of fringes on flapper dresses, only around 6 metres long cascading down from the extremely high ceiling.
Even though you can see other dining parties, the booths are positioned to face the long kitchen pass. The kitchen is your floorshow for the evening, it also leads to an intimate dining environment in a not so intimate space. Instead of sitting opposite your partner, you are sitting next to them in the semi circular booth.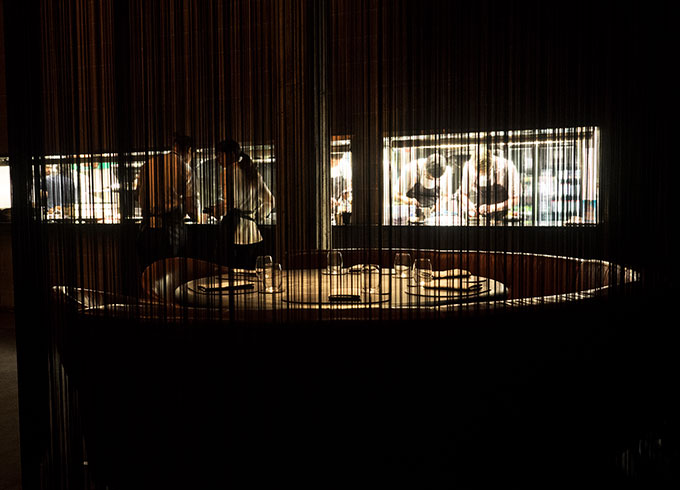 As mentioned, that other name you need to remember when it comes to Clooney is Jacob. Chef Jacob Kear comes to Clooney from a little two Michelin star joint called Noma. You may have heard of it?
Jacob is a Japanese-American chef who has also worked in the Michelin stared Tapas Molecular Bar in Tokyo. As well as helping Rene Redzepi establish Noma Japan.
With my love of Japan it's no surprise that I am excited by Jacob's menu. One that embraces New Zealand's outstanding produce, with Japanese influence.
Jacob hasn't been with Clooney long, only a few months from what I understand, but you wouldn't know it. With his Noma philosophy and Tony's passion for sustainability, it seems the perfect match for Clooney.
Being a Saturday night the only dining option is the 13 course tasting menu. There is also a pescetarian and vegetarian option offered. They will do their best to cater to dietary or allergy restrictions, but at least 48 hours notice must be given. Unfortunately due to the way the kitchen works they are unable to remove soy or dairy from the dishes.
When I say Clooney's 13 course tasting menu is the "only" option, it was the option I want! Wine or sake matching is also an option, I head down the sake route.
Clooney 13 Course Tasting Menu (May 2017)
Please note that the menu is seasonal, and can change daily depending on produce.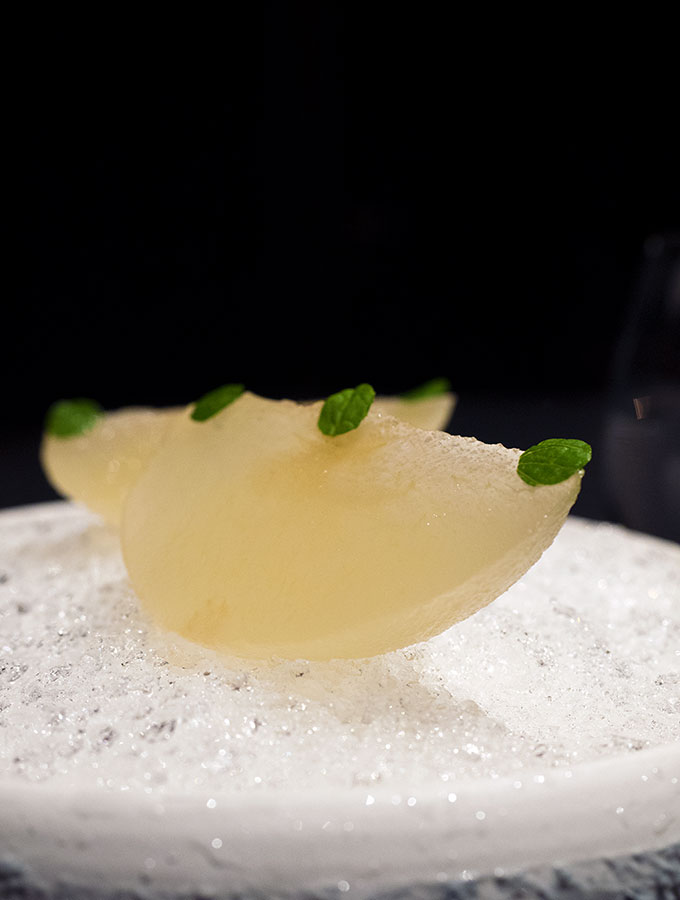 Nashi and sangria: Served on ice and dotted with teeny mint leaves, the nashi pear has been compressed with white sangria. Crisp and juicy, each bite is refreshing with an herbal touch. It is the perfect way to start the meal.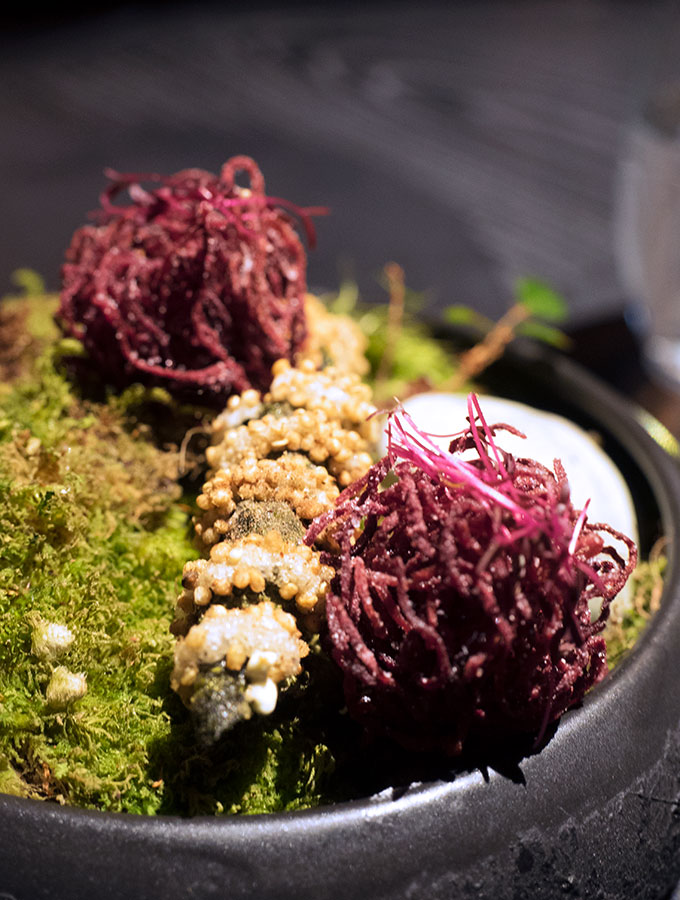 Beetroot fibre and canNori: Crunchy beetroot fibre is wrapped around a centre of goat curd and topped with pink amaranth. It's pretty and excites the tastebuds, but it is the canNori that steals the show. CanNori is a tube (or cannoli) made from nori with New Zealand quinoa. It's crunchy with a smack of umami, they could sell these babies by the bag full. They would make the perfect high end beer snack.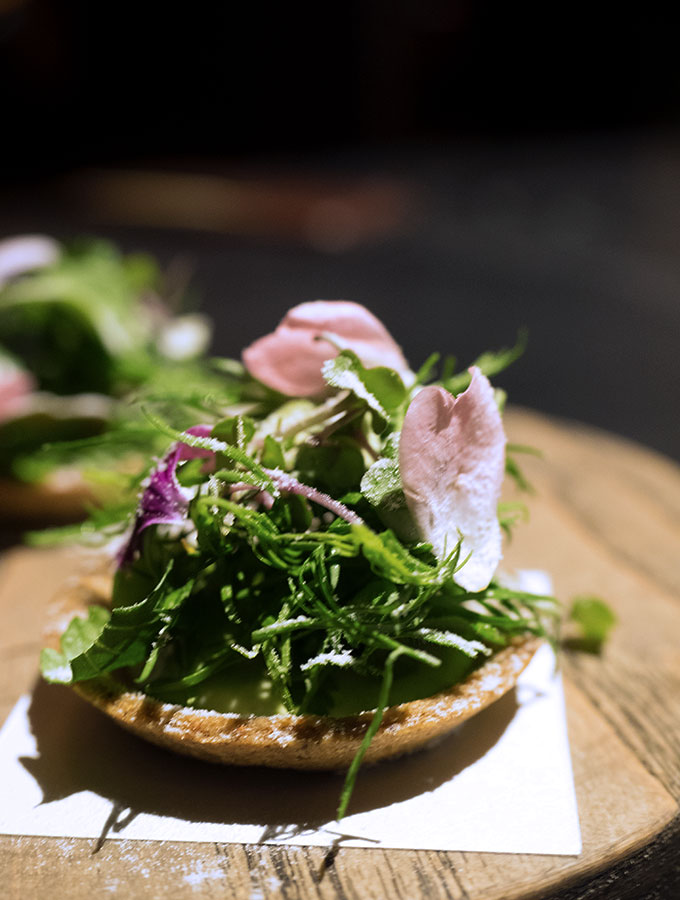 Herb tart: Konbu tartlet filled with herb mousse, topped with greens and edible flowers. The tart shell is light and buttery with the greens giving a freshness.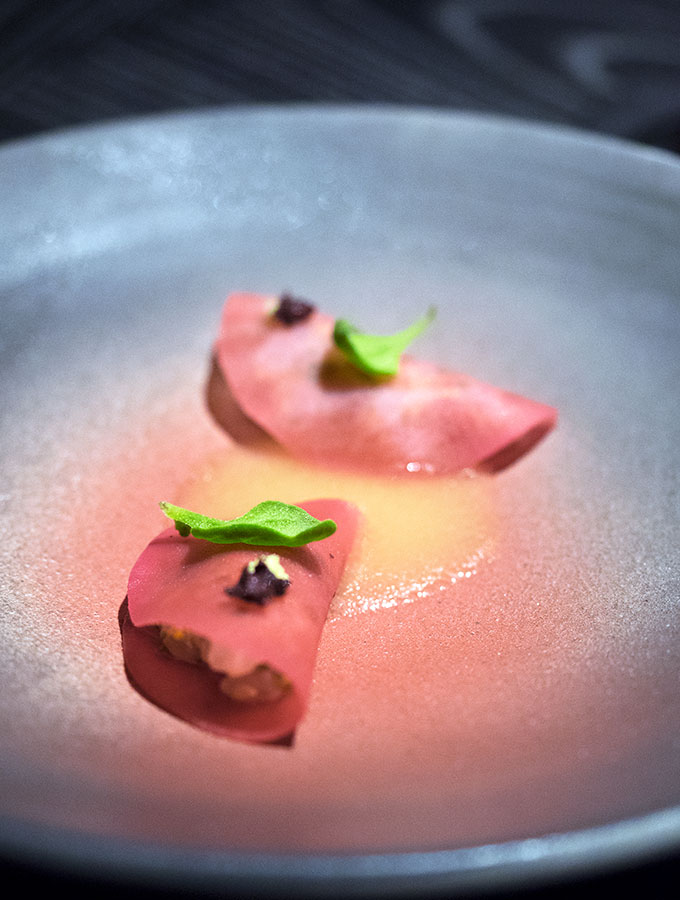 Hiramasa with watermelon radish and koji: A kingfish tartare is hidden in a paper thin slice of watermelon radish with a yuzu sauce. The watermelon radish is compressed with beetroot (which gives it the pink colour), apparently if eaten raw it can be bitter.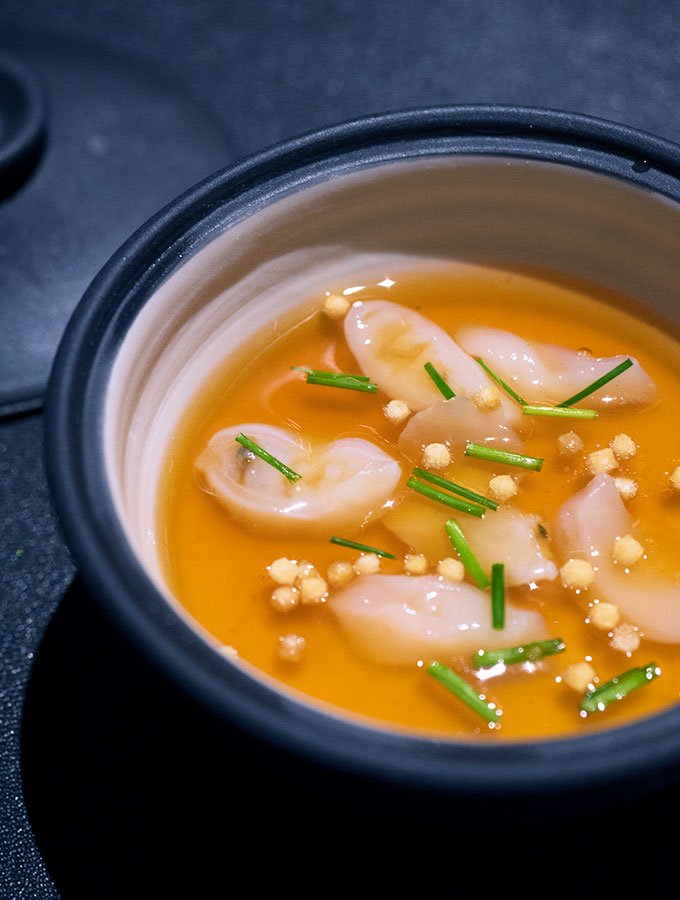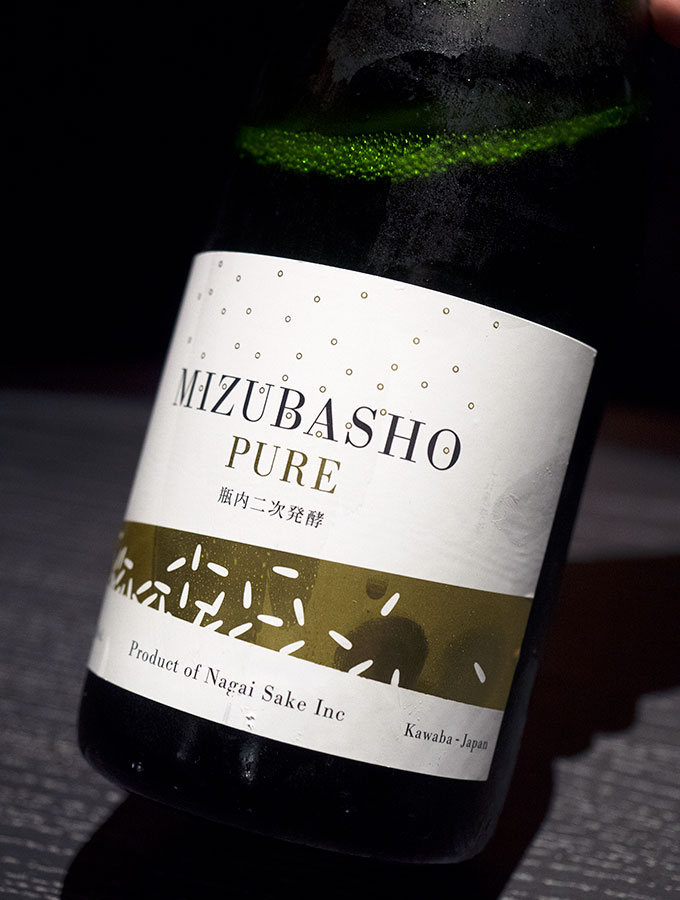 Cloudy bay clams with silky egg and garum (sake match, Mizubasho Pure Sparkling): Tofu and egg custard with local surf and tau tau clams. Topped with dashi, chives and puffed rice. I adore this dish, the dashi adds a moreish umami note and the clams couldn't be any fresher. A couple of slices were still wriggling around on top of my custard. Something I delightfully shared with my Instagram followers here.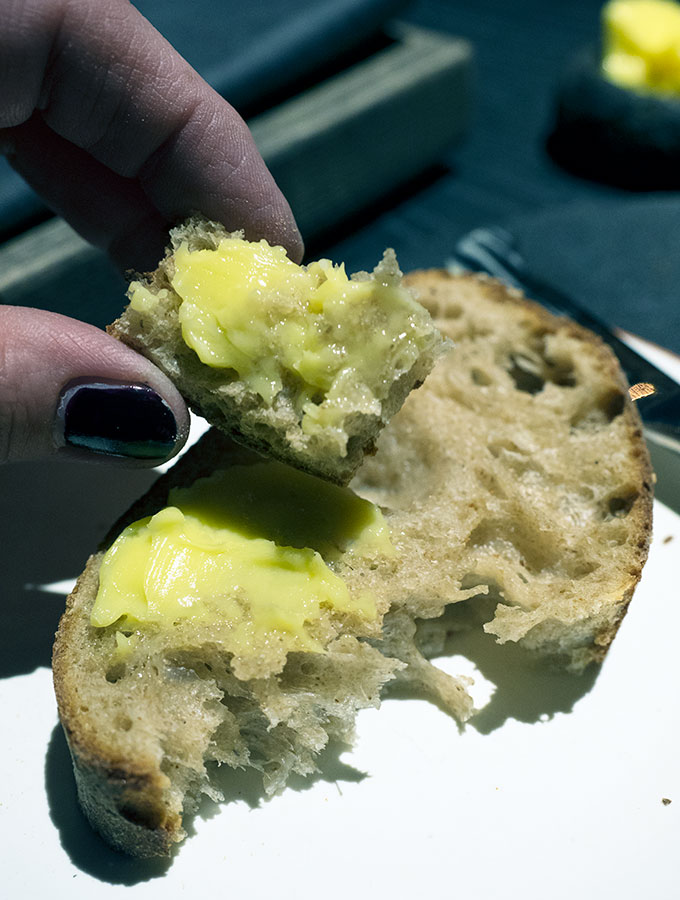 Naturally fermented bread with aged butter: House made sourdough, and when they house made they aren't kidding, they mill the wheat themselves. The butter is kefir cultured.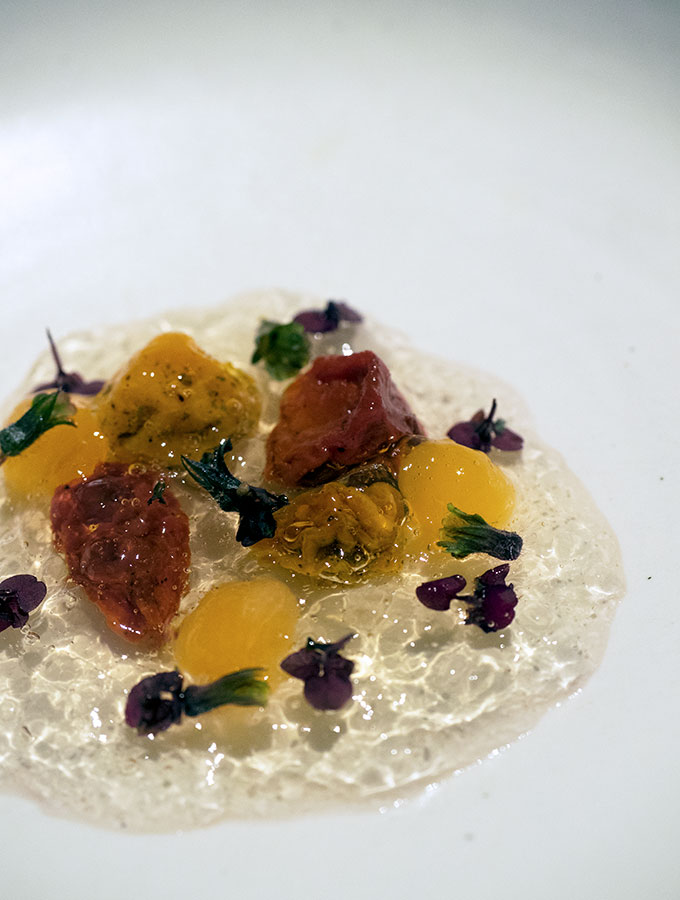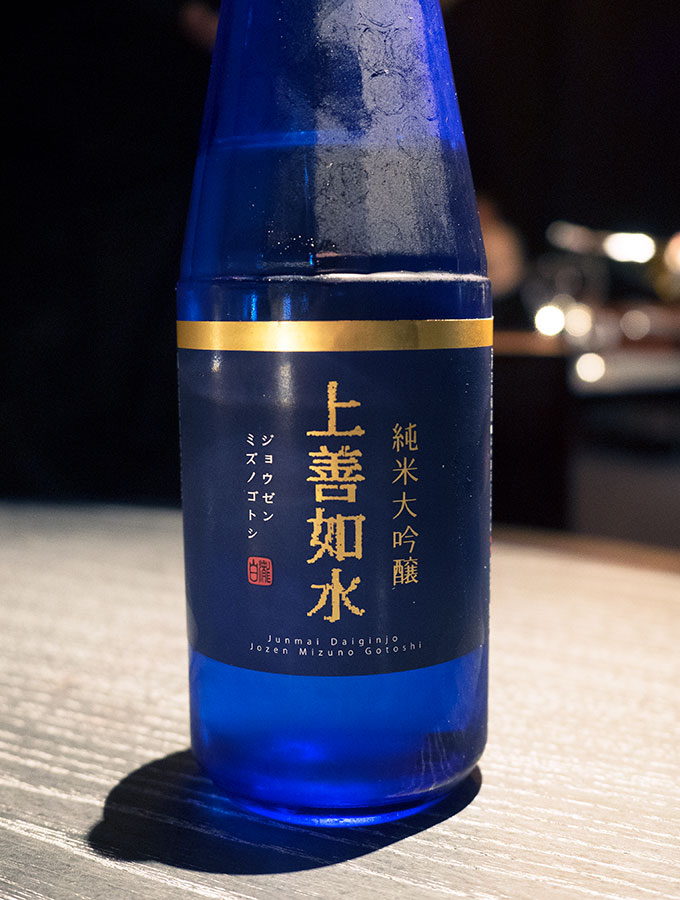 Tomato of the season (sake match, Jozen Mizunogotoshi Junmai Daiginjo): Dehydrated seasonal cherry tomatoes, rockmelon pearls, gazpacho. The clear gazpacho jelly is at another level, a strong tomato flavour, tangy, sweet and fresh. I'm surprised how well the watermelon pearls match to the tomato.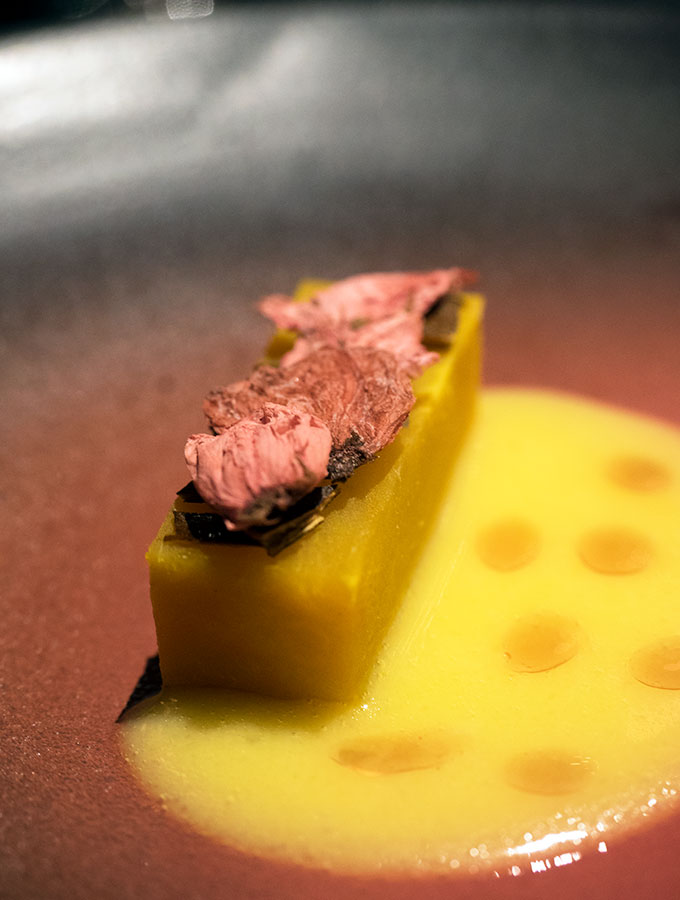 Golden kumara, salted cherry blossoms and koji (sake match, Kozaemon Tokubetsu Junmai): Confit kumara with shio koji mushroom cream. Topped with salted dried sakura and kombu. The cherry blossom flowers remind me of Chinese salted plums, but more delicate. They are fragrant and salty which adds a delightful contrast to the mellow kumara.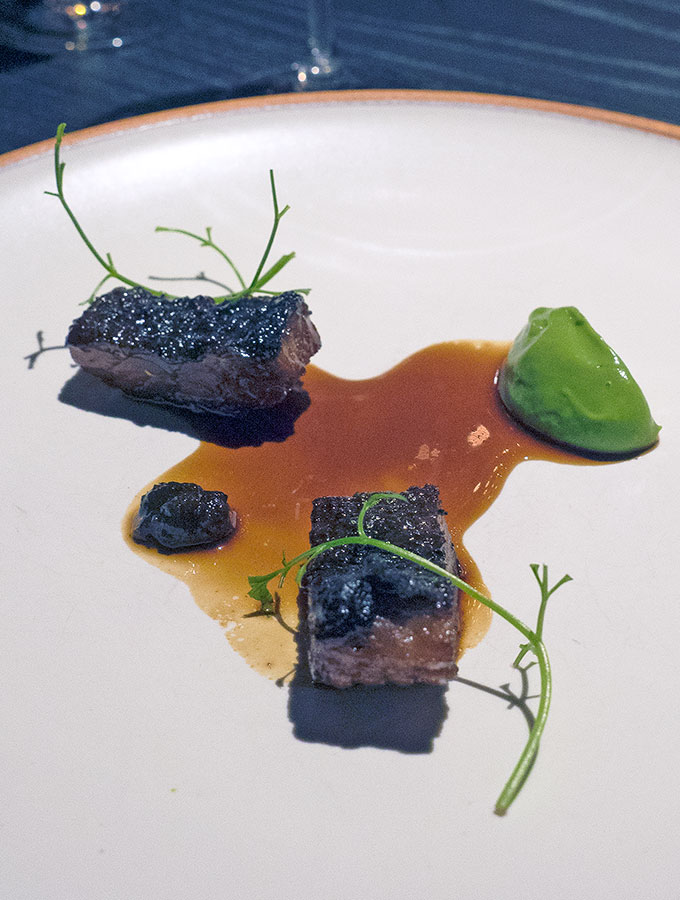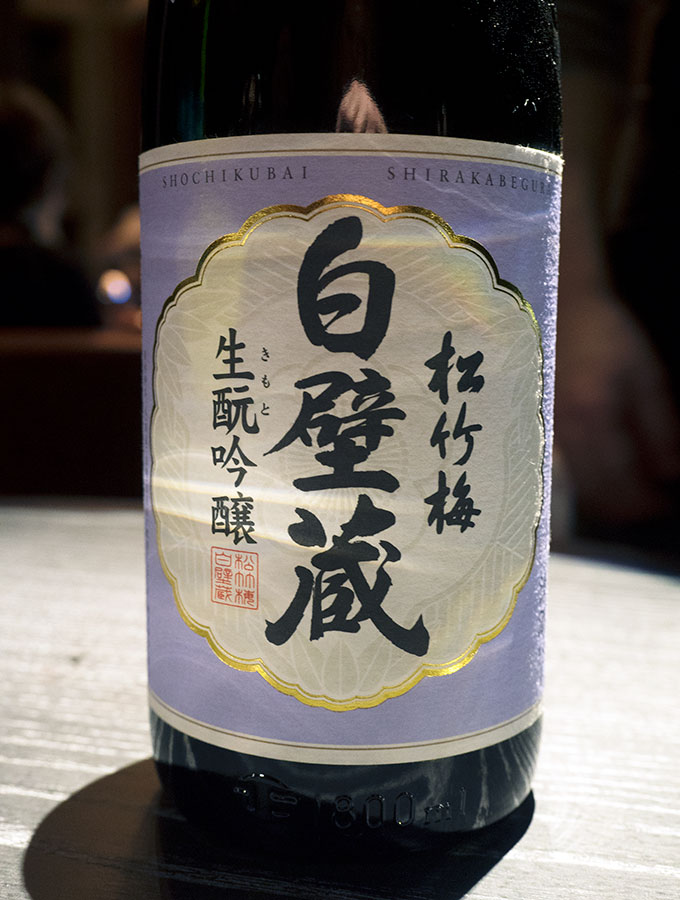 Eel with sansho and avocado pudding (sake match, Shochikubai Shirakabegura Kimoto Ginjo): The plating has a Tim Burton feel to it. That's not a bad thing, I like Tim Burton. The eel seems to have movement and the leafless stems adorning the pieces look like horns to me. I have a vivid imagination.
It is Southland eel, which comes in fresh daily. The eel is blanched and the skin removed. The eel bones are used in 3 month old master stock. A fresh avocado mousse (reminds me a little of guacamole, maybe my imagination isn't that vivid). The eel is sticky with a sweet hint and schezwan peppers.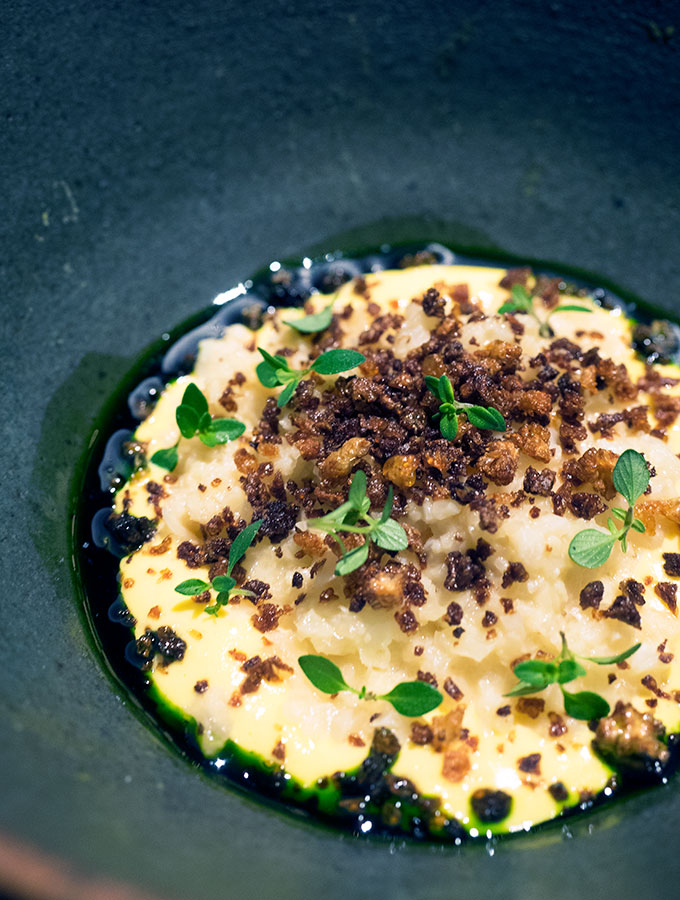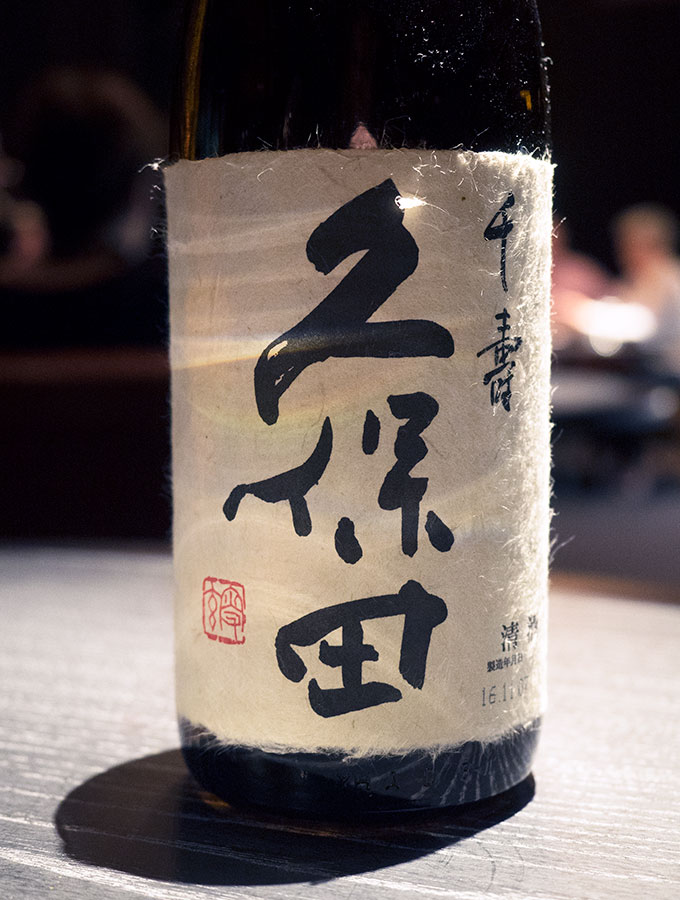 Cauliflower, egg and parsley (sake match, Kubata Senju Tokubetsu Honjozo): This dish has a little more to offer than first looks. Hidden in the middle of the miso cauliflower puree, aerated béarnaise and parlsey oil is a perfectly gooey egg yolk. The dish is topped cauliflower dukkah crunch and lemon thyme tips.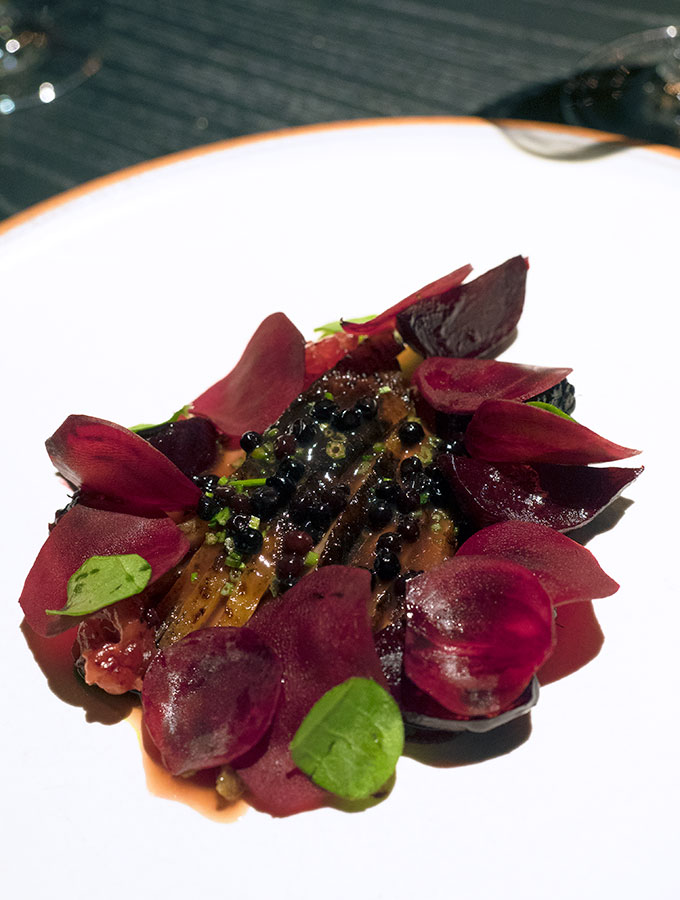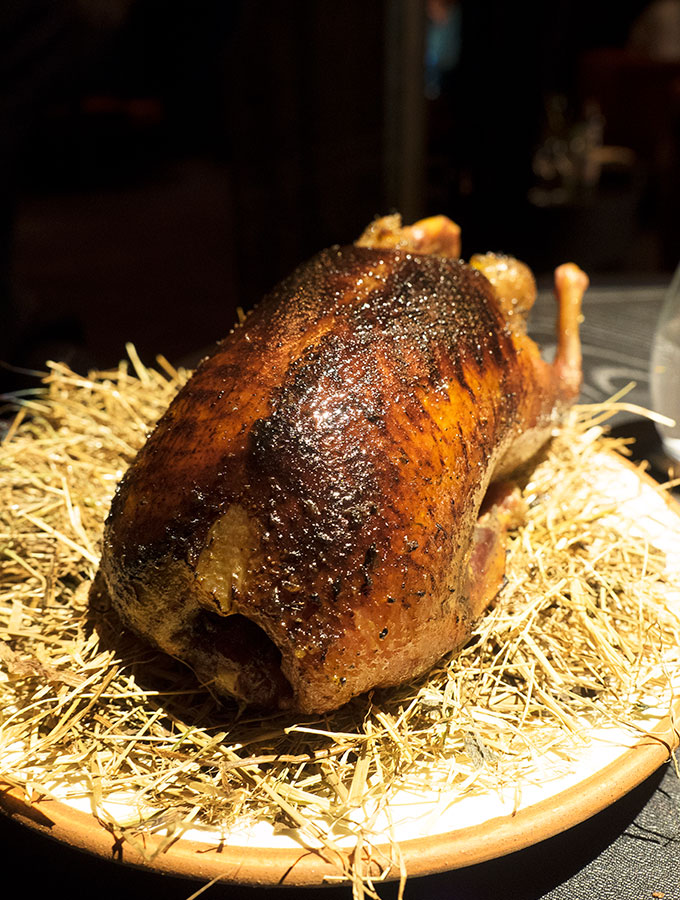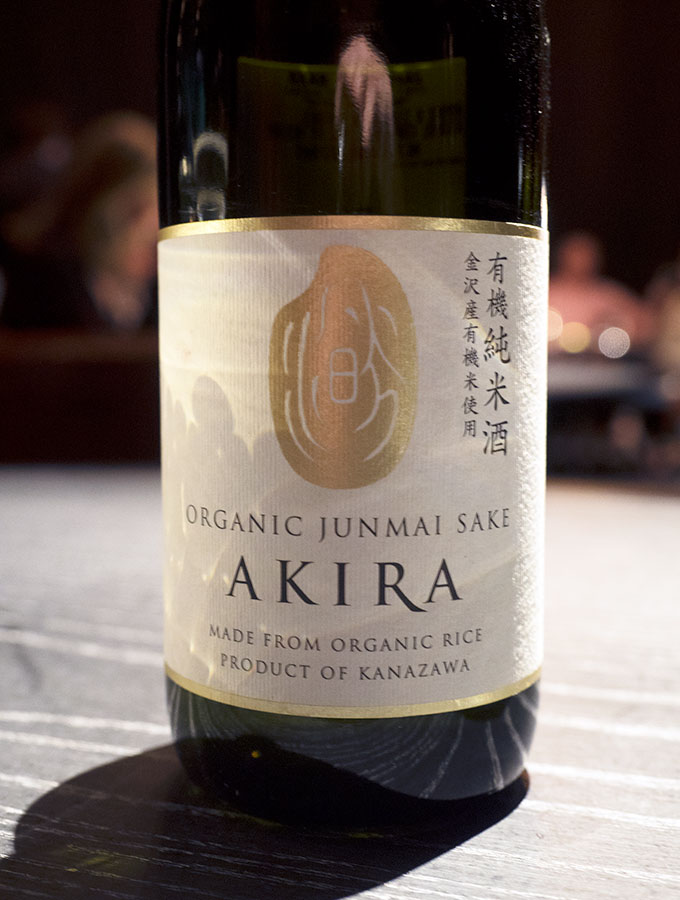 Muscovy duck, beetroot and berries (sake match, Akira Organic Junmai). With the pride and excitement of man holding his first born, Tony brings a whole duck over to the table. As I sit there salivating over the beautifully cooked duck resting on a bed of hay, Tony explains about the duck and their cooking process.
Now, my recollection of what Tony explains may not be as in depth as what he explained to me. But hey, I was how many sakes down!?! Muscovy duck is their duck of choice due to flavour. Unfortunately the trade off is they are not a duck abundant in meat. The ducks are cooked with hay, basted and hung.
When the plated duck comes to the table the sliced breast meat is hiding under a garden of thin beetroot slices. There are three kinds of beetroot in the dish, baked and pickled as well, with seasonal berries and elderberry white wine jus. Unfortunately there is one element that takes this, should be showcase dish down a notch. My breast still has some small slithers of breast cartilage attached. Minor point, but was an unexpected texture. Tony is right, the duck is full of flavour and on a 13 course tasting, it works well.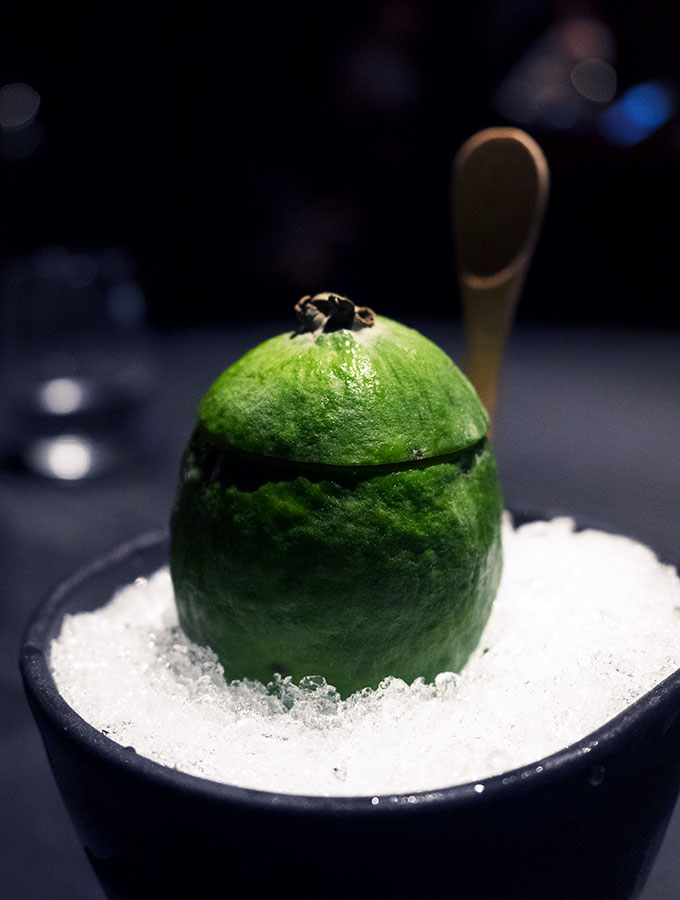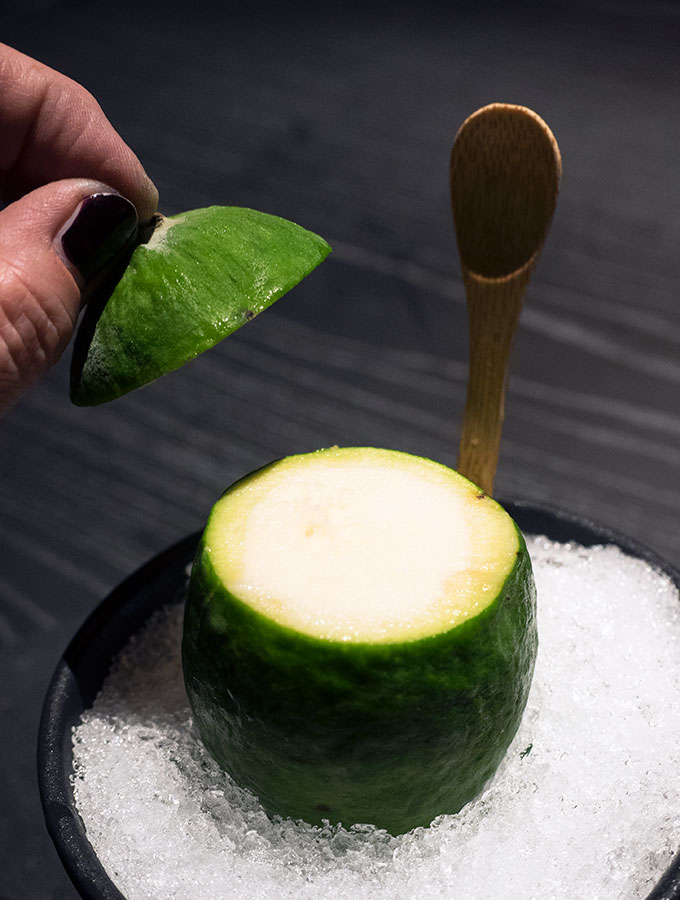 Feijoa: The feijoa sorbet signals the end of the savoury courses. In season at the time and a fitting kiwi fruit to use. It is refreshing with a touch of pineapple.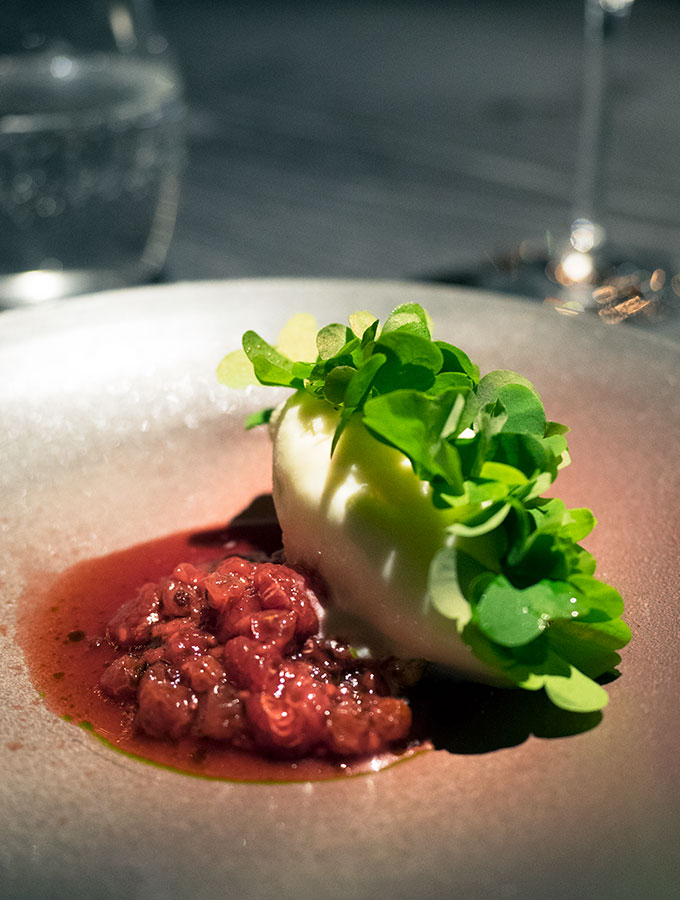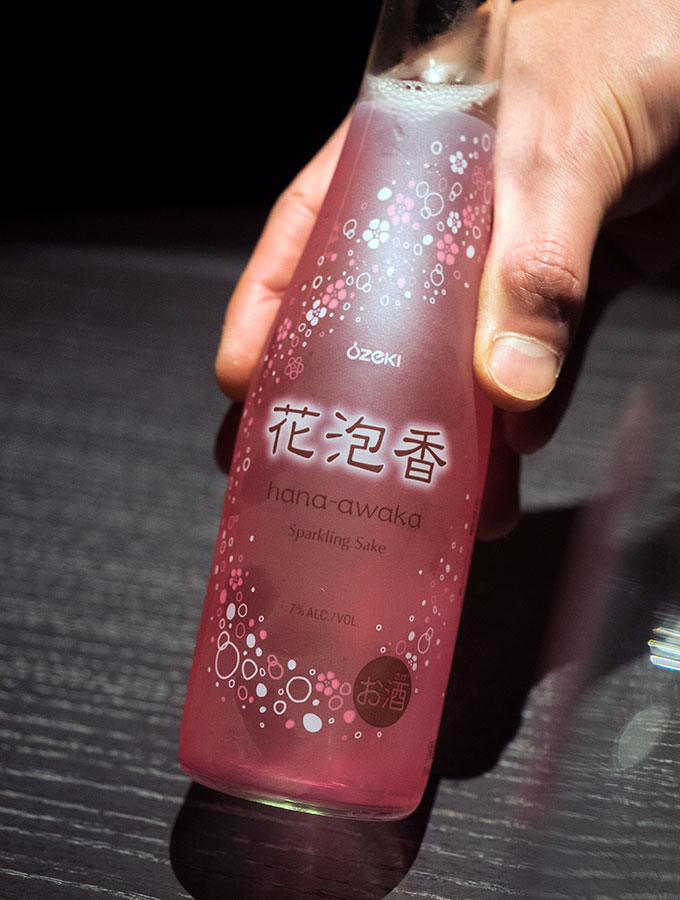 Preserved berries with bay leaf ice cream and wood sorrel (sake match, Hana Awaka Bihappou): A quenell of bay leaf ice cream sits atop shaken berries (berries shaken with sugar). The ice cream wears a crown of sorrel. My favourite part of the whole dish is the buttermilk crumb which is hiding underneath.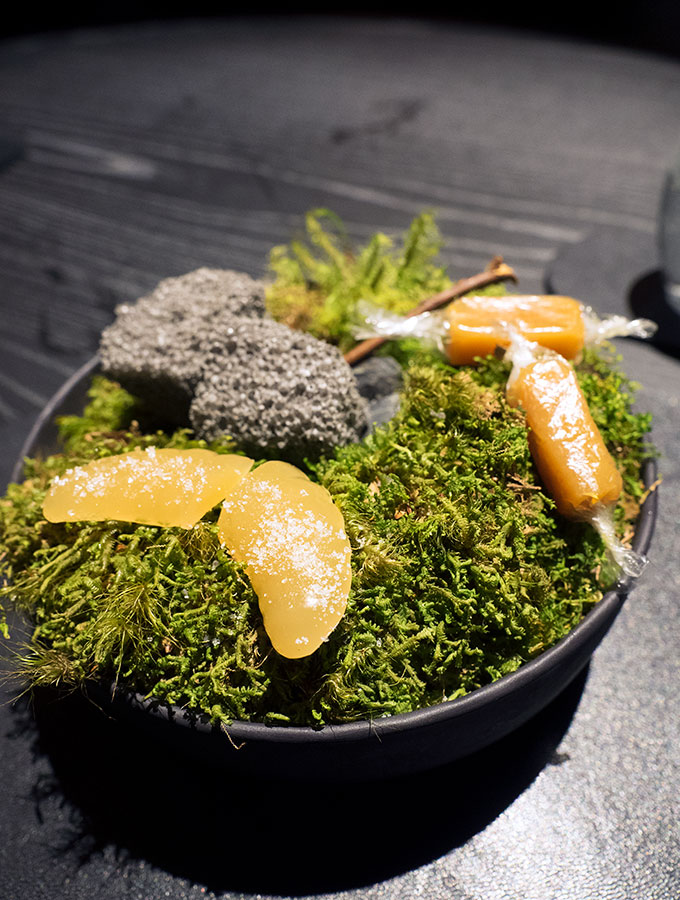 Sweet forest floor: It is a trio of sweets to finish the meal. Yuzu pastels shaped to look like a New Zealand huhu grub. Black sesame aero (another one I would be happy to see them selling by the bag full) and miso caramels in an edible wrapper.
I can't recommend Clooney enough. It was a brilliant dining experience, the dishes embrace my food loves, sustainable, local and a brush with Japanese flavours. What made the meal even more memorable was the staff. All so friendly from arrival to seeing me out the door to a taxi to get me safely back to my hotel.
If you find yourself heading to Auckland, make sure to book in at Clooney as soon as you know you are going. You won't be disappointed. An alternative and another top notch restaurant in Auckland is The Grove and highly recommended.
Sara xxx
Must try dish: CanNori & Cloudy bay clams with silky egg and garum
Who should dine here: Couples and small groups
Who shouldn't dine here: Leave the kids at home
What else you should know: Metred street parking
Price: Tasting menu is $170/person, $270/person with wine/sake matching. 2 course prix fixe $95 & 3 course prix fixe $130 per person.
BYO: Yes, Monday & Sunday, corkage $30/bottle
Bookings: A must! Can book via the website.
Opening hours: Monday – Sunday, 6 – 9pm
Contact details: 33 Sale St, Freemans Bay, Auckland. Tel + 64 9 358 1702
website
Become a subscriber and don't miss a single delicious recipe, restaurant review or travel adventure.