Concrete Blonde had been on my 'to eat' list for quite a while.  So when an invitation was extended by Concrete Blonde's PR representative, Wassamedia, to attend a Sunday Jazz lunch with other bloggers, I didn't hesitate to say yes.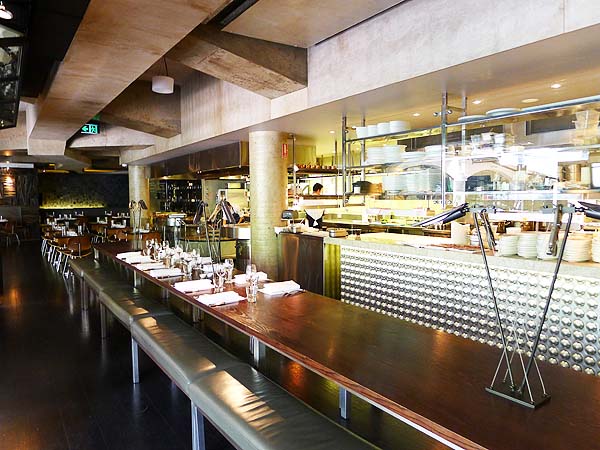 On Sundays, Executive Chef Ian Oakes, has designed the perfect menu to accompany the smooth sounds of Jazz in the 'balcony' area of this sleek restaurant.  The menu is great value, 2 courses $40/3 courses $48.  It's location on the 1st floor allows you to capture those soft cooling summer breezes while busy Bayswater Road bustles away below.   With the three piece Jazz band playing away in the background, order some cocktails, and have a very enjoyable afternoon indeed.
During the week and Friday lunch, Concrete Blonde offer $7 before 7pm cocktails.  Don't worry about missing out as it is Sunday, they offer jugs of cocktails to keep you content..  The jugs are designed to be shared between 2-4 people and range from $38-$42/jug.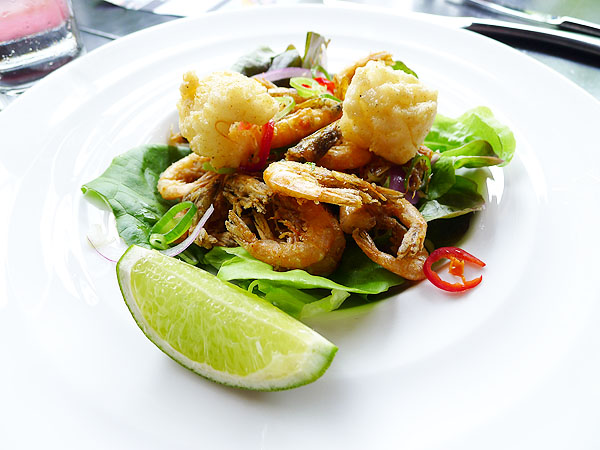 spiced school prawns, squid, shallots & lime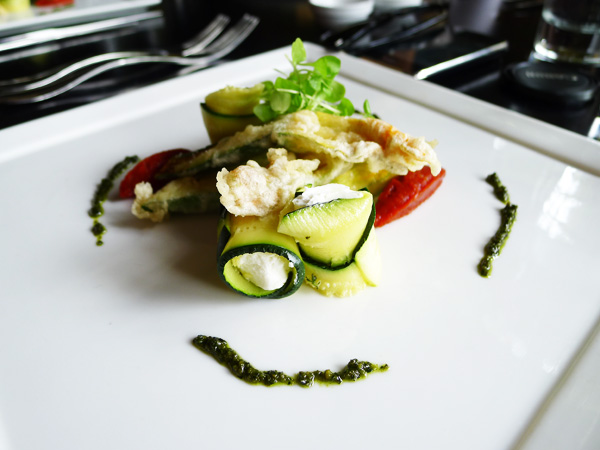 marinated zucchini, goats curd, confit tomato, zucchini flower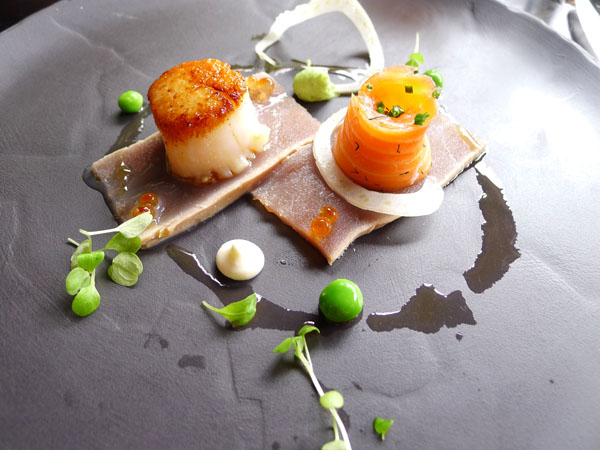 seared scallop, marinated tuna, cured salmon, pea salad, goats curd
Other entree options which we didn't try; salt cod & potato brandade, Pacific oyster, crumbed sardine as well as chicken liver parfait, apple & rhubarb chutney, toasted brioche.
The spiced school prawns were gorgeously crunchy on the outside, designed to be eaten whole.  I ordered the scallop/tuna/salmon entree.  The scallop was cooked perfectly and the delicate flavours of the seafood were balanced beautifully.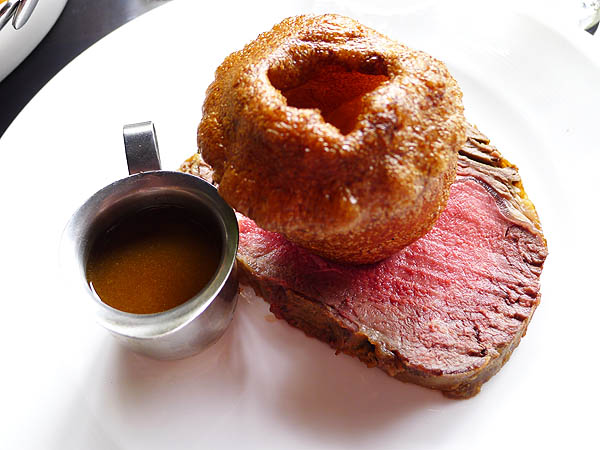 roast rib of Tasmanian grass-fed beef, Yorkshire pudding, roast potatoes and market vegetables (potatoes & vegetables not pictured)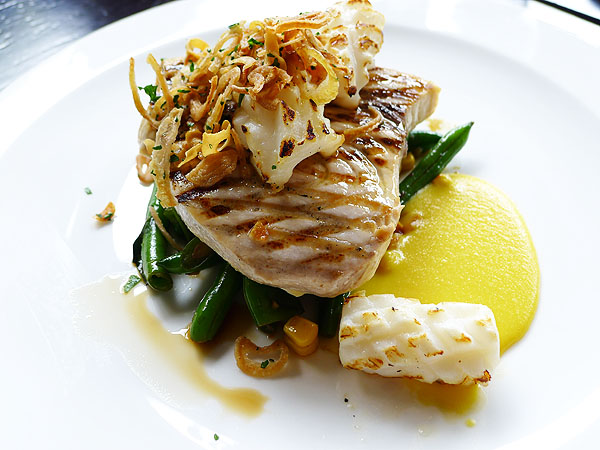 chargrilled swordfish, squid, sweetcorn puree, snake beans, crispy garlic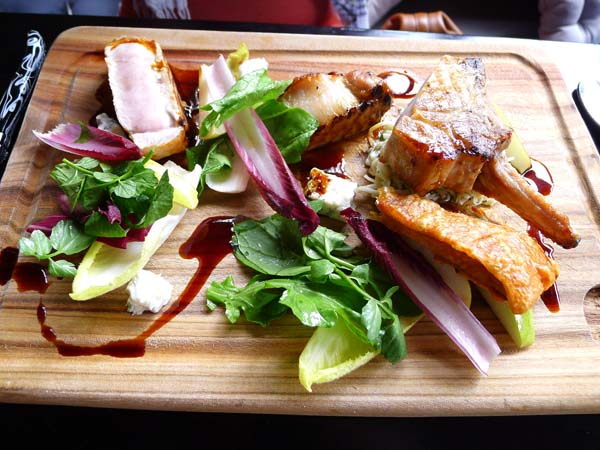 chargrilled pork cutlet, celeriac remoulade, pear, blue cheese, hazelnuts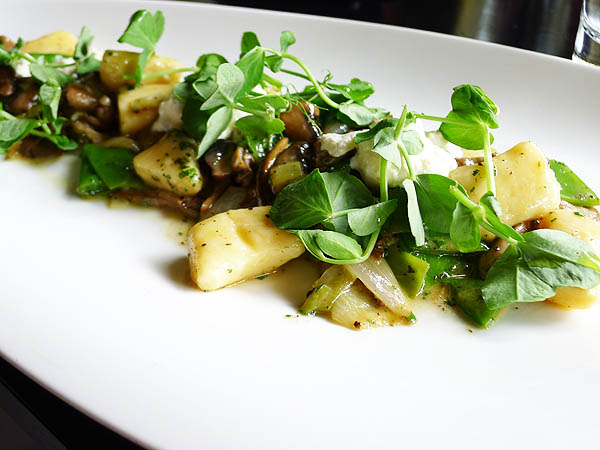 parmesan gnocchi, Shimeji mushrooms, leek, ricotta
There was also the option of pan roasted chicken breast, garlic puree, English spinach, Jerusalem artichokes.  I chose the roast rib eye, which sadly was probably the most uninteresting dish on the menu.  The Yorkshire pudding that accompanied it was the largest one I have ever seen and ever so crisp.  I tried some of the gnocchi and they were pillowy soft.  Sadly for me, I kept eyeing off the pork dish across from me that looked and smelt amazing, there was even a lovely piece of crackling tormenting me.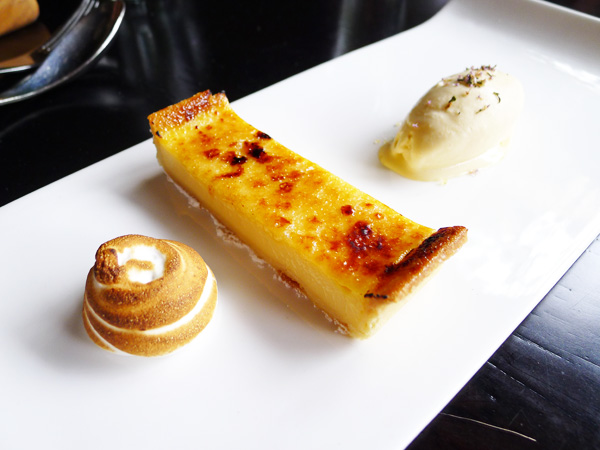 baked lemon tart, thyme ice cream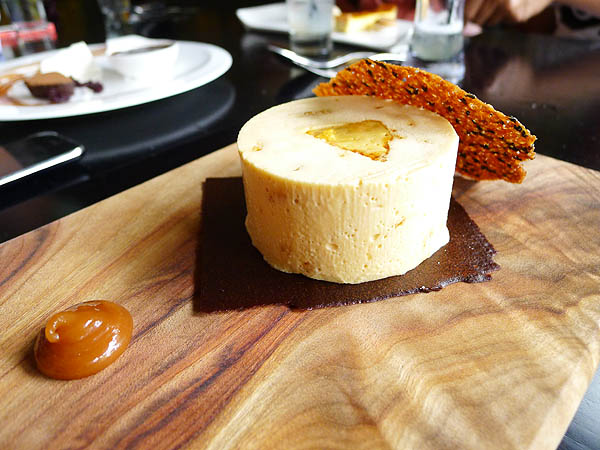 white chocolate & honeycomb parfait, sesame tuille
Tara from VegeTARAian, Nic from Dining with a Stud and I decided to order three different desserts and share them.  Why not I had already pilfered Tara's gnocchi.  The white chocolate & honeycomb parfait was a definite favourite.  I personally am a fan of lemon and found the tart beautifully tart, sadly the thyme ice cream was a little off putting, tasted a bit like face cream.
Also on the dessert menu were vanilla panna cotta, strawberry & rhubarb salad, basil sorbet and a selection of sorbets.
If three courses aren't enough to suffice your appetite, there is also a range of local and imported cheeses to choose from, one $9/two $15/three $24.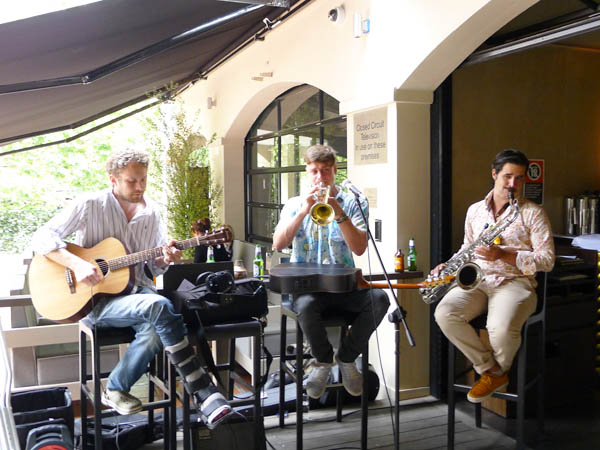 If you want to forgo a meal and just settle in to listen to some tunes and sip some cocktails, there is a tasty sounding little bar menu available.  From freshly shucked oysters or spiced popcorn through to warm offerings such as smoked mozzarella arancini or grilled chorizo & Manchego.
The Verdict:  Live jazz, great cocktails and good food, there are worse ways to wind up the weekend.  A wonderfully relaxed environment for a Sunday afternoon over the Summer months.
Sara xxx
Belly Rumbles dinned as a guest of Concrete Blonde & Wassamedia.
Concrete Blonde
Level 1, 33 Bayswater Rd, Kings Cross
Tel:  +61 2 9380 8307
www.concreteblonderestaurant.com.au