Hello, my name is Sara, and I am addict.
As of the time of writing it has been exactly 22 hours, 34 minutes and 12.. 13.. 14.. seconds since my last 'hit'.
I have just cleaned up the mess from satisfying yesterday's craving. Hiding the evidence from plain view is inevitably getting harder and harder to do. In fact I have the urge to head out once again to satiate my cravings. Most of my regular 'dealers' take Sunday's off. I could go and visit a more expensive supplier, one that satisfies the cravings of ladies who lunch or the Sunday bruncheon crowd, who don't realise they can, or want to, source their needs less expensively. Instead I am sitting confessing my sins to you dear reader.
I am not alone, there are others that are afflicted. With desire I look upon their tweets, Instagram evidence and Facebook confessions. I partly blame them for fuelling my addiction.
Yes my dear reader, this is the confession of a self-indulgent prop addict.
For those unaware of what a 'prop' is in regard to food photography, they are the rustic trays, coloured plates, mismatched knives and forks, unusual bowls, interesting glassware, rusty old goblets etc, that you see in stylish food photography. Actually most of it is crap that you would never use except for in your photos. They fashion an interesting stage, and are given a new lease on life where they shine. It is an addiction that afflicts those food bloggers that take their photos along with their recipes very seriously. Those that have an appetite for their audience to salivate when reading about their latest creation.
I am only really starting to take my photography in earnest, and I am yet to have readers sitting in a pool of their own drool. Though I have concluded, it isn't all about the food and the camera used. It is all those other little bits and pieces that you probably don't even notice that raise a humble chocolate cup cake to a whole new level. The food styling aspect of blogging.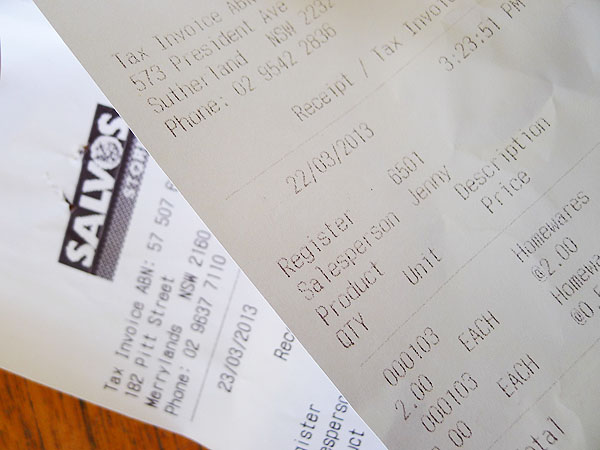 Charity op-shops are my supplier of choice. Cheap, nasty and just perfect for my needs. It really is amazing what you can pick up for a dollar or two. I often walk out feeling extremely satisfied spending less than five dollars. A lot of the same items can be found in antique stores, but at laughable prices.
It isn't just about the purchase and adding to the ever expanding assortment of props. The biggest thrill, for me nevertheless, is the hunt. Finding something unique which does not cost an arm and a leg. Looking at an item and envisaging how it will be used in a later shoot. Training your eyes to see past the rust, tarnish and chips. Exercising your imagination.
My addiction possess me to the extent that printed out lists reside in my car. They cover all the charity op-shops around Sydney and NSW. If I am in a new area, I will seek out the local op-shop and call in and see what can be chanced upon. Only yesterday a good friend and I descended on a Western Suburbs Salvos like a plague of locust.
Eyes scanning messy shelves before diving in and pulling items out for a good look. Making neat piles on a lounge near where we foraged. A fellow shopper made the error of picking up one of the items from our bounty. She was met with a diva-like waggle of the pointer finger and sternly warned those goods had been claimed. This is serious business folks! With every decent prop pillaged we departed with our arms laden with piles of trays, plates, glasses. Both walking away very satisfied and with little injury to our wallets.
Like any good addict, there is the need to justify the addiction. When purchasing from charity op-shops, it is much the same as donating, but they give you presents in exchange for the money you hand over, a way of saying thank you. When rifling though the local council clean up, to secure the ultimate backdrop, you really are just doing your bit in helping the community stay beautiful.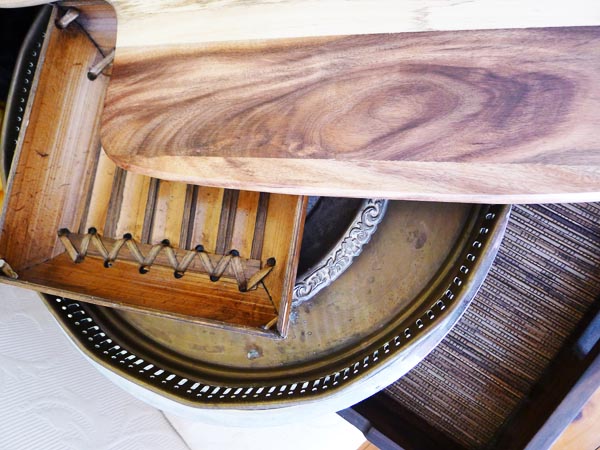 Unfortunately props are like clothing. They can only be 'worn' and seen so many times. Seeing the same plate, cup and spoon is like wearing one dress to every party you attend. It gets boring for both you and those that enjoy your photos. Thus the acquisition of more and more props.
Is there are cure? No. I think any full blown prop addict would agree with me. We all handle the expanding result of our addictions in different ways. Some dream of house extentions, or moving to a larger abode, others dream of their children leaving home to free up space to create a larger studio.
Alternatively to moving house, kicking out the kids or costly extensions, there are other solutions. The props can go back to whence they came. Donated back in to op-shops to generate more revenue for charity. Or, like I saw one clever cookie do recently, have a prop sale. Sell your used and well photographed items to others that share your addiction. That way you can continue the hunt for that perfect piece of crap, I mean, perfect prop.
Do tell dear Belly Rumbles' reader, what's your addiction?
Sara xxx