Before Josh headed off to Schoolies in Fiji we decided to go in to Paddy's Markets to pick up some Aussie souvenirs.  He was volunteering to build housing with a bunch of his school mates before hitting the "real" schoolies part of his trip.  If Josh gets his act together you may see a blog post letting you guys know all about it.  Sigh, I am such a mother.
I had read about Crazy Wings various places and decided that it would be a great place for Josh and I to have lunch before shopping.  What drew me to Crazy Wingst was the BT Monster, as Josh is now writing his Josh vs Food section for Belly Rumbles, I thought it would be something he would enjoy.  More about the BT monster later.
I had parked the car and we were heading down Thomas Street towards Hay in Chinatown when total embarrassment happened.  I did the most embarrassing, ungraceful, head smacking, body slamming face plant into the pavement.  Josh said he felt like he was watching me in slow motion, I just kept going.  Stumbling over my feet, trying to right myself, but sadly no, the pavement won out.  It seemed like I took a good five minutes to fall from my point of view.  It was a case of oooo I've tripped, nope I am okay I'm not tripping, umm yep I am tripping, oooh damn I am going down!!!
This all took place in front of a group of burly road workers and what felt like the whole of Chinatown.  To my rescue came Josh of course, the only female with the road workers, the lollypop person (the rest just gawked) and six lovely Asian guys that I had totally freaked out by my fall.  All that came to my aid were so sweet and caring.
Oh wow did I do some damage.  I obliterated my sunglasses, which actually saved my face from more than a bruise and grazed cheek.  Grazed both my knees, massive bruise down one thigh, cut and bleeding hands, seriously grazed one of my boobs (don't ask how but let's just say they acted like air bags) and a massively dented ego.  I got up, totally shocked, trying not to cry and keeping my composure.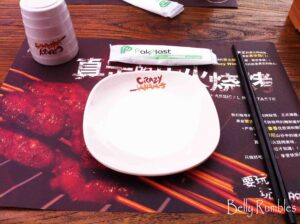 So off to Crazy Wings Josh went and I staggered.  We arrived and grabbed a table outside.
Josh really wanted to try the BT Monster, which is a super hot chicken wing, with which you can order a fire extinguisher on the side (a tomato shot).  Sadly we were informed they didn't have any BT Monsters and wouldn't for another two weeks (this made me wonder, chef on holidays? waiting for the secret ingredient? legal action??)
Crazy honey toast $1.50
The toast is honey and butter toast with a hint of garlic which gives it a savoury taste.  Wasn't what I expected but both Josh and I enjoyed it.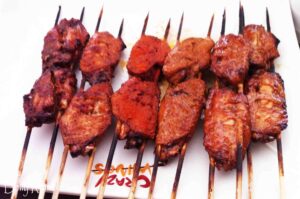 Original idea, chilli pepper, curry Asian & honey sweet, all $2.50 each
The wings are marinaded, specific spices added and then grilled.  This results in wings that are  juicy with great flavours.  I really think they would go down well with a few beers as a pre dinner snack.  There is even extra chilli on the table if you feel the need to spice them up even more.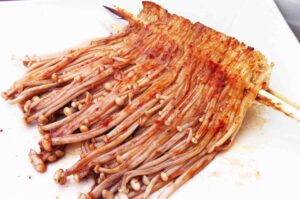 Crazy mushroom 3 for $4.00
Crazy potato 3 for $4.00
We wanted to try the crazy leek but that was also off the menu for the day.  The crazy potato was okay,  was a little on the soggy side and if crisper would have been awesome.  I really enjoyed the enoki mushrooms, nice slightly spicy flavour, and I loved how they were speared on to the skewers.
Josh and I will go back.  How many BT Monster's do you think I should challenge him to?  Sigh, I am such an "evil" mother.
Sara xxx