I do hope everyone had a fantastic Australia Day yesterday. Those of you that have also taken the Friday off work for an extra long weekend, good onya! That's the Australian spirit.
Audax Artifex was our January 2012 Daring Bakers' host. Aud worked tirelessly to master light and fluffy scones (a/k/a biscuits) to help us create delicious and perfect batches in our own kitchens!
I thought Audax's challenge was perfect timing for Australia Day, being an Aussie Daring Baker, it makes complete sense. I do suggest you pop over and have a look at Audax's post and recipes as he put a lot of work and effort in to researching and experimenting on how to make the perfect scone.
I spent the morning of my Australia Day in the kitchen making scones. Actually it was more along the lines of experimenting with scones. I was trying different flavours based on a recipe I have for lemonade scones. I actually whipped up a batch of lemonade scones mid last week, and it was Josh that posed the question 'why can't you make them with other flavoured sodas?'. Yes he did use the word soda, so American of him.
I have been wanting to share the lemonade scone recipe with you guys for a while and I thought Audax's challenge was the perfect opportunity. Then Josh throws his question in to the mix and instead I am sharing with you my experimental scones.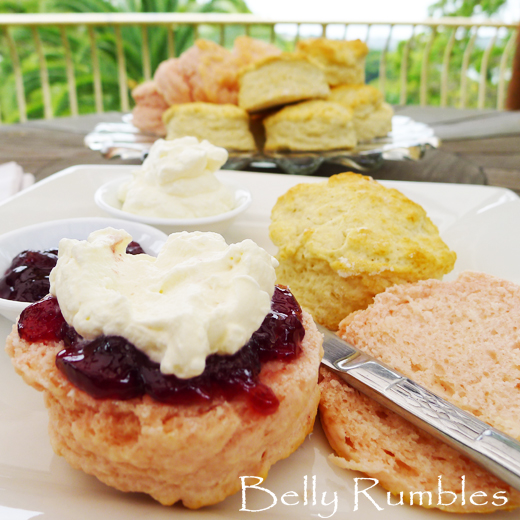 creaming soda scone with cream & jam (front)
If you haven't tried the lemonade scone recipe before, I really suggest you do. You end up with extremely light and fluffy scones which are easy peasy to make. No rubbing in of butter, which is one of my pet peeves of scone making. The cream in the recipe replaces the butter as the 'fat' component.
I have seen the recipe where people add sugar. I don't as I prefer my scones not to be on the sweet side and the lemonade (or other soda etc) already has sugar in it.
A trick when making scones is not to over work your dough. I mix everything together in my bowl so it is just combined. Turn my dough out on to a floured surface and knead only a couple of times to bring it all together. The less you work the dough, the lighter and fluffier your result will be.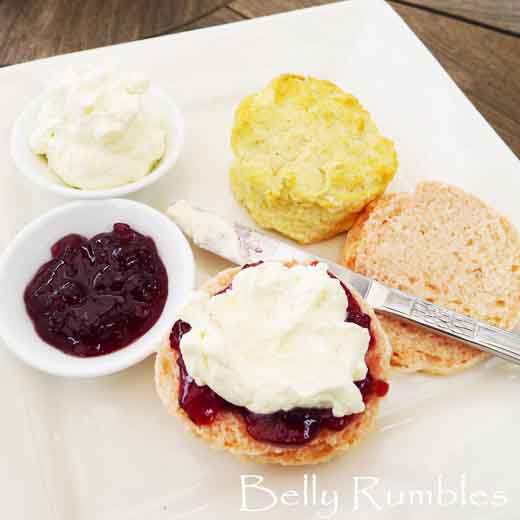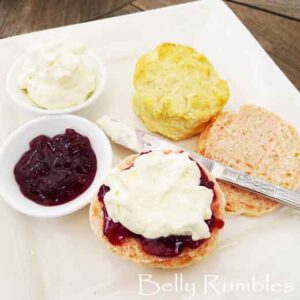 Original Lemonade Scone
Ingredients
2

cups

self raising flour

½

cup

thick full fat cream

½

cup

lemonade

not diet

2

tablespoons

milk
Instructions
Preheat oven to 220C. Line or lightly grease baking tray.

Place flour, cream and lemonade in a bowl, mix until all ingredients are just combined. Turn dough out on to your lightly floured kitchen bench and knead until just combined. Do not over work your dough.

Gently flatten your dough out with your finger tips until about 2cm thick. Depending on how large you would like your scones, choose a round cutter for your desired size, 6 - 8cm is what I tend to use. Cut out rounds and place on your baking tray. Gently bring the leftover dough back together and flatten again, cut more rounds out. Keep doing this until all dough is used.

Brush the tops of your scones with milk and bake in the oven for 10-15 minutes. Once cooked let them cool on wire rack or serve warm straight away.

Depending on size of cutter you will make 9 - 12 scones. Serve scones with strawberry jam and whipped cream, or jam of your choice.
Nutrition
Serving:
1
grams
Calories:
139
kcal
Carbohydrates:
20
g
Protein:
3
g
Fat:
4
g
Saturated Fat:
2
g
Cholesterol:
16
mg
Sodium:
7
mg
Sugar:
1
g
Did You Make This Recipe?
I do a happy dance when people share how they went. Tag me on Instagram or Twitter @bellyrumbles & #bellyrumbles
That was the original recipe which is easy to play with and alter. Instead of using ½ a cup of lemonade substituted with the soda or fizzy liquid of your choice. The flavours I played with were creaming soda, ginger beer and apple cider.
I found that the creaming soda scones were the lightest and fluffiest from all my experimentation. Plus they were a pretty pink colour. They do not taste of creaming soda. I think they would be cool for Valentines' Day if you used a heart shaped cutter.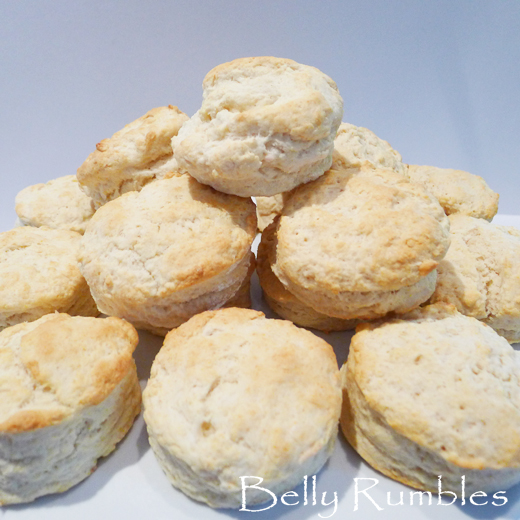 ginger beer scones (left) & apple cider scones (right)
The scones using ginger beer did have a slight ginger beer taste. The apple cider ones had a slight apple cider taste. If you didn't know what liquid was used I doubt you would pick the flavour.
I would like to experiment a bit further. May be add some diced poached cinnamon apple to the apple cider scones, or some crystallised ginger to the ginger beer ones. Quite honestly the variations are endless.
Do tell dear Belly Rumbles reader, what is your favourite flavoured scone and how do you like eating them?
Sara xxx