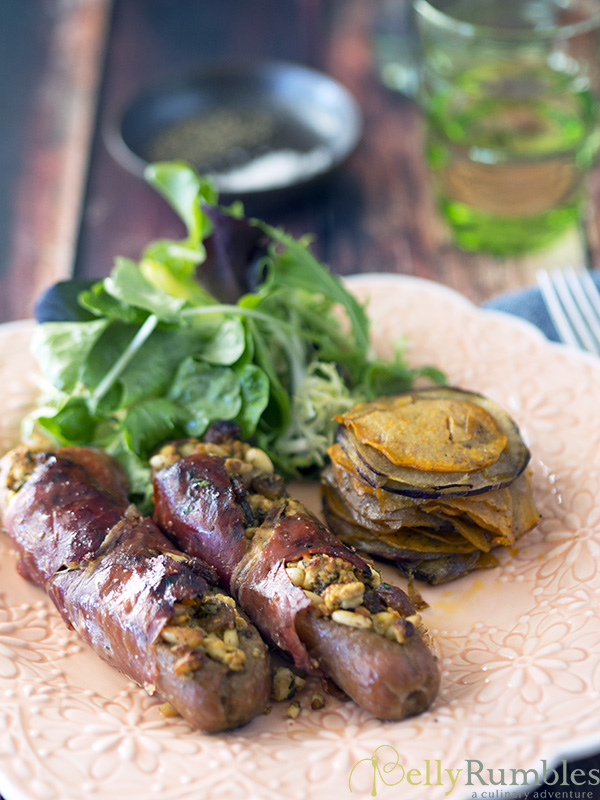 Being on a tight budget and creating interesting and delicious meals for the family can be a nightmare at times.  When Josh was growing up, and we seemed to have a never ending slew of bills knocking at our front door, every single cent counted.  There were days when our bank account balance was near zero.  I existed in a constant cold sweat until the next pay day, hoping there wasn't an emergency or unexpected cash outlay needed.
Even though being on a shoestring budget, making sure my family was well fed was a number one priority.  Each week when the supermarket weekly special catalogues arrived it meant menu planning time.  I would sit in our lounge room and make a list of the weekly specials.  What was the bargain cut of meat that week?  Who had the cheapest potatoes?  What cereal was on special?  I would then design the weekly menu around the specials.  I would put the creative hat on and work out how I turn these budget items into an exciting meal.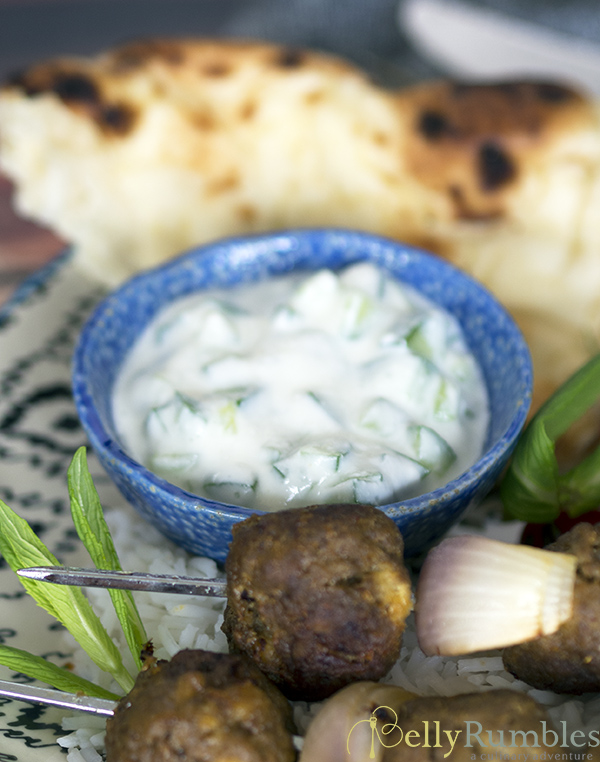 Luckily financially life is a little better these days and my regular readers know I encourage shopping at farmers' markets, free range and sustainable produce.  But let's be honest, if you are sticking to a strict budget with a family to feed, this isn't going to be your regular shopping style.
I will admit that I'm also not perfect and not all my shopping is done in this manner either, there are weekends when I can't even get to the markets.  In fact my closest supermarket to home is Coles and during the week this is a regular pit stop on the way home.   Like any normal family there are still times when we have to really watch the finances and I once again turn into super budget mum.
When I was approached by Coles to play around with some of their Down Down range, and come up with a few family meals, I was stepping back into familiar territory.  Creating something a little left of centre.  A few budget friendly recipes that hopefully would spark some inspiration.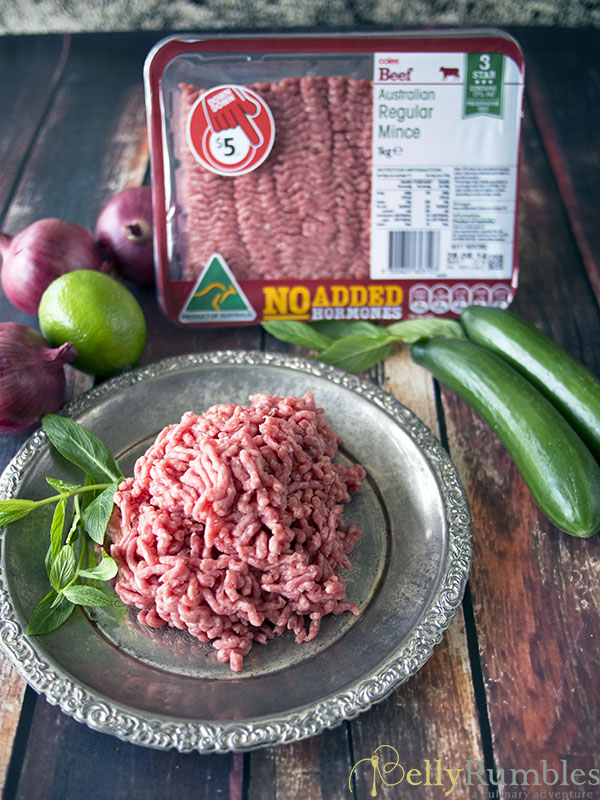 I can't help but think of the old favourites, lasagne, bolognese and meatloaf recipes when working with beef mince.  The 3 star beef mince from Coles' Down Down range ($5/kg) comes in 1kg packs, and there is enough mince to make two meals for a family of four.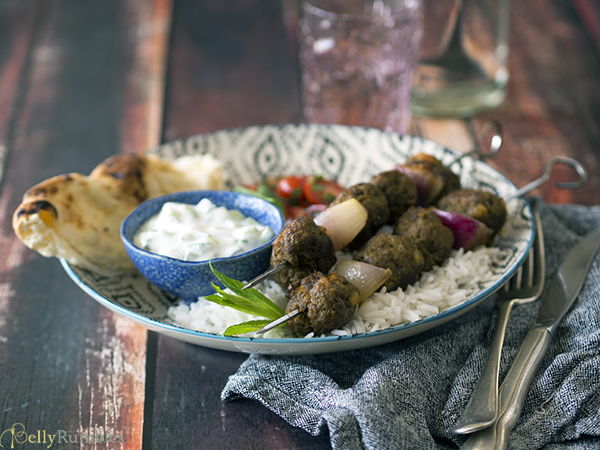 After moving the brain on from the faves I came up with the idea for Indian Style Meatball Skewers.  Super simple and economical to make. Serve them with some store bought nann bread, basmati rice, simple tomato salad and home made riata for a quick, easy, economical and healthy meal.
Recipe Tip:  I use madras curry paste, but feel free to use your favourite curry paste.  These meatballs would work wonderfully on the BBQ.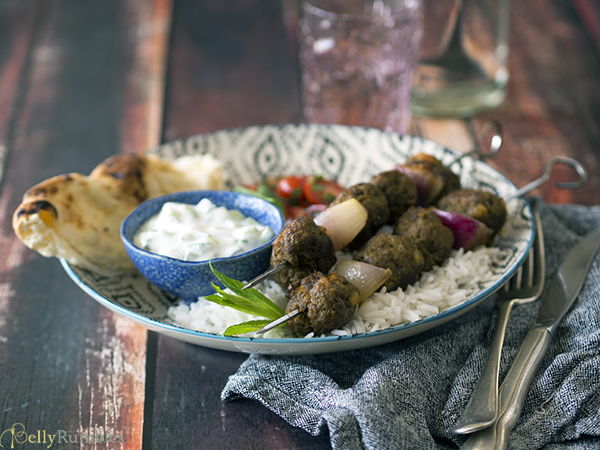 Indian Style Meatball Skewers
Print
Ingredients
500

grams

beef mince

3

tablespoons

madras curry paste

or your favourite

3

slices

white bread

torn into quarters

½

cup

coconut milk

2

small Spanish onions

thickly sliced
Instructions
Heat oven at 180 deg C (360 deg F) and line a baking tray with baking paper.

In a medium bowl place torn pieces of bread and coconut milk. Leave for 10 minutes for the bread to soak up the milk.

In a large bowl place beef mince and curry paste. Remove bread from bowl, give it a little squeeze to remove any excess milk and then add to the beef. Mix thoroughly with your hands until bread has worked its way into the mince and is complete combined. Alternatively you can place all the ingredients in a food process and whizz until combined.

Firmly roll up walnut sized meatballs. Thread on skewers with some red onion and place on the baking tray

Bake in the oven for 30 minutes, turning half way through. Serve with basmati rice, raita, nann bread and salad.

Alternatively these skewers can be cooked on the BBQ, under the grill or in a fry pan.
Nutrition Facts
Indian Style Meatball Skewers
Amount Per Serving
Calories 228
Calories from Fat 144
% Daily Value*
Total Fat 16g 25%
Cholesterol 44mg 15%
Sodium 90mg 4%
Potassium 250mg 7%
Total Carbohydrates 8g 3%
Protein 12g 24%
* Percent Daily Values are based on a 2000 calorie diet.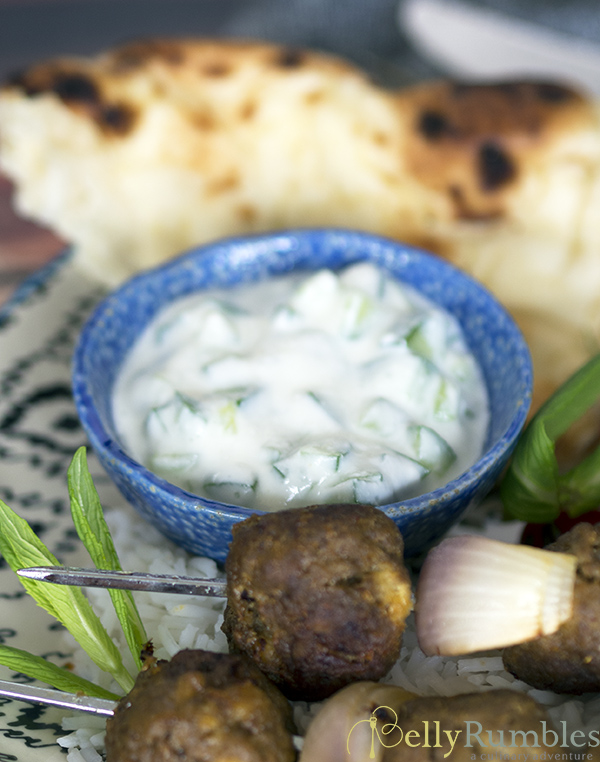 Raita
Print
Ingredients
2

Lebanese cucumbers

deseeded and finely chopped

½

tablespoon

salt

1

cup

plain Greek yoghurt

½

clove

garlic

crushed
Instructions
Sprinkle salt over cucumbers in a strainer. Leave for 20 minutes, then rinse well and shake off excess water.

Place cucumbers in a bowl with yoghurt and garlic. Mix well and leave in the fridge while cooking the Indian Style Meatball Skewers.
Nutrition Facts
Raita
Amount Per Serving
Calories 66
Calories from Fat 9
% Daily Value*
Total Fat 1g 2%
Cholesterol 3mg 1%
Sodium 898mg 37%
Potassium 220mg 6%
Total Carbohydrates 7g 2%
Protein 6g 12%
* Percent Daily Values are based on a 2000 calorie diet.
If you are like me you probably find run of the mill sausages incredibly boring, and uninspiring in taste.  They are great thrown on the BBQ.  What Aussie BBQ wouldn't be complete without the humble snag.  Josh and Mac love them, but for a normal meal I'm not a real fan.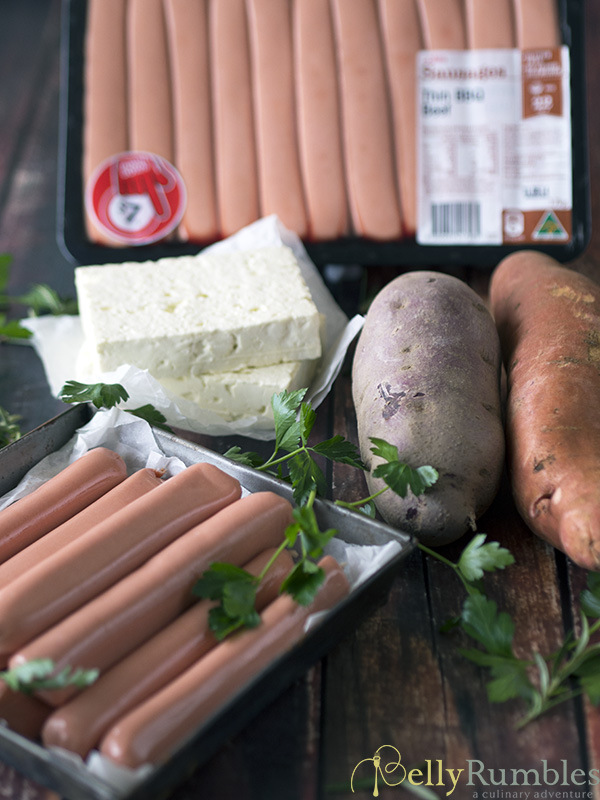 The 1.7kg packs of Coles Thin Beef Sausages ($7) from the Down Down range hold whopping 22 snags.  Perfect for entertaining around the BBQ in the approaching warmer months, but they can also be snazzed up for family meal time.  You could say I pimped my sausages.  By taking the humble sausage and stuffing it with a few ingredients, then wrapping it in prosciutto really makes them a dinner treat.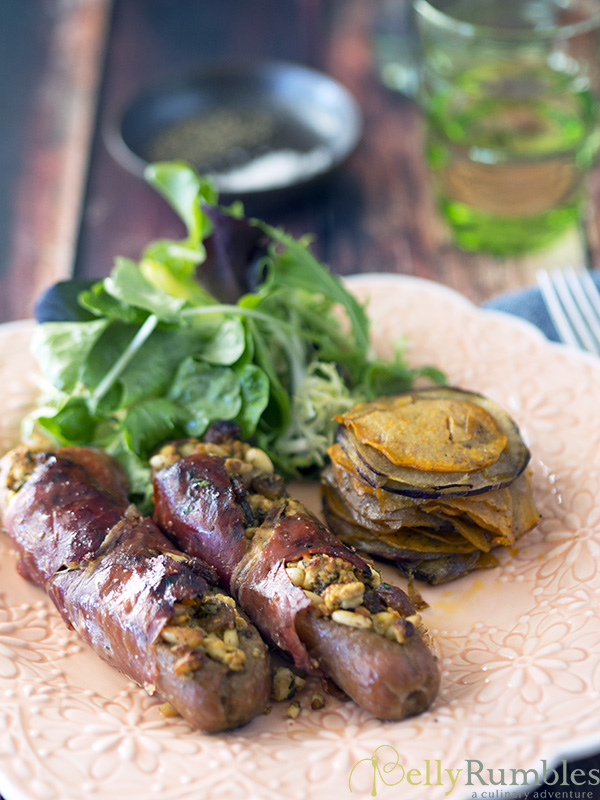 You are probably looking at the ingredient list and thinking that prosciutto is an expensive item.  It can be, the trick is to purchase it from the deli counter and ask them to slice it thinly for you.  Actually any lose item purchased from the deli section of your supermarket will work out less expensive than their packaged cousins in the fridge section.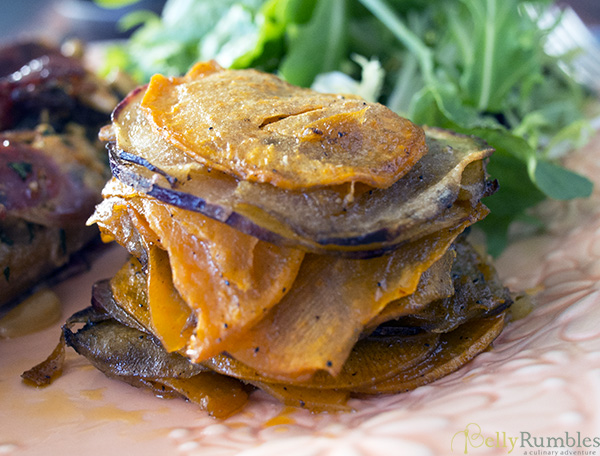 I must say my pimped sausages are really tasty.  The boys loved them, and the humble run of the mill sausage won me over too.  Serve them with baked sweet potato stacks and salad.
Recipe Tip:  These sausages go well on a crunchy long bread roll for a super easy meal.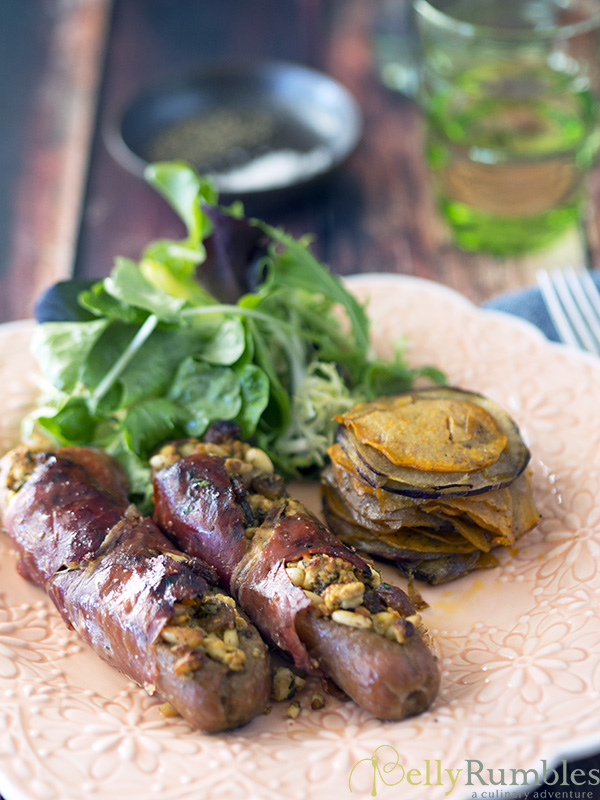 Snazzy Sausages
Print
Ingredients
8

thin beef sausages

150

g

feta cheese

¼

cup

pine nuts

1/3

cup

sultanas

1

tablespoon

rosemary

finely chopped

1 ½

tablespoons

parsley

finely chopped

1

tablespoon

honey

1

tablespoon

olive oil

8

thin slices prosciutto
Instructions
Pre-heat oven at 180 deg C (360 deg F). Line a baking tray with baking paper.

Crumble feta in to a medium size bowl, then add pine nuts sultanas, rosemary, parsley, honey and olive oil. Mix well.

Slit sausages down the middle lengthwise, making sure to start and end your incision 2cm from each end. You want to keep the ends of your sausages intact.

Stuff feta cheese mixture in to the slit in the sausage and then wrap in a slice of prosciutto. Place on baking tray and repeat with the remainder of the sausages.

Drizzle olive oil over the sausages and bake for 30 minutes or until cooked through and golden.

Serve with sweet potato stacks and green salad.
Nutrition Facts
Snazzy Sausages
Amount Per Serving
Calories 300
Calories from Fat 225
% Daily Value*
Total Fat 25g 38%
Cholesterol 47mg 16%
Sodium 724mg 30%
Potassium 156mg 4%
Total Carbohydrates 9g 3%
Protein 9g 18%
* Percent Daily Values are based on a 2000 calorie diet.
Sweet Potato Stacks
Ingredients
1 orange sweet potato
1 red sweet potato
1 tablespoon dark brown sugar
2 teaspoons nutmeg
3 tablespoons olive oil
Salt & pepper (to taste)
Instructions
Wash and peel sweet potatoes. Slice potatoes on thin setting of a mandolin slicer, or thinly slice with a knife. The thinner the slices the better this recipe works. Place sliced potato in a bowl of cold water as you work to stop it browning.
Drain potato and mix thoroughly with brown sugar, nutmeg, olive oil, salt and pepper.
On a baking tray lined with baking paper form stacks of potato around 5cm (2") high. Cook at 180 deg C (360 deg F) for 25 minutes. Serve with Snazzy Sausages.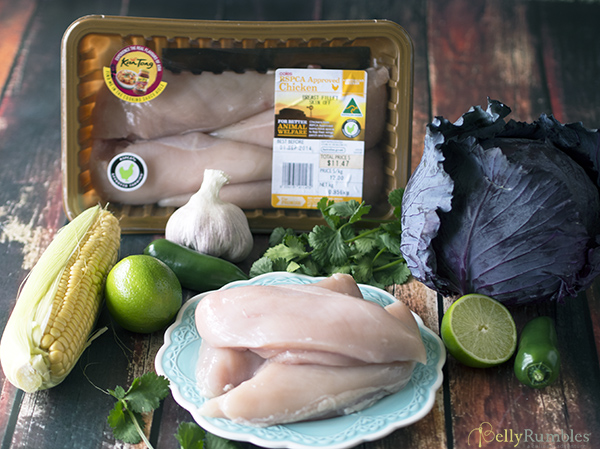 Chicken breast meat is a constant staple in our household.  There will always be fillets in the freezer for emergencies and I cook with it regularly.  It is comforting to know that Coles have RSPCA approved breast fillets ($12/kg) in their Down Down range.
I was inspired by my hot and spicy chicken wings and decided on Southern Fried Chicken Breasts.  Off set the evilness of the fried chicken with a light and tangy lime slaw and corn on the cob.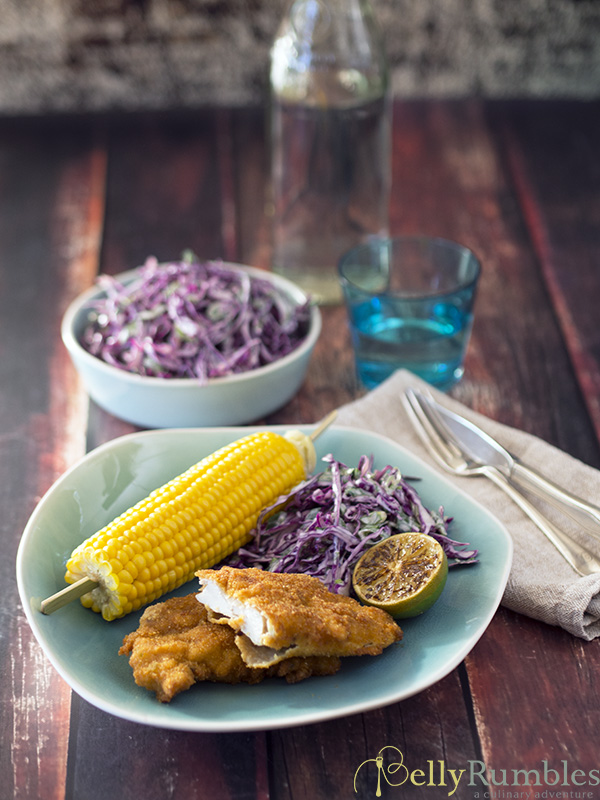 Healthier Option:  Omit the flour dredging and dipping in egg.  Just take the fillets straight from the marinade, shake off excess and crumb, the buttermilk will make the crumbs stick.  This is something I discovered half way thought the crumbing process.  Then instead of frying, place the crumbed fillets on a lined baking tray and spray with a little oil and bake at 180 deg C (360 deg F) until cooked through and golden.
Recipe Tip:  Make Southern Fried Chicken burgers.  Soft round rolls topped with Southern Fried Chicken breasts, a slice of cheese and lime slaw.
Southern Fried Chicken Breasts
Ingredients
4 chicken breasts
1 jalapeno chili, deseeded and finely chopped
1 teaspoon paprika
½ teaspoon ground white pepper
1 teaspoon salt
1 clove garlic, crushed
1 tablespoon apple cider vinegar
½ teaspoon caster sugar
1 cup buttermilk
2 cups plain flour
2 teaspoons salt
2 teaspoons cracked pepper
2 eggs
cornflake crumbs (or normal breadcrumbs if preferred)
Instructions
Cut chicken breasts in half horizontally and flatten a little with a meat mallet.
In a large bowl mix jalapeno chili, paprika, white pepper, salt, garlic, vinegar, sugar and buttermilk. Add chicken and coat thoroughly. Cover bowl with plastic wrap and leave in fridge to marinate for a couple of hours.
On a large plate add flour that has been seasoned with salt and pepper.
Crack eggs in to a medium bowl with 2 tablespoons of water and 1 tablespoon of olive oil. Whisk with a fork.
Place cornflake crumbs on large plate.
Remove on piece of chicken from the marinade, and shake off any excess. Dredge in the seasoned flour, dip and coat in egg mixture, then coat in cornflake crumbs. Repeat the process with each piece of chicken until they are all coated.
In a fry heat 2cm of oil over a medium heat. Test oil temperature with a crumb, when it slowly sizzles add crumbed chicken. Cook chicken one or two pieces at a time until golden brown and cooked through. Drain on kitchen paper and keep warm in a slow oven while cooking the remainder of the chicken.
Serve with corn and Simple Lime Slaw
Simple Lime Slaw
Ingredients
250 grams red cabbage, finely sliced
3 green onions, finely sliced
½ bunch coriander, finely chopped
1 lime, juice
¼ cup mayonnaise
2 tablespoons yoghurt
Instructions
Place cabbage, green onions and coriander in a large bowl.
In a small bowl mix lime juice, mayonnaise and yoghurt until combined.
Add mayonnaise mixture to cabbage and mix well. Serve with Southern Fried Chicken breasts.
For those on a budget it is reassuring that you can buy quality beef mince and chicken in the Down Down range at Coles and not break the budget.  You can even feed an army of guests at your next BBQ with their thin beef sausages without fear of financial stress.
It was fun putting the thinking cap on to come up with the above recipes.  The Indian Style Meatballs have become a favourite and I will be trying the Snazzy Sausage recipe on the BBQ next time we have one.  Would love to hear what your budget meal tricks are.
Sara xxx
The above post was sponsored.