The May 2010 Daring Bakers' challenge was hosted by Cat of Little Miss Cupcake. Cat challenged everyone to make a piece montée, or croquembouche, based on recipes from Peter Kump's Baking School in Manhattan and Nick Malgieri.
You may well know pièce montée better as croquembouche.  A towering high pyramid or cone of profiteroles filled with crème patisserie held together by caramel.  It is a gorgeous and dangerous dessert.  Dangerous due to four fingertips and one knuckle being casualties of my efforts.  For the Aussies that saw the croquembouche challenge during last years' Masterchef, I felt their pain!!!
I decided on creating three smaller pièce montée, one for each of us instead of one large one.  Due to this I didn't use a cone to create my shape, it was all freehand.  I also baked smaller profiteroles to create my tall looking mini pièce montées.

I wanted to incorporate an Australian flavour to my creation and decided on using lemon myrtle to flavour my crème patisserie.  The rest I kept standard.  I had planned to make a nougatine base to sit them on, but sadly I have found out that nougatine is my arch nemesis and it won this battle.  So I pulverised it in my blender (hmm may be I was the victor after all?) and made "sand" for the pièce montée to sit on, to which I added dried rose petals.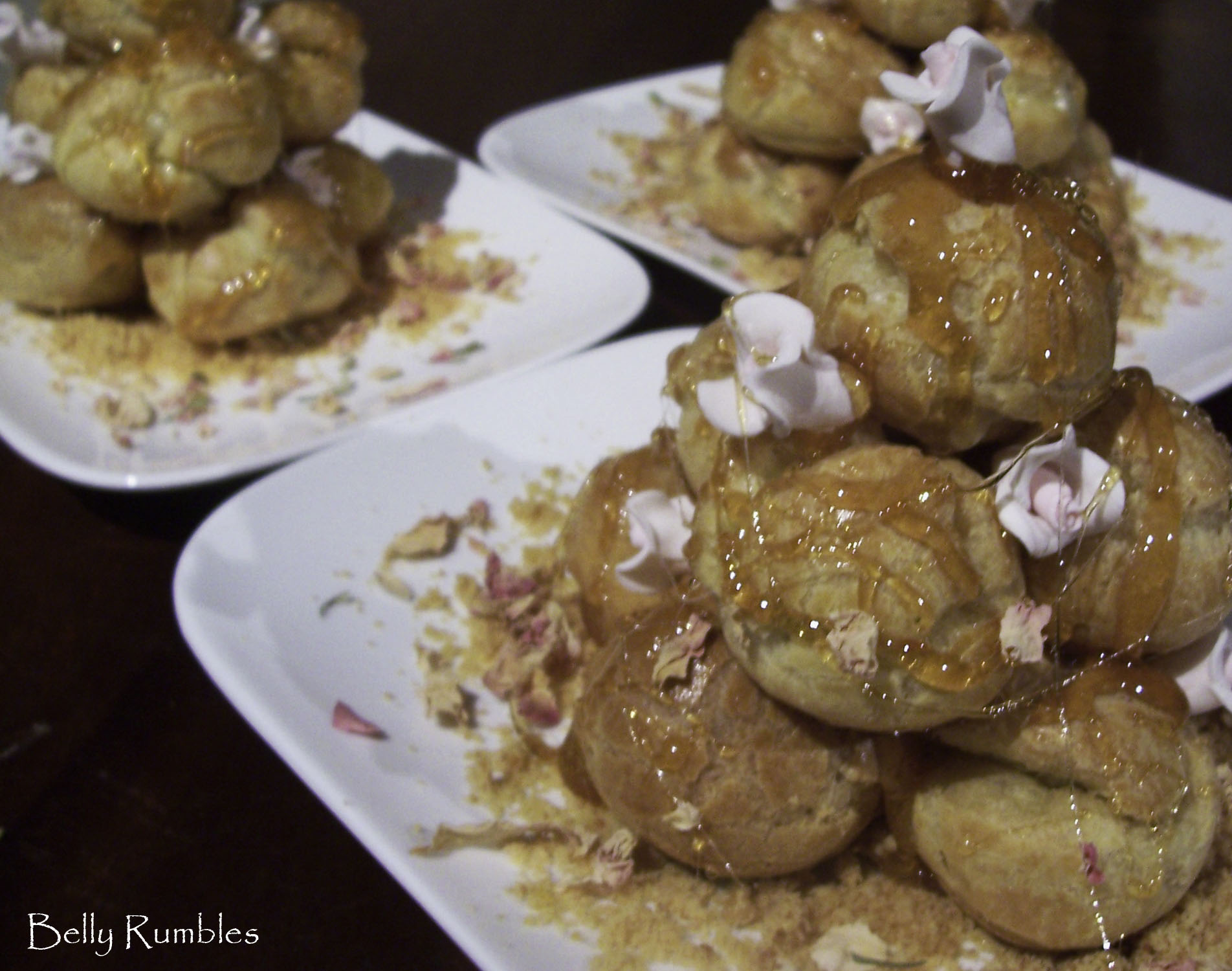 Croquembouche
Print
Ingredients
Lemon Myrtle Creme Patisserie
1

cup

whole milk

2

tablespoons

cornstarch

cornflour

6

tablespoons

caster sugar

1

large egg

2

large egg yolks

2

tablespoons

unsalted butter

1

teaspoon

lemon myrtle

1/2

teaspoon

vanilla
Pate A Choux
3/4

cup

water

6

Tablespoons

unsalted butter

1/4

Teaspoon

salt

1

Tablespoon

caster sugar

1

cup

plain flour

4

eggs

Large

egg wash

1 egg and a pinch of salt
Hard Caramel Glaze
1

cup

sugar

1/2

Teaspoon

lemon juice
Instructions
Lemon Myrtle Creme Patisserie
Dissolve cornstarch in ¼ cup of milk. Combine the remaining milk with the sugar in a saucepan; bring to boil; remove from heat.

Beat the whole egg, then the yolks into the cornstarch mixture. Pour 1/3 of boiling milk into the egg mixture, whisking constantly so that the eggs do not begin to cook.

Return the remaining milk to boil. Pour in the hot egg mixture in a stream, continuing whisking.

Continue whisking (this is important – you do not want the eggs to solidify/cook) until the cream thickens and comes to a boil. Remove from heat and beat in the butter and vanilla.

Pour cream into a stainless steel/ceramic bowl. Press plastic wrap firmly against the surface. Chill immediately and until ready to use.
Pate A Choux
Pre-heat oven to 425?F/220?C degrees. Line two baking sheets with parchment paper.

Preparing batter: Combine water, butter, salt and sugar in a saucepan over medium heat. Bring to a boil and stir occasionally. At boil, remove from heat and sift in the flour, stirring to combine completely.

Return to heat and cook, stirring constantly until the batter dries slightly and begins to pull away from the sides of the pan.

Transfer to a bowl and stir with a wooden spoon 1 minute to cool slightly. Add 1 egg. The batter will appear loose and shiny. As you stir, the batter will become dry-looking like lightly buttered mashed potatoes. It is at this point that you will add in the next egg. Repeat until you have incorporated all the eggs.

Piping: Transfer batter to a pastry bag fitted with a large open tip (I piped directly from the bag opening without a tip). Pipe to the size you require. Using a clean finger dipped in water, gently press down on any tips that have formed on the top of choux when piping. You want them to retain their ball shape, but be smoothly curved on top. Brush tops with egg wash.

Baking: Bake the choux at 425?F/220?C degrees until well-puffed and turning lightly golden in colour, about 10 minutes. Lower the temperature to 350?F/180?C degrees and continue baking until well-coloured and dry, about 20 minutes more. Remove to a rack and cool.
Hard Caramel Glaze
Combine sugar and lemon juice in a saucepan with a metal kitchen spoon stirring until the sugar resembles wet sand. Place on medium heat; heat without stirring until sugar starts to melt around the sides of the pan and the centre begins to smoke. Begin to stir sugar. Continue heating, stirring occasionally until the sugar is a clear, amber colour. Remove from heat immediately; place bottom of pan in ice water to stop the cooking. Use immediately.
Assembly
When you are ready to assemble your piece montée, I used a chopstick, pierce where you feel appropriate. It is suggested the bottom but I feel this is not the best place as often in the sides there are perfect places to put a hole that is not noticeable or can be hidden and more easier penetrated than the hard bottoms. Fill the choux with pastry cream using a piping bag, and place on a paper-lined sheet.

Dip each of the profiteroles in the glaze, it will be hot, be careful! Start assembling, I did so on baking paper so I could move it easily to plates when the caramel had hardened (this also eliminated caramel sticking to plates etc). Continue dipping and adding profiteroles in levels using the glaze to hold them together as you build up.
Nutrition Facts
Croquembouche
Amount Per Serving
Calories 750
Calories from Fat 288
% Daily Value*
Total Fat 32g 49%
Cholesterol 368mg 123%
Sodium 261mg 11%
Potassium 199mg 6%
Total Carbohydrates 102g 34%
Protein 13g 26%
* Percent Daily Values are based on a 2000 calorie diet.

Sara's Notes:  I did put my pan in iced water but it cooled it way too rapidly and I found myself putting the caramel back on the stove to make it workable again.


This is really something everyone should have a go at, it isn't that difficult with wonderful results.  Just be careful of the hot caramel and don't get too hung up on achieving the perfect cone, tower etc.  Choux pastry is actually one of the basic things I have taught Junior to make.  It is simple once you have tried it. It is so versatile, can be used for savoury and sweet dishes and it looks very impressive.
Thanks Cat for this wonderful challenge!
Sara xxx