The September 2010 Daring Bakers' challenge was hosted by Mandy of "What the Fruitcake?!" Mandy challenged everyone to make Decorated Sugar Cookies based on recipes from Peggy Porschen and The Joy of Baking.
I smiled when I saw this challenge from Mandy. I have attempted to decorate sugar cookies only once, last Christmas. I had envisaged beautiful butterflies, glimmering and shimmering their way as presents to my loved ones. Sadly once baked they looked like they had spread, making them look like they had eaten half the insect world and well it really just went all downhill from there.
What I did learn from this is, if you live in Australia and don't have air-conditioning, do not attempt to cook biscuits with a high butter ratio (the recipe I used at Christmas was) during very hot weather. I also learnt that piping bags are our friends and you really should use them to ice biscuits even if it is just a simple circle, the result is worth it.

So a really big hug to you Mandy for hosting this challenge in September which is our Spring. Mandy set the theme of decorating the cookies as September, basically what September means to you. As we Daring Bakers come from all around the world, this was a great theme as it means so many different things.
September for me represents Spring. Also this month a pretty important chapter of my life, I mean Josh's life, happened. It was his Valedictory Service at School. That's it, la fin, die ende, no more school.
Yes I cried at the service, well actually I tried to contain tears so I didn't look like an emotional blubbering idiot to all the other parents. Pinching, looking at iPhone, breathing, and opening eyes wide sort of helps. I watched Joshua, my baby, walk out of St Andrew's Cathedral a self assured young man where 10 years earlier I attended his first service and watched him walk in to that Cathedral a slightly nervous little boy.
To be honest I wasn't quite sure how to put all that emotion on a biscuit, so I stuck with the Spring theme. Josh also wanted to help decorate the biscuits so I let him join in the fun. Hey when your 18 year old wants to ice biscuits with his mum, are you going to say no? I don't think so.
I also made Lego people biscuits. I bought the cutters when I was in Orlando at the Lego Store earlier this year and had not used them yet. Not a September theme, but hey, I had to do it, Lego is cool!! Sadly my icing started to get a bit gloopy when I got around to icing them. Had one perfect one, honest, but I dropped it and Sally really enjoyed it, honest!
I used the recipes given by Mandy in the challenge and found that both the biscuit and royal icing was really great to work with.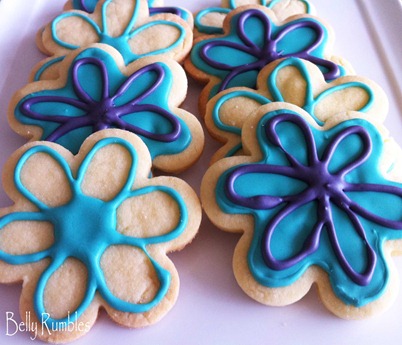 Basic Sugar Cookies
Makes approximately 36 x 10cm / 4 inch cookies
Ingredients
200

grams

unsalted Butter

room temperature

240

grams

(1 cup) caster sugar

450

grams

(3 cups) plain flour

1

large Egg

lightly beaten

1

teaspoon

vanilla extract
Instructions
Cream together the butter, sugar and any flavourings you're using. Beat until just becoming creamy in texture. Tip: Don't over mix otherwise you'll incorporate too much air and the cookies will spread during baking, losing their shape.

Beat in the egg until well combined, make sure to scrape down the sides of the bowl.

Add the sifted flour and mix on low until a non sticky dough forms. Tip: I don't have a stand mixer so I find it easier to switch to dough hooks at this stage to avoid flour flying everywhere.

Knead into a ball and divide into 2 or 3 pieces.

Roll out each portion between parchment paper to a thickness of about 5mm/1/5 inch (0.2 inch)

Refrigerate for a minimum of 30mins. Tip: Recipes commonly just wrap the whole ball of dough in cling wrap and then refrigerate it for an hour or overnight, but by rolling the dough between parchment, this shortens the chilling time and then it's also been rolled out while still soft making it easier and quicker.

Once chilled, peel off parchment and place dough on a lightly floured surface.

Cut out shapes with cookie cutters or a sharp knife.

Arrange shapes on parchment lined baking sheets and refrigerate for another 30mins to an hour. Tip: It's very important you chill them again otherwise they'll spread while baking.

Re-roll scraps and follow the above process until all scraps are used up.

Preheat oven to 180°C (160°C Fan Assisted) / 350°F / Gas Mark 4.

Bake until golden around the edges, about 8-15mins depending on the size of the cookies. Tip: Bake same sized cookies together otherwise mixing smaller with larger cookies could result in some cookies being baked before others are done. Tip: Rotate baking sheets half way through baking if your oven bakes unevenly.

Leave to cool on cooling racks.

Once completely cooled, decorate as desired. Tip: If wrapped in tinfoil/cling wrap or kept in airtight containers in a cool place, un-decorated cookies can last up to a month.
Nutrition
Calories:
121
kcal
Carbohydrates:
16
g
Protein:
1
g
Fat:
5
g
Saturated Fat:
3
g
Cholesterol:
19
mg
Sodium:
3
mg
Potassium:
16
mg
Sugar:
6
g
Vitamin A:
175
IU
Calcium:
4
mg
Iron:
0.6
mg
Did You Make This Recipe?
I do a happy dance when people share how they went. Tag me on Instagram or Twitter @bellyrumbles & #bellyrumbles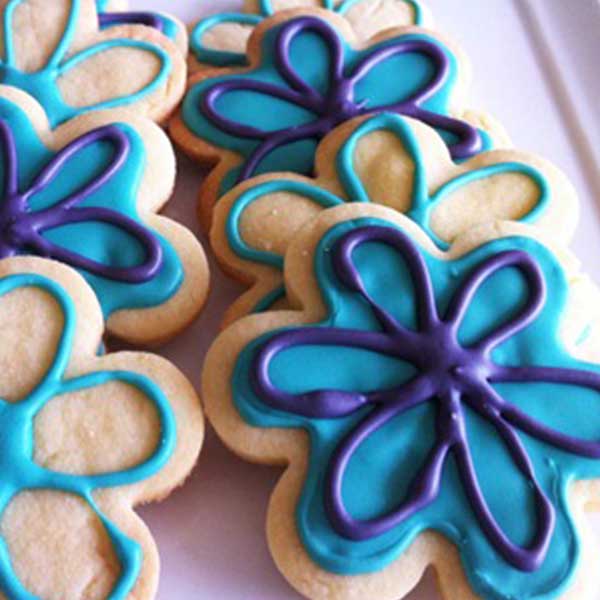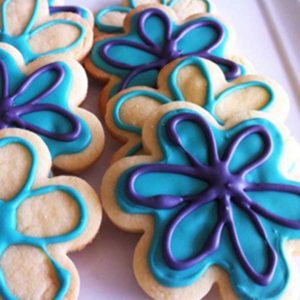 Royal Icing
Ingredients
480

grams

(3 cups) icing sugar

2

egg whites

Large

10

ml

(2 teaspoons) lemon juice
Instructions
Beat egg whites with lemon juice until combined.

Tip: It's important that the bowls/spoons/spatulas and beaters you use are thoroughly cleaned and grease free.

Sift the icing sugar to remove lumps and add it to the egg whites. Tip: I've listed 2 amounts of icing sugar, the lesser amount is good for a flooding consistency, and the larger amount is for outlining, but you can add even more for a much thicker consistency good for writing. If you add too much icing sugar or would like to make a thinner consistency, add very small amounts of water, a few drops at a time, until you reach the consistency you need.

Beat on low until combined and smooth.

Use immediately or keep in an airtight container. Tip: Royal Icing starts to harden as soon as it's in contact with air so make sure to cover containers with plastic wrap while not in use.
Did You Make This Recipe?
I do a happy dance when people share how they went. Tag me on Instagram or Twitter @bellyrumbles & #bellyrumbles

This was Josh's first attempt at using a piping bag and icing something. I think he did a fantastic job. I especially love the "I wuv food" one with the customised bite mark out of it. He literally iced it and took a bite, nothing like authenticity. His dragonfly also is a lot better than my attempts.


Oh and I am sure you are wondering how I eat my lego people biscuits……….. head first of course ;p
Sara xxx