Our October 2010 hostess, Lori of Lori's Lipsmacking Goodness, has challenged The Daring Cooks to stuff grape leaves. Lori chose a recipe from Aromas of Aleppo and a recipe from The New Book of Middle Eastern Food.
I had bought a jar of vine leaves a couple of months prior to the challenge. They sat there on top of the deli counter pleading for me to buy them. They knew I had never played with their type before and they beckoned for me to take them home and get all experimental on their grape leaf behinds.
So I did. I took them home and in the cupboard they sat, and sat, and then sat some more. I am hopeless with impulse deli purchases, I just can't help myself most of the time. That jar of vine leaves would still be sitting there if it wasn't for Lori and her great challenge. Talk about the perfect challenge, thanks Lori.
As there are only the three of us and the jar contained ample leaves, I decided to give two recipes a go.
I made grape leaves stuffed with ground meat and rice with apricot tamarind sauce. This recipe was the one that was provided by Lori which was adapted from Aromas of Aleppo by Poopa Sweck and Michael Cohen.

Ground Meat & Rice with Apricot Tamarind Sauce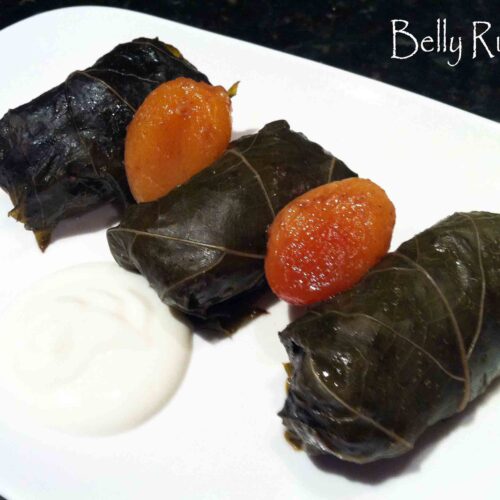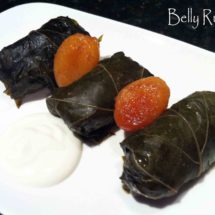 Stuffed Grape Leaves
Print
Pin
Rate
Total Time:
1
hour
30
minutes
Ingredients
Stuffed Grape Leaves
500

grams

ground

minced beef

1/3

cup

short grain rice

1

teaspoon

spice

2

tablespoons

vegetable oil

1

teaspoon

cinnamon

1

teaspoon

salt

¼

teaspoon

white pepper

1

onion finely chopped

1

cup

pine nuts

Grape leaves

1

Tablespoon

vegtable oil

6

dried apricots

3

tablespoons

Tamarind concentrate

1/4

cup

lemon juice

Fresh squeezed

Yogurt

to serve
Instructions
Stuffed Grape Leaves
Soak rice in water, enough to cover, for 30 minutes. Combine meat, rice, allspice, vegetable oil, cinnamon, salt, white pepper, and if desired, onion and pine nuts, in a large mixing bowl. Mix well.

Place a grape leaf on a flat surface, vein side up.

Place about two teaspoons of the filling in the centre of the leaf, near the stem edge.

Roll the leaf end to end, starting from the stem edge. As you roll, fold the sides of the leaf in toward the centre. The leaf should resemble a small cigar, about 2 to 2½ inches (50 mm to 65mm) long.

Repeat with the remaining leaves and filling. (You can freeze the stuffed grape leaves at this point. Just line a baking sheet with wax paper. When firmly frozen, transfer to an airtight plastic bag place back in the freezer.)

In a medium saucepan put in the vegetable oil and then place the filled grape leaves in the pot.

Place apricots in between the stuffed grape leaves. Cover and cook over low heat for 5- 8 minutes or until the grape leaves begin to sweat.

Using all three tablespoons, place a little of the tamarind concentrate, if using, over the rolls.

Combine lemon juice, salt, and water then add to pan, filling it ¾ full.

Weigh down the grape leaves with a heat proof plate or board to prevent them from unravelling. Cover and bring to a boil over medium high heat. Reduce the heat to low and simmer for about 40 minutes. (Alternatively, place the saucepan in an oven preheated to moderate 350°F/180°C/gas mark 4 and cook for an hour.)

Spoon cooking liquid over the grape leaves occasionally. You will know they are done, when the grape leaves are neither soupy nor dry.

Tilt pan sideways over serving platter, allowing the grape leaves to tumble out. Try not to handle them individually to reduce unravelling. Alternately you can try spooning them out very gently.
Nutrition
Calories:
246
kcal
|
Carbohydrates:
12
g
|
Protein:
9
g
|
Fat:
18
g
|
Saturated Fat:
5
g
|
Cholesterol:
29
mg
|
Sodium:
224
mg
|
Potassium:
274
mg
|
Fiber:
1
g
|
Sugar:
5
g
|
Vitamin A:
145
IU
|
Vitamin C:
2.9
mg
|
Calcium:
19
mg
|
Iron:
1.9
mg
DID YOU MAKE THIS RECIPE?
I love knowing when readers make my recipes, tag me on Insgragram @bellyrumbles
Notes: If using grape leaves preserved in brine, to remove salt put them in a bowl and pour boiling water over them. Make sure that the water penetrates well between the layers, and leave them soaking for about twenty minutes, then change the water a time or two using fresh cold water.
If using fresh leaves, plunge a few at a time in boiling water for a few seconds only, until they become limp, and lift them out.
The second recipe I attempted was one that I had found ages ago on Andrew Zimmern's website for The hotel Saigon's beef rolls. What appealed to me about this recipe was that you actually grilled the rolls and that it had Vietnamese flavours in it. Something I thought that was quite different to the Mediterranean stuffed vine leaves I was use to.
The leaves of the grilled rolls took on a completely different taste to the ones that had been stewed in liquid, they were smokey in flavour. The nuoc cham sauce which I made to go with them really made them complete.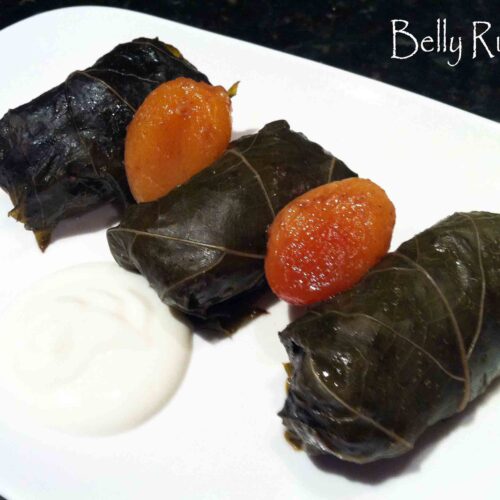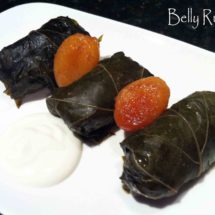 The Hotel Saigon's Beef Rolls
Print
Pin
Rate
Total Time:
2
hours
6
minutes
Ingredients
500

grams

ground beef

24

grape leaves in brine

3

Tablesppons

tomato sauce

2

Tablspoons

cornstarch

1

Tablspoon

sugar

1

Tablspoon

fish sauce

1

Tablespoon

fresh ground black pepper

2

Tablespoons

soy sauce

2

Tablspoons

minced garlic

1

Tablespoon

hot chilli paste

3

Tablespoons

rice wine
Instructions
Combine ingredients and let sit in refrigerator for 2 hours. Roll in the grape leaves as shown in the class. Brush lightly with peanut oil and grill for 5-6 minutes over medium heat.
Nutrition
Calories:
56
kcal
|
Protein:
3
g
|
Fat:
4
g
|
Saturated Fat:
1
g
|
Cholesterol:
14
mg
|
Sodium:
101
mg
|
Potassium:
59
mg
|
Calcium:
4
mg
|
Iron:
0.4
mg
DID YOU MAKE THIS RECIPE?
I love knowing when readers make my recipes, tag me on Insgragram @bellyrumbles
Sara xxx