Confession, I have become a coffee snob.  I don't blame myself at all, mind you.  I blame all these wonderful little cafes that roast their own beans, and boutique roasters popping up all over Sydney.  My snobbery is their fault completely.
I am slowly making my way around town and trying some very good cups indeed.  It has come to the point that my coffee pod machine at home isn't satisfying me any more.  I am seriously thinking of buying a real machine in order to buy some beans to take home from the various places I visit.  Next you will be reading about me taking a barista course.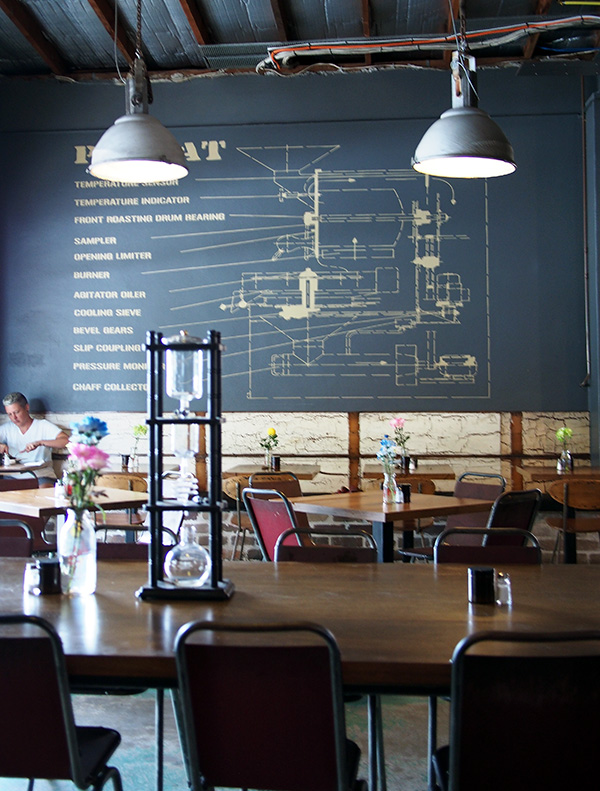 I just want to set the record straight.  I am by no means a coffee expert; I just know what I like.  Saying that, I am learning quite a bit about coffee on my adventures, but still no expert.
Double Roasters take a small batch approach, 12kgs/batch, to roasting their coffee.  They roast with the season to produce truly handcrafted coffee.  They sell single origin as well as terrior specific blends.
It was a scorcher of a day when I visited Double Roaster.  Due to that decided to have an iced coffee instead of a usual espresso.  Milk, coffee and ice, the way it should be served, not a swirl of cream of artificial coffee flavouring in sight.  The coffee nice and strong, milk creamy and it wasn't sweet, an adult ice coffee.
 A big breakfast was ordered for my dining partner, Josh.  As stated, it was big, Pembroke Park poached eggs on sourdough, black forrest smoked bacon, tomato, mushrooms and avocado.  If you prefer your eggs scrambled, they also off the eggs cooked that way.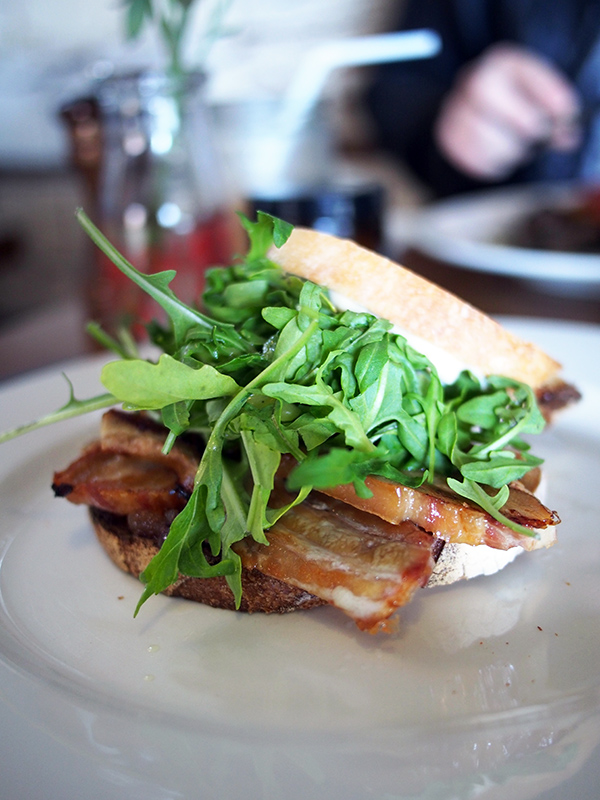 roast pork belly sandwich $9.50
I went for the roast pork belly sandwich, rich, generous and quite delicious.  It is served with apple mint relish, rocket and aioli.   I felt it needed a little something extra to help cut the richness of the pork belly a little more.
On paying the bill, Josh decided there was room for more.  A peanut butter blondie was ordered to take away.  Satisfying the sweet tooth craving, and quite reasonable at $3.50.
I note on urbanspoon that there were quite a few people complaining about the price of the coffee.  To me it seems quite a standard price for around Sydney, plus it is good coffee.
Also read about grumpy staff, staff were lovely and very helpful when we visited on a weekday morning.  Weekends may be a different matter when the place is supposedly packed.
Sara xxx
Double Roasters
199 Victoria Road, Marrickville, Sydney
Tel:  +61 29572 7711
Website