Dragoncello is Roy McVeigh's first solo restaurant venture. Situated in the quieter part of trendy Surry Hills on Cleveland Street, just around the corner from Crown.
You may have unknowingly enjoyed Roy's cooking whilst he was working at notable restaurants such as Bathers Pavilion, Berowra Waters Inn, Attica and Guillaume at Bennelong.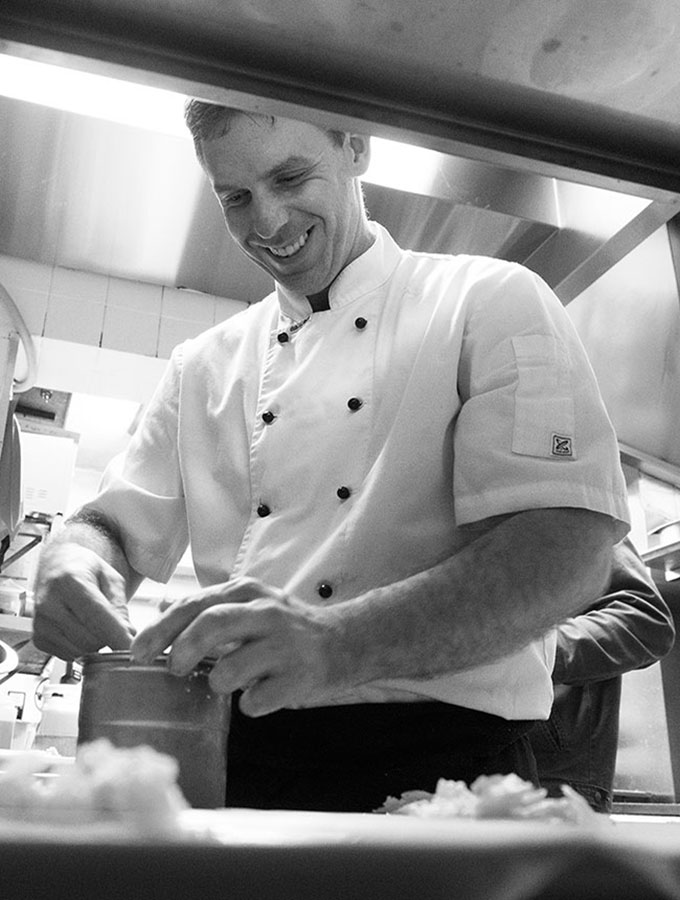 Why the name Dragoncello? I have to admit when I first heard the name, the image that went flash dancing through my mind was of a trendy Chinese fusion restaurant. That thought was completely off track. Roy explains that Dragoncello means tarragon in Italian.
When you walk into Dragoncello the first impression is of a small establishment. You are met with the down stairs bar area, which has a lovely casual wine bar feeling. Here patrons can enjoy a tipple and some light bar snacks. If you venture further in and up the stairs, you will be met with a moderate sized dining area with high ceilings and Tapestry Girl's peg boards gracing the walls.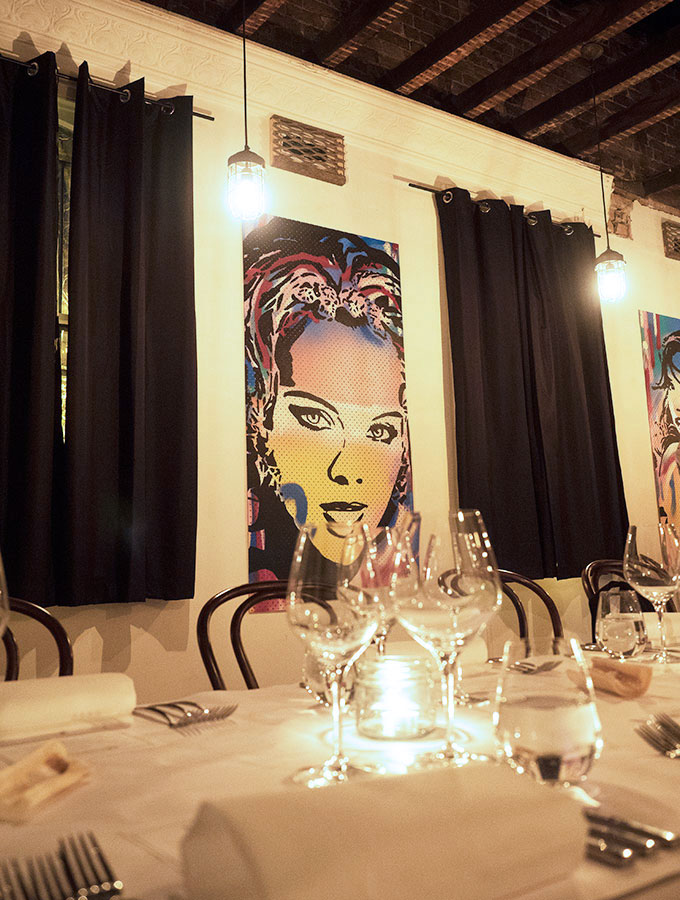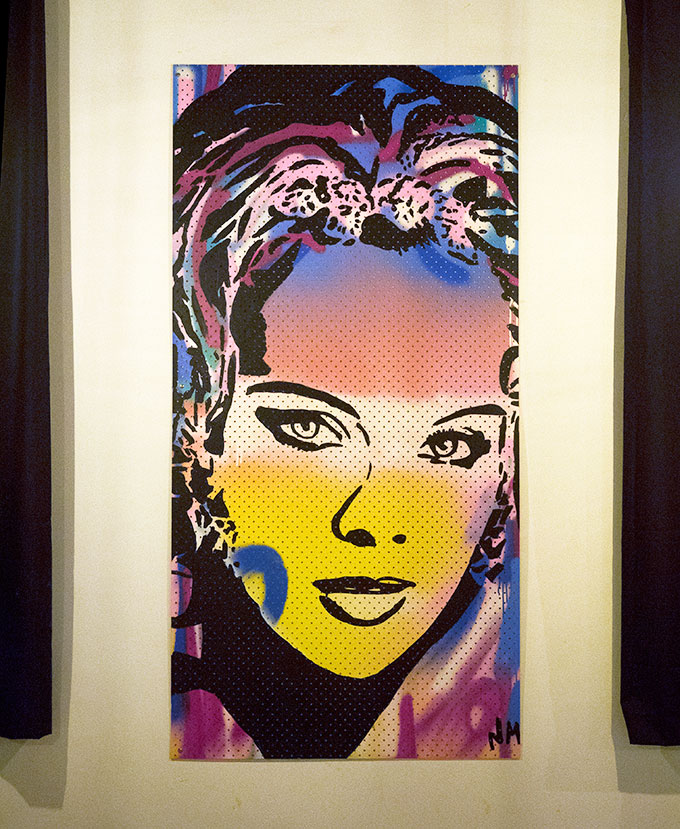 Roy is my kind of chef, food miles and sustainable produce are important to him, and of course seasonal and local. He has even established a roof top garden, which supplies various greens and flowers used in his dishes.
As well as liking his ethos, I like his food style. He's a clever and creative chef. Pairing what people would regard as normal dish element with a hint of the slightly unsuspected.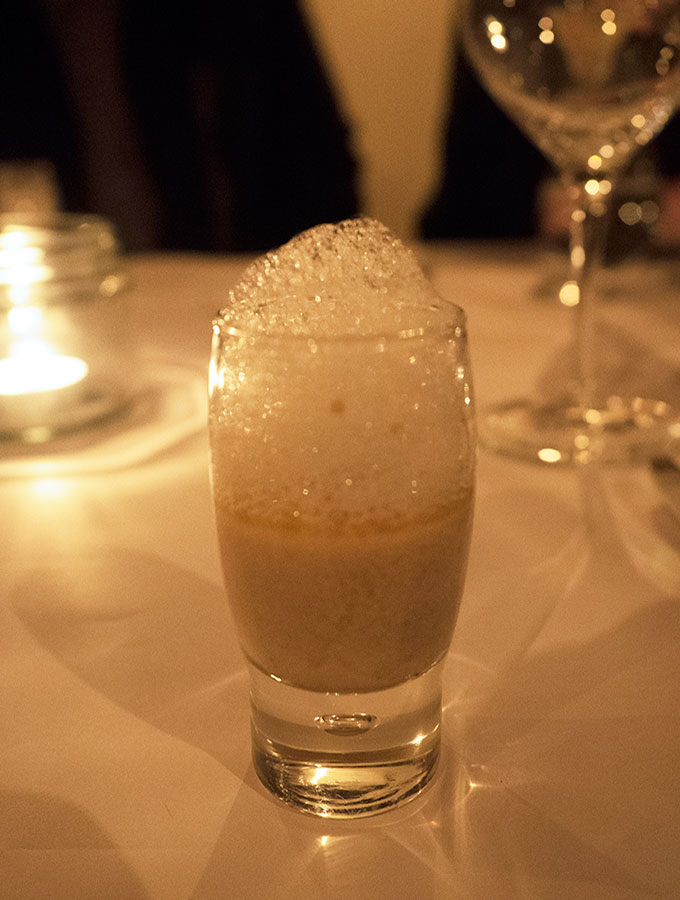 fish head curry with apple foam
To start an amuse bouche arrives from the kitchen. A deep and rich fish head curry soup topped with airy apple foam. The sweetness of the apple is a lovely contrast to the delightfully intense fish head curry.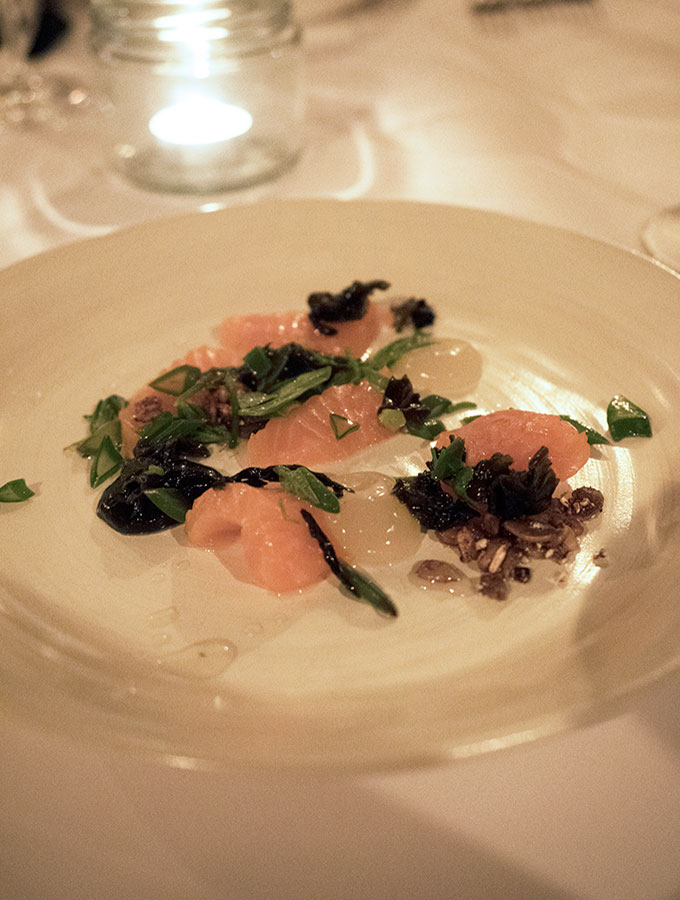 sashimi of ocean trout, lemon myrtle gel and costal plants
The sashimi of ocean trout is a light and pretty dish. The slices of ocean trout frolic amongst the green of the coastal vegetation on my plate, I like the synergy.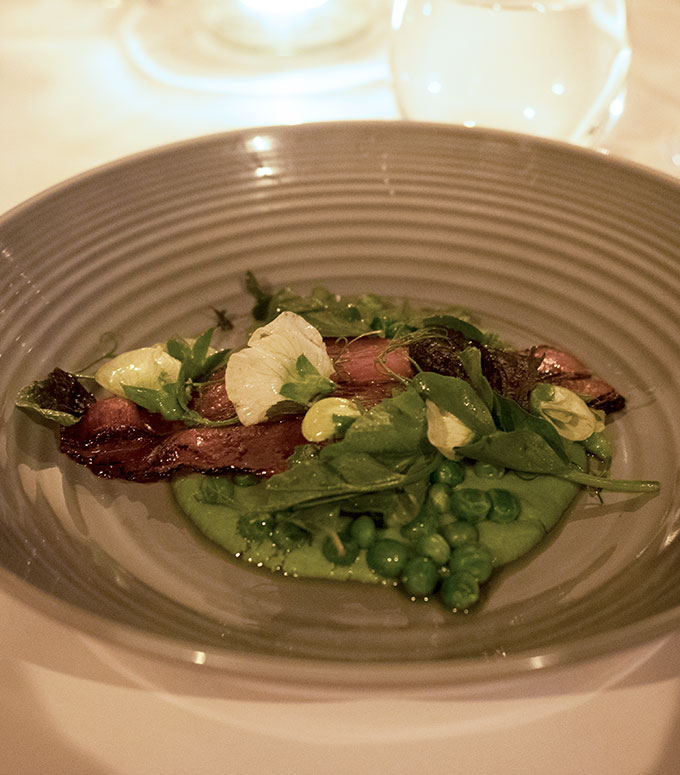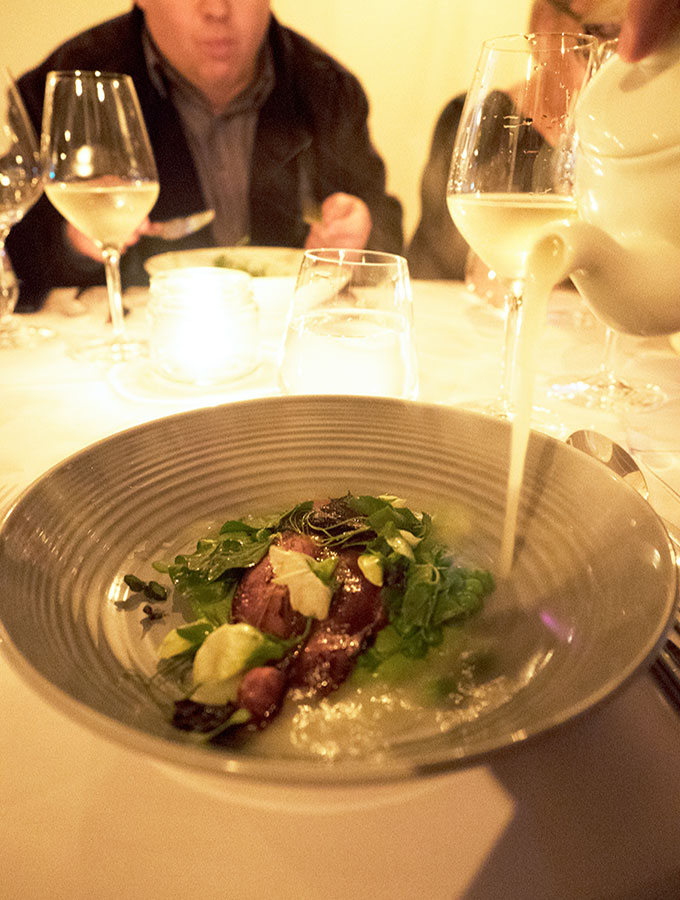 pea mousse with its own leaves and flowers, candy bacon, parmesan broth
Another pretty and gorgeously plated dish. I love bacon, but generally it doesn't look that sexy on a plate. Place pea tendrils and their pretty white flowers over the top of it, and bacon is pretty again. This sits on top of a light pea mousse and whole garden baby peas. The parmesan broth is poured into the bowl tableside. A wonderful flavour and texture combination, the bacon is smoky and sweet, the peas fresh and textural, and the broth brings it all home with its deep flavour.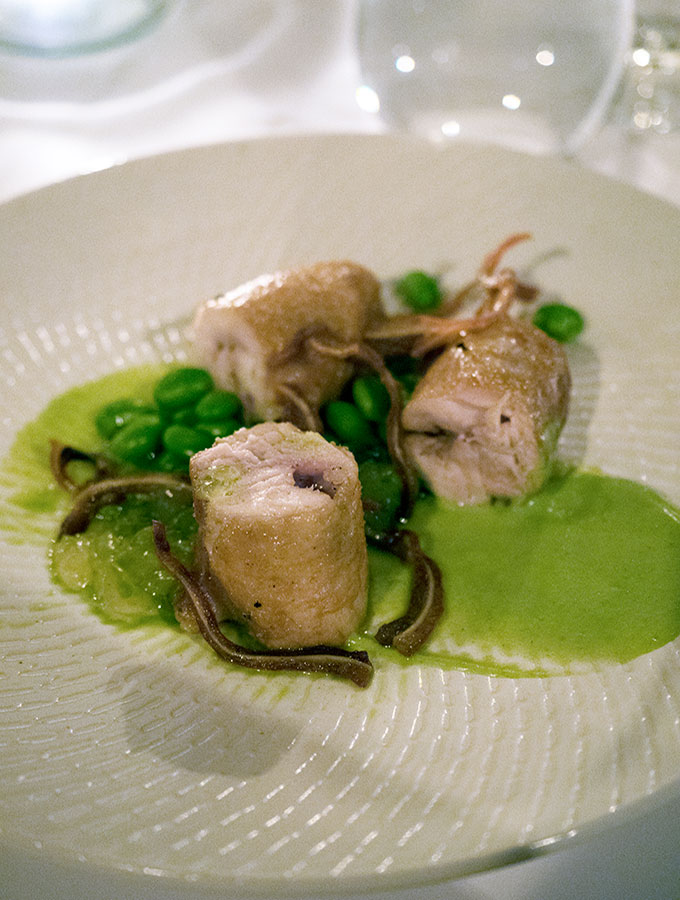 chicken ballotine, chickweed, crispy pigs ear, pickled jellyfish and sweet basil
This dish is the perfect example of the "slightly unsuspected" I mentioned earlier. A gorgeously tender and moist chicken ballotine teamed up with jellyfish. Some may not be sure about this, but I actually really like jellyfish. It has a strange chewy crunch to it, hard to describe, but it's the textural side of jellyfish that I like. Therefore when you pop a little of each element into your mouth, the chicken, jellyfish, pig's ear, there is an orchestra of texture and flavour playing away as you chew.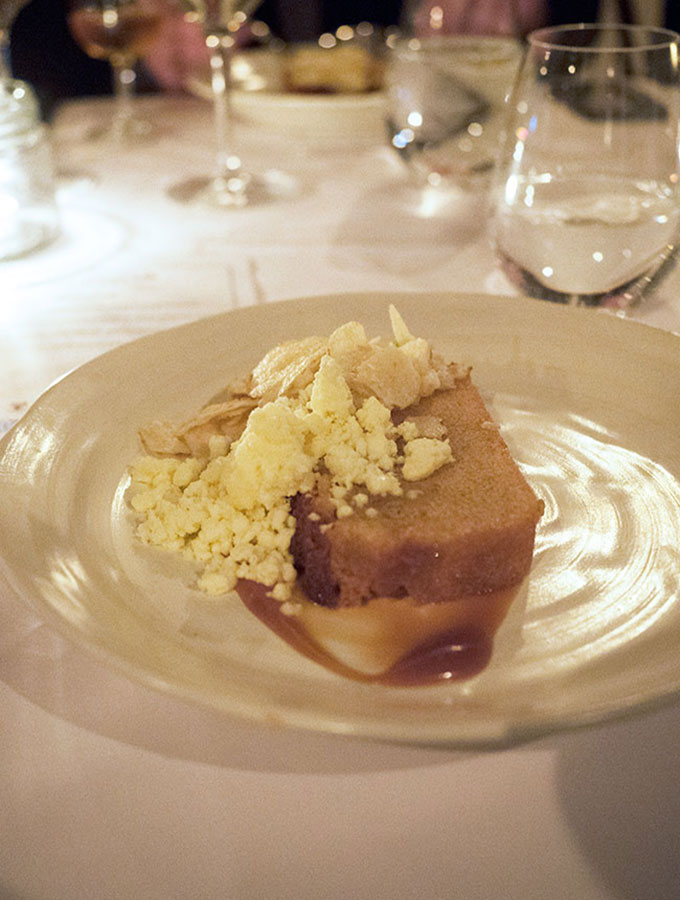 potato chip cake with salted caramel and sour cream snow
Due to its popularity Roy feels this dish may never come off the menu. Potato chip cake topped with salty potato chips (crisps), sour cream snow and salted caramel. It hits all those flavour notes we love, salty, sweet and sour, plus has the crunch of the crisps.
Roy offers a clever seasonal menu with a twist, which I feel is definitely worth a trip to Surry Hills to try. As well as the a la carte menu, you can partake in an eight course degustation. At $98 ($155 with matching wines) it is brilliantly priced, and I think is the way to go to experience Roy's cuisine fully.
Sara xxx
Must try dish: The menu is changing continually as it is based on seasonal and local. I say go for the degustation and try a little of everything.
Who should dine here: Great for couples or group dining, or grab a few drinks and snacks downstairs in the bar.
Who shouldn't dine here: Can't think of anyone really.
What else you should know: The main dining area is accessed via a flight of stairs, but for those that have mobility issues, I am sure you will be accommodated in the down stairs area.
Price: $7-$36 ($98 eight course degustation)
BYO: No
Bookings: Yes, via phone or online
Opening hours: Closed Monday – Tuesday/6pm – late Wednesday – Saturday/12pm-9.30pm Sunday
Dragoncello
466 Cleveland Street, Surry Hills
Tel: +61 2 8399 0907
website
Belly Rumbles dined as a guest of Dragoncello.

Become a subscriber and don't miss a single delicious recipe, restaurant review or travel adventure. Plus you will also receive extra content and benefits.