Easy is my middle name when it comes to mid week meals, and when it comes to dinner this easy taco recipe with a Moroccan twist can't get simpler. No cooking involved and make your family assemble their own tacos!
A delicious easy taco recipe with finely sliced red cabbage coleslaw, mounds of juicy roast chicken, crunchy almonds, fresh mint, green onions and peaches.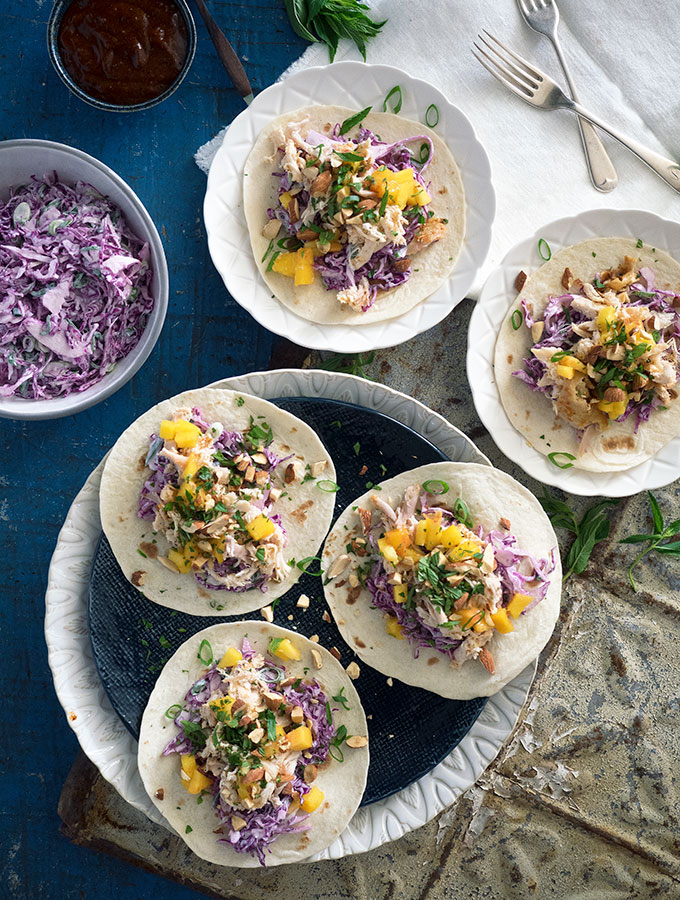 You would probably be amused to know that I am just like you. Some nights, I just don't want to cook dinner. I simply couldn't be bothered. After a long hard day the thought of spending time in the kitchen, while my family wind down, depresses me.
This is why I am the queen of corner cutting wherever possible regarding weeknight meals.  Meals like this easy taco recipe with a Moroccan twist, where dinner will be on the table in no time.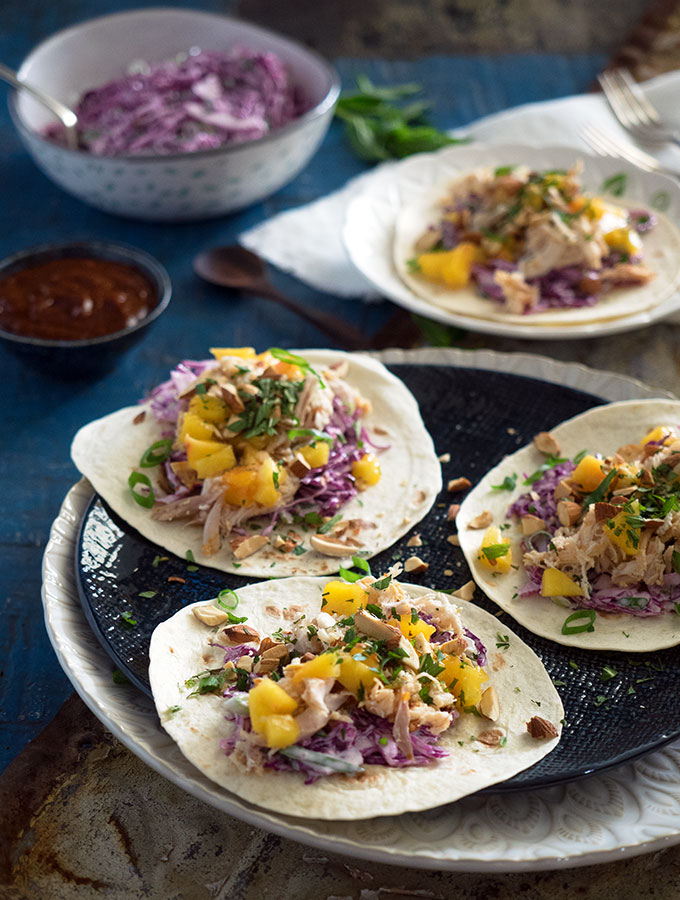 The humble BBQ or roast chicken is one of my time poor corner cutters. I use them a lot, from making healthy salads right through to a plain old chicken and avocado sandwich. Therefore when Red Rooster contacted me to team up for some recipe creation, it was a decision I didn't even have to think twice about.
Roast chicken is a mainstay on the Red Rooster menu, and for a limited time they are also selling glazed cut roast chickens. You have three glazes to choose from, Garlic & Soy, Hickory Smoked BBQ and Moroccan.
On this occasion I decided to give their Moroccan glazed chicken a try. Though this recipe would work equally as well with the Hickory Smoked BBQ glazed chicken.
An easy taco recipe made from common pantry and fridge staples, with the addition of seasonal peaches. I did make my own coleslaw as I wanted a very fine slaw made from red cabbage and green onions. Of course if you couldn't be bothered making coleslaw then Red Rooster have you covered. I also grabbed some corn on the cob as corn is a great side dish with tacos.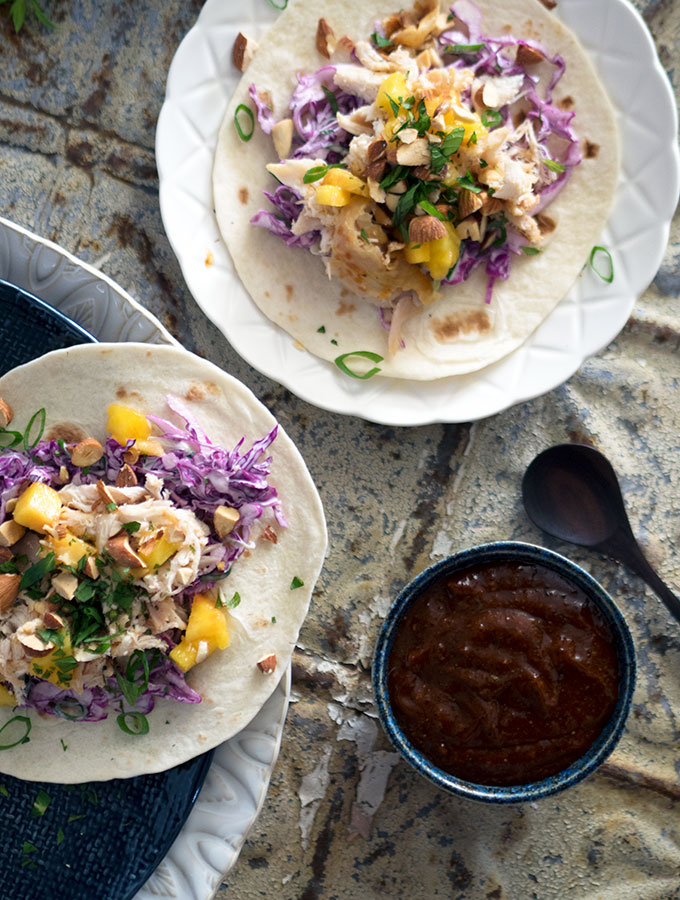 A quick and easy taco recipe, that is perfect for a mid week meal. You could pre-assemble the tacos if you wish. By getting the family to make their own, it ensures precious family time over dinner.
For me I love the flavour combinations, the crunch of the almonds,  the sweetness of fresh peaches. The beauty of this recipe is you can add and subtract ingredients as you wish. You could use mixed lettuce instead of coleslaw or scratch the almonds and use macadamias or cashews.
What would your flavour combination be?
Sara xxx
Belly Rumbles would like to acknowledge its partnership Red Rooster for this post. This recipe was created, developed and photographed by Sara McCleary.
Become a subscriber and don't miss a single delicious recipe, restaurant review or travel adventure.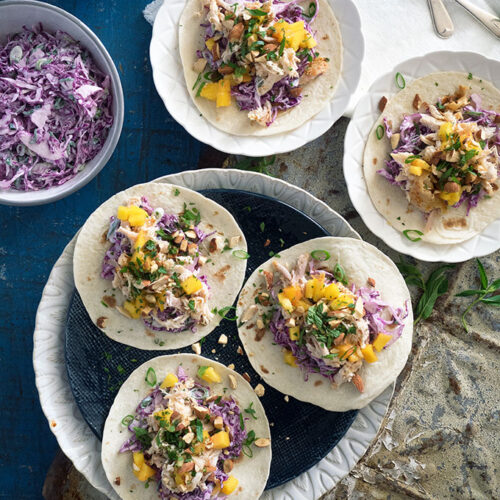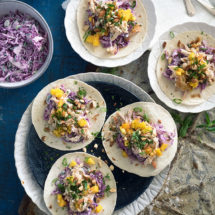 Ingredients
1

Red Rooster cut roast chicken with Moroccan Glaze

1

extra serving of Moroccan Glaze

10

pack Tortillas

medium size

2

peaches

finely diced

½

bunch mint

1

cup

oven roasted almonds

¼

cup

low fat sour cream

¼

cup

Japanese mayonnaise

½

lime

juice

¼

red cabbage

finely sliced

2

spring onions
Instructions
Remove chicken meat from the bones and shred the chicken with your fingers and place in a serving bowl.

In separate serving bowls place peach, mint and roasted almonds.

In a medium size bowl mix sour cream, mayonnaise and lime juice until combined. Mix through red cabbage and spring onions and place in a serving bowl.

Warm tortillas in the microwave until warmed through. Place on a serving plate or in a basket. Cover to keep warm.

Place all ingredients on the dining table for people to self assemble their tacos.

Notes

To assemble

Place a tortilla on your plate. Top with a spoonful of coleslaw, a decent amount of chicken, sprinkle with roasted almonds, mint and peach. Finish off with extra Moroccan glaze to taste.
DID YOU MAKE THIS RECIPE?
I love knowing when readers make my recipes, tag me on Insgragram @bellyrumbles