I live in the Sutherland Shire and I love it.  Actually I grew up in the very multicultural suburb of Mascot, but The Shire is where I choose to live and have done so for 20 years now.
We have the best beaches in Sydney (not up for debate, we do, deal with it), the  Royal National Park is on our doorstep, gorgeous beaches, flora and fauna.  Two rivers, the Port Hacking River and the Georges River form part of the area, which means there is water everywhere.  Majority of the housing is low density, wide streets, there is room to breath.
When it comes to eating out, sadly, The Shire doesn't shine compared with the rest of Sydney.  I don't tend to eat out close to home.  The main reason for this is actually due to Belly Rumbles;  I usually eat at places of interest, which I want to share with my readers, dining at places I have been invited to, trying the latest 'buzz' restaurants for myself, or tracking down a decent Asian meal.
I am often asked for recommendations of where to eat, or if there is actually anywhere decent to eat in The Shire.  This question is asked more and more frequently, often met with my blank expression as I wrack my brain for an answer.  I do offer a few places, but nothing ever stands out as a must-try in my mind.
The 'where should I eat/is there anywhere to eat' questions, has set me on a quest.  Where does one eat in The Shire?  I need to open my mind to revisit old haunts and try new ones, take time and make the effort to reinvestigate eating out closer to home.
To start on the path of decent dining in The Shire, Josh and I tried a cafe which sounded very promising.
Ham (Harry and Mario) is a little cafe on the corner of Gerrale St & Ocean Grove Ave.  I have walked and driven past Ham numerous times and it is always packed.  They are known for their coffee and even have their own blend which is available to purchase to take home.
The menu is on large blackboards that line the walls behind the counters.  I suggest you work out what you want before you line up to order, as the queue moves quite quickly with lots of takeaway coffee orders.  Pay for your meal, grab a table number and find a seat.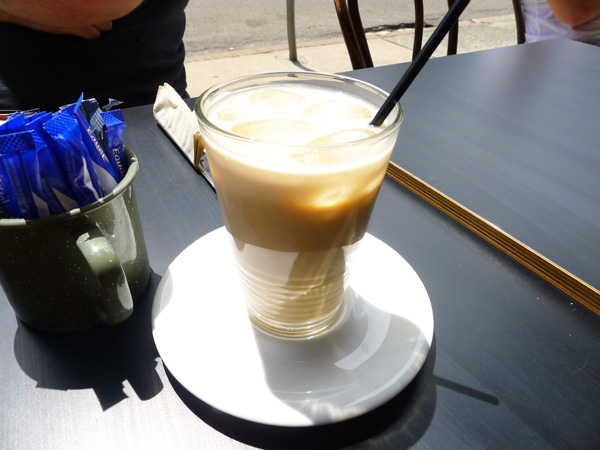 Being a rather hot day of 30 degrees both Josh and I decided against coffee and ordered iced chai lattes, $5.00.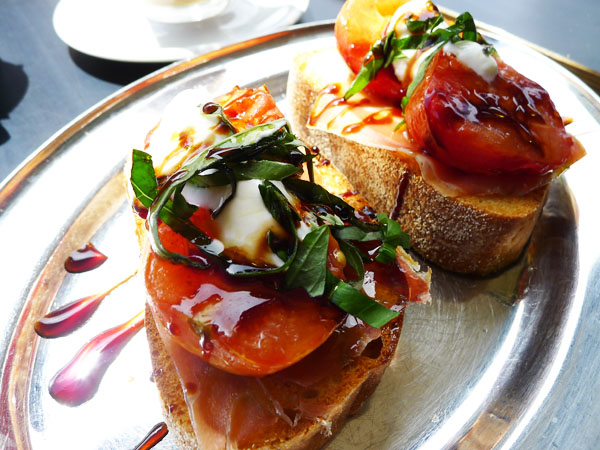 Decision was made to order two dishes to share.  The roasted tomato bruschetta, $10.50, two thick, slightly toasted, slices of crunchy bread, topped with an unexpected paper thin slice of prosciutto, sweet roasted tomatoes, basil, then drizzled with a balsamic glaze.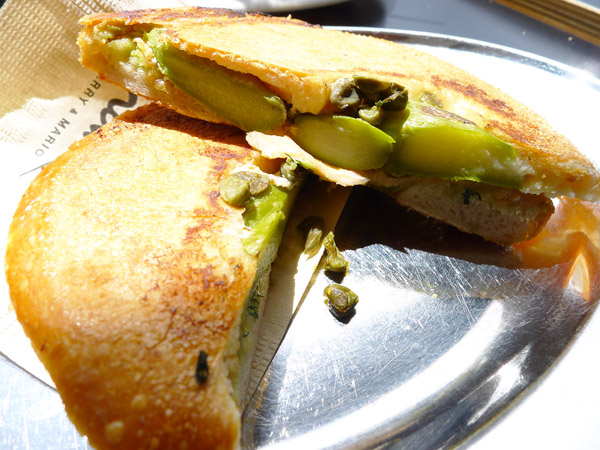 Second dish is simply stated as 'salmon bagel' on the menu.  I was expecting a bagel, with cream cheese, capers, onion etc, this was the image I had conjured in my head.  I should have asked how it was prepared, as instead I was served a flattened toasted bagel with salmon, asparagus and capers.  Pretty unappetising and I didn't bother eating more than a couple of mouthfuls, leaving Josh to devour it as he was quite hungry.
Also on the lunch menu were an assortment of panini ($9.90), antipasto plate ($18.50), grazing plate ($16.50), cheese plate ($14.50), daily salad ($9.50 or $5 as a side), gourmet tart of the day ($12.50).  The daily salad seems to be very popular with the regulars and on the day we visited it was some sort of tuna salad.  You will also find spanakopita and baklava in reference to Harry and Mario's Greek heritage.  There are also various homemade cakes available.
Ham is also open for breakfast and have an extensive breakfast menu..
Beside coffees, they have a nice range of Larsen & Thompson loose leaf teas.  I also spotted an affogato with macadamia nut praline ($6.50) which did sound quite interesting.
Would I recommend?  I wanted it to blow me away, but sadly it didn't.  My bagel was terrible, staff are lovely, will give it another go and try the coffee.
Ham
3/17 Gerrale St, Cronulla
Tel:  +61 (2) 8521 7219
www.hamharryandmario.com
Dear Belly Rumbles' reader, do you have a favourite place you like to eat in The Shire or is there somewhere you would like me to try?
Sara xxx