When the PR company for Ford get in touch with you and ask if you would like to play with a Ford Kuga over the weekend, you sway towards answering 'yes'.  When they add in that they will send you up to The Hunter Valley for the weekend, only a fool would say 'no'.
The car is dropped off at my place and I am straight out the door as I have to pick Mac up at the airport (he has been away on business).  I get to the Kuga, pop my bags in the boot, hop in and scratch my head.  The Kuga is a keyless car.  I know once you are in that all you have to do is push a button to get the engine going, but no matter how many times I push that button, the engine is not starting up.  Lights are flashing at me, the radio is on.  Is the engine that quiet that you can't hear it?  I open the door to see if that is the case, nope, gahhhh!  What makes this  even more embarrassing is the person who dropped the car off is standing across the road waiting for their cab to arrive.  Feeling like the perfect example of a dumb blond, I stop, and think about this logically.  If I put my foot on the break?  Yup, problem solved and engine is humming away.
With Mac picked up it is now time to head out of Sydney.  With my iPhone synced (voice activated tech) for hands free phone calls and for easy listening to my 'road trip' playlist.  I make a couple of phone calls to test the hands free system, then poor Mac's eardrums are pulverised by listening to my singing for the three hour drive North.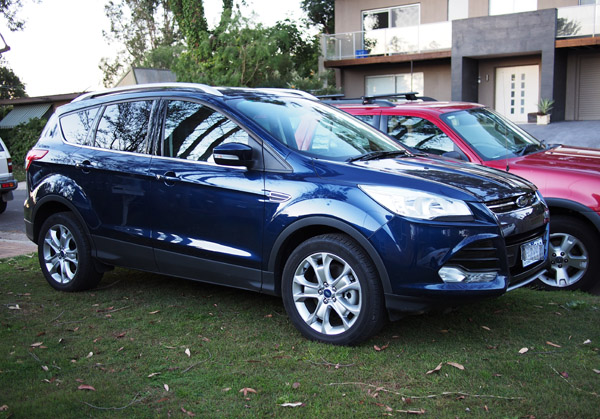 the new Ford kuga next to my old & loved Ford Explorer
I must admit I was feeling rather special, or maybe it was the effect of the new car smell.  I am a Ford girl, I own a big arsed Ford Explorer.  I love my car, but getting in to the Kuga I realise how old she is getting.  Cars have come a long way in the past 10 years.
Okay enough about the Ford Kuga for now, I have set the scene as to why I was in The Hunter Valley.  Various activities had been organised for Mac and I over the weekend, but Friday night was our own.  I did a little research of where I wanted to eat, as somebody who's life is ruled by food does, and settled on Emerson's at Pokolbin.
Emerson's is named after owner and Head Chef Emerson Rodriguez.  In 2011 and 2012 Emerson's received a AGFG Chef hat.  I note when I look through my 2014 Good Food Guide that they don't even make the book this year.  Did a reviewer forget to call in this year?  I am very confused why they don't get a mention, but then again the AGFG confuses me on some of their selections at the best of times.
When dining at Emerson's there is a choice of ordering a la carte or the eight course degustation.  We elect to spoil ourselves and enjoy Emerson's degustation, $90/person or $125/person with matching wines.  Mac decides to be the dedicated driver of the Kuga for the return trip to our hotel, this allows me choose the matching wines option.
I am always delighted when an amuse bouche makes it way out of the kitchen.  A couple of mouthfuls showcasing the chef's cuisine to excite your tastebuds for the coming meal.  On this occasion it is an espresso cup of potato vichyssoise.  There is a dash of truffle oil on top of this velvety concoction, which tantalises the nose before it amuses the mouth.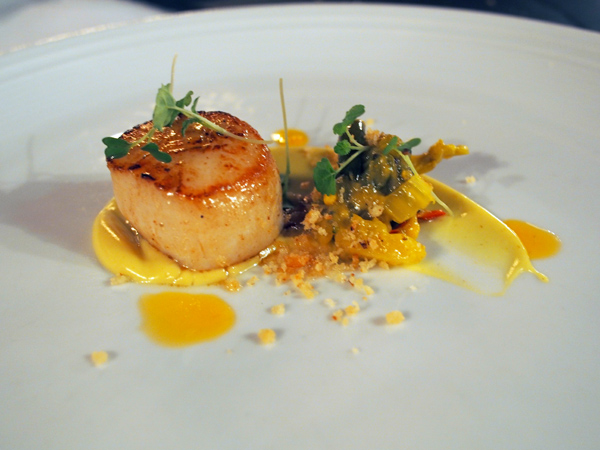 seared scallop, curried cauliflower puree , piccalilli vegetables and tomato oil
A large plump scallop seared to perfection and the piccalilli vegetables have an enjoyable tang.  Matched with Piggs Peake Sauvignon Blanc 2012.  Emerson and his staff are quite passionate about the local wines, but with conversation throughout the night it is apparent that Piggs Peake is a favourite of theirs.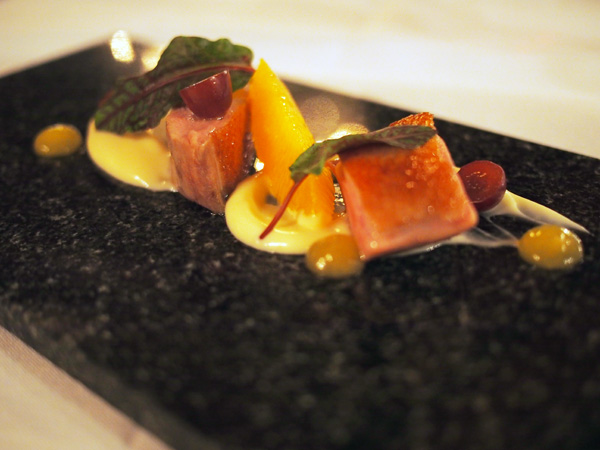 sous vide of duck supreme, parsnip cream, orange glaze and Moorebank pickled grapes
What surprises me most about this dish is that the grapes taste like Christmas.  It is the spices that are used when pickling them.  Wasn't expected and worked so well with the duck.  Matched with Scarborough Pinot Noir.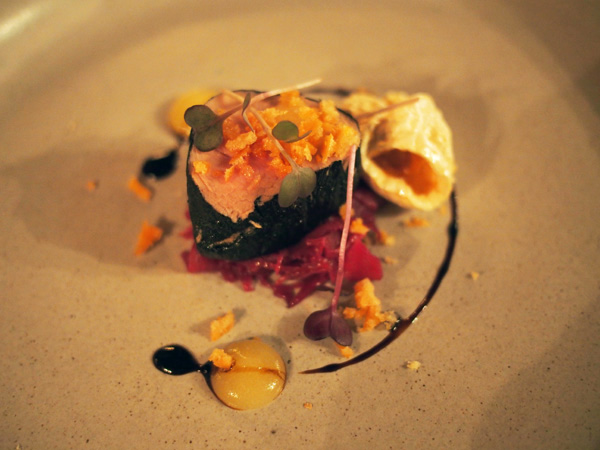 ash coated pork fillet, crackling, pickled red cabbage, port & red wine reduction
The pork loin is covered in ash for cooking, the idea behind this is to give the effect of being charcoal cooked.  It is a first for me and I thought a fun idea.  Matched with Meerea Park Alexander Munro Chardonnay 2011.
The degustation is broken with a palate cleanser of house made coconut sorbet.  It is an impressive sorbet and I could eat a bowl of it for dessert, but it is more dessert like than palate cleansing.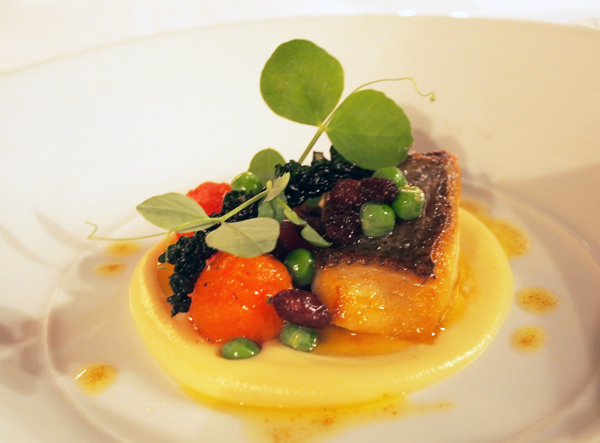 pan fried snapper, celeriac cream, heirloom tomatoes, fresh pea pods & sultana burnoisette
My favourite dish of the degustation.  A mixture of sweet, buttery, tangy all with a perfectly cooked piece of crisp skinned snapper.  Matched with Waverley Estate Aged Wines Semillon 2000.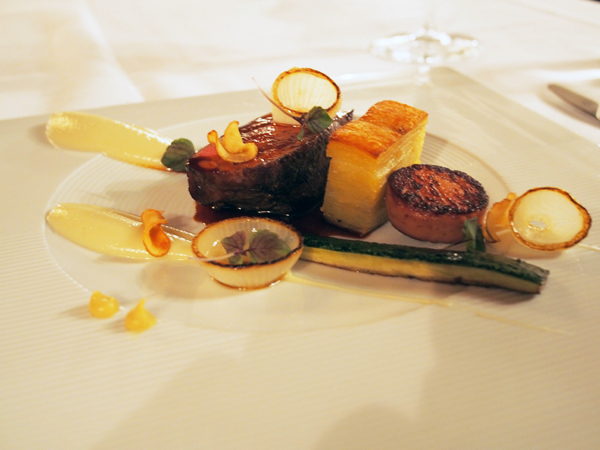 roasted black angus sirloin, seared foie gras, jerusalem artichoke, pickling onions & beef reduction
Oh hello foie gras, how I love you thee, let me count the ways.  Such a comforting dish, which is made to look quite pretty with the onion rings and micro herbs.
We are full, stomaches stretched to capacity.  What would we like for dessert?  Both Mac and I state we are just way too full for another course, but that won't do at Emerson's.  Instead we are offered a tasting plate selection of three desserts to share.  I sadly didn't take notes on the desserts and I can't remember them exactly.  I can tell you that the chocolate offering was, chocolate delice, doughnut, chocolate soil and chocolate ice cream.  The chocolate doughnuts have a chocolate fondant centre.  There is also a peanut butter semifreddo with caramel and toasted marshmallow.  Also a fruity offering featuring a home-made sorbet.
Emerson's is in the process of moving and are relocating to Adina Vineyard, Lovedale Road, Lovedale, The Hunter Valley.
Sara xxx
Please note that Belly Rumbles dined anonymously and paid for their own meal.