"Ahh, that is where Cafe Pacifico is" I exclaim, another restaurant on my 'to eat' list.  This exclamation comes as I scour Riley Street for our food destination for the evening, Food Society.  After spotting Cafe Pacifico, Food Society was hard to miss, it sits right next door.
We enter the grand entrance of this Eastern European, home-style restaurant, to be greeted warmly by staff.  We are led down the red carpeted steps to the cosy basement, and one of many wooden tables with mismatched chairs.  Food Society's style is homely, with lots of bric-a-brac, meets designer chic.
We have an early reservation of 6.30 and the restaurant is basically empty.  This all changes around 9pm when the establishment is packed to the rafters and the only seating available is at the bar.
Being of Latvian decent, Eastern European cooking is close to my heart and makes up part of my soul.  It is the food my grandmother would make for me.  I am delighted to see family favourites on the menu as well as modern light twists.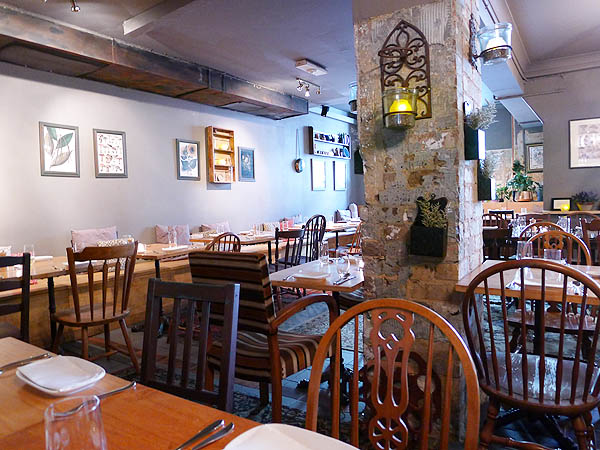 Food Society was opened back in July 2011 by caterers Sonia Stanojevi and Brendan Lloyd.  There has been a change of chef since their opening, and now Chef Ali Bahmad (ex Aqua Luna) holds the reigns of the kitchen.  Beside good food, vodka is their speciality.  There is a 70 plus strong list including flavoured varieties such as; honey, orange & clove, raspberry, quince, apple, burnt caramel, walnut and many many more.  If you don't drink vodka there are imported beers and a variety of wines too.  Just don't ask for coffee or tea, they don't do that.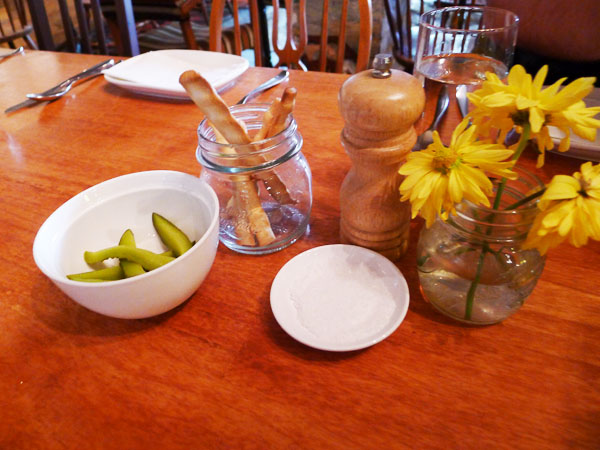 complimentary gerkins and breadsticks are placed on our table once we're seated. 
I really can't stress enough how friendly and helpful staff are at Food Society.  We are advised that the menu is designed to share, that is the whole menu, including the more substantial dishes.  When it comes to ordering they assist on how many dishes we should order.  Looking at our table and spotting three beefy blokes, he suggests appropriately for us.
Orders are taken via iPad which proves for very swift and speedy service.  Our appetisers arrive very promptly after the initial order is taken.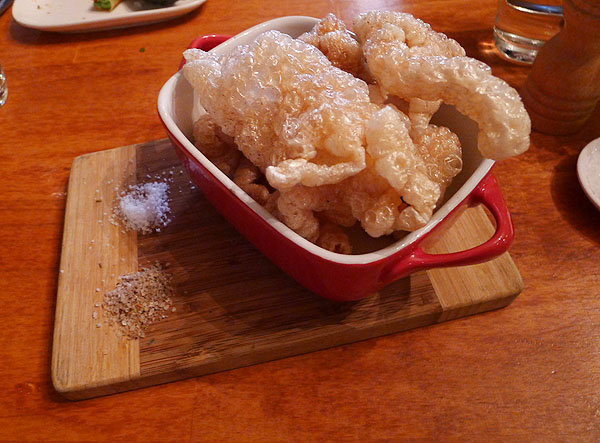 crispy pork cracking with fennel & chilli salt $7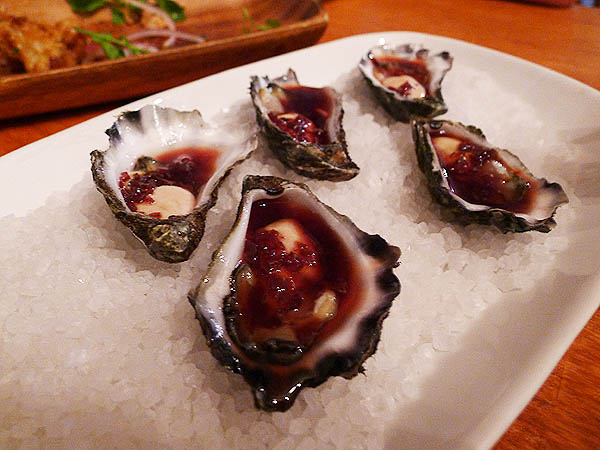 pacific oyster with spiced beetroot & red wine vinaigrette $4 each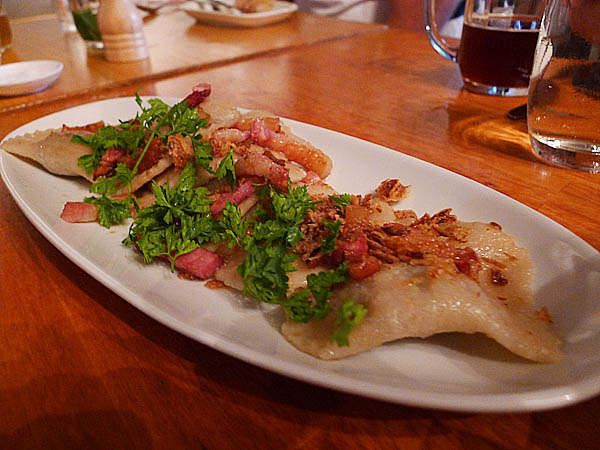 Pork belly pierogi with speck, apple cider vinegar & chervil $3each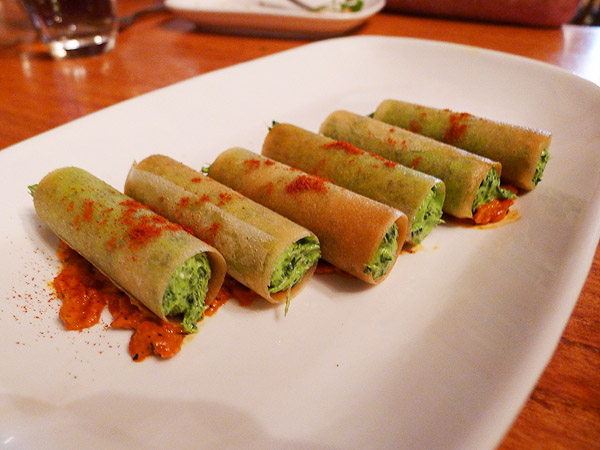 burek cigar of bulgarian feta, ouzo, spinach & fresh mint $4 each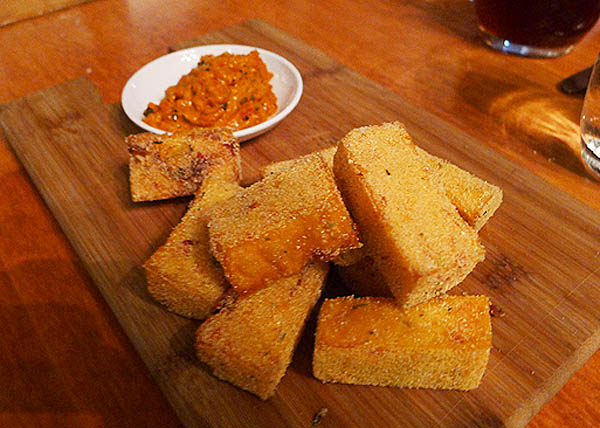 mamaliga chips with smoked paprika salt & spicy ajvar $13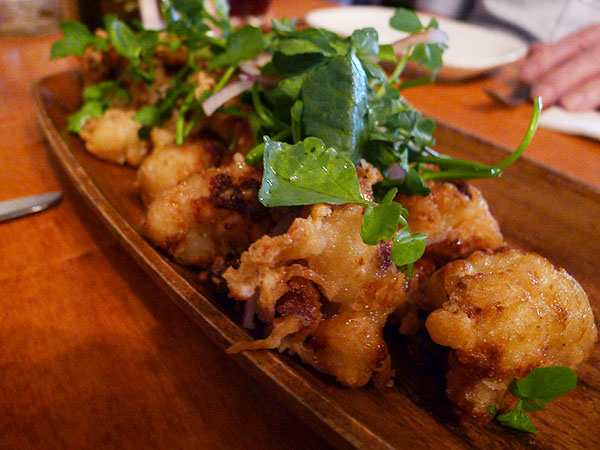 fried cauliflower with paprika, parsley, water cress & red wine vinegar $13
The stand out favourite of the appetisers is the cauliflower, which is a Food Society signature dish.  We can see why, the cauliflower is tender in its crunchy smoky coating and is an addictive combination.  This dish is one I will return for.  All dishes are enjoyed, burket cigar is ultra crispy and another serving of the mamaliga would not have gone astray.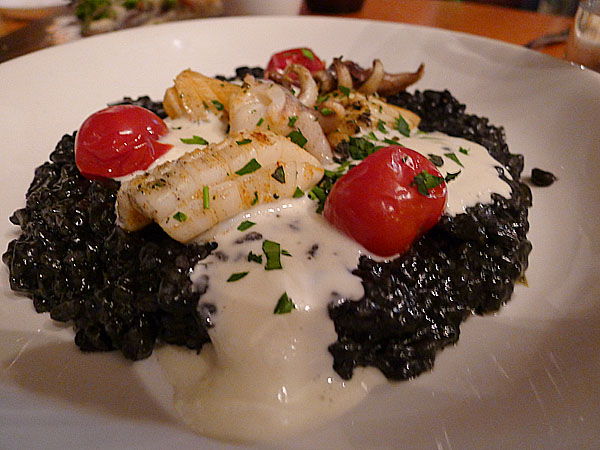 grilled cuttlefish on squid ink risotto with parmesan $26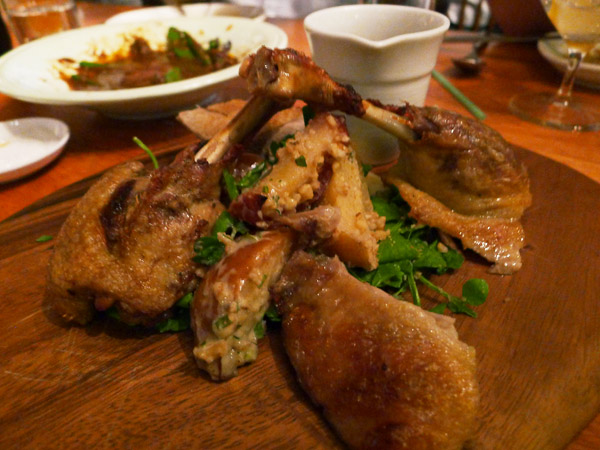 roasted duck with red apple, walnut, watercress & parsnip cream $34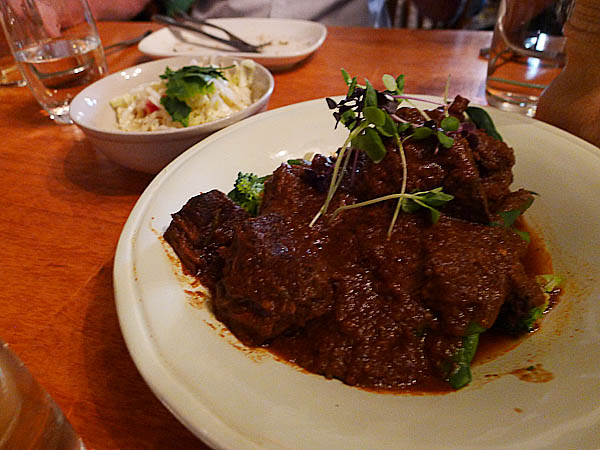 goulash society style, slow braised beef cheek with spring vegetables & paprika sauce $28
All the 'substantial' dishes are enjoyed.  The beef cheeks in the goulash fall apart at a fork's touch they are so tender. Skin of the roasted duck is crispy with juicy meat underneath.  But out of all the dishes I fall in love with the risotto.  Char grilled cuttlefish sit atop strikingly black risotto with parmesan foam.  It is a perfectly executed risotto and can't be faulted.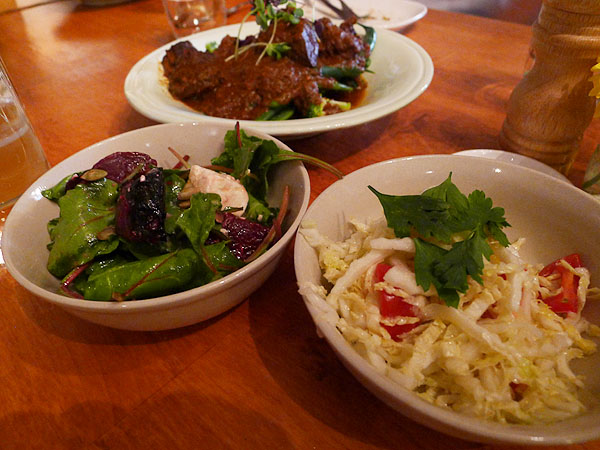 beeetroot & bulgarian feta salad with fesh baby beetroot leaves, toasted pumpkin seeds $9 &  cabbage salad with parsley, tomatoes, olive oil & white vinegar dressing $7.5
My only wish with the side dishes was that they had been a little larger.  If I had known, two of each would have been ordered for the table.  There really was only a spoonful each, which acted as a taster.
I was very tempted to try Food Society's signature dessert, pashka with strawberry compote ($12), as pashka is a dish I grew up with.  It is an Easter dish which my Latvian grandmother would make every year, made from farmer's style cottage cheese, almonds and citrus peel.  I now make it every Easter for my family.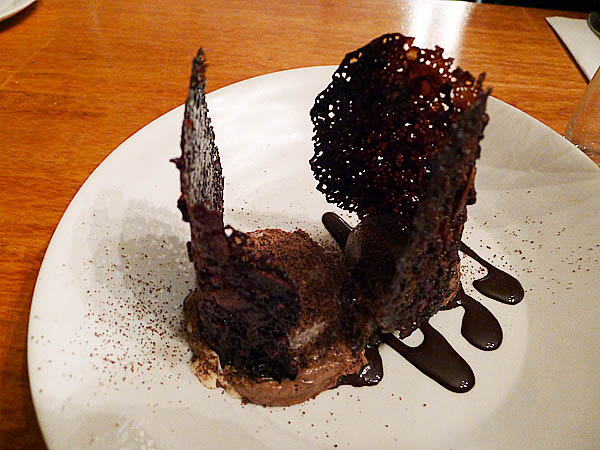 chocolate ganache with a chocolate mousse, white chocolate ice cream coated in brownie & bitter tuile $12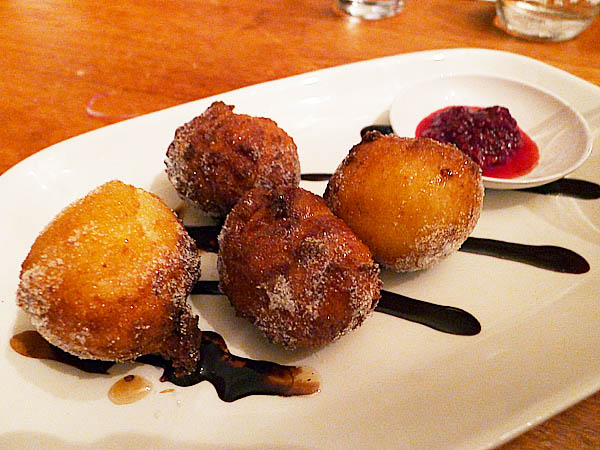 bulgarian style mini doughnuts with walnut sugar & dark chocolate sauce $13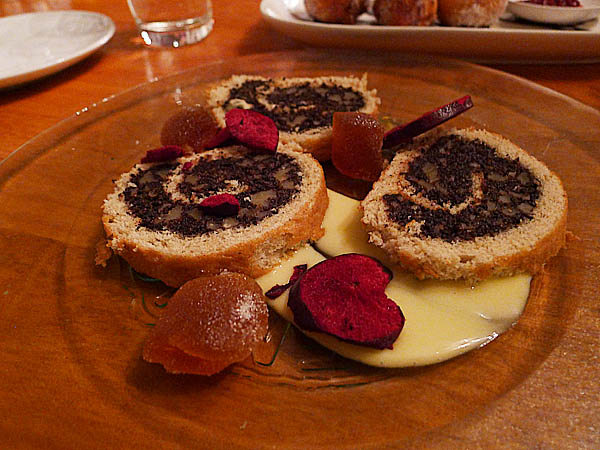 poppy seed scroll with plum chips, apricot jubes & vanilla cream $12
As you can tell from the above, pashka is left to try on another visit.  All the desserts are delicious.  My favourite being the poppy seed scroll.  Again something I grew up with, sans the apricot jubes which add a lovely twist.  The doughnuts are the dense kind, but incredibly crunchy on the outside.  I just wish there was more chocolate sauce to be able to dip them in.
The verdict:  Staff make you feel at home, add to that heart warming homely dishes, and Food Society is a winner.  We will return as I am already having cravings for the cauliflower, but next time will spend some time sampling the vast array of vodkas.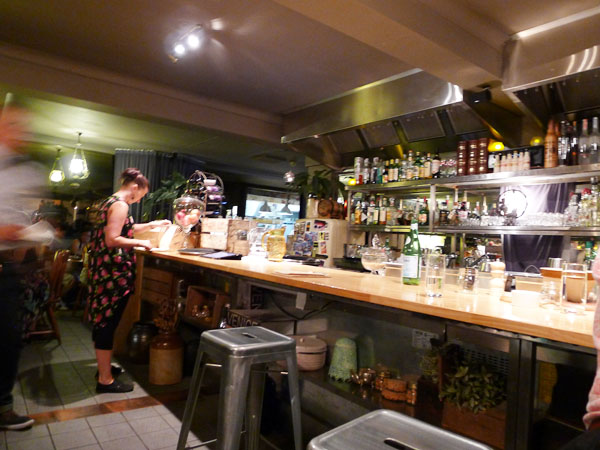 Food Society also provide a catering service.  Further details are available on their website.
Do tell dear Belly Rumbles reader, do you prefer to share your dishes with your dining companions or do you prefer to have your food to yourself?
Sara xxx
Belly Rumbles dined at Food Society at their own expense.
Food Society
Lower Ground Floor, 91 Riley St, Darlinghurst
Tel:  +61 2 8090 3462
www.foodsociety.com.au