It really shouldn't be that hard, but where to eat Monday nights in Cronulla has always been a little bit of an issue. All my favourite places to eat are closed, and good on them for having a night off. And the other establishments open are a bit on the 'meh' side. But then there's Forty One.
Located away from the beach restaurant strip behind the mall's car park. It grabbed my attention a while back as I was driving by. Went in to the memory banks as a place to check out. Struggling recently to find somewhere to eat on a Monday night down at Cronulla, and as they were open, it was the perfect opportunity to pay them a visit.
And I must say I am very glad that we did.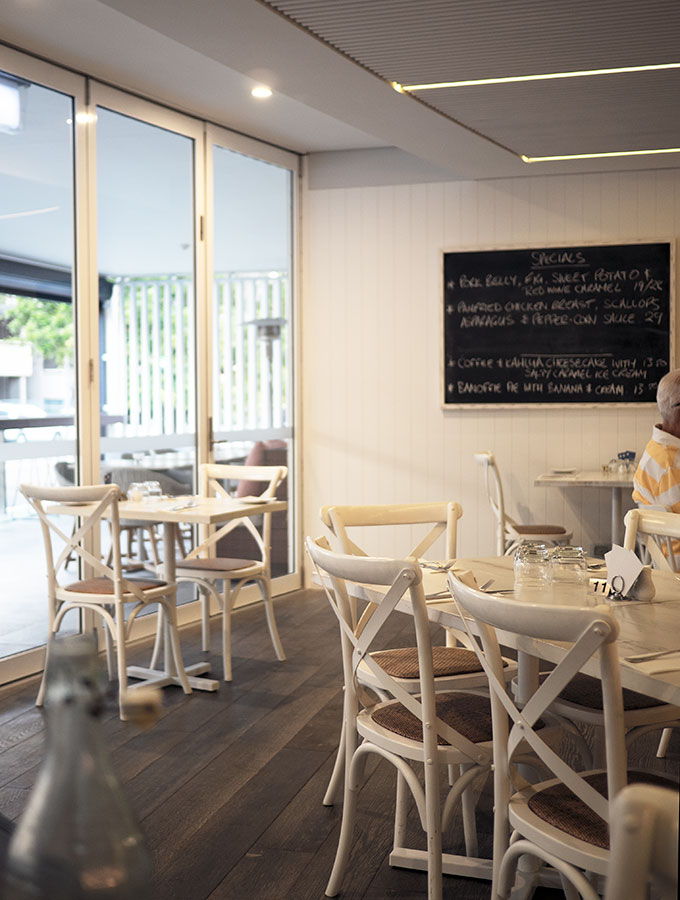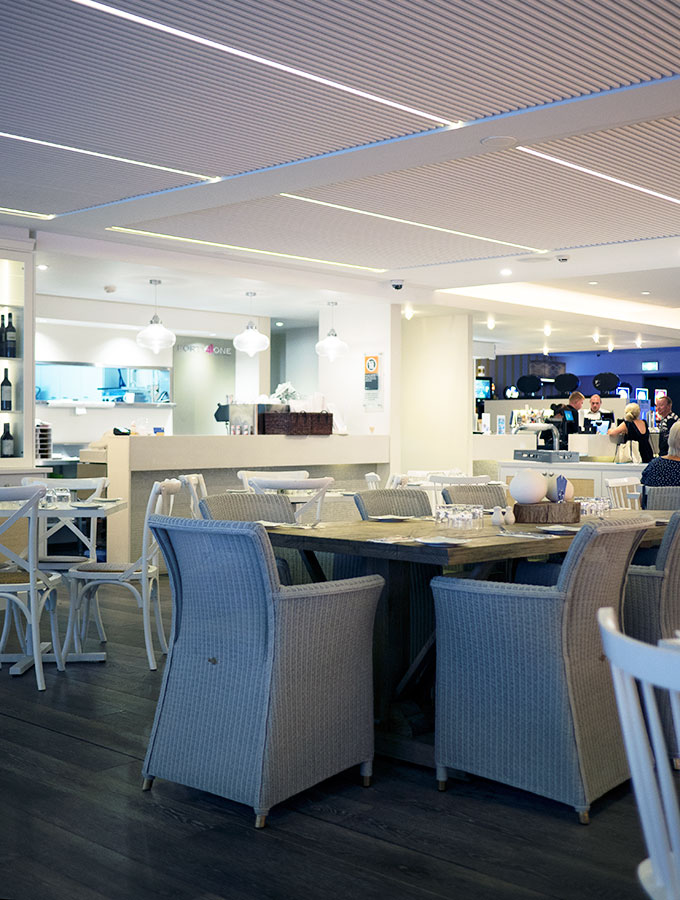 Forty One is located in Club Cronulla, the local bowling club. It's a small intimate club and the restaurant would have to take up a good quarter of it. The restaurant is nicely decked out in white and washed wood, very appropriate for the seaside location.
Head Chef Aaron Wade, who also runs a local catering business, oversees the kitchen at Forty One. Both restaurant and bar staff are very friendly and helpful. You almost feel like a regular after half an hour. Or was it the couple of glasses of sparkling white I had?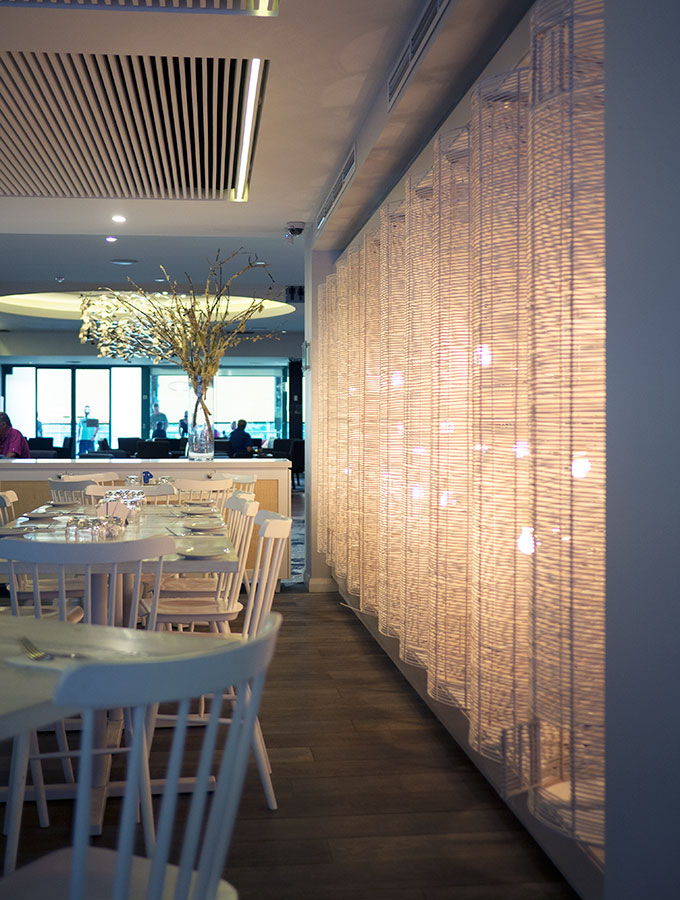 A nice sized menu with around five or six entrees and mains. There is a specials board and I was very tempted to try the pork belly with fig, sweet potato and red wine caramel ($19/$28), but in the end went for something else.
There is also a bar menu which you can also order from in the restaurant. It has typical pub style staples such as chicken schnitzel, beer battered perch and chicken parmigiana. Parents will be happy to know that kids are also catered for with their own menu.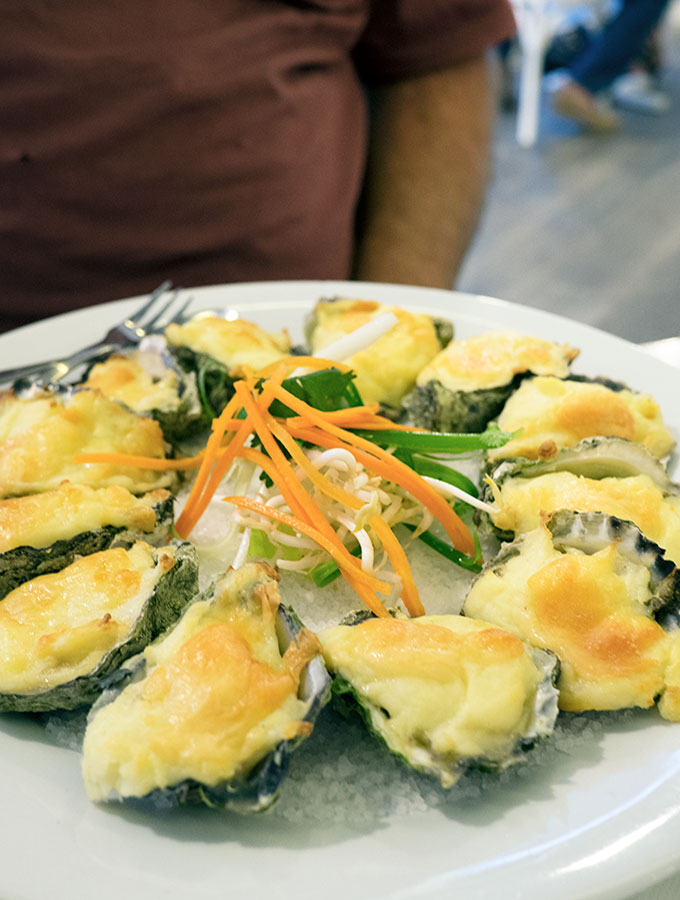 To start with Mac ordered oysters mornay. As he was still recovering from surgery he was still on a bland diet. The oysters were a nice medium size Sydney rock, you had a choice of natural, Kilpatrick or mornay ($19 ½ doz/$30 doz). Having your oysters natural is the same price as having them dressed. If you would like a mixed dozen it will cost you an extra $3.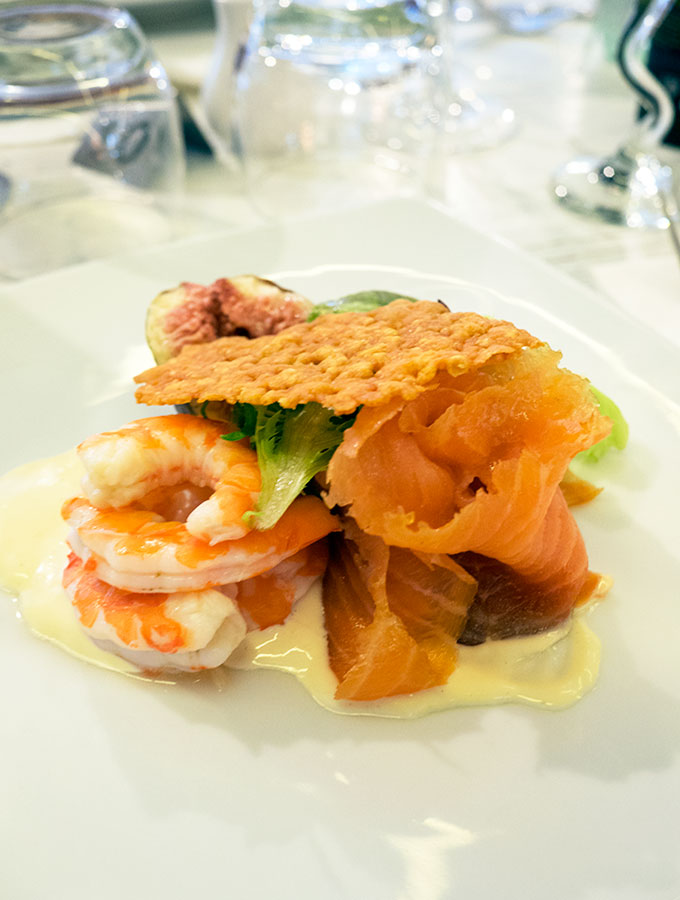 I ordered a lighter option of prawns, smoked salmon, fig, lime mayonnaise and parmesan wafer ($19). An enjoyable dish with lovely flavour combinations. The gorgeous ripe seasonal fig was the ingredient that drew me to ordering this dish, and I am glad I did.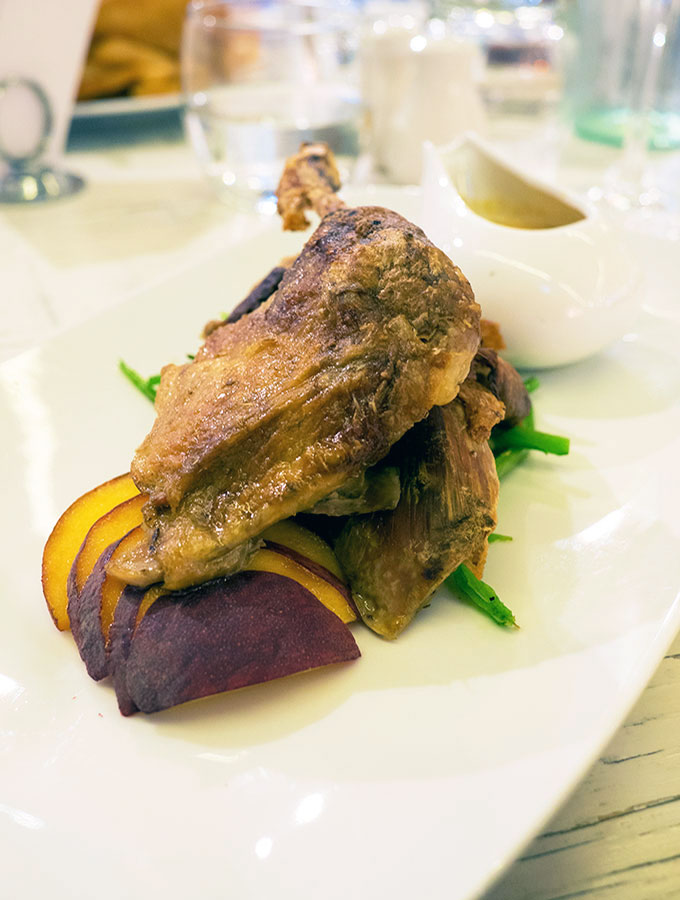 For my main, as tempted as I was by the pork belly, I ended up order roast duck with red curry cream, peach and snowpeas ($30). I love duck, but it is something I rarely cook at home, and I loved the sound of red curry cream and peach. The duck was served sitting on a bed of snow peas with a ripe peach sliced on the side. The red curry cream sauce also served on the side so I could add as much as I wanted. The flavours worked very well together. Unfortunately my duck was just a smidge on the dry side, but the red curry cream came to its rescue.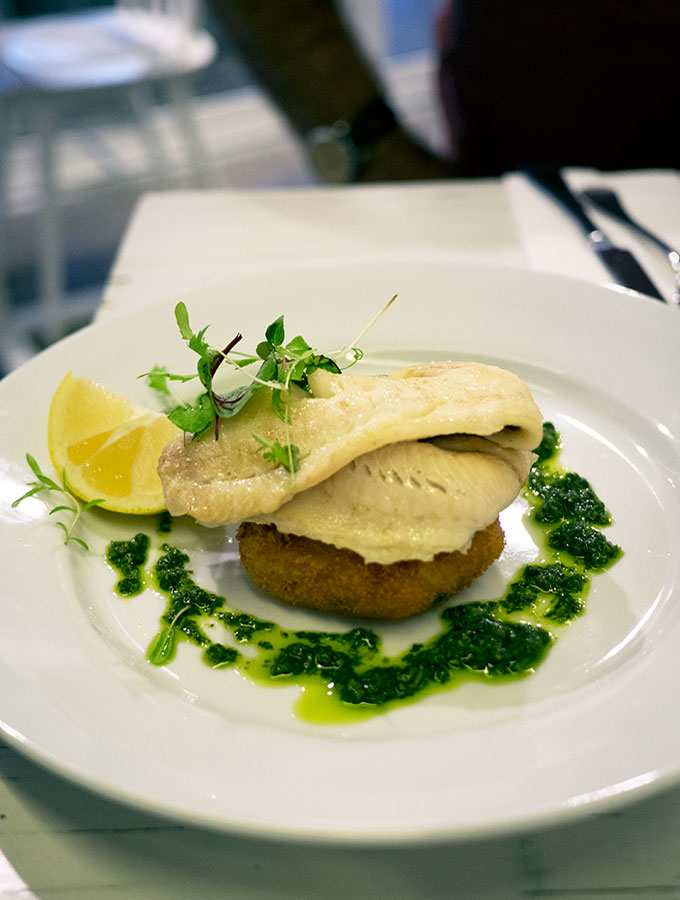 The reason for eating out on this particular Monday night was that my dad was in town. The fish of the day, perch, grabbed his attention. Pan fried and served on a rather large crab cake with a salsa verde ($29). The fish was cooked perfectly but the generous crab cake left him a little defeated.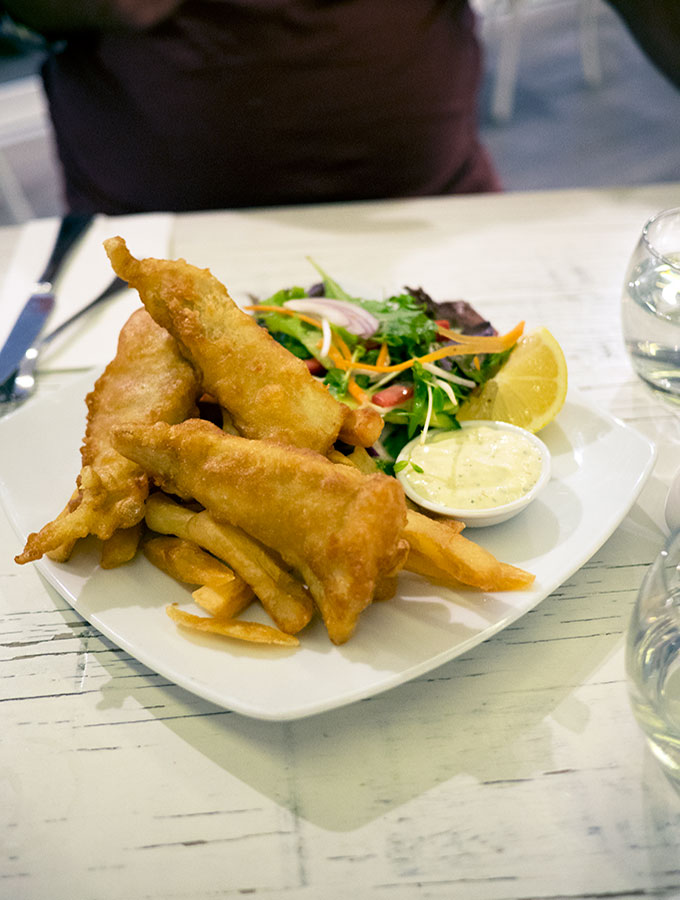 Bland diet Mac ordered a staple faithful, fish and chips ($29). Pieces of perfectly battered fish sat on a large serving of chips. A just as large serving of salad was there to balance out the fried goodies. Tartare sauce and lemon, both of which he couldn't eat due to the bland diet, teased him from the side of the plate.
The question of where to eat Monday nights in Cronulla has most certainly been answered. Forty One is definitely a venue to keep in mind if you find yourself down Cronulla, and not just for Monday night dining, but also the other six nights or lunches during the week. Even though it was relatively quiet on the Monday night we visited I do suggest giving them a call and making a booking.
Sara xxx
Don't miss one delicious recipe, restaurant review or travel adventure. Sign up to our weekly newsletter below to keep updated. There is also bonus content just for subscribers.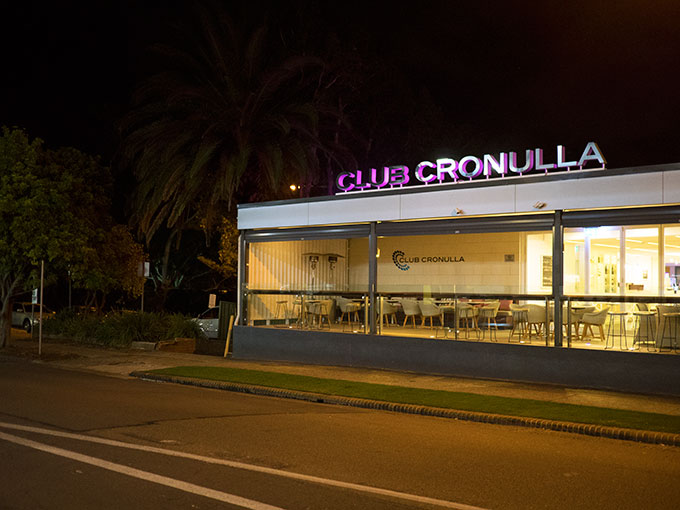 Forty One, Club Cronulla, 41 Croydon St, Cronulla, Sydney, Australia
Tel: +61 2 9523 5835
Website