My love of travel I'm sure is in my jeans. And no, that wasn't a typo. I am sure there is this little travel bug that keeps biting me on my bum infecting me with 'Sara must travel' venom.
Though I do believe that travel is in my genes, and I am sure those particular genes were inherited from my dad. I would be away exploring this big, bright, beautiful world of ours every day of the week if I could.
I am always trying to keep on top of what is happening in the travel industry, a hang over from when I actually worked in it. From what I have been hearing of late, Garuda Indonesia is definitely an airline to keep your eye on.
Hearing and reading little snippets here and there has kept my ears perked at what they are up to. They have been winning a slew of awards over the past few years; World's Best Economy Class, Rising Star Carrier of the Year, World's Best Cabin Crew, these a just a few industry acknowledgements the airline has received lately. To add to this list are flying chefs on long haul flights.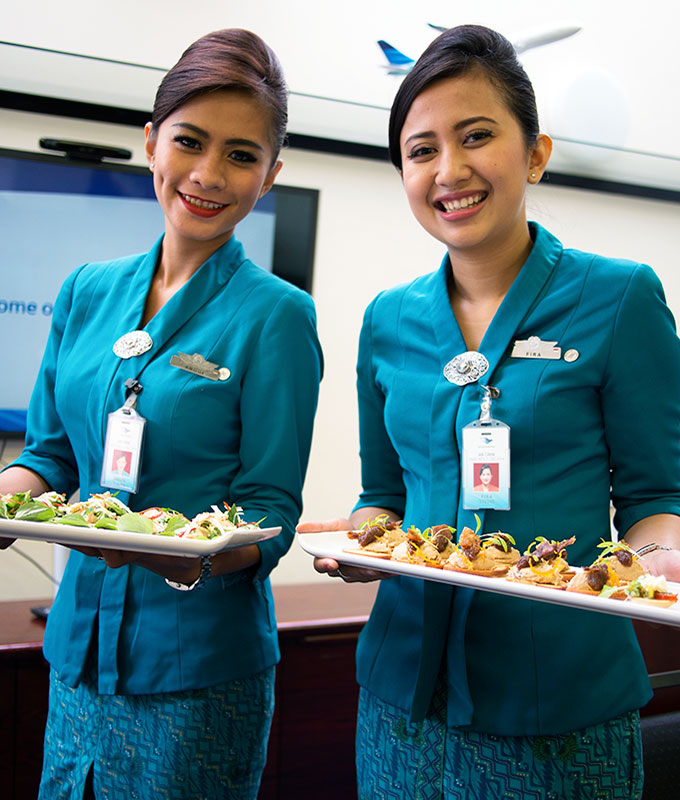 As mentioned I love travel. It isn't just the final destination that I love but the actual act of travelling. I am definitely an old pro at air travel these days, but even to this day I still get excited about heading to the airport and jumping on a plane.
I'm not totally crazy, my excitement wears off around the five hour mark on a long haul flight if I'm in economy. But economy travel is a bit like childbirth, you quickly forget the pain and a few glasses of wine make a great epidural But put me in business class and you may find me feeling sad the a 15 hour flight is coming to an end. Please note my economy to business class ratio is about 100:1, feeling a little sad about that too.
Over the past two years Garuda have revamped both their Garuda first and Garuda business class product. They are currently working on improving long haul economy, as well as their local and regional routes around South East Asia.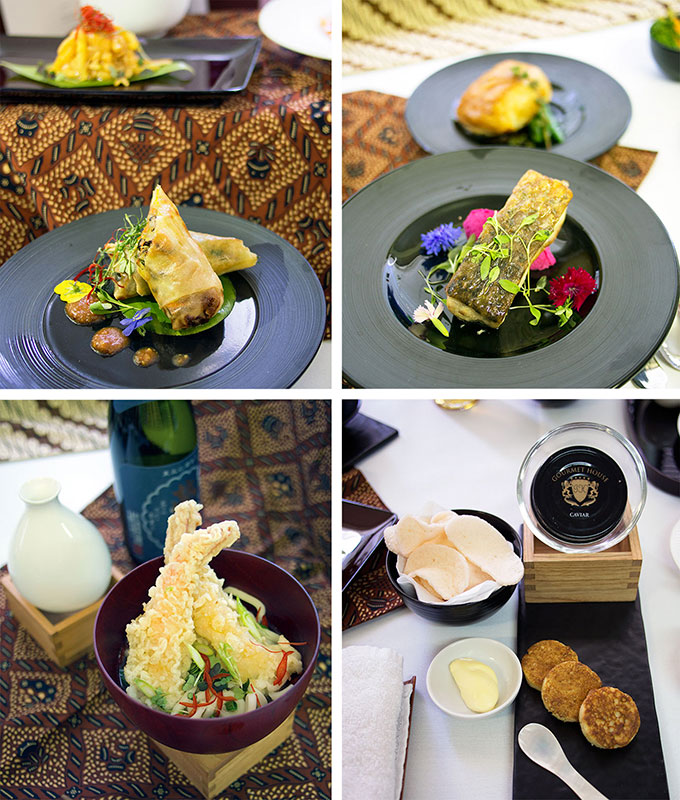 When Garuda asked if I would like to try their new business class dining experience I jumped at the opportunity, even if it was to be at sea level. I was invited along with other media to celebrate the new five year partnership between Garuda Indonesia and Alpha Flight Services.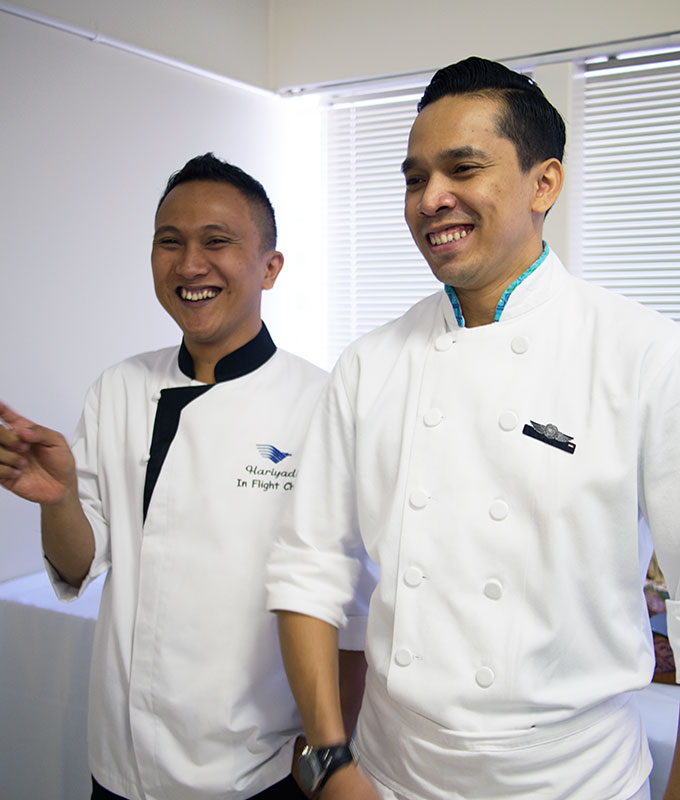 All long haul Garuda flights now have an onboard chef in both first and business class. These guys aren't just clever flight attendants with great cooking skills. They are qualified chefs that have had gone through flight attendant training school. There are currently 125 flying chefs in the system at the moment.
As mentioned, Garuda were awarded Best Economy Class by SkyTrax World Airline Awards in 2013. I also snapped the economy meals on show, let's face the sad truth, that's how most of us travel. You have the option of an Indonesian or Western meal to choose from. Both meals look pretty good and I would be quite happy to have either of them served to me.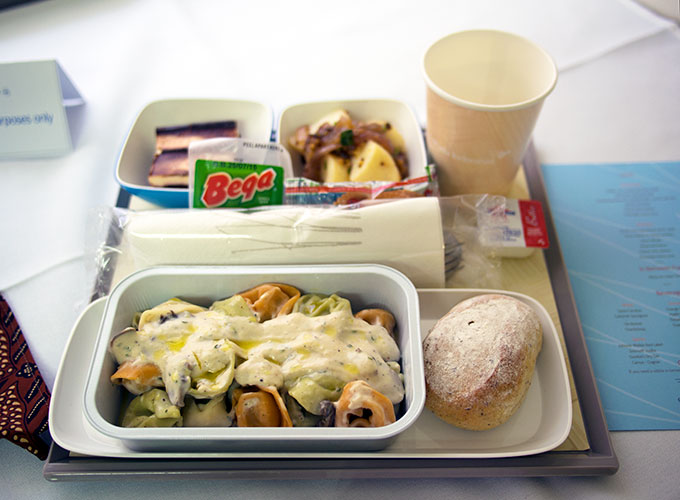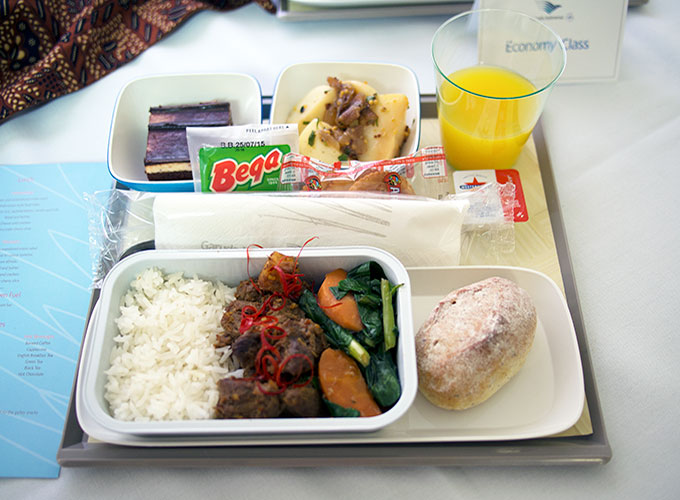 In regard to the business and first class meals, of course they aren't prepared from scratch on board. It is a collaboration between the chefs in the air and the chefs on the ground at Alpha Flight Services.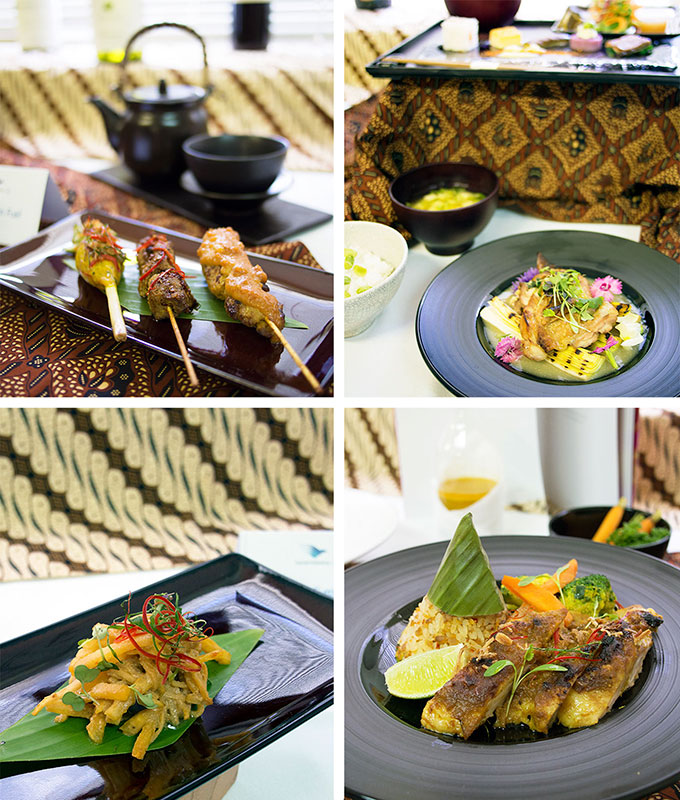 Before we have lunch we witness an impressive display of all the dishes flying out of Sydney on that particular day. There are three menus offered to business passengers. Obviously one menu is Indonesian, another is a Western and the third, surprisingly, is a Japanese kaiseki style menu. These menus are offered on all long haul flights through the network, which means you could be heading to Amsterdam and still have the Japanese option.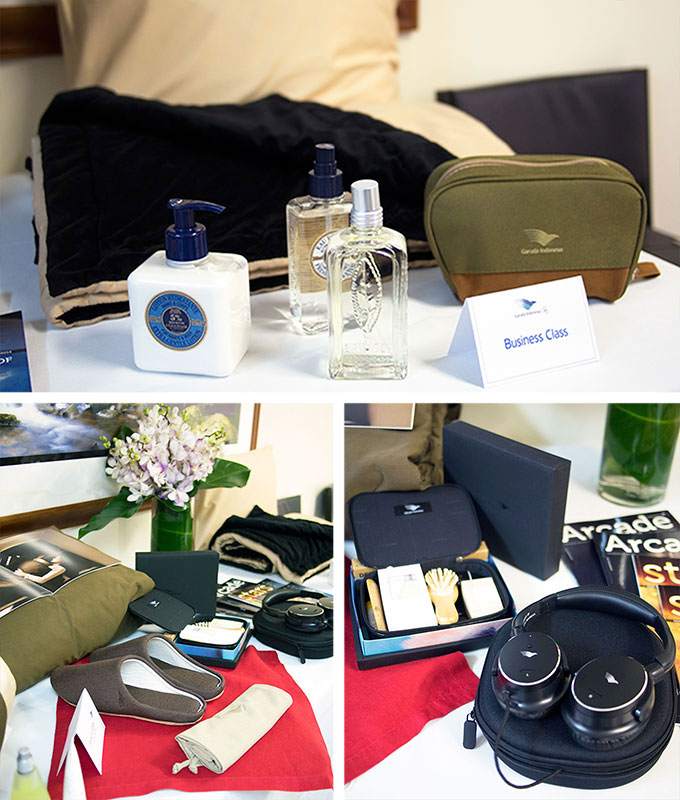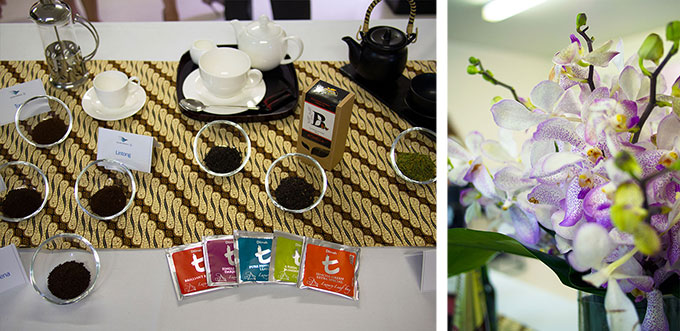 After getting close and personal with displays of various dishes, amenities kits, pillows, premium booze and tea it was back to where we started for our own personal lunch experience.
Our places were set as if we were siting on a long haul Garuda flight. The food we ate was the same as passengers enjoyed on flights leaving Sydney that day.
On sitting down there is an amuse bouche of Balmain bug cream in choux pastry waiting for me. Each guest also received their own individual breadbasket consisting of three kinds of bread delights, mushroom & garlic roll, roasted pumpkin & onion knot roll and a sundried tomato & parmesan scroll.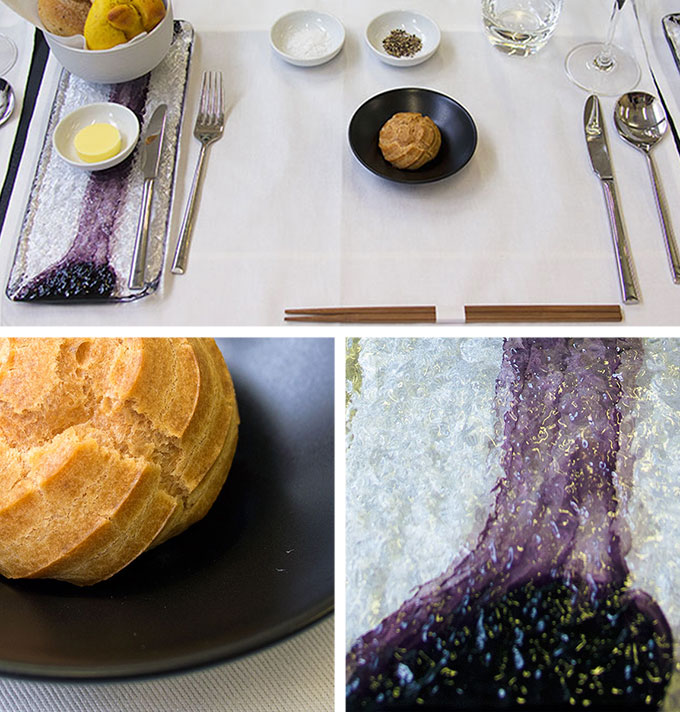 A lovely start to the five course meal that we were about to partake in. A little touch that makes you feel like you are dining in a restaurant and not on a plane. Though I am doing neither of these, I'm actually enjoying my meal in Alpha Flight Service's boardroom.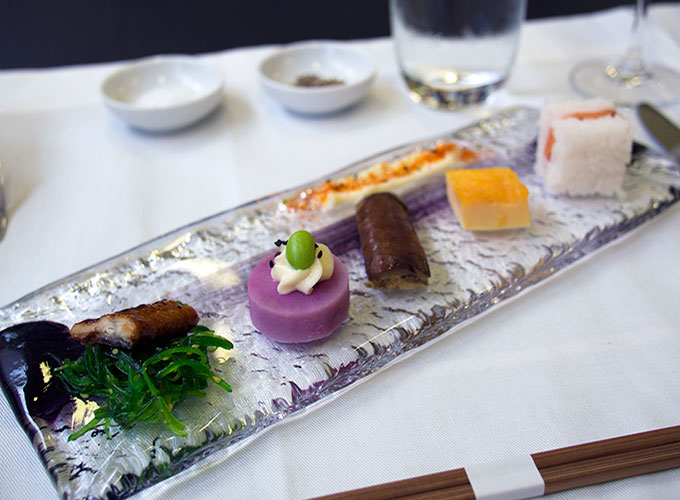 First course is a selection of five 'sushi' style appetizers; unagi (smoked eel) served on wakame (seaweed salad), a disc of purple potato topped with Japanese mayonnaise, soya bean and black sesame seeds, a slice of eggplant that was simmered in soy sauce, egg custard cube, and finally sushi with smoked salmon, cucumber and radish. Finished off with a smear of Japanese mayonnaise on the plate that was sprinkled with namami togarashi (chilli pepper).
This dish was obviously from their Japanese menu. What I did love about this dish was the beautiful presentation and the surprise element that I would have had if up in the air. The plates, flatware etc are all the same as what guests flying have their food presented on. Very visually appealing.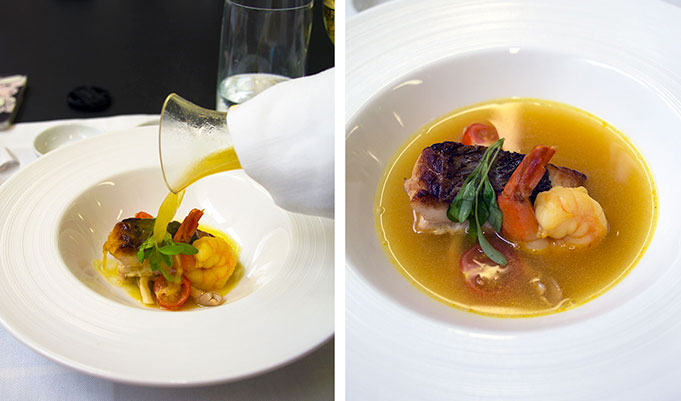 Next course takes us to the Indonesian menu. Sop ikan batam, which is a seafood broth served with seared snapper, prawn, shimeji mushroom and cherry tomato. They take the approach to the soup that many fine dining restaurants take these days. The bowl is brought to you with all the ingredients in there bar the broth. The broth is then poured into your bowl in front of you. Not only does this look impressive and adds some flare to your meal, I would also assume it would prevent any broth spillage from the galley to your seat.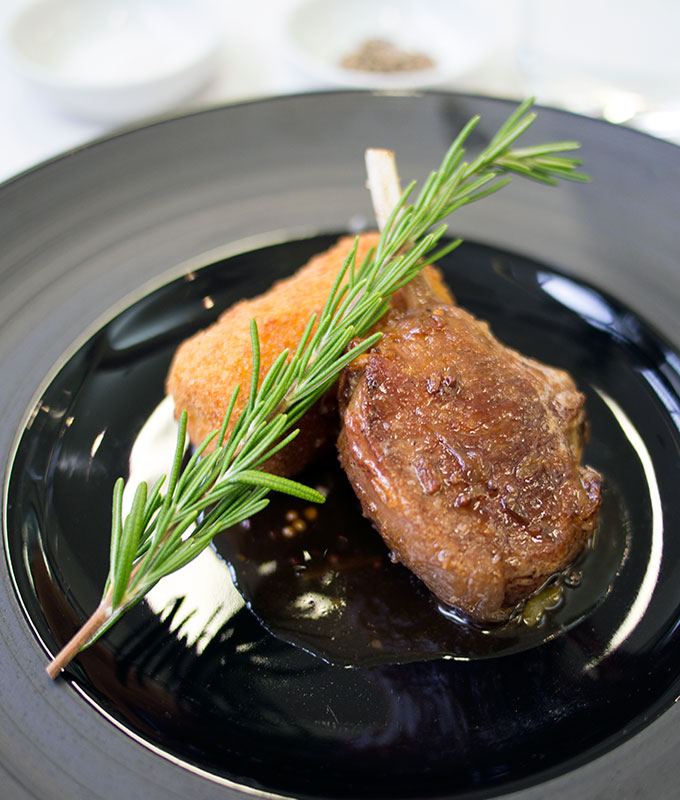 We move on to the Western menu for our third dish. Grilled lamb cutlets with mustard shallot reduction, served with a mashed pea and mint croquette. Very simply presented with a fresh sprig of rosemary, but the lamb is perfectly cooked for those that enjoy their lamb a pink medium. Regular readers will know I am not a lamb fan, but I did have a few mouthfuls to try, and as far as lamb cutlets go it was perfectly cooked and the croquette added a lovely contrast.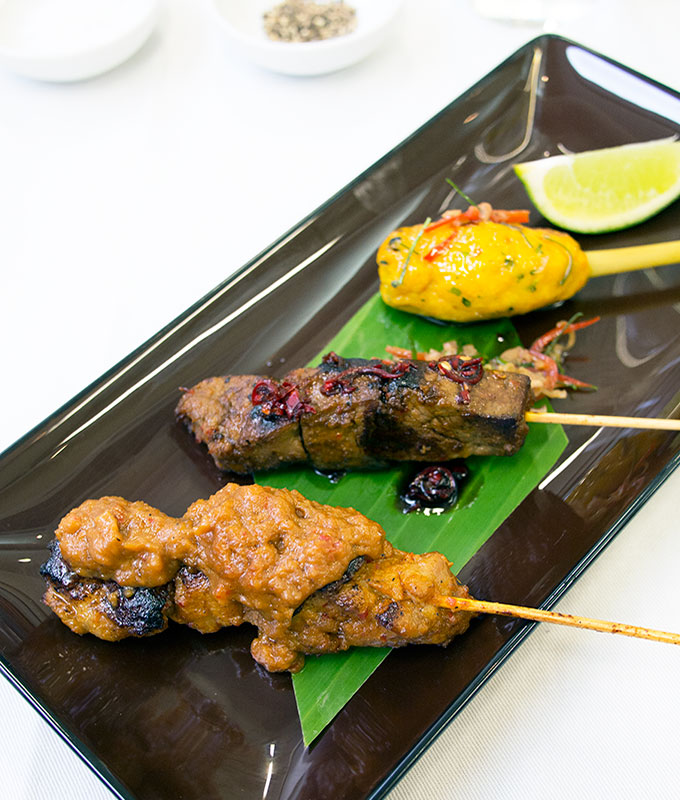 Our fourth dish sees us heading back to the Indonesian menu with a trio of Indonesian sate. Sate lilit (seafood), sate chicken and sate beef served with sate sauce (peanut sauce), sambal, matah and kecap. The sate is a beautiful taste explosion in the mouth, which I would be more than happy to receive on a long haul flight.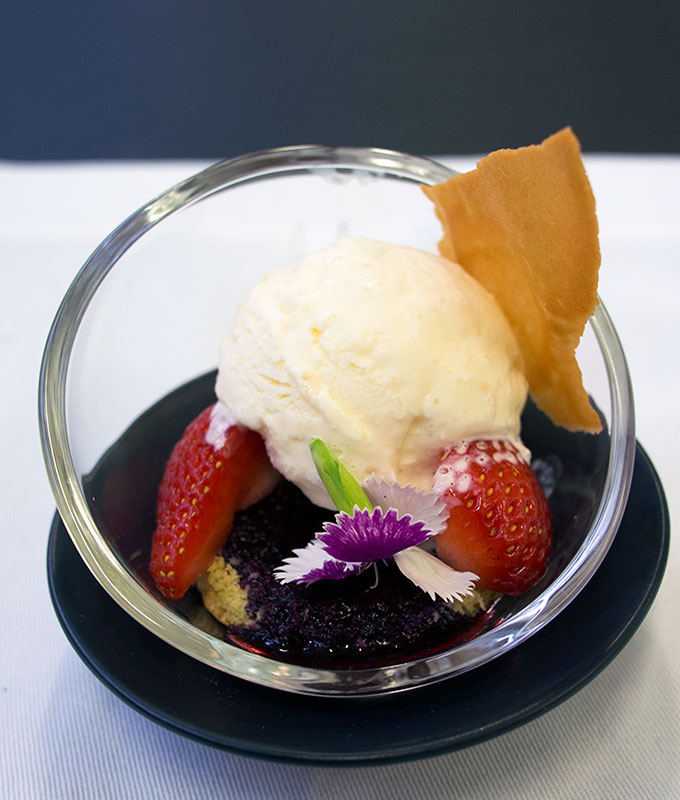 For dessert we receive mango sponge with blueberry coulis, strawberry and coconut ice cream. The dish is just the perfect size to finish a multi course menu. It's fresh and the coconut ice cream adds a little creamy richness to the dish.
There were a couple of exciting things I discovered during lunch and I really should share them with you. Live TV and Wi-Fi are now available on Garuda aircraft. The best bit is it doesn't matter if you are in the pointy end of the plane or down the tail end.
Live television is now available on all Boeing 777s, and it actually works with only a 1% black spot rate. Internet will also be available on all new wide bodied aircraft delivered to Garuda. Wi-Fi will be available in all sections of the aircraft to all passengers. Available on all 777s now, and it's quite a reasonable price too, $24.99 for 24 hours.
Garuda Indonesia are definitely an airline to keep your eye on with their continual lifting of their game. They seem to have only one real destination on their itinerary, and that is satisfying their customers by being the best airline globally.
Sara xxx
Belly Rumbles was invited to the Garuda Indonesia and Alpha Catering Services media launch with much thanks.
Don't miss one delicious recipe, restaurant review or travel adventure. Sign up to our weekly newsletter below to keep updated. There is also bonus content just for subscribers.