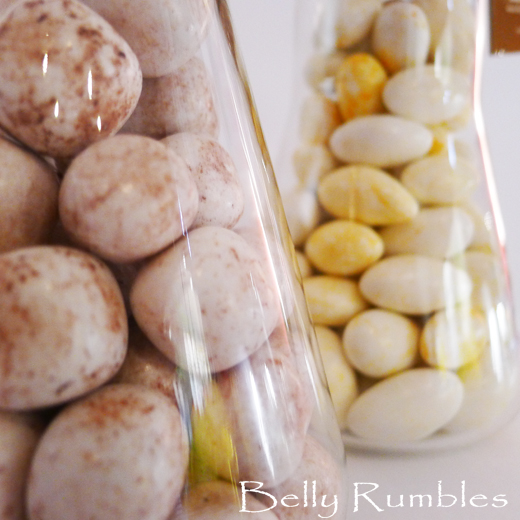 I seem to have moved in under that rock again or my food radar is on the blink.  On my way to the Becasse Bakery on level 5 of Westfields Pitt Street Mall on the weekend I spotted the Happy Lab.  Hadn't heard boo about this new establishment.
Sorry guys no photos of the shop as I was advised they have a no photo policy when I asked, but I did note many iPhones happily snapping away when I was looking at the merchandise.
The happy Lab is a lolly shop.  But oh wow what a shop.  The walls are lined with test tubes and glass containers filled with chocolates, jellies, various coated nuts, popcorn, lolly pops and a vast variety of jelly beans.  Looking at the jelly beans they are the spitting image of Jelly Belly beans, but I am assured they are not that in fact they come from Ireland.
The staff are extremely helpful with suggestions and advising what the different products are.  They walk around dressed in white lab coats and seem to enjoy working there.  When I visited the shop was packed and I was told that since the opening two weeks ago the place has proven extremely popular.
The first Happy Lab was opened in Melbourne with Sydney being the second store.  Their website also says that there is a store open at Westfield Bondi (any feedback would be great guys if you have visited).  There are new shops due to open this month at the Melbourne International Airport (departures), Westfield Doncaster and their online shop will become operational too.
It is very hard to walk out of Happy Lab without purchasing something, actually I ended up departing with spending just over $70.  Wasn't a budget shopping spree that's for sure.  So what did I purchase?  Oh and photos too, as they can't dictate what I do in my own home.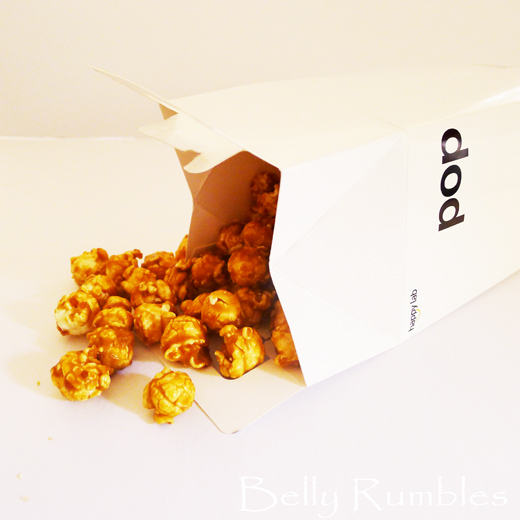 Hawaiian Salted Caramel Con Poppers $12.95/226gms (made in USA)
Caramel coated popcorn with a salt kick.  For those that like the caramel and salt combination these would be a winner.  There are a couple more varieties, I wouldn't mind trying their rocky road popcorn.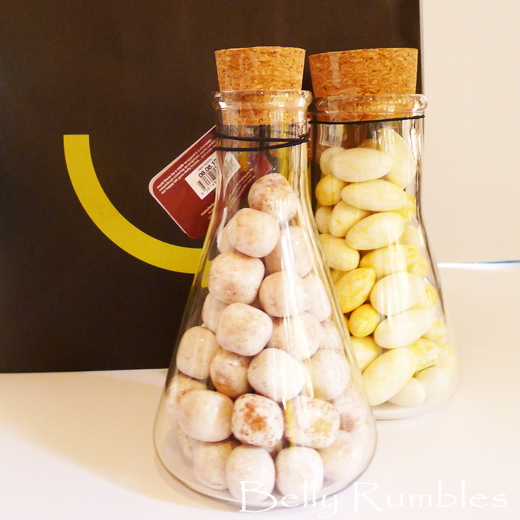 Calissonine Karma Nutra $24.95/265gms & Noix de Coco Esoterocks $$19.95/225gms (made in France)
The Karma Nutra are roasted almonds covered in white chocolate and caisson cream encased in a candy shell.  These are my favourite of my purchases, but at just shy of $25 for a couple of handfuls of almonds it will be a once in a while luxury purchase.
Esoterocks are sweetened coconut coated in milk Belgium chocolate covered in a candy shell.  They taste like small bites of Bounty.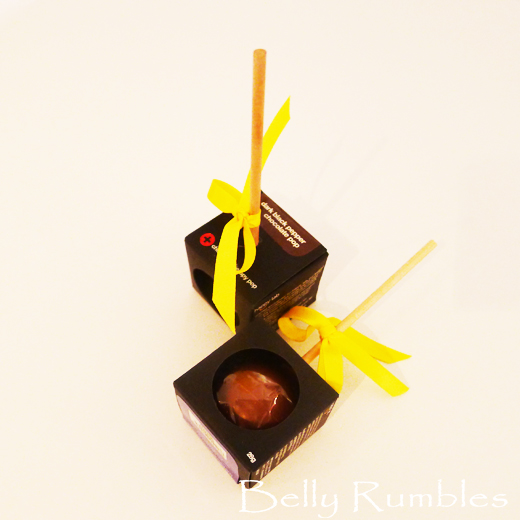 Dark Black Pepper Chocolate Pop $3.95/25gm & Milk Blueberry Chocolate Pop $3.95/25gm (made in Thailand)
I thought these would be more like a truffle, but in fact they are solid chocolate which has been flavoured.  The black pepper had a nice pepper kick, but not over powering.  The Blueberry wasn't that impressive, the chocolate had a faint blueberry taste through it.  Would not purchase again, expensive for what they are.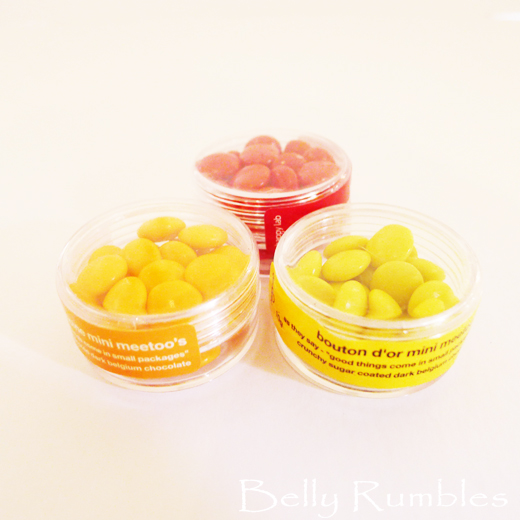 Capucine, Bouton d'or & Rouge Mini Meetoo's $1.50/10gms (made inFrance)
The little screw top container states "as they say – good things come in small packages".  These are mini smarties in a single colour, crunchy sugar coated Belgium chocolate.
Happy Lab's packaging is very well done, total eye candy (sorry for the pun) and what I do like is that it can be reused.  Products aren't cheap so It is very easy to spend up big on a few items, total control is needed when visiting as everything looks fantastic.
Next time you are in Westfield Pitt St Mall, it would be worth poking your nose in to have a look.  Sadly their website doesn't offer any product information at the moment, but that will have to change when their online shop goes live.
Sara xxx