Happy New Year guys and Happy new decade.  Wow this year has gone so quickly.  Actually the decade has whizzed by as well.  This time 10 years ago I was up at Daydream Island with stupid fluorescent "2000" glasses on, seeing in a new century.
What an awesome foodie year it has been as well. I have had a wonderful time experimenting and pushing my cooking skills in the kitchen.  Travel was big on the agenda for me this year and there have been many memorable restaurant meals had as well.
One of the most emotional kitchen episodes I had this year was when I went and bought live yabbies from the Sydney Fish Markets.  Rule number one, don't name live produce before you off it and make it a meal, also try avoiding giving them personalities and little voices.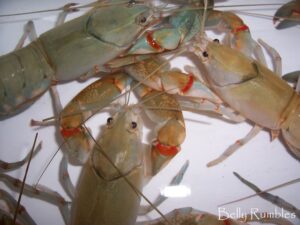 A few of the many yabbies
I have expanded my culinary knowledge through the Daring Kitchen with their Daring Cooks and Daring Bakers' challenges.  I would rather forget my suet pudding disaster, but loved making my own green chilli sauce.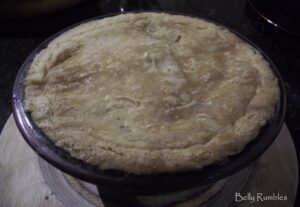 The horrible steak & oyster suet pudding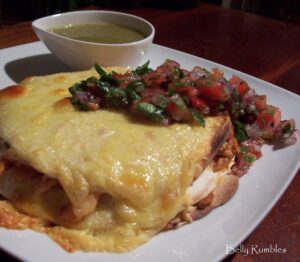 Stacked green chilli chicken enchilada
Josh turned 18 and I really put my skills in the kitchen on the line by making a steampunk cake for him.  Was the first time I had ever used fondant or constructed a cake in that particular manner, was fun getting creative using dry ice for the steam.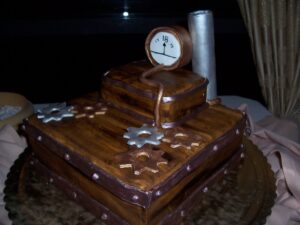 The steampunk cake
My most memorable meal this year was at WD-50 in New York where I had the pleasure of meeting Wylie Dufresne.  I was like a star struck idiot that had trouble stringing sentences together.  He is one of the nicest chefs I have met, creative, talented and presented me the most memorable degustation meal of my life.
Wylie & I
There were some very memorable gatherings with fellow food bloggers, which I haven't actually blogged about.  There was"A feast for the senses" dinner at Bistro CBD, where the tables were turned on four very talented food bloggers and it put them in the kitchen preparing a fantastic dinner.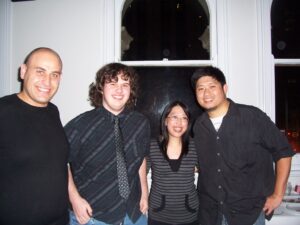 Fouad, Josh (not one of the talented cooks), Karen &Billy(missingLinda from the picture)
Celebrating foodie friends birthdays,Suze from Chocolate Suze at the  City Hotel, it was school fancy dress, earlier this year.  Then in November it was Helen from Grab your Fork's birthday at Signorelli Gastronomiawhere we polished off  Trevor a truly delicious crispy suckling piggie.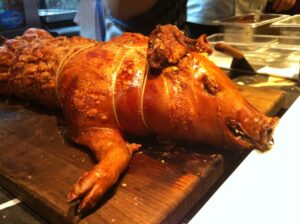 Trevor – totally delicious
The year ended on a big gathering of bloggers for the annual Bloggers Christmas party held at Centennial Park.  Food, food and more food and for the first time ever we had blogger Olympics.  I was on Team Diva with Billy from A Table for Two, Shez from One More Bite and  Deborah from Vintage Macaroon, we won, Yay Team Diva!!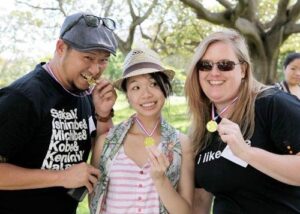 Billy, Shez & I (photo credit Simon from The Heart of Food)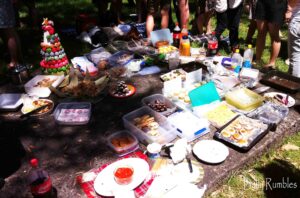 The amazing amount of food!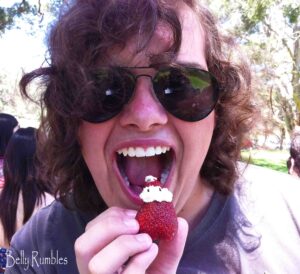 Josh eating the cutest strawberry Santa
So what is install for me next year?  I have some personal goals that I want to fulfil, but on the food side I would love to share with you some of my want to dos;
Make my own salami

Advance my skills regarding preserving, bottling, pickling and making jams

Create a gourmet meal for one of my hikes next year, instead of eating 2 minute noodles, porridge and muesli bars.

Make my own cheese

Enjoy a Friday lunch at Assiette

Take a chocolate making class

Play around a lot more with molecular gastronomy

Spend more time making stock to keep on hand in my chest freezer (I am slack!!)

Prepare more vegetarian meals

Have dinner at Tetsuya's

Shop more at the local growers/farmers' markets

Shop less at Coles and Woolworths, and support the little guys, again pure laziness and I need smacked!!

Hone my French cooking techniques

Learn more about and use more Australian native ingredients

Lastly, be successful in keeping that damn possum out of my herb garden and vegie patch!
Whatever 2011 holds in store for you I hope it is delicious
Sara xxx