When I travel to other cities I often see what small tours may be on hand. Not sightseeing tours, I am quite capable to getting myself around a foreign town and discovering the local prominent attractions. I seek the knowledge of locals for the lesser known venues worth seeing.
This could be hiring a personal guide for the day and working out a bespoke itinerary. I usually do this when I want to see specific things not on your typical tourist trail, in a country where I don't speak the language and want to be able to learn as much as I can.
The other type of tour I like to hook up with, is one that takes you around local bars. There are benefits of joining these types of tours. Firstly you get introduced to establishments you would never know existed, unless you really did your homework beforehand. Secondly, generally any queue that may be there is missed and a table/space is waiting for your group. These tours are great for those from out of town, but just as fun for locals who may want to know a little bit more of what is in their own backyard.
I recently was that local. Though on this occasion it was just general bars we were visiting, they were hidden bars.
I have been a little obsessed with hidden bars ever since a trip to New York, and discovering the famous PDT (Please Don't Tell). A bar hidden behind a hot dog joint, access is through a telephone booth.
I had forgotten all about hidden bars until slightly tipsily I stumbling upon Button in Surry Hills. Drifting music had stopped our group and I had placed my hand on what I was thought was a wooden wall. All of a sudden, to my surprise, the wall drew back and stairs were revealed. No signage, but the liquor license stated 'Button'. It was a bar!
Sydney's small bar scene has been growing over the recent couple of years. As well as embracing normal small bars, Sydney is falling in love with the hidden bar.
The Rook
I was instantly reminded of my hidden sake bar adventure in NYC, Sakagura. To enter The Rook, you walk into the foyer of an office building. There is signage, but you need to know what you are looking for, it is simply 'R'. Head over to the lift, press the up button, hop in and then press 'R'. You will be transported up four levels to the roof, which also is The Rook.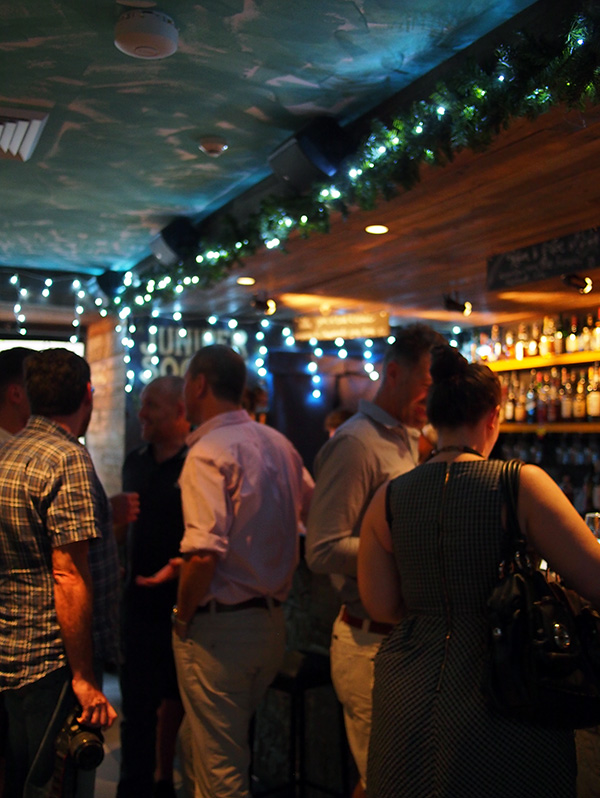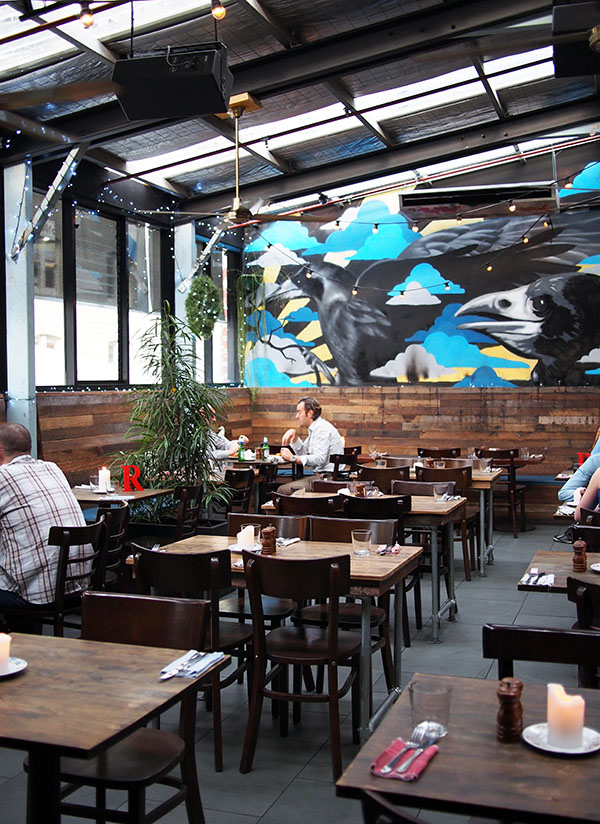 On exiting the lift you're greeted with a dimly lit wood heavy bar are, which is a cozy and rustic space. If you keep continuing to your left, The Rook opens up into a light and airy rooftop space.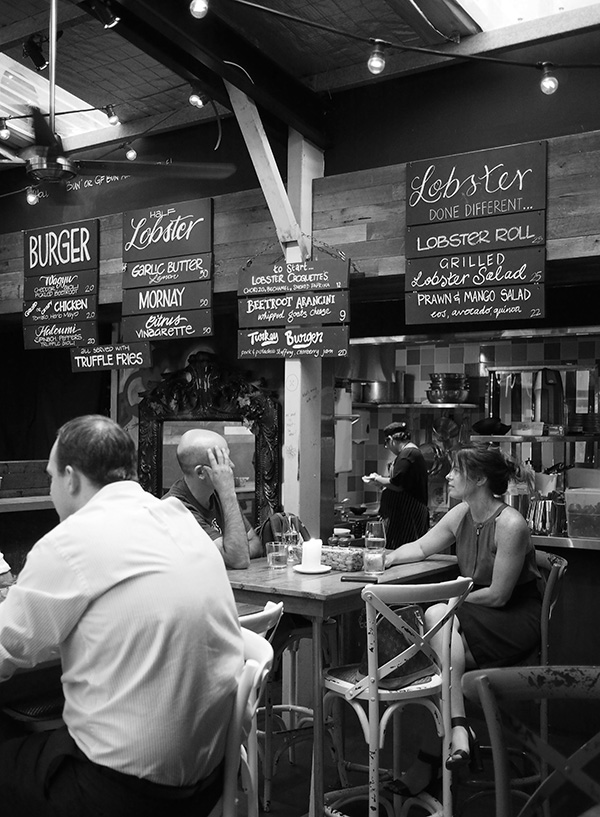 The Rook's self-proclaimed specialties are lobster, burgers and liquor. The menu is small with the addition of specials. There are burgers with truffle fries, choice of wagyu, chicken or haloumi ($20). Lobster in the half shell, with salad and truffle fries ($50), lobster roll ($25), lobster salad ($25), prawn & mango salad ($22) and of course sides, truffle fries ($9.50), onion rings ($10.50) and house side salad ($11).
For those not wanting a full meal there are also a couple of smaller bar snacks available. Lobster & chorizo croquettes with smoked paprika aioli ($12) and beetroot arancinis with whipped goat's curd ($9). We opt to try the croquettes. Crisp crumbed coating encompasses the creamy lobster filling. They are deceivingly filling and quite rich, but ever so tasty.
There are some unusual cocktails on the menu, which I am keen to head back and try. Not a lot of fluffy sweet cocktails, these are cocktails with a bit of grunt and difference, like Werewolves of London, which lists frankincense as one of the ingredients.
The Rook
56-58 York St, Sydney
Tel: +61 9262 2505
www.therook.com.au

Stitch Bar
I mentioned earlier about stumbling upon the hidden bar Button. Stitch is one of her sister bars, there is also Pocket Bar in the family. No hidden sliding walls, entrance to Stitch is through a pretend tailor shop. Head past the old Singer sewing machines and head down the stairs to a dimly lit bar with an extensive food menu.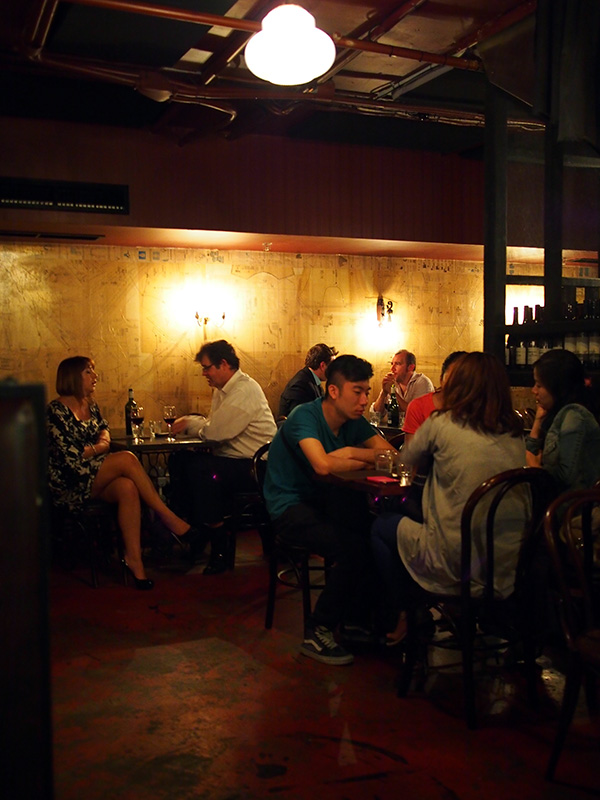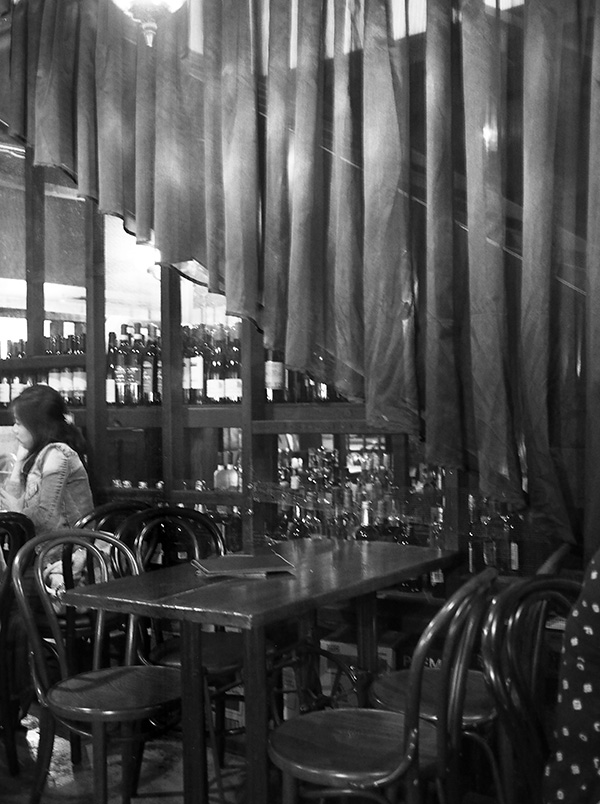 Hot dogs, burgers and bar snacks make up most of the menu, but there are a couple of token salads for those so inclined.
The BLT burger ($19) is listed on the menu as Stitch's 'famous' burger. A decent size burger with smoked chillies, bacon, lettuce, tomato, American mustard, pickles and cheese. Served with an enormous side of curly fries. Not a bad burger, quite easily shared between two with all those curly fries.
All hot dogs on the menu offer something a little different to your average dog. A choice of Mack Ducky Dog ($19), Bulldog ($17), The Fly'n Hawaiian ($17) and The French Poodle ($17) which is our dog of choice through recommendation. The French Poodle comprises of a Toulouse sausage with red wine and garlic, Tarago Rive Gippsland Brie, pickled pear and Dijon mustard. A hearty dog and well worth trying. Again served with a mound of curly fries.
There are a couple of soft tacos on offer as well; Drunken Skirt ($18), Ancho Chile Pulled Chicken ($18) and Camitas ($18), three tacos per serve. We order the Camitas, pulled pork, avocado, yoghurt, salsa verde, lime and hot sauce. Not sloppy like a few other soft tacos offered around town, the pulled pork tender and flavour packed, I would happily order them again.
Quite an extensive cocktail list, ranging from a classic martini ($19) though to more unusual creations like Ball'n Biscuit ($19). Also a selection of harder liquors on offer, including some nice Japanese whisky.
Stitch Bar
61 York Street, Sydney
Tel: + 61 2 9279 0380
www.stitchbar.com

The Barber Shop
As the name suggests, yes you enter through a barbershop. The difference to stitch, where you can't actually get your clothes tailored, you can in fact get a haircut, shave or even a beard trim.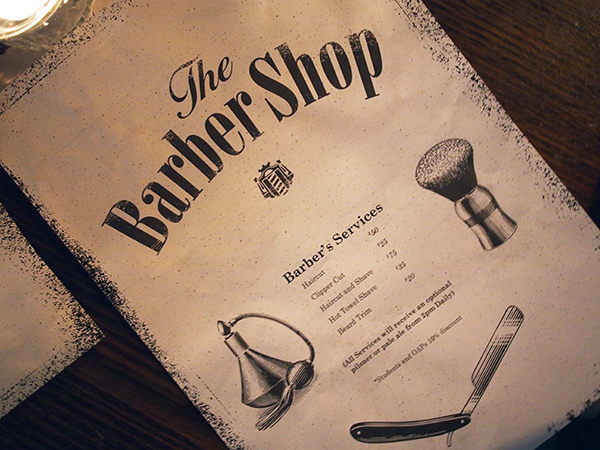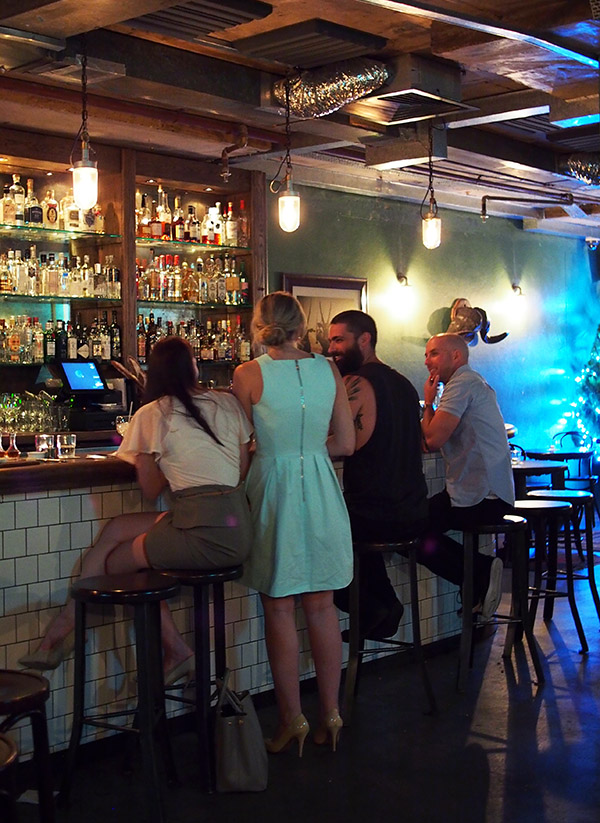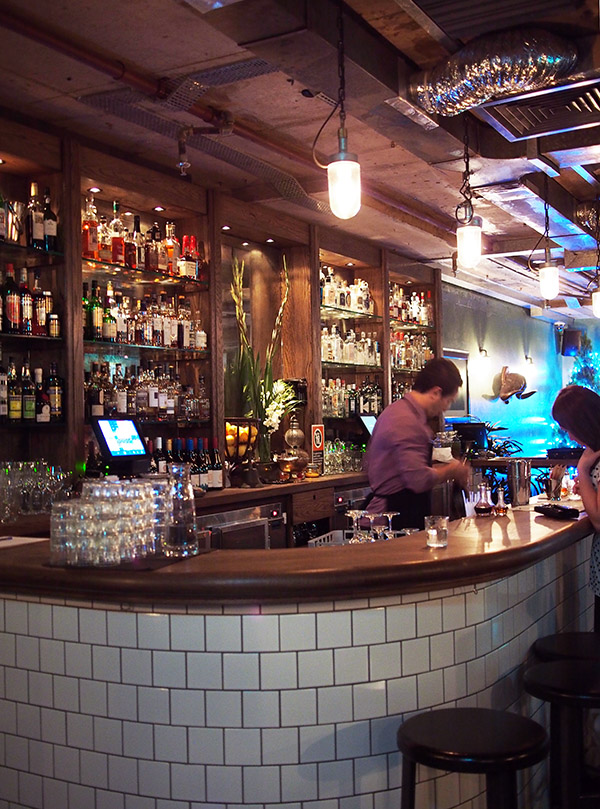 You enter through the shop, walk up the back stairs and a rather unexpectedly large bar opens up in front of you. I love the space of The Barber Shop, high ceilings, a mix of class and grunge.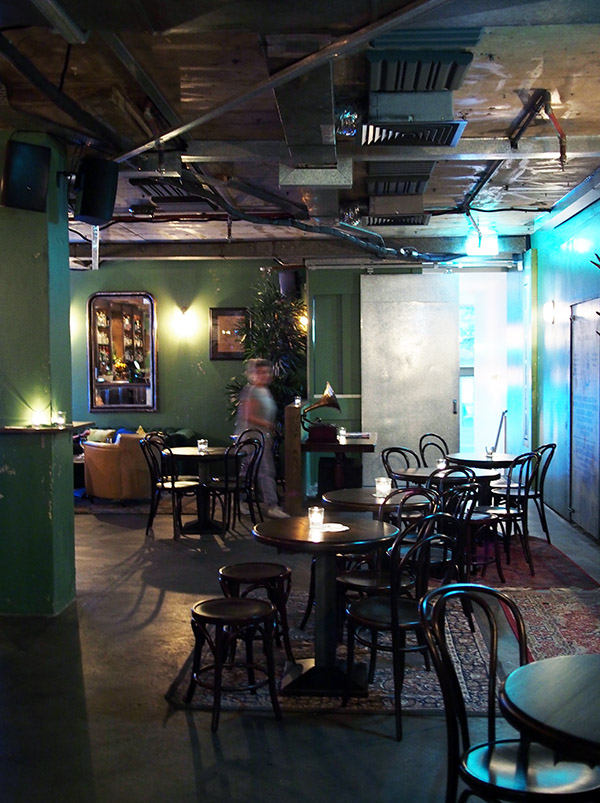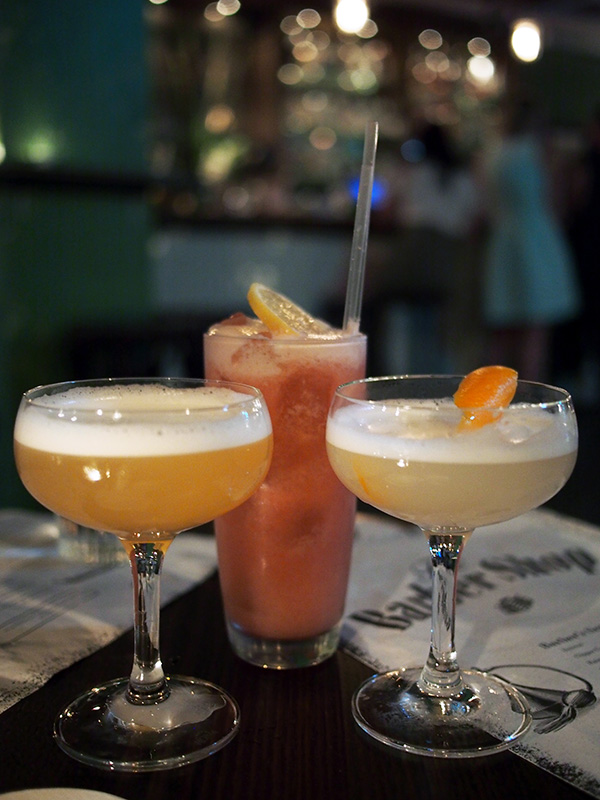 The tipple focus here is gin, but there are a couple of interesting cocktails on offer as well. We tried the Rhubarb Collins ($18), Fleet Street ($18) and Tangelo Sour ($18).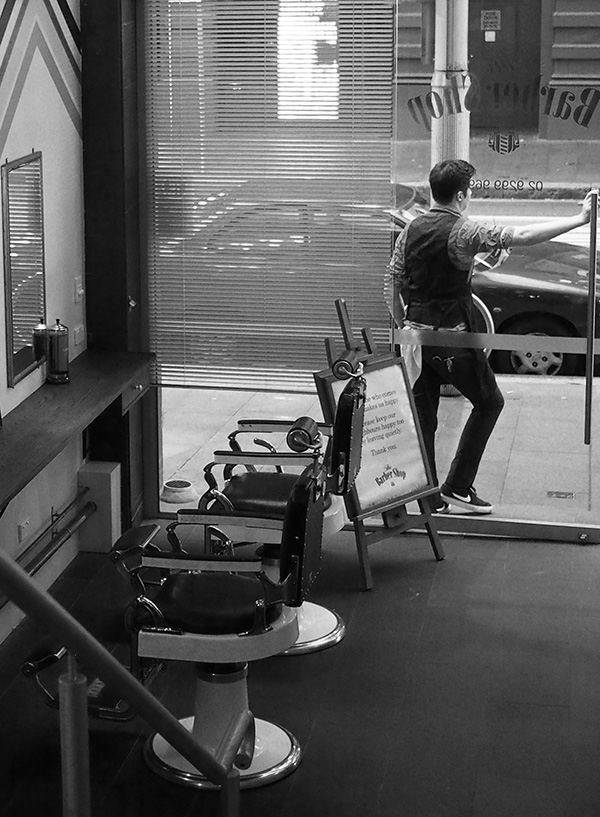 There is a tiny bar snack style menu. House marinated mixed olives ($6), mixed cheese & baguette ($14) and our choice, mixed hams, cornichons and baguette ($16). The 'mixed hams' were jamon Serrano, smoked bresaola and Rodrigueze Brothers' chorizo.
The Barber Shop
89 York Street, Sydney
Tel: +61 2 9299 9699
www.thisisthebarbershop.com

Our hidden bar tour was organized by Ketel One Bar Tours who offer a range of small CBD bar tours.
Sara xxx
Belly Rumbles attended the Hidden Bar Tour with much thanks to Destination NSW and Ketel One Bar Tours.
Ketel One Bar Tours
Tel: 61 422 667 488
www.bartours.com.au