Exciting news, Australia finally has its own tea blend, Australian Afternoon Tea,  thanks to Twinings.
Earlier this year Twinings set a challenge for 40 Australian celebrities to create their own perfect Australian Afternoon Tea blend.  Blending packs were sent out and our Aussie celebrities blended away.  The final results were sent over to London for assessment by a Twinings expert panel.
The top five celebrity blenders were; Radio Broadcaster Alan Jones, TV Personality Kerri-Anne Kennerley and her husband John, Singer John Williamson, Foreign Minister Kevin Rudd and Champion Surfer Layne Beachley.  It was then up to the public to vote for the winning blend, around 85,000 Australians ended up voting.
A high tea at the Observatory Hotel was the perfect setting to announce the winning blend, and Stephen Twining, 10th generation Twining Ambassador was in Australia to make that announcement.  It was for this reason I found myself sitting down for a friendly tête â tête with Stephen over a cup of Russian Caravan before the event.  The drawing room of The Observatory Hotel is absolutely stunning, very much the parlour for having tea. 
Stephen is the perfect example of an immaculately groomed English gentleman, with a manicure that puts my fingernails to shame.  Actually the manicure makes perfect sense, I am sure that every time he picks up a cup of tea people would be focusing on his hands.
When asked Stephen wouldn't divulge which was his favourite blend out of the five finalists.  He was very diplomatic and said that he was very impressed with the quality of all the finalists, any of them could of been the winning blend.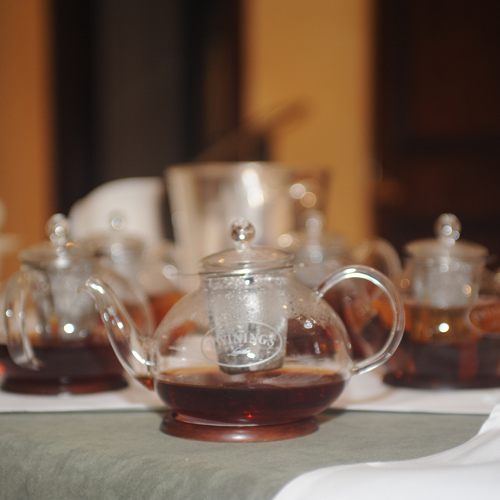 I am a daily tea drinker, usually one or two cups a day and a bit of a Twinings girl. I love their individual smaller packaging which means I can have a couple of varieties on hand.  Stephen on the other hand drinks around 10 – 15 cups of tea a day.  He has no particular favourite but prefers different blends for different times of the day or moods.
Are you a pinkie in or pinkie out person? Is one more polite?  I had to ask Stephen, and it seems either is correct.  Stephen revealed that he is a pinkie-in man and I am a pinkie-out girl. I probably just have a lazy pinkie.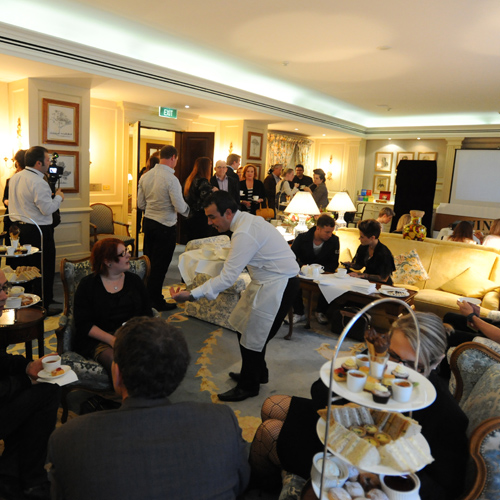 Stephen then asked me if I knew the background behind the pinkie out style of drinking tea, apparently it is a bit risqué.  No I hadn't.  A risqué story-telling by Stephen Twining… Please do tell!
According to Stephen, it all stems from when the English first started drinking tea. Porcelain originally came from China (and the reason why we still call it "china")  and the first cups to come to England had no handles, as they were typical Chinese tea cups.  Now, to be deemed beautiful "back-in-the-day" the lovely English ladies strived to have pale white skin and it was a big plus if you had inherited genes that favoured you with small petit hands (that counts me out).  Therefore ladies drinking their tea would hold their white porcelain cups in their dainty hands and extend their finger to show off how white and petite their hands were against the tea cups.  Vanity at its finest.
I asked Stephen that if there was no tea but I could make him a cup of coffee, what would he like?  Firstly he wasn't happy with this situation at all as he isn't a big coffee drinker.  Compared to his  77 – 105 cups a week of tea he says that he drinks only two to three cups of coffee, if he had to have coffee it would be a latte.
We did discuss the art of making the perfect cup of tea, it is all to do with the water and aeration. The most interesting thing he said was to start playing with different tea blends and start blending yourself, as you may be surprised what you come up with.
Stephen is really is quite delightful to have a chat with over a cuppa.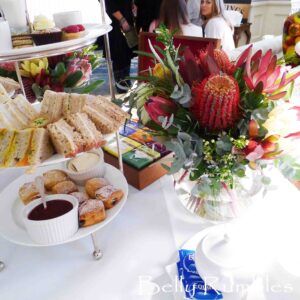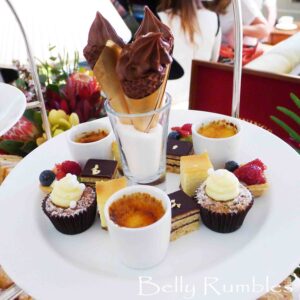 The event itself was as an interesting mix of celebrities, charities and media. We were all invited to try the five finalist blends.  Tea was being offered left, right and centre and lovely tiered cake stands were dotted around the room holding an assortment of high tea goodies to munch on while we sipped away. For our entertainment there were even tea leaf readers.
Of the five finalists there was only one that I tried that didn't appeal to me at all, sadly it was John Williamsons'.  I thought it was really quite terrible with an overbearing smoky flavour.  I found the other four finalists blends quite appealing.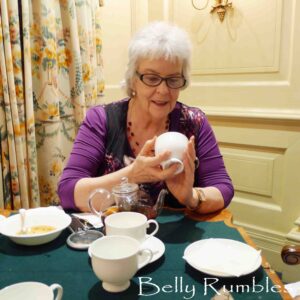 After copious cups of tea, the time had came to announce the winning blend. And the winner is……….. Foreign Affairs Minister Kevin Rudd and his chosen charity the RSPCA.
Kevin wasn't there for the announcement but his son Nick was.  After Nick accepted on behalf of his father the RSPCA bought out the puppies.  Which resulted in a big feel good moment for me and lots of puppy patting.
The winning blend will be launched on Australia Day 2012 and will be on sale for a year as a limited edition. Ten cents from every pack sold will be donated to the RSPCA.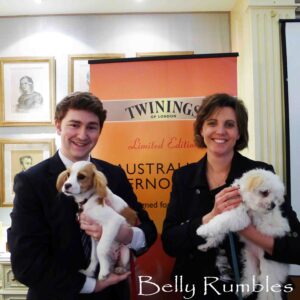 Nick Rudd & Helen Heed (RSPCA)
The winning blend will be launched on Australia Day 2012 and will be on sale for a year as a limited edition.
Do tell me dear Belly Rumbles reader, if you could have a cup of tea with anyone, who would that be?
Sara xxx