I am a stickler for tradition when it comes to hot cross buns.  They are only eaten at our place on Good Friday.  I shudder when I see them the day after New Year's Eve, along with Easter Eggs, in supermarkets like Coles.  When you can buy and eat them months before Good Friday, they're no longer special and I feel that the tradition is lost.  Okay, now jumping off my hot cross soap box.
Over the years I have eased my stance on Easter eggs, and you will find a bowl of mini eggs in the kitchen a week or two heading up to Easter.  Since I started blogging hot cross buns too are consumed before Good Friday.  Of course they are only eaten for taste testing of recipes I play around with.  So eating them is sort of considered a 'have to chore' and therefore I feel I am still sticking to tradition.  It works in my mind, so let me have that one, please.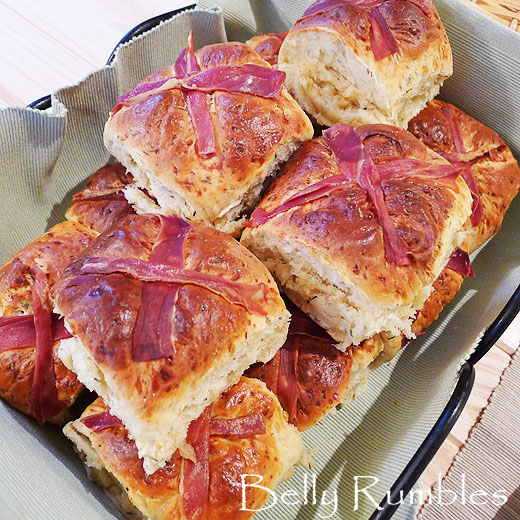 This year on Good Friday we will have traditional spicy fruit filled hot cross buns, but as a few of you know, I am a savoury girl by heart.  Why not have savoury hot cross buns?  I mean, you can get chocolate ones, non fruit ones, with or without peel, we have diverged from tradition, so why not savoury.  I couldn't help playing with the idea of savoury.
These buns are delicious served warm due to the cheese content.  I think next time I make these I may reduce the parmesan by 50-100g and add some very finely chopped prosciutto.  The prosciutto cross on top is a lovely salty contrast, but I was left wanting more.  The next morning for breakfast I warmed one of the buns up, halved, liberally spread with butter and placed paper thin slices of prosciutto on top, quite decadent.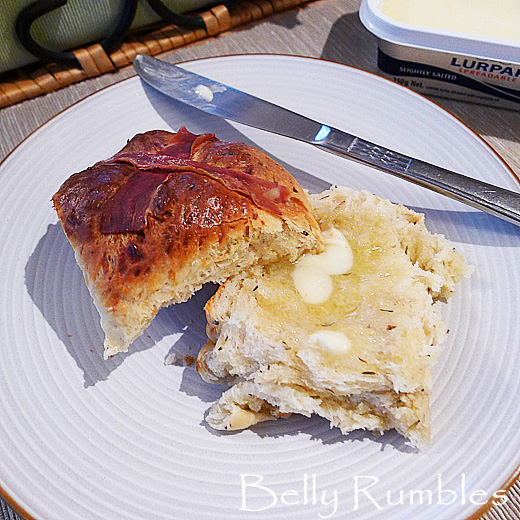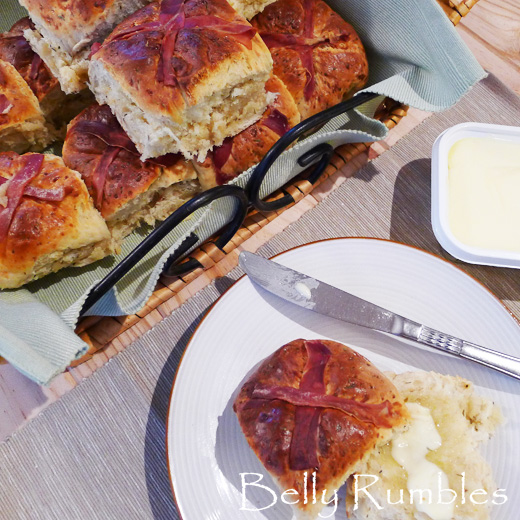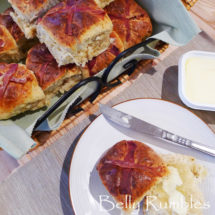 Ingredients
700

grams

plain flour

-

sifted

2

tablespoons

caster sugar

16

grams

dried instant yeast

2

tablespoons

dried thyme

1

teaspoon

salt

250

grams

grated parmesan cheese

125

grams

grated mozzarella cheese

300

ml

milk

100

grams

unsalted butter

2

egg

-

1 for dough, 1 for wash

4

slices

of prosciutto

-

6 if making smaller buns

3

tablespoons

cold water
Instructions
Combine flour, sugar, yeast, thyme, salt and cheeses in a large bowl. If you have a stand mixer, use your largest mixer bowl (then you can use your dough hook instead of hand kneading).

Place milk and butter in a medium saucepan. Warm gently until butter melts, should be tepid in temperature. Whisk 1 egg in to the butter/milk mixture.

Make a well in the centre of the flour mixture and add milk. Stir until combined and then turn dough out onto a floured surface and knead for 10 minutes until smooth. Alternatively mix dough on your stand mixer using dough hook until mixture is smooth.

Place dough in lightly oiled bowl, cover with plastic wrap and stand in warm place for 40 minutes or until doubled in size.

Knock back dough and cut into 12 (or 16 for smaller buns) equal pieces. Knead each piece in to a ball, place in a lightly greased lamington tin.

Cover with a damp tea towel and stand in a warm place for 40 minutes or until doubled in size.

Preheat oven 220 degrees C.

Cut your prosciutto in thirds length wise, then cut strips in half.

In a small bowl whisk egg and water to make egg wash.

Brush buns liberally with egg wash. Take two strips of prosciutto and place on top of bun to form a cross.

Place buns in oven and bake for 10 minutes. Then reduce temperature to 200 degrees C and bake for another 20 minutes until golden. When buns are ready they will sound hollow when tapped.

Remove from tray and allow to cool on wire rack or serve immediately.
Nutrition
Calories:
443
kcal
|
Carbohydrates:
49
g
|
Protein:
19
g
|
Fat:
18
g
|
Saturated Fat:
10
g
|
Cholesterol:
76
mg
|
Sodium:
619
mg
|
Potassium:
162
mg
|
Fiber:
2
g
|
Sugar:
3
g
|
Vitamin A:
565
IU
|
Vitamin C:
0.3
mg
|
Calcium:
339
mg
|
Iron:
3.9
mg
DID YOU MAKE THIS RECIPE?
I do a happy dance when people let me know, tag me on Insgragram @bellyrumbles #bellyrumbles
Do tell dear Belly Rumbles' reader, do you make your own hot cross buns or do you buy them?
Sara xxx