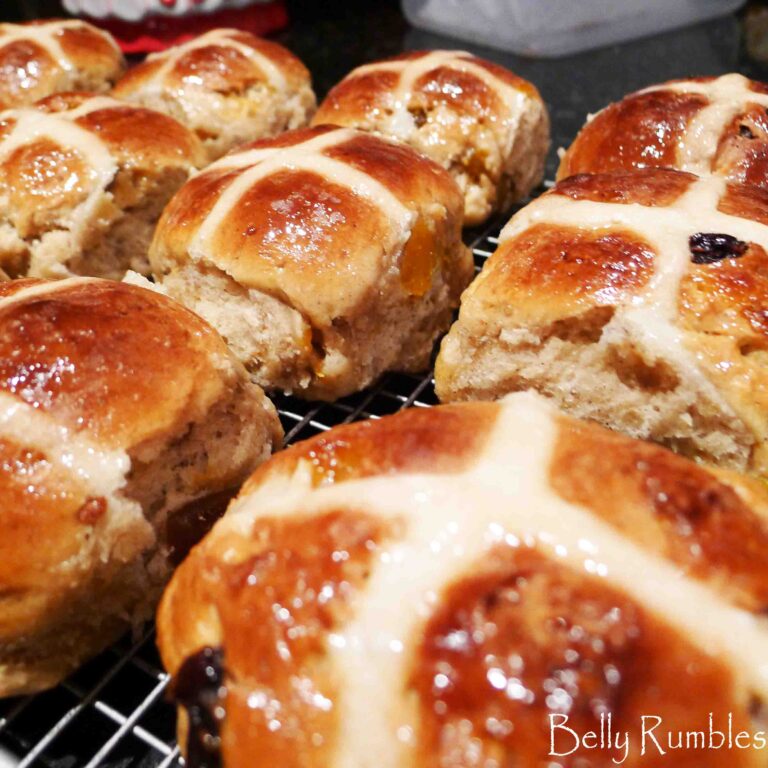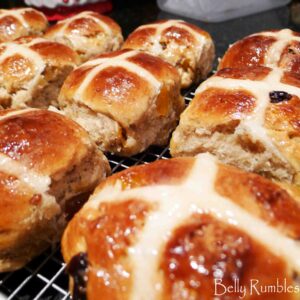 Hot cross buns!
Hot cross buns!
One a penny two a penny
Hot cross buns
If you have no daughters
Give them to your sons
One a penny two a penny
Hot cross buns
I have fond memories of my mum singing and teaching me this old English rhyme when I was a child. Always seemed to magically spring from her lips a couple of days before Good Friday. So as tradition would have it a couple of days before Good Friday this rhyme seems to spring unconsciously from mine. I wonder when/if Josh has children, if he too will be effected by this seemingly hereditary tic.
Growing up we only had hot cross buns on Good Friday. Until just this year my household was the same, hot cross buns were only eaten on Good Friday. No nibbling on them in February when they first hit the shelves or the weeks leading up to Easter. Due to the meaning behind the bun I always found it strange that people would eat them on any other day than Good Friday – yes I am strange. It is only due to "research" that I have eaten them leading up to Easter this year.
My favourite part of a hot cross bun has not changed from when I was a child. Nor has the way I eat them. I judge a hot cross bun by its cross. Yes the cross is a very important part, not only due to its religious significance. A cross has to be hard and crisp.
So how do I eat them? The bun needs to be warm and the cross is the first thing I devour. I need to be able to pull it away from the soft spicy bun and munch on it. Like most people I cut the bun in half and I then lavishly spread it with butter, has to be butter. I then eat the top half first leaving the crustier bottom till the end.
I attempted to make hot cross buns for the first time last year. Let's just say it was an epic fail. Have you seen the Charlies Angels movie (I think the first one) where Alex Munday (played by Lucy Liu) makes muffins? You may remember they refer to them as Chinese fighting muffins, where one is promptly thrown at a door and makes one mighty hole. My hot cross buns basically fell in to that category . They were rock hard and dangerous if thrown.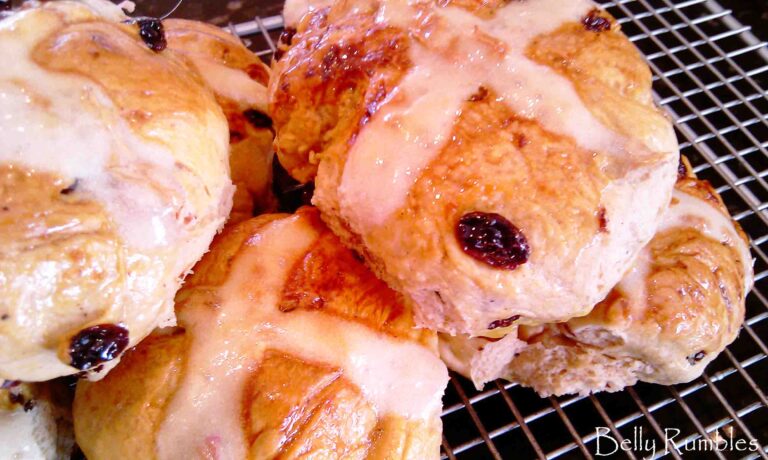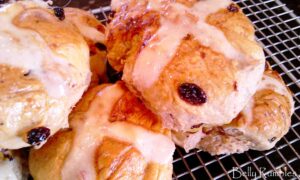 The Chinese fighting hot cross buns I made last year (hangs head in shame)
This year putting the pathetic effort of my last attempt behind me, I had another go. The result was much more successful, but not perfect. I tweaked a recipe from Gourmet Traveller. I am not a fan of peel and I had some glace figs and apricots in my fridge which I wanted to use. Sadly I made one big mistake, for some reason dumbo here didn't add the correct amount of yeast. Instead of the 14g stated in the recipe I only added 7g.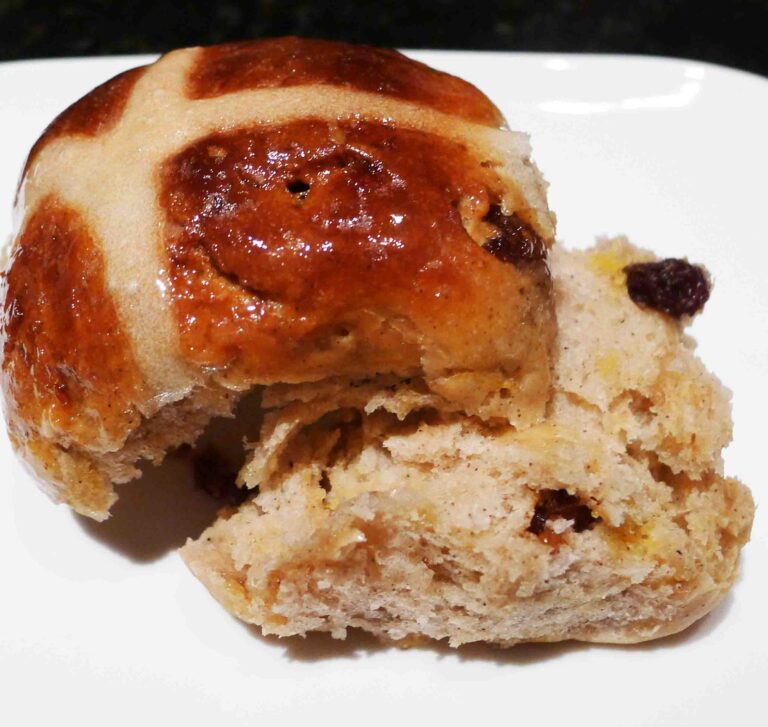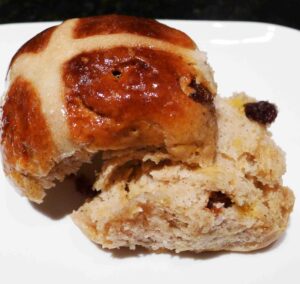 Apricot goodness smushed through the bun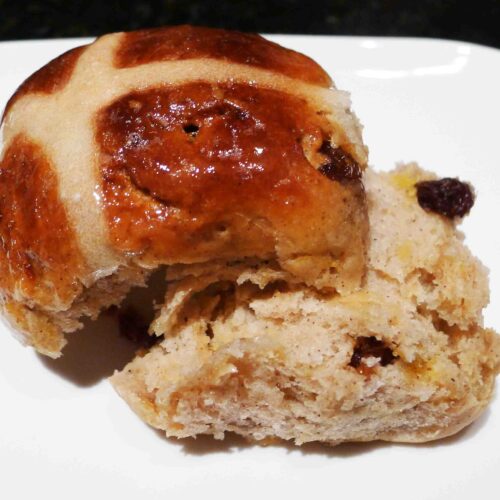 Total Time:
1
hour
15
minutes
Delicious Hot Cross Buns for Easter with the twist of glace fig, glace apricot and sultanas.
Ingredients
700

grams

plain flour

55

grams

caster sugar

14

grams

yeast

1

teaspoon

allspice

1

teaspoon

cinnamon

nutmeg

1

teaspoon

salt

150

grams

sultanas

100

grams

glace figs

100

grams

glace apricots

zest of one orange

300

ml

milk

100

grams

unsalted butter

1

egg

Cross: 50g flour + ¼ water

Glaze: 55g caster sugar + ¼t mixed spice + ¼c water
Instructions
In a large bowl place flour, caster sugar, yeast, spices, salt, fruit and zest. Mix. I find it best to get your hands in to the ingredients and make sure that all your fruit has separated and has been covered with the flour. This ensures and even distribution of fruit through your buns.

Place milk and butter in a saucepan and over a low heat warm until the butter has melted. Your mixture should be of a tepid temperature. Whisk in the egg.

Stir the milk mixture in to the flour mixture. Turn out on to a floured surface and knead for 10 minutes, or until smooth.

Place dough in a lightly oiled bowl, cover with plastic wrap and a tea towel. Let the dough stand for about 40 minutes in a warm spot or until it has doubled in size.

Once doubled in size knock the dough back and separate in to 12 pieces. Knead in to balls and place in a lightly greased 24cm x 30cm slice tin (or cake tin which you have available of similar dimensions). Cover with a damp tea towel and leave to stand in a warm place for 40 minutes or until doubles in size.

Preheat oven to 220C. Combine remaining flour and ¼ cup water and stir to a smooth paste. I suggest you add a small amount of water at a time to ensure you get a nice thick paste. Spoon into a piping bag fitted with a fine nozzle or if you are like me and use disposable plastic ones, snip off the end for the cross size you desire. Pipe lines down each row to form crosses.

Bake for 10 minutes, then reduce temperature to 200C and bake for another 10 minutes or until golden. They're ready when they sound hollow when tapped.

To make the glaze, combine sugar and mixed spice with ¼ cup water in a saucepan over medium heat, stirring until sugar dissolves. Bring to the boil, reduce heat and simmer for 1-2 minutes. Brush glaze over hot buns. Place buns on to a wire rack to cool.
Nutrition
Calories:
362
kcal
|
Carbohydrates:
63
g
|
Protein:
8
g
|
Fat:
8
g
|
Saturated Fat:
4
g
|
Cholesterol:
34
mg
|
Sodium:
214
mg
|
Potassium:
245
mg
|
Fiber:
2
g
|
Sugar:
15
g
|
Vitamin A:
440
IU
|
Vitamin C:
1.4
mg
|
Calcium:
54
mg
|
Iron:
3.1
mg
DID YOU MAKE THIS RECIPE?
I do a happy dance when people let me know, tag me on Insgragram @bellyrumbles #bellyrumbles
The fig and apricot combination worked really well. As the apricots were glace, when kneading they smushed through creating sweet ribbons of apricot in the buns.
Considering my mistake and the good result, if you are attempting hot cross buns for the first time this recipe is worth a go. Please feel free to substitute my choice of fruit for what you desire.
Wishing you all a lovely Easter next week with family and friends. I am curious, am I the only one that is quirky in the way they eat their hot cross buns?
Sara xxx