Josh was studying for his HSC and we had to head in to town to check out a college that he was applying to study at next year.  If  I go anywhere with Josh during the day, no matter morning or afternoon, "what's for lunch" is a question that I can bet money on being asked.  To be honest I had factored it in for a bit of a study break for him and my answer as we got off the train at Central was "let's walk and see what we discover".
That was the plan, I had nowhere in mind for lunch and as we walked up Elizabeth Street towards Wentworth Avenue we stumbled upon House.  I had read about a restaurant called "House" and what I had read was all good, but to be honest, I wasn't sure if this was the same "House".
Being just before noon and a college tour around the corner at 12.45 we decided to go for it.  Once we sat down and perused the menu I realised  it was the same House I had read about and was pretty chuffed at our stumbling.
The cuisine at House is from the traditional area of Issan in North Eastern Thailand and is based on street food from that area.  Chef Sujet Saenkhan, of Spice I Am,  is behind the helm.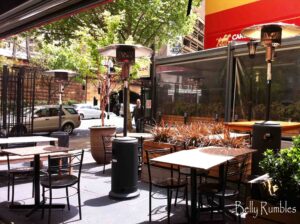 There is both an outdoor and indoor seating areas and as it was a gorgeous October day we decided on outside.
Josh has the Khao Moo Fod, fried garlic and pepper pork served with steamed rice, cucumber and house sauce.  Crispy coated tender pork with a chili hot "house" sauce.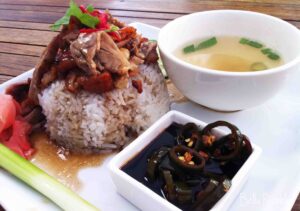 I went for the Khao Bar Ped, roasted duck with steamed rice, cucumber, chou sum topped with roasted duck sauce.  The duck was very tender and flavoursome.  I loved the green chili which was served on the side.  This is where you excuse my ignorance, I have no idea what it was served with, I will say it was a mix of soy sauce and other, but oh wow was it addictive!  I scoffed the lot, every single chili piece was eaten.  Both meals were served with a light chicken broth.
We both decided we want an return visit with a few more people to be able to order a lot more dishes to taste.  The menu looked very interesting and from we saw and ate for lunch we are both pretty excited about discovering more.
Sara xxx