I instantly fall in love with the decor and I silently pray that the food lives up to the look of this funky cafe.  Inc stands alone in mass of eating options in Cronulla, it does not play on the seaside location look and feel, instead it would easily be at home in Newtown or Darlinghurst.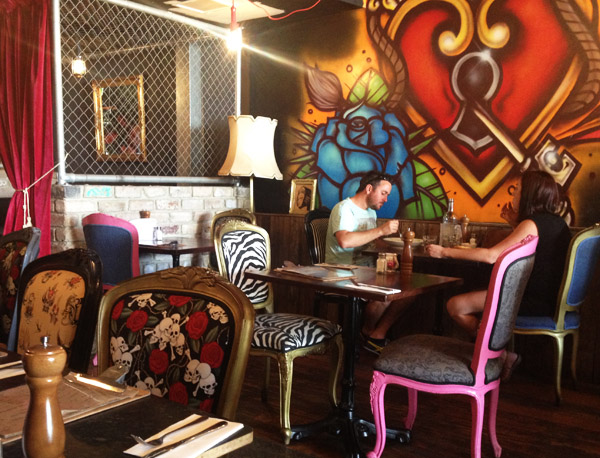 Josh and I grab a table and I pinch a menu from one of the neighbouring ones.  We are promptly bought over another menu, so we don't have to share, by a person I take to be the owner.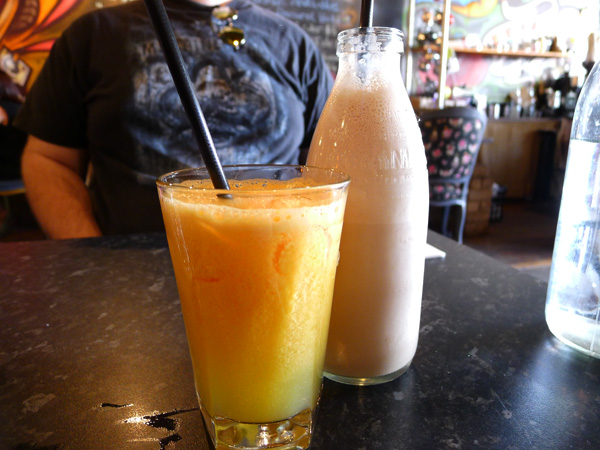 While perusing the menu, we are asked if we would like to order drinks, and we do.  Freshly squeezed orange juice and a chocolate milkshake.  The juice is freshly squeezed, not freshly squeezed from a bottle and the chocolate milkshake is served in the cutest 500ml old style milk bottle.  The best thing is, it tastes awesome.  Best milkshake I have tried in a long time, they remind me of the famed Parry's milkshakes at Caringbah.
The breakfast menu includes; omelettes, mixed berry pancakes, eggs on toast, a big breakfast, a vegie brekkie, homemade banana bread, organic spelt maple muesli, various extras and a kids breakfast menu.  The breakfast menu looks very tempting and we feel a return visit would be warranted to try it out.
We are here for lunch and there are lots of options to choose from, schnitzel & salad, wraps, BLT, burgers, pizzas, vegetarian moussaka and various salads.  After much deliberation and advice from staff, lunch decisions are made.  After ordering, our meals arrive quite quickly.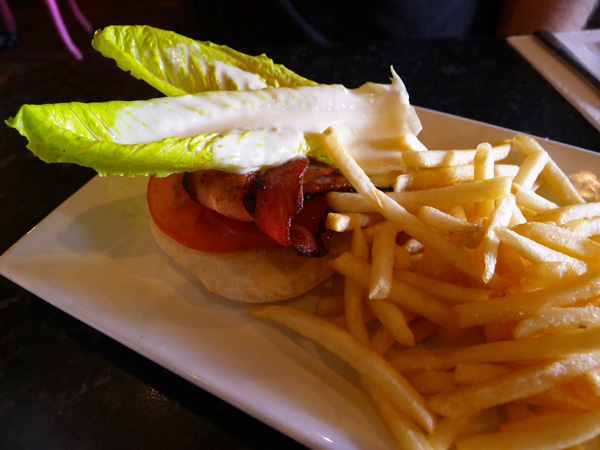 Inc's Open BLT; bacon, lettuce, tomato, homemade Caesar sauce on freshly baked flat bread, served with fries, $12.50.  The BLT is definitely open, the filling is actually sitting on top of the flat roll.  Something we haven't seen before, but the bacon is cooked the way we like it, on the crispy not soggy side.  The homemade Caesar sauce, is light and makes me want to try the Caesar salad on the menu, $14.00.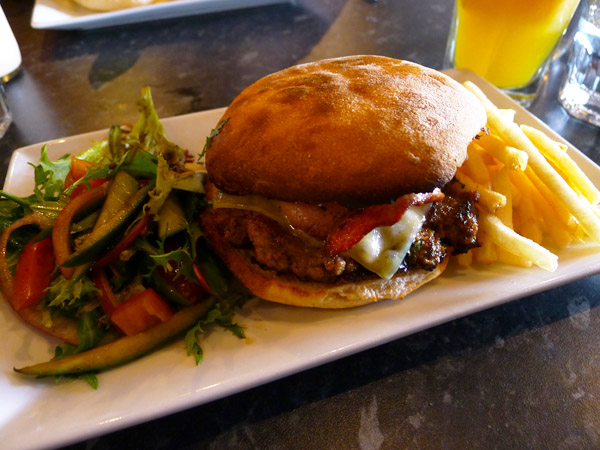 Cheese and bacon burger; homemade beef patty, bacon, cheese, mustard, relish, fries and salad, $14.00.  I am quite over being served burgers that are piled so high you can't get your mouth around them.  It is refreshing that Inc's burger is the size that a burger should be, no deconstructing to eat it but you have to stretch your mouth to get it around it.  Large moist beef patty and a bun that is neither too crunchy nor soft, it's just right. Both meals are generous in size, taste great and are great value for the price.
Inc's philosophy is 'deliver the freshest & tastiest food to our customers with warmth, integrity and a friendly smile', and they do.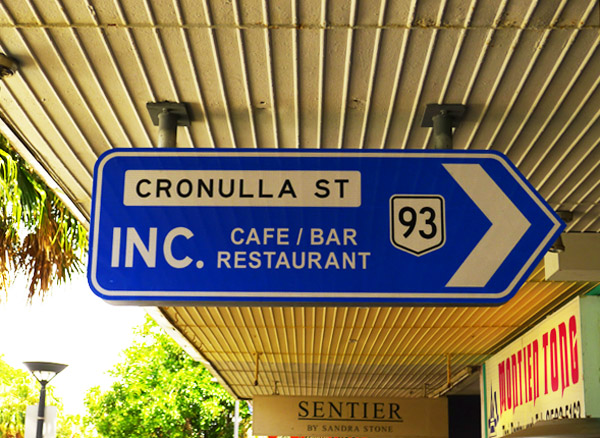 Would I recommend?  Yes I would.  Inc is open for breakfast, lunch, dinner and dessert.  They are also licensed with a range of beers and cocktails by the jug.
Inc Cafe
93 Cronulla St, Cronulla
Tel:  +61 (2) 9523 3111
website
Do tell dear Belly Rumbles' reader, do you like a burger you can get your mouth around or do you like them piled high?
Other Shire Reviews
Ham, Cronulla (2012)
The Teahouse, Camellia Gardens, Caringbah (2011)
Swiss Quattro, Sylvania (2011)
Mike's Grill @ The Crest Hotel, Sylvania (2010)
Summer Salt, Cronulla (2009)