I tend to keep a nice stash of homemade chicken stock in my freezer. Sadly like all good things, this at times comes to an end. With my supply not being refilled until I get the time to make a big pot of stock again.
Feeling quite rotten a few weeks ago and craving soup, I sent Mac out on a mission. "Please could you pick up some chicken stock?", running brands through my fuzzy clogged up head, "umm, could you make it Massel?"
On his return from his mission, Mac lobbed the stock onto the kitchen counter. "I nearly rang you, do you realise that this is chicken style stock?". To which I responded with my best Scooby Doo head tilt impersonation and vacant look.
Chicken style stock? What on earth is chicken style stock? I had never noticed the small wording of 'style' under the large wording of 'chicken' before. On inspection of the ingredients, there is no chicken in this stock. Why not just call it vegetable stock with fake chicken flavour? Oh yes, that probably wouldn't sell as well.
To be fair on closer inspection, they do state clearly 'all vegetable' at the bottom of the pack. There is also a nice red tick next to the wording 'no animal content'. Maybe they should put a big red line through chicken, just for dummies like moi?
I suppose Massel non chicken stock is good news for those vegetarians out there that want something that tastes like it came from a chicken. Then again I have never quite understood vegetarians that want their non animal food to taste and look like it is.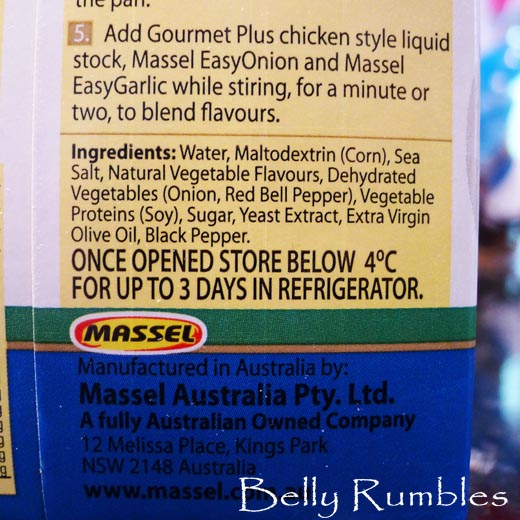 So what is actually in it? Main component is water. Also includes maltodextrin (corn), sea salt, natural vegetable flavours, dehydrated vegetables (onion, red bell pepper), vegetable proteins (soy), sugar, yeast extract, extra virgin olive oil & black pepper.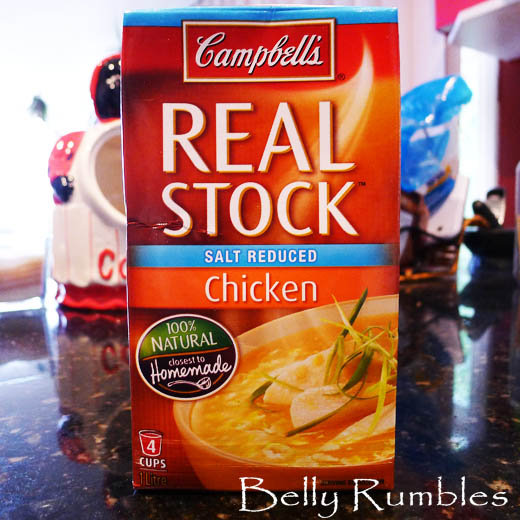 After this discovery some Campbell's' chicken stock was picked up for the cupboard for emergencies. Yes, main ingredient in Campbell's is actually chicken stock, that's always nice to know.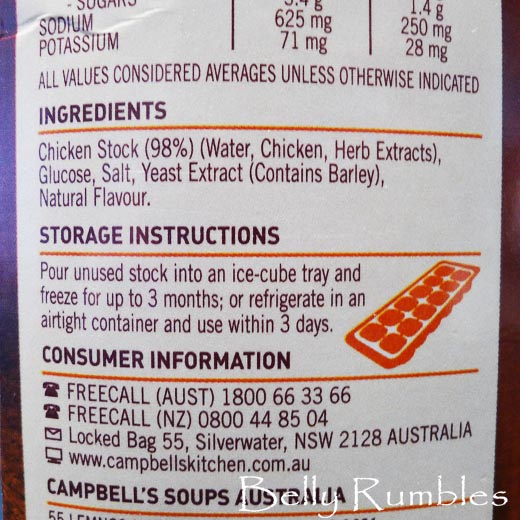 What is in Campbell's? To start with a lot less ingredients. Chicken stock 98% (water, chicken, herbs, extracts), glucose, salt, yeast extract (contains barley) and natural flavour.
I know which one sounds more appetising when I run out of my wholesome homemade stock.
Well, lesson learnt for me. Take the time to read labels and product packets properly!
Do tell dear Belly Rumbles reader, have you ever bought something that wasn't quite what you thought it was?
Sara xxx
More Product Road Test Reading
Aldi Degustation by Teage Ezard - how does Aldi produce stack up?
Ikea Swedish Meatballs - do they live up to the hype?
Frozen vs Homemade Mashed Potato - which one is the winner
The Best Frozen Pepperoni Pizza in Australia - the result will surprise you