Jackie M has been on my visit list for quite a while.  She has a nice little reputation of offering pretty damn good Malaysian hawker style food.  I have tried her food at various places like the Crave SIFF Malaysian BBQ Madness I recently attended, but I have never eaten at her establishment.
I actually feel a little bad about not paying Jackie a visit before now.  Why?  Well we "tweet" each other on Twitter.  It was a little tweetathon last Friday night that spurred me to make an impromptu reservation.  Jackie and I had not met in person before my visit last and I wanted to be sneaky and pop in without her expecting me.
Sadly no surprising was on the cards, she knew I and tribe were coming.  During busy service if you ring the phone will go to answering machine.  Don't let that put you off, follow instructions to make a reservation and Jackie will get back to you and confirm. 
Why has it taken me so long to visit?  Pure logistics to be honest. We live a good solid hour away from Concord.  I have no aversion to traveling for good food, but it is so easy to be lazy and stay in your comfort travel areas.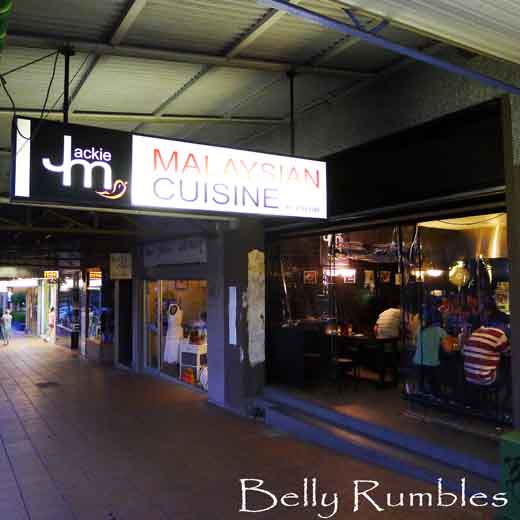 Dark wooden rectangular tables seating 4-8 completely fill every space available in this small,  polished concreted floor, low lit restaurant.  The one waitress manning the floor for the evening is friendly and very helpful.  I love the fact that once seated icy cold bottled tap water and glasses magically appear on our table.  Not having to ask is a massive tick in my book.
I let the boys pretend they had an input on what was being ordered by letting them peruse the menu.  Sadly for them I already knew what we were ordering.  Sadly for me, three of the items I wanted to order weren't available that night.  Good excuse to return?
For all you pork lovers you won't find any on the menu.  Jackie doesn't like pork and the restaurant is halal.  Slight consolation for the pork lovers that like to drink, the restaurant is BYO with no corkage.
First up, chai tow kway, rice cakes stir fried with preserved radish, garlic, beansprouts, chives and eggs.  It was through the chance meeting with Miss Piggy, who was chowing down with the boy, that we ordered this dish.  She hadn't tried it but had heard good things, and she was right.  It was so delicious that when the waitress went to take the plate away, still with a scattered spoonful in it, I protested, grabbed the remains and then let her take the plate.
Ayam goreng, deep fried chicken wings which have been marinated in Jackie's own blend of spices.  The wings are crunchy on the outside with moist tender flesh on the inside.  Be careful they are served piping hot and take a while to cool down.  Very finger licking.
Grilled chicken skewers served with Jackie's signature peanut sauce.  I must admit I was a little worried when the peanut satay sauce came out, it was pale and creamy looking.  I have found in the past I prefer the darker style peanut sauce compared to its lighter cousins.  The sauce was great, lovely peanut pieces with loads of flavour.  You know it is good when you have finished the chicken, cucumber etc and are just eating the sauce straight.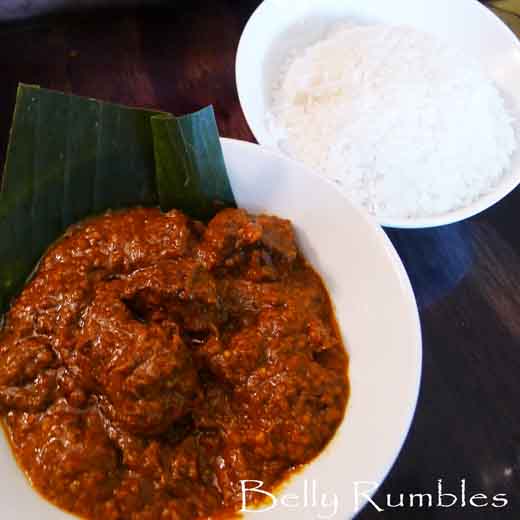 Beef Rendang $17 coconut rice $3.50
Juicy chunks of slow cooked beef in a thick dark spicy curry.  Nice large chunks of tender beef in a sauce with a little bit of heat.  We were all very pleased.
I love char kway teow, stir fried thick flat rice noodles (Jackie includes hokien noodles as well) with garlic, beansprouts, chives and egg.  There is a lovely char to the noodles.  This dish came last and we were all basically bursting at the seams, yet I still sat there picking at the noodles, could not help myself.  The remainder of the dish came home and became my lunch the next day.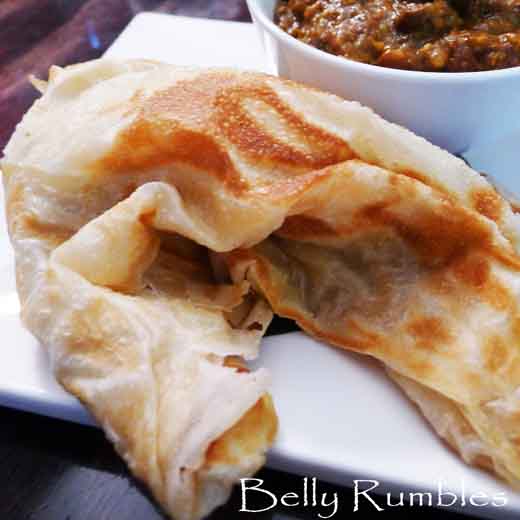 Roti Canai with a side of lamb curry for dipping $7.50
We ordered two serves of roti canai with one dipping sauce.  The dipping sauce we went for was lamb curry.  Even though I don't eat lamb the boys do.  I did have a little try and the curry sauce was really good.  I had a small piece of lamb, and it was quite good, didn't have that strong lamb flavour.  The roti was flaky and butter, quite delicious.  A little different to what can be found at Mamak which is quite paper thin.

There was no room for dessert.  So we waddled back to the car feeling very content and happy that we had made the effort to travel to Concord and check out Jackie M.
If you can't make it to Jackie M she has an online store and also frequents various markets around Sydney.  Pop on to her website and have a look at what she has to offer www.jackiem.com.au
Sara xxx