Jade Temple is one of the newest offerings from Neil Perry's Rockpool Dining Group. We head there to try the exclusive lunchtime yum cha offering.
If you happen to follow Belly Rumbles on Instagram you will be quite aware of my yum cha addiction. I am just short of seeking professional help. So far I haven't because, let's be honest, it's a rather tasty problem to have.
It almost feels there has been a revolving door installed at 11 Bridge Street in Sydney. First there was the long standing and much awarded Rockpool. This was followed (what seemed briefly) by Eleven Bridge.
Now 11 Bridge Street is home to Jade Temple. If you don't follow the comings and goings of the Australian hospitality industry, I should probably point out that all those establishments were/are part of Chef Neil Perry's Rockpool Dining Group.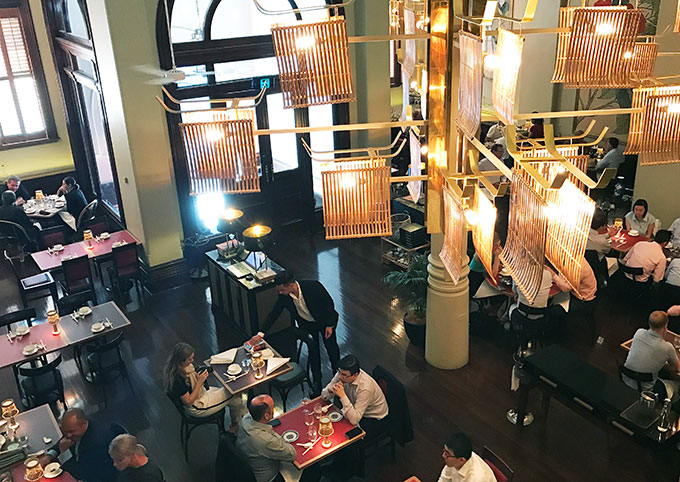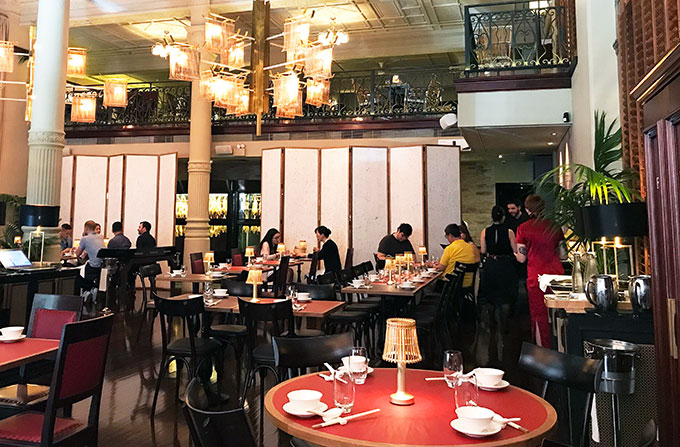 The space has gone from fine dining, to really expensive dining to now Cantonese favourites.
As Rockpool Dining Group's Director of Culinary & Brands, Neil's finger drives the direction of cuisine at Jade Temple. But it is Jade Temple's Head Chef Peter Robertson (ex Oscillate Wildly) and Dumpling Master Ng Moon Kuen (ex The Dynasty Club Hong Kong and Wynn Palace Macau) who are the real forces behind what you eat on a daily basis.
In the evenings you can order what I regard as Aussie suburban staples, Spring Rolls ($15), Prawn Toast ($12), Lemon Chicken ($29), Honey Prawns ($36) and Salt & Pepper Squid ($34). There are also a few more interesting dishes on the menu, Cucumber & Black Fungus Pickles ($9), Beef Rib with Aged Date Vinegar ($39) and Dong Po Pork with Tea Egg & Choy Sum ($39).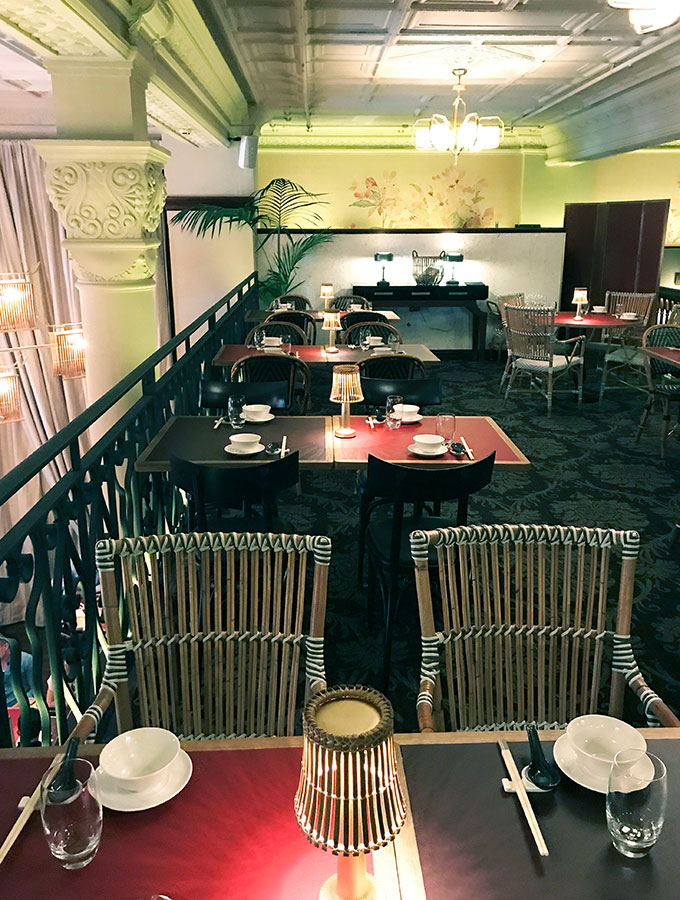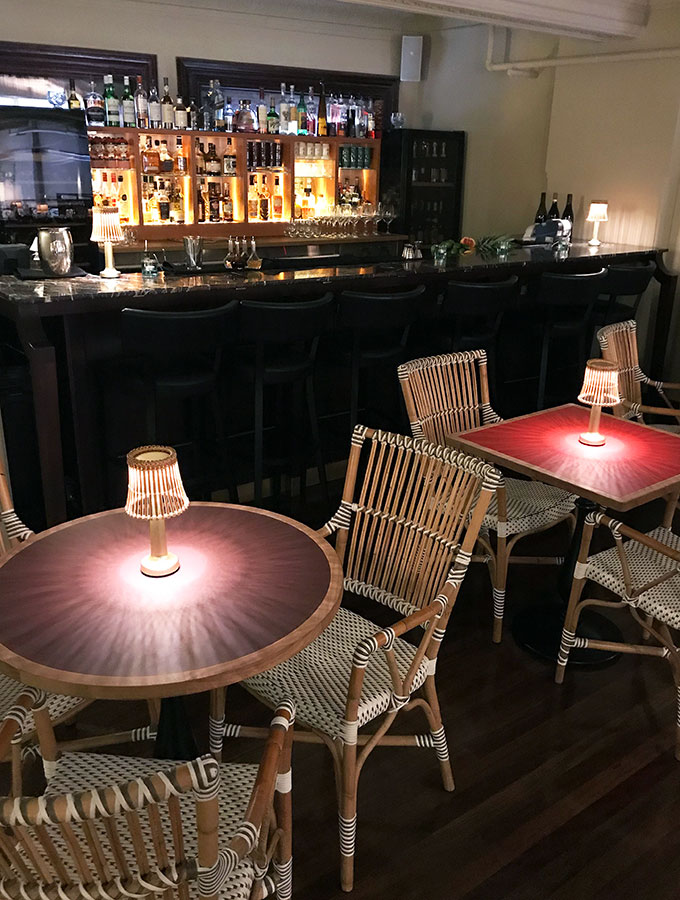 Nothing on the menu would make a less adventurous person feel uncomfortable. Saying that, I am sure all the dishes are prepared exquisitely in true Rockpool fashion. But let's be honest, I have no clue. Josh and I were invited to come and try their yum cha menu, which pleased my yum cha addiction extremely.
We arrive at Jade Temple with me leaving my composure somewhere on the Eastern Distributor, probably around the Australian Golf Course. The traffic was bumper to bumper due to an accident, and I do not cope well with being late to anything. Especially a restaurant booking, and even more so when invited (professionalism and reputation to uphold here).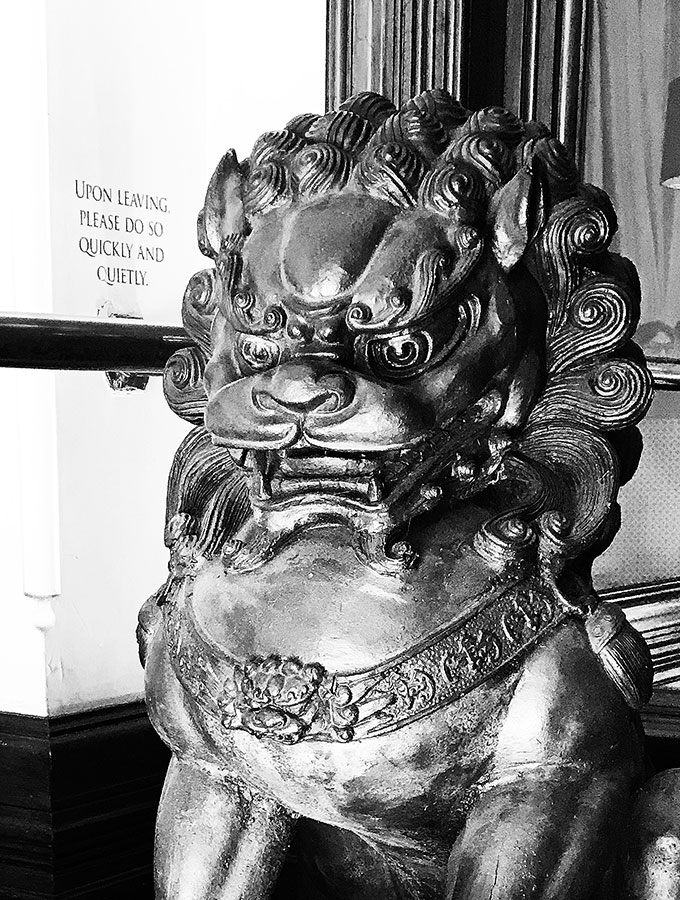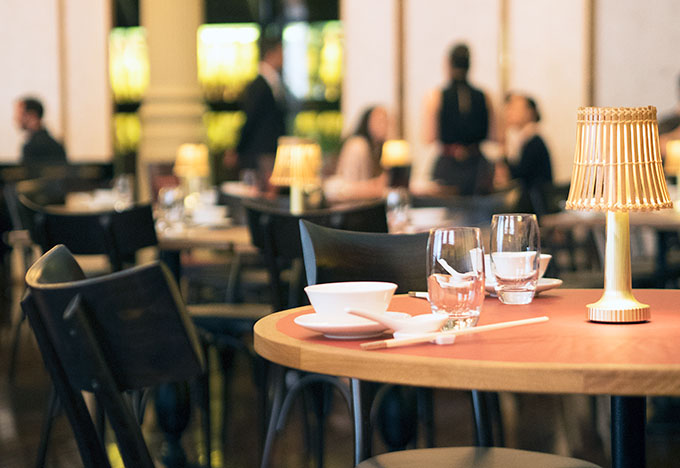 After parking the car on the bottom of Sydney Harbour, also known as the bottom level parking at the Sydney Opera House, we make a mad sprint up to Bridge Street.
Arriving flustered and a little out of breath, front of house staff took it all in their stride. We were warmly shown to our table, offered some water and given menus.
After salivating at all the prospects on the menu I was advised that they had already planned a special selection of dumplings for us. I promptly handed back the menu.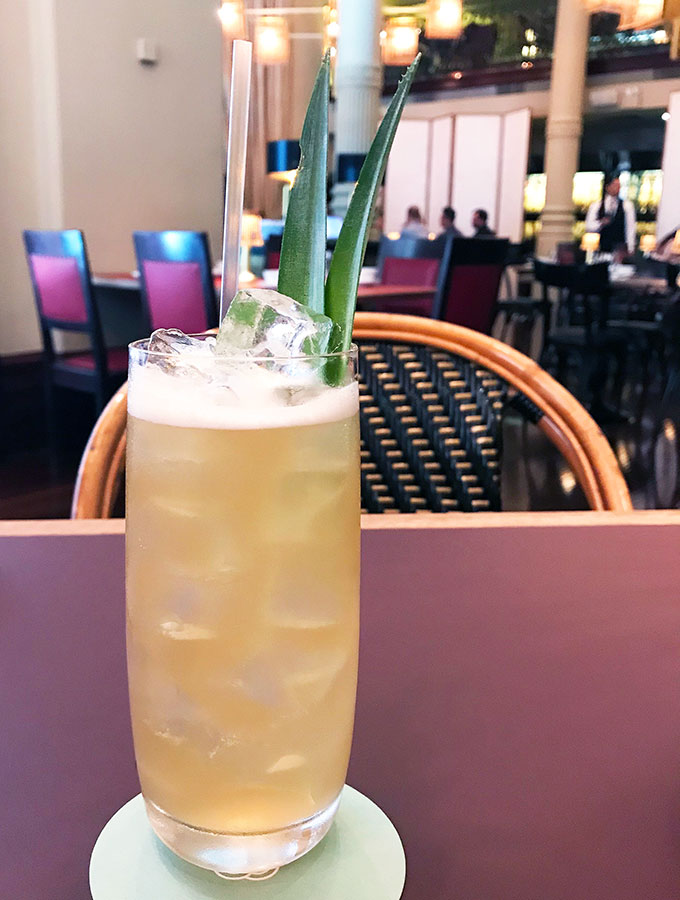 Josh starts with a mocktail, Hopped Pineapple Faux-Lada ($12). Made with hopped pineapple soda, coconut water, honey sesame and citrus. He found it not overly sweet and quite refreshing.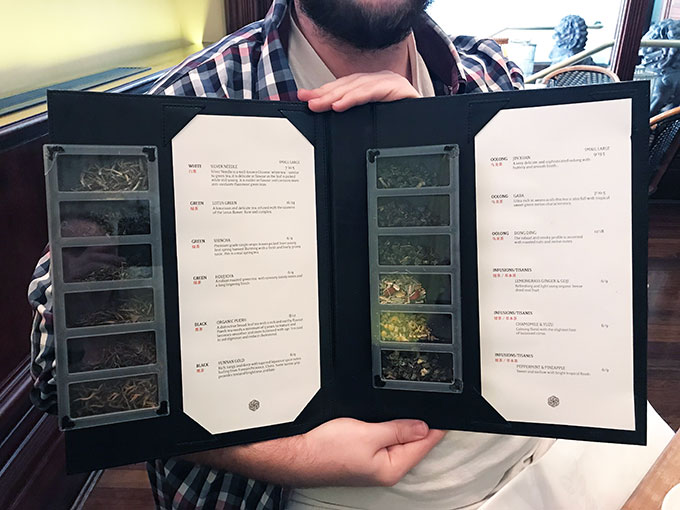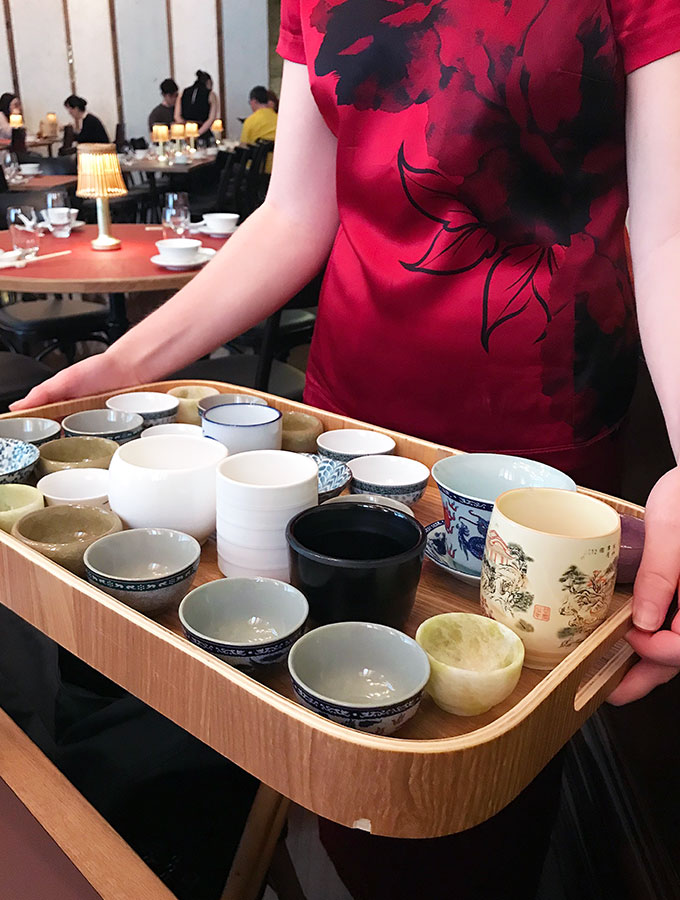 I settle on one of one of the white teas from the informative tea menu. Apologies that I didn't make note of which one I ended up deciding on, I was internally sulking on missing out on har gow and steamed pork buns. I can confirm whatever I ordered was brilliant. It was fun to choose my own teacup from a selection, very much like choosing your own sake cup when in Japan.
A Selection from the Steamed Yum Cha Menu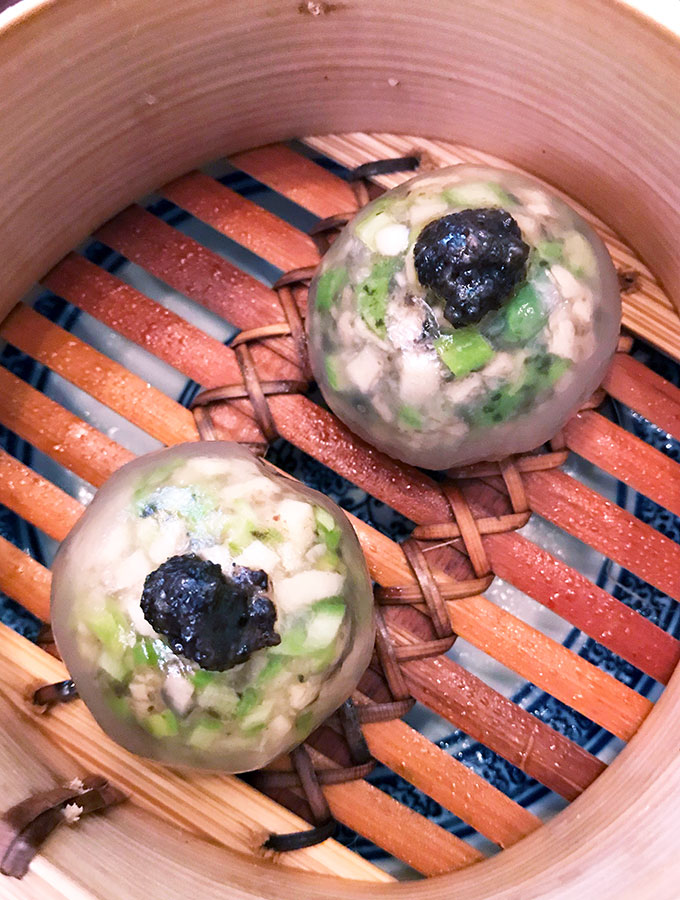 Crystal Dumpling ($12 for 3)
The Crystal Dumplings and filled with bamboo shoot, scallions and truffled mushroom, with extra truffle salsa perched on top. The filling had a lovely crunch to the texture and considering the few ingredients used packed a punch in flavour.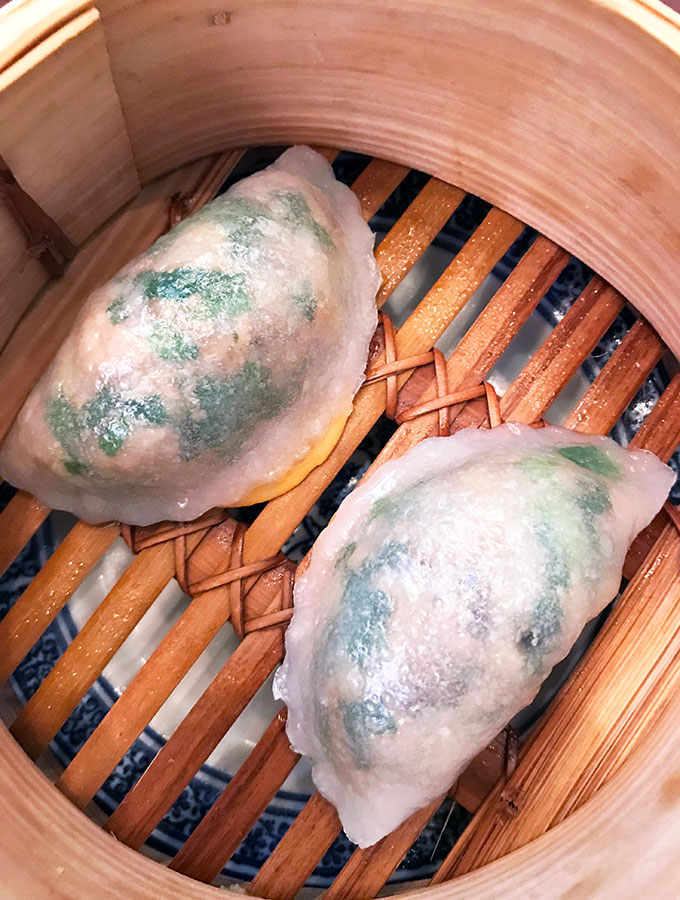 Guangdong Dumpling ($12 for 3)
A country style dumpling with dried shrimp, pork and chive. On asking our host what her favourite dumpling was, she didn't bat an eyelid and said the Guangdong. I have to agree, it was a mighty fine dumpling with a rustic texture.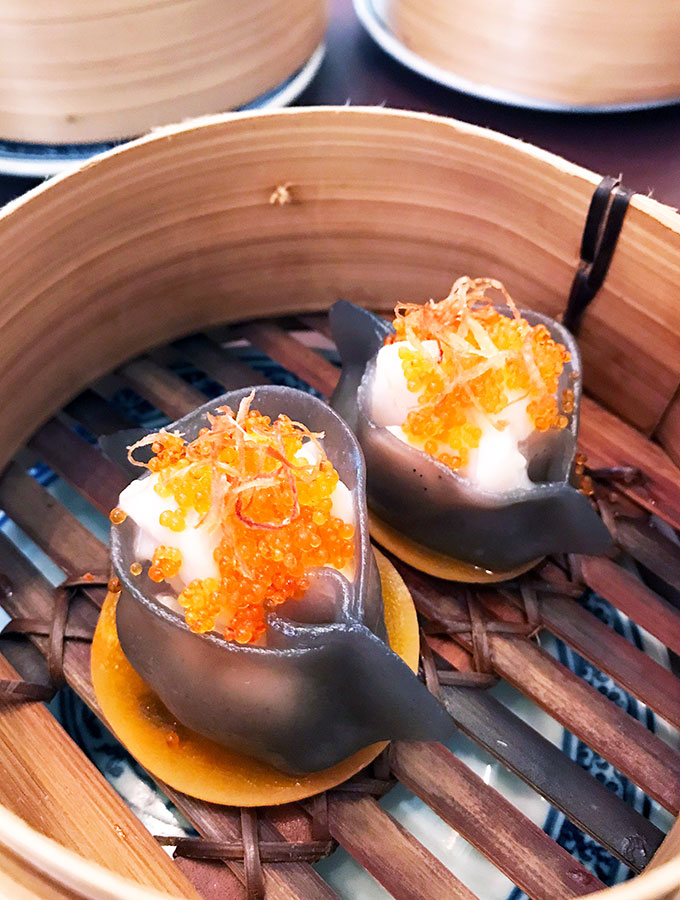 Phoenix Dumpling ($12 for 3)
The Phoenix dumpling is packed with steamed blue eye cod. The dumpling does let the flavour of the blue eye shine. It's all you taste. You may find yourself reaching for the chilli sauce, like myself, to give it a little flavour injection.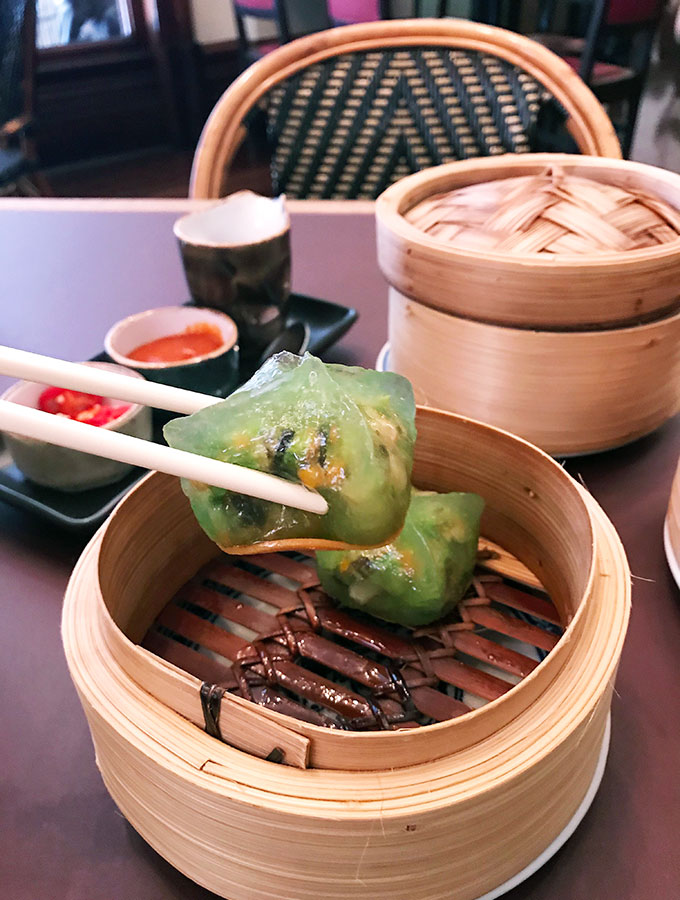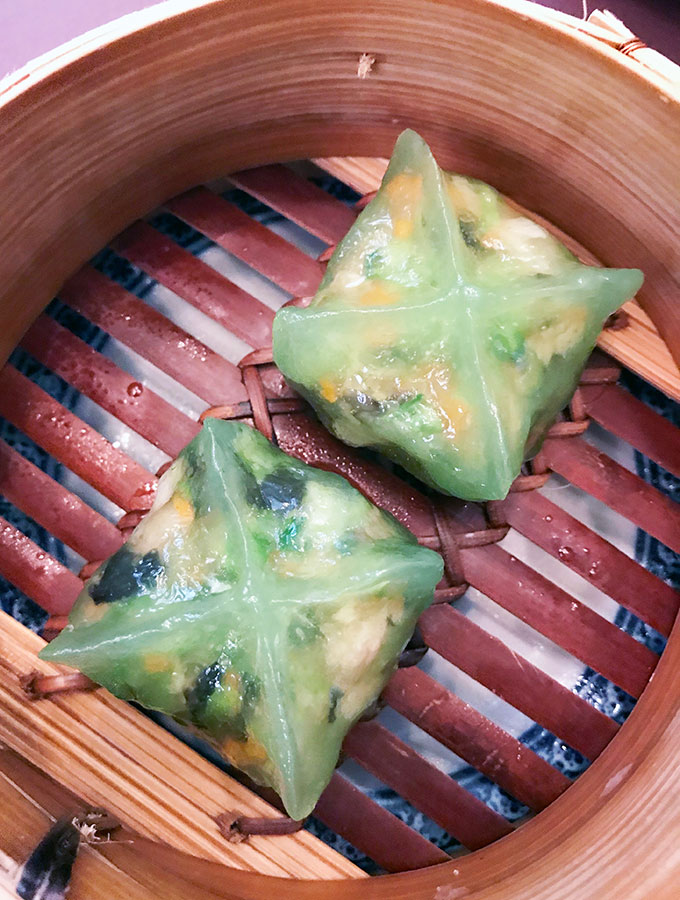 Water Chestnut ($12 for 3)
Again a few ingredients prepared simply but full of flavour. Packed with water chestnut, bok choy and black fungus. My favourite of the steamed dumplings with their umami kick.
I would have enjoyed trying the Steamed BBQ Pork Buns ($12), Prawn Har Gow ($12) and Pork & Prawn Siu Mai ($12). These three dishes are staples on any yum cha menu across Sydney. I would value seeing how Jade Temple's versions stacked up.
A Selection from Jade Temple's Fried/Baked Yum Cha Menu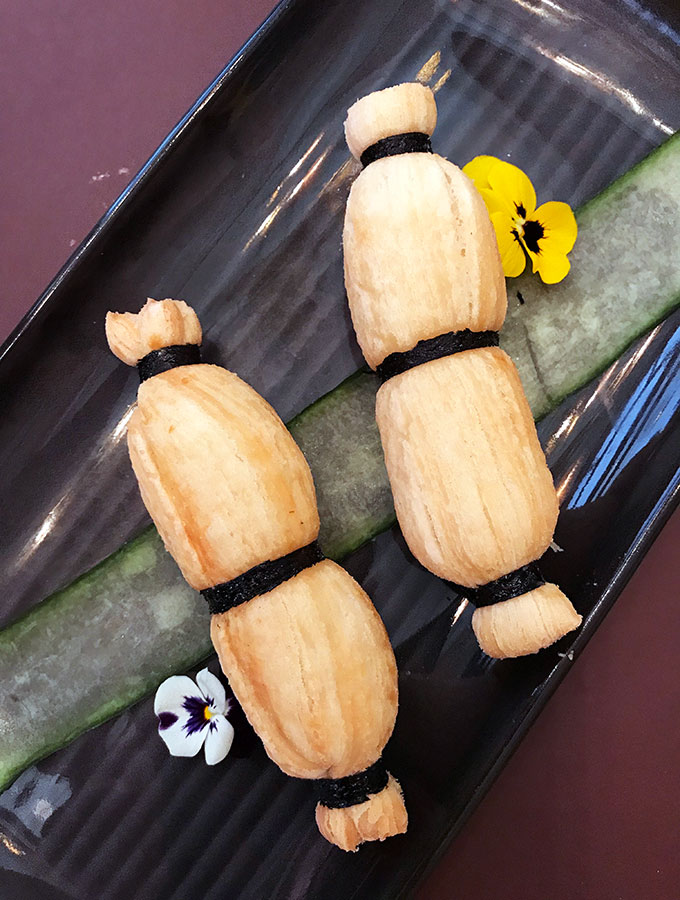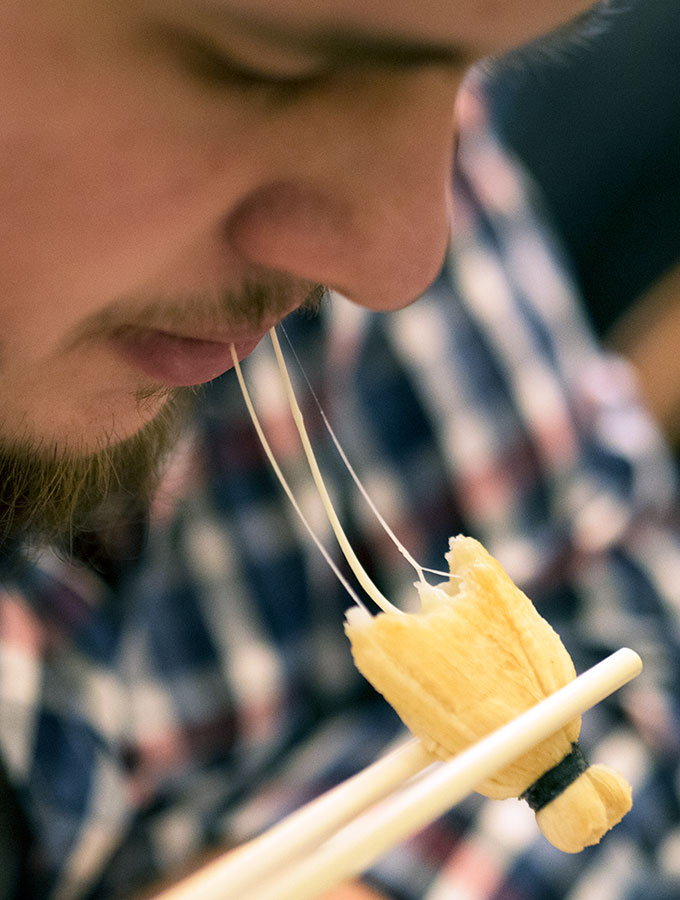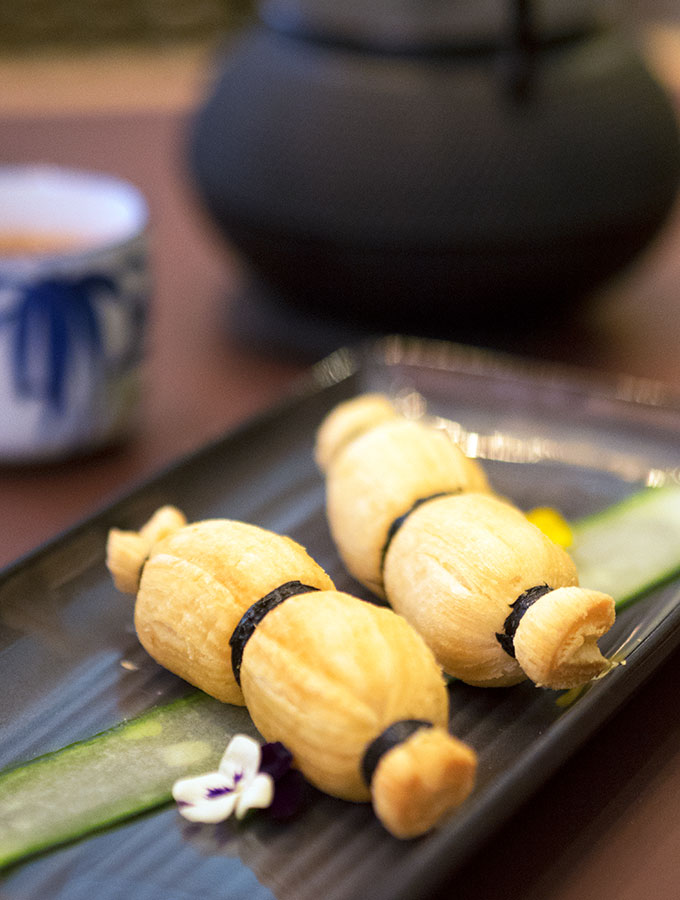 Lotus Root ($15 for 3)
The lotus root dumpling is named after the shape not the contents. Inside this lotus shaped fried dumpling you will find radish and cheese. Whilst not being a traditional yum cha offering it does pack a lot of cheesy fun. Sadly if you want to try it, it isn't on the current yum cha menu.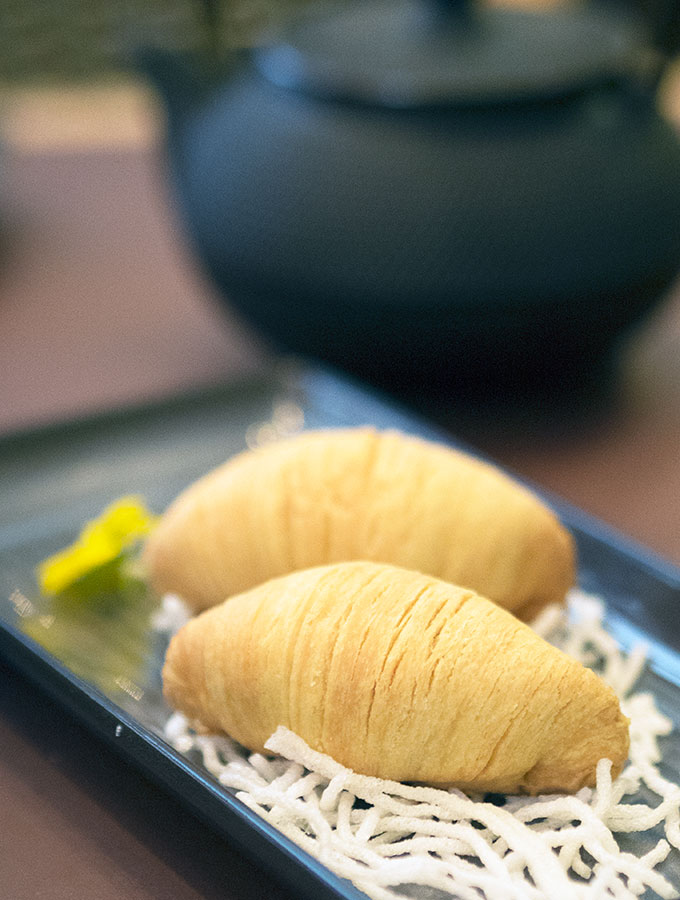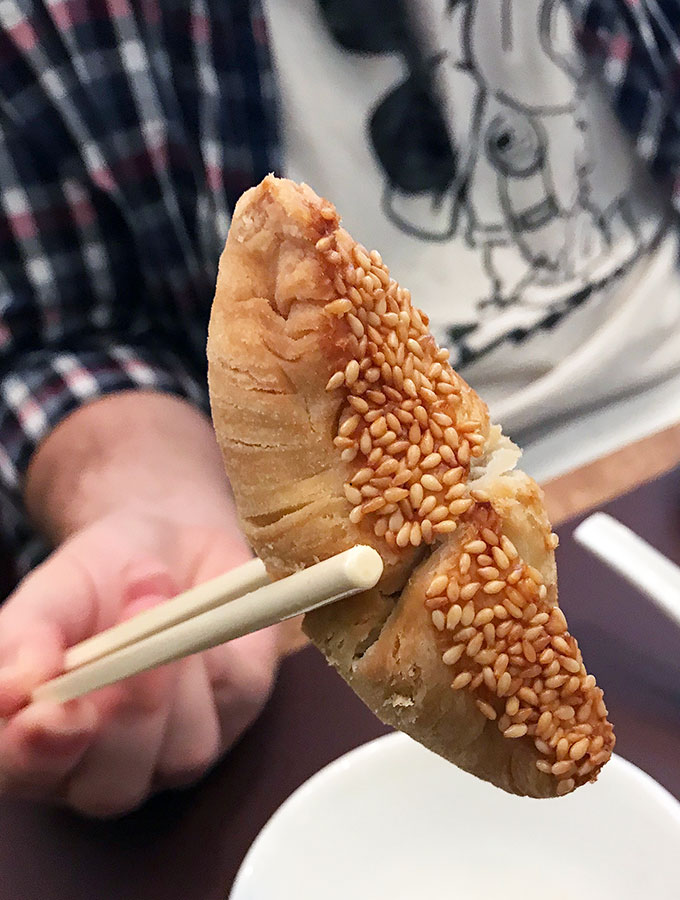 Wagyu Puff ($15 for 3)
Surprisingly the wagyu puff isn't as rich as I was expecting it to be. In fact the pastry is flaky and light, which offsets the rich and very subtly curried wagyu beef filling. The bottoms of the puffs are studded with sesame seeds, and when lifted up it sort of resembles a Kakuna from Pokemon. These are my favourite of the fried/baked dumplings.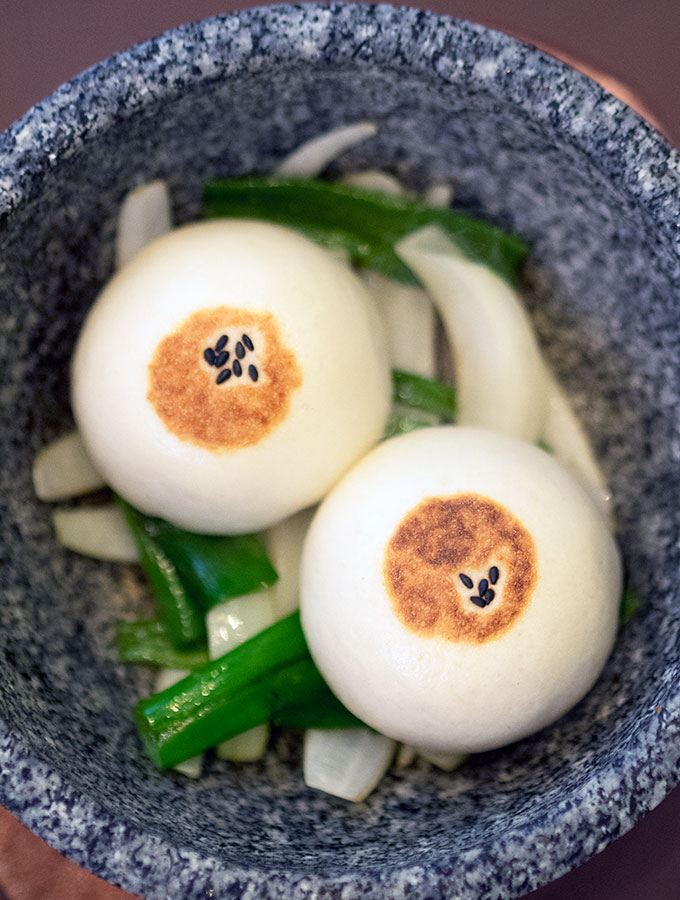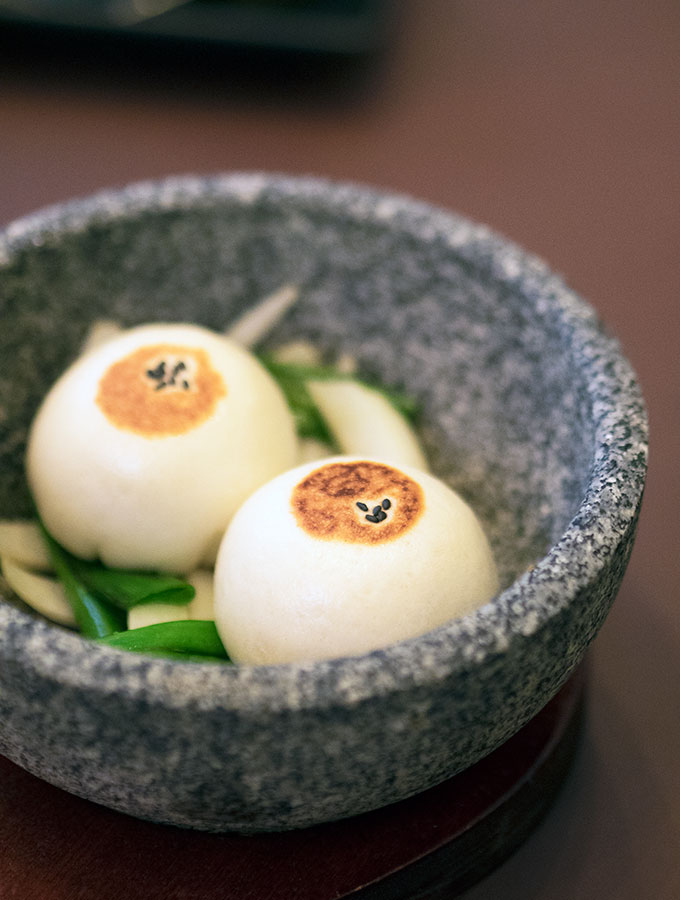 The Stone Pot ($12 for 2)
The stone pot dumplings are served sizzling in a dolsot bibimbap style hot stone bowl. On investigation it is onions and green shallots doing the sizzling, which smell amazing. On top of the sizzling onions sit two plump pork, bamboo and mushroom seared buns. The dumplings are accented with ginger and shallot.
Again I would have enjoyed sampling a couple of the more common offering from the fried menu for comparison. The Pork Pot Stickers ($15) and Steamed Rice Noodles ($12) particularly caught my eye.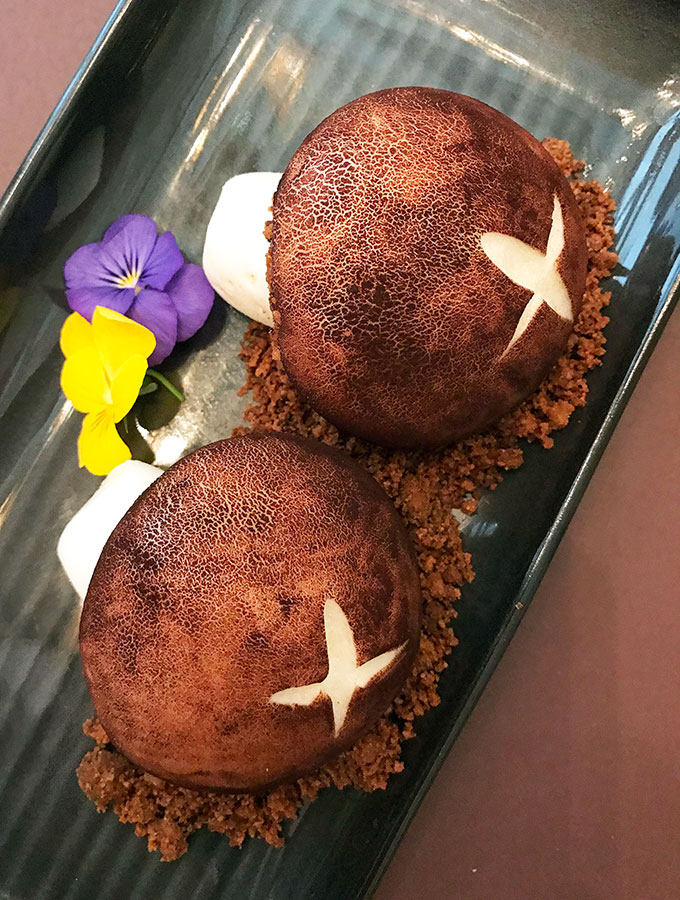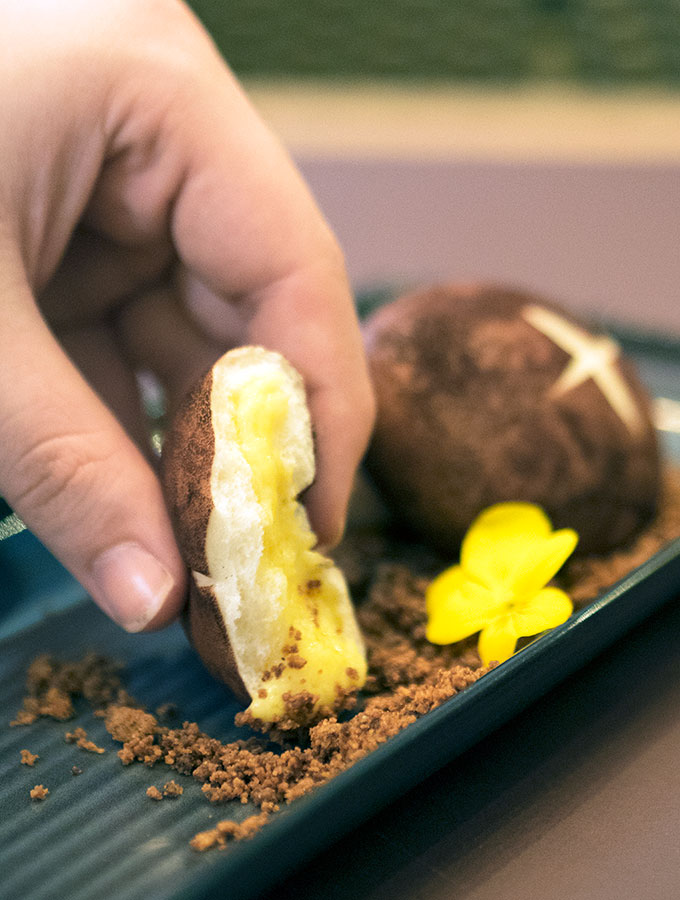 Molten Duck Egg Custard Bao ($12 for 3)
For dessert we had shitake shaped molten duck egg custard. Instructions are given on how to eat them. Break the dumplings apart with your fingers and dip them in the ginger bread soil on which they rest. This completely changes the buns, adding a lovely textural crunch and added layer of flavour.
What did we think of Jade Temple?
Chef Kuen has a delicate hand when it comes to seasoning and the flavour combinations of his dumplings. Even though condiments of chili and soy are offered, I felt that to use these you would miss out on enjoying the dumplings' subtle flavours. The one exception to this was the Phoenix.
You can't help but notice in the photos how fine the dumpling wrappers are. Gorgeously translucent letting you peek at what is hidden inside. They hold together when picked up with chopsticks despite their delicacy.
Josh and I did find service to be slow. I'm not sure if that was due to them not wanting to rush us, and in their defence, I didn't say anything at the time.
In addition to only trying items they planned for us. At the end of the meal I was asked if there was anything else I wanted to try. Due to time already spent, and not wanting to head back to the office in a food coma, I declined.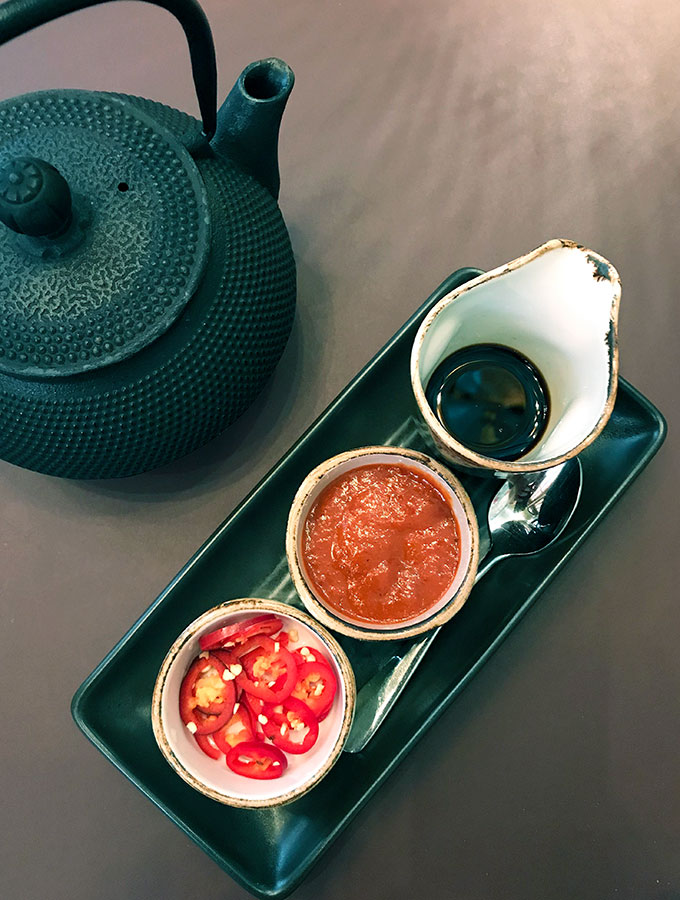 Would we return?
The service was fantastic, though a little slow. As we were invited I paid attention to our surrounding tables to see how they were going service wise. Looking around everyone else seemed to be receiving excellent service as well.
I'm not going to give up any of my regular yum cha joints to always make a special trip into town to visit Jade Lotus for a yum cha fix. Saying that, if I was in the Sydney CBD, a return visit could be fun to try the other dishes I mentioned. Also I really enjoyed Chef Kuen's delicate touch to his dumplings.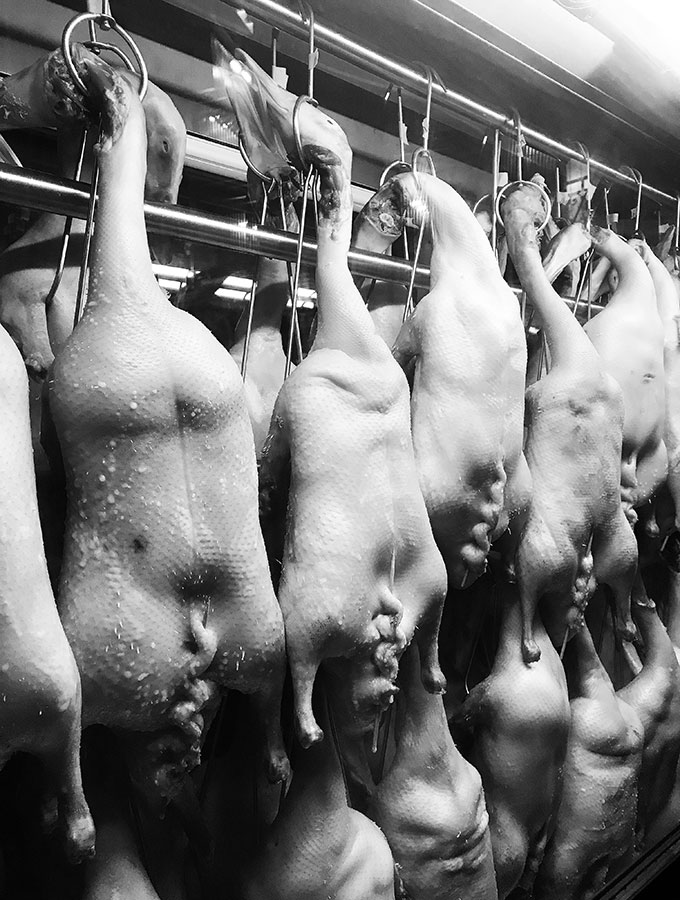 I've noticed there has been some chatter on social media regarding the price and comparing Jade Temple to other yum cha establishments around Sydney. Jade Temple isn't your local cheap and cheerful yum cha establishment. It's located in a beautiful building, situated on prime Sydney real estate and is part of a stable of notable restaurants. Plus there aren't any trolley ladies with attitude to deal with. You would never be paying $4 for a bamboo steamer of sui mai in this kind of establishment.
We definitely will be returning again one evening to try their general menu. I am very keen to try some good old Aussie favourites like honey prawns and lemon chicken in a Rockpool kind of way.
Sara xxx
Belly Rumbles dined as a guest of Jade Temple
More Nearby Eats
Sake Restaurant – delicious Japanese dining in The Rocks
The Morrison Bar and Oyster Room – oysters near The Quay
Momofuku Seiobo – David Chang's only Aussie restaurant
Kid Kyoto – Japanese izakaya meets grunge
Become a subscriber and don't miss a single delicious recipe, restaurant review or travel adventure.