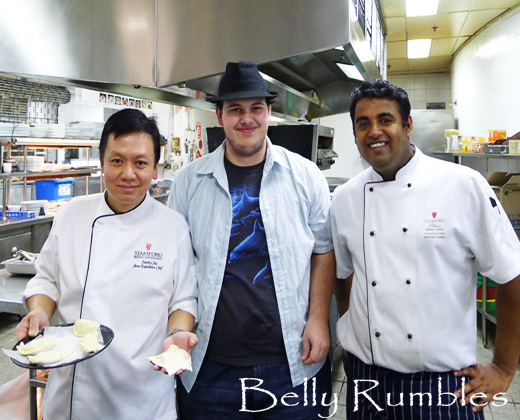 Sunny Sai, Moi & Santosh Kumar – Stamford Plaza Sydney Airport

Let's do something new. I've taken a detour from the usual food challenges to try something different, Josh Vs Chef!.
Yes, you did read that right. I've taken up the mantel to go out there and both learn and take on chef's in their own kitchens (in reality they do this for a living so for me it's all learning). Who's kitchen do I terrorize today? Chef Sunny Sai of The Grove Restaurant at the Stamford Plaza Sydney Airport challenges me to form the perfect curry puff!
My whole previous experience with curry puffs has always been takeaway, greasy, oily, soggy mess of double pastry coated things with less 'puff' than the name first described. Very different to the ones at The Stamford Plaza Sydney Airport, which are truly unique and delicious.

After introductions I follow Chef through the large commercial kitchen (which is about the same size as 3/4 of our house). We take up the bench table in the middle of the kitchen, now I have to point out that this kitchen is larger than I expected. Yes I realize now that it's such sized due to the demands of a hotel, The Grove restaurant, room service and functions. That being said, it is still a tight area to work in and hot. The heat generated from ovens/stoves, even when the restaurant is not running full tilt is amazing.
Settling into my own slice of hell, judging by the heat of the kitchen, I am shown the 2 major ways they make these treats. No recipes here all the filling was premade and we didn't use Sunny's regular pastry, we used puff pastry instead. I tried to pry the filling ingredients out of Sunny but had no success in securing the hotel Chairman's family recipe. I can disclose this, the filling is chicken and vegetable and every one of their curry puffs has a slice of hardboiled egg in it, don't knock it, it's good.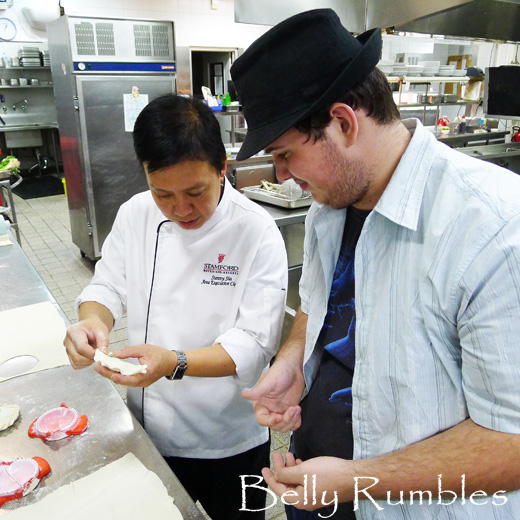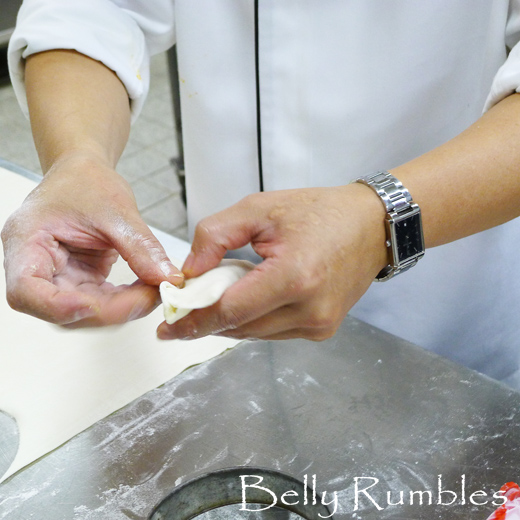 Sunny showing me the finer points of folding curry puffs
All that I need to assemble my curry puffs are laid out in front of me, including a "sheet" of puff pastry. By sheet, I mean a 40cm by 40cm piece cut from a massive commercial roll, this roll would have been 10M long at the start of its life.
Sunny has shown me the technique and now it is time to see who's curry puff reigns supreme!
Step 1: Sprinkle the table with flour, ok done. I am told that I don't sprinkle the right way, "no no no that was the wrong way, fling it between your thumb and forefingers". The movement is a bit like when flinging food to chooks, a sweeping movement.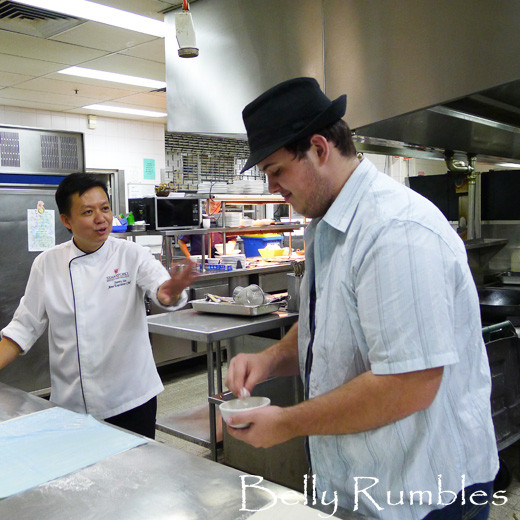 Getting my flour sprinkling right
Step 2: Cut out a circle in your pastry with a cutter, I apparently did that well.
Step 3: Add filling, done.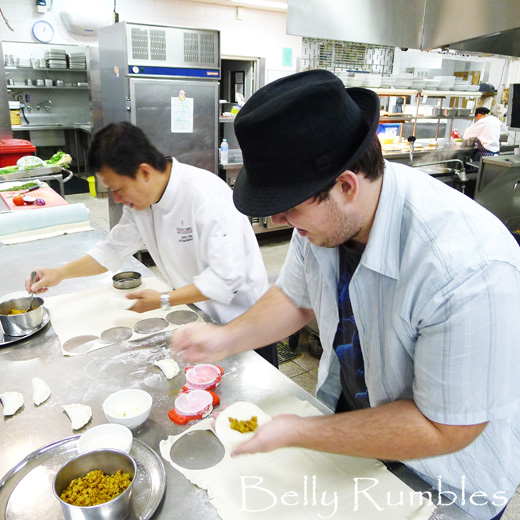 Step 4: Folding the curry puffs.
I am watching Sunny's fancy hand work… ok, my eyes went wide. I have plenty of experience making little bacon buns (piragi) but that is it for my folding dough skills. Years of practice making those tasty treats, but not enough hand eye coordination for these curry puffs. I wimp out after a few tries and go the industrial way, using a mold/folder/press/thing. After making a few we then went freeform with our own styles and by styles I made a piragi and pasty version, they tasted better than they look, let's leave it at that. Sunny's creations were really fantastic.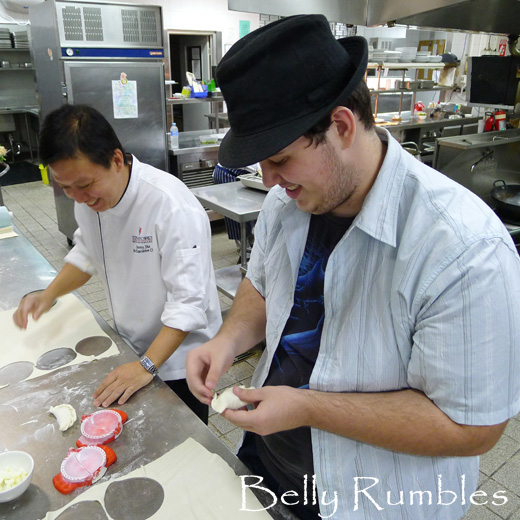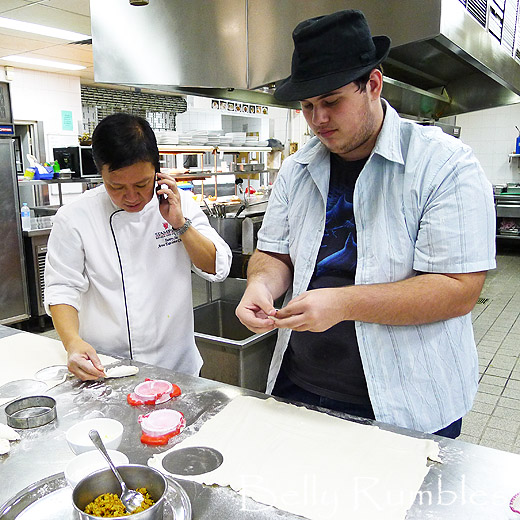 Sunny is so good he can even fold one handed while on the phone!!! What hope do I have!
Sunny won for sure, he can pump out curry puffs quicker than I could ever imagine. They are so perfect too!
After all my hard work in the kitchen it was time for some lunch. What did I want? I got to sample the staff meal that smelt so good in the kitchen. It was Nasi Goreng, and it tasted so good! Was happy to have what the staff were having for lunch. It was back out to the dining of The Grove while the curry puffs cooked. They came out and we got to eat our creations. As well has having the Nasi Goreng for lunch Sunny whipped up a fantastic tasting fish dish with a cream and mushroom sauce. I was so full, but it was so tasty that I couldn't help eating more than I should.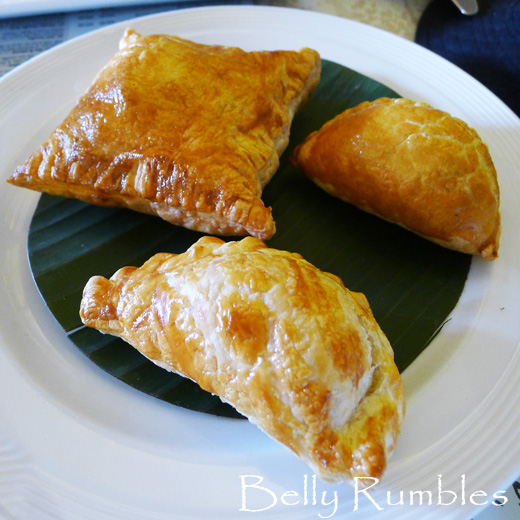 Some of the finished curry puffs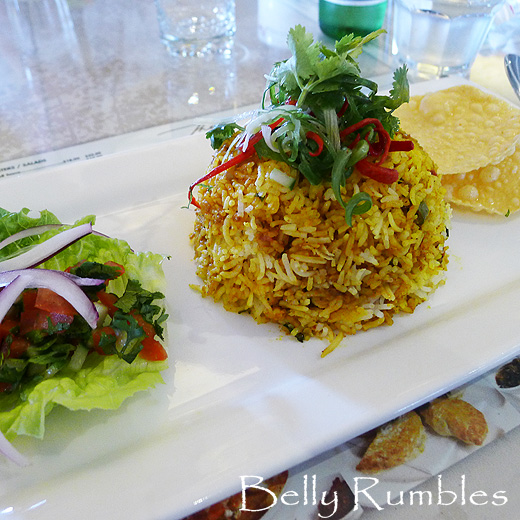 Delicious Nasi Goreng for lunch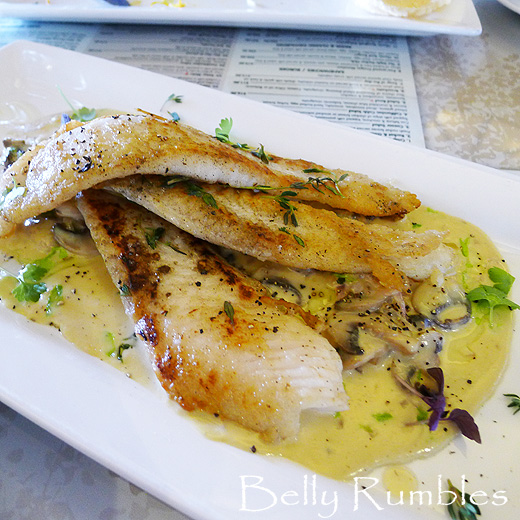 Fish in a white mushroom sauce – beautifully cooked & finger licking
That's Me Vs Chef, it was fun and I can see myself doing it again (if any Sydney chef can tolerate me). I learnt a lot and even though I ate lots of the curry puffs, it was far more enjoyable that my normal food challenges. I acquired new skills and shared a little of a Chef's day.

If you want to try Chef Sunny Sai's truly delicious curry puffs head down to The Grove as they are a mainstay on the menu.
Until next time this is Josh Vs The WORLD saying eat well, enjoy time with friends and don't eat fish on a Monday (unless it's from The Grove with a white mushroom sauce – heaven!!).
JoshVsFood