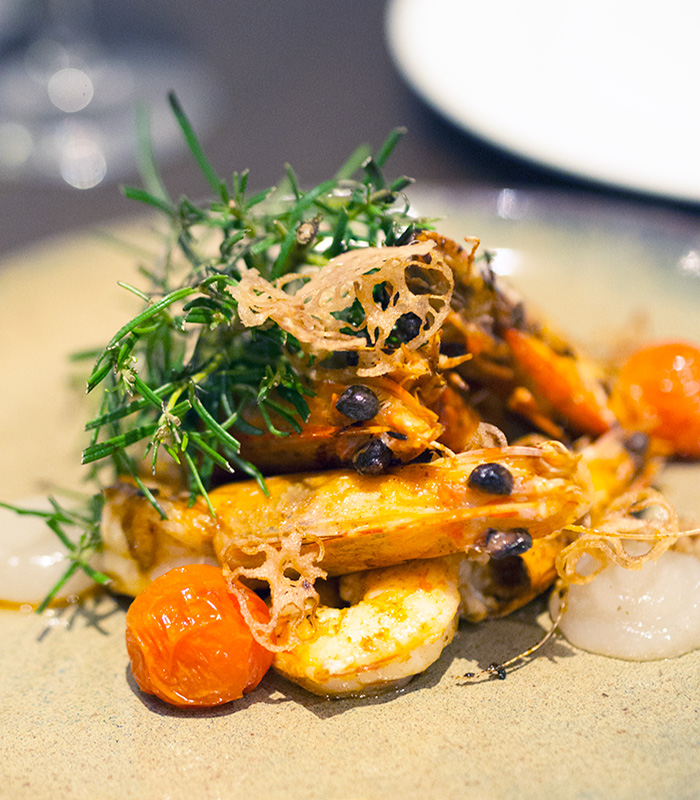 On meeting the new Executive Chef of Sydney's Swissotel, JPB, I had to remind myself that Thomas Heinrich is Australian. You see, Thomas has this completely sexy hybrid accent. An unusual mix of Canadian, American, Australian and God knows what else. The accent is the result of spending a fair amount of time working overseas in some of the World's top hotel kitchens.
But it isn't Thomas' accent that has lured me to JPB. It is the thought of picking his brains about Australian native ingredients. Thomas has a wonderful knowledge and lust for experimentation with our native ingredients, something I wish more chefs around Sydney had.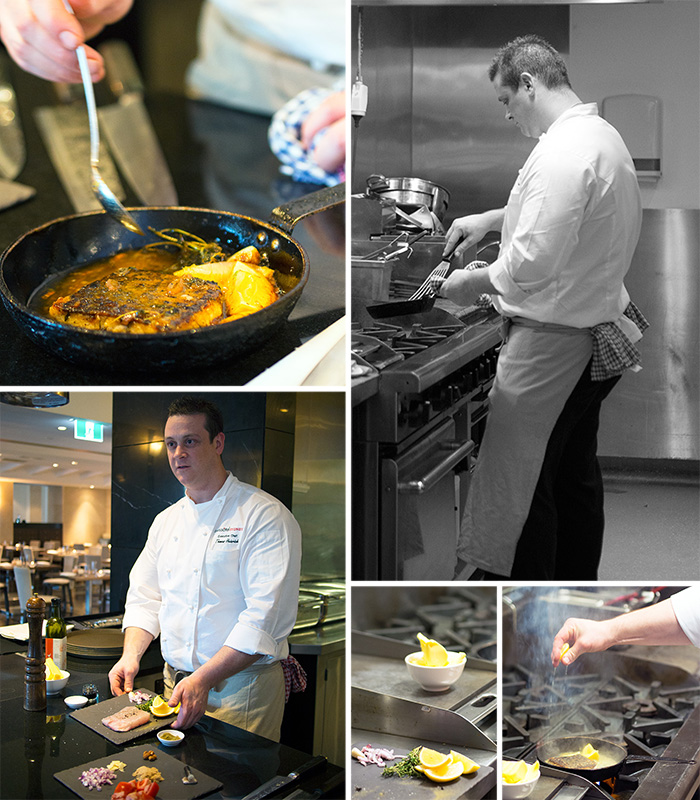 I've dragged fellow blogger and good friend John from He Needs Food along with me. Like me, John also loves playing around with native ingredients. Actually, to be frank, he does a far superior job than I do on the creativity stakes. If you read John's blog you will know exactly what I mean.
We start with a little master class on Australian Native ingredients. Thomas has prepared some tasty treats for us to try. Riberry Jelly, pickled and candied riberries, a pepper berry jam and chocolate coated Illawarra plums.
As we try his creations we have a general chin wag about the joys of bush tucker. Thomas then prepares some ocean Barramundi for us. With a solid French cooking background there is a copious amount of butter used in this dish, and oh my how good does it taste. Really keeping the dish simple and letting a beautiful piece of fish shine. We feel a little guilty about not finishing all the barramundi, but we still had dinner to come.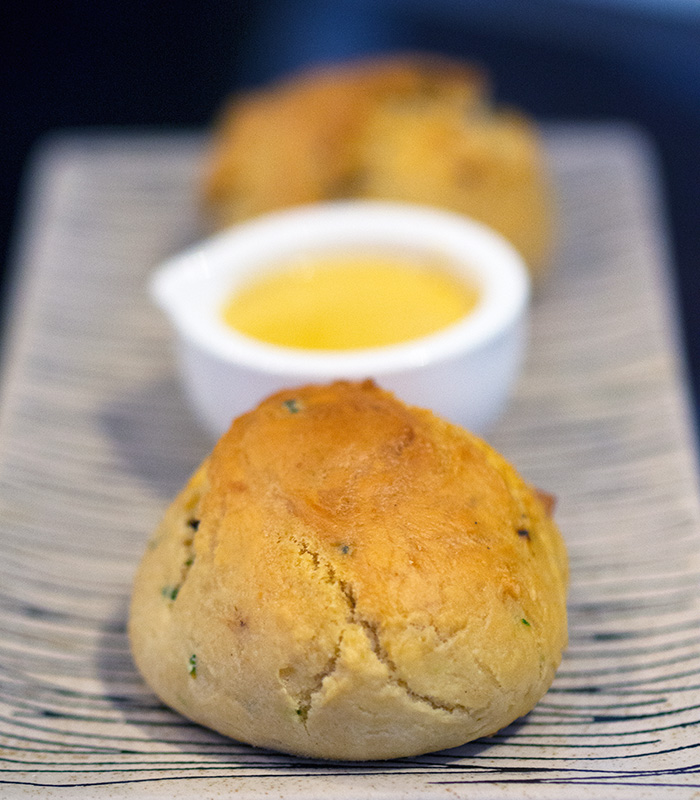 It is at this point that we try Thomas' black garlic and chive damper. Quite scrumptious with the black garlic adding a deep, but not overpowering, flavour to the bread. It is served alongside lobster butter. The butter has a mellow lobster taste, giving a taste of luxury without being bang in your face about it.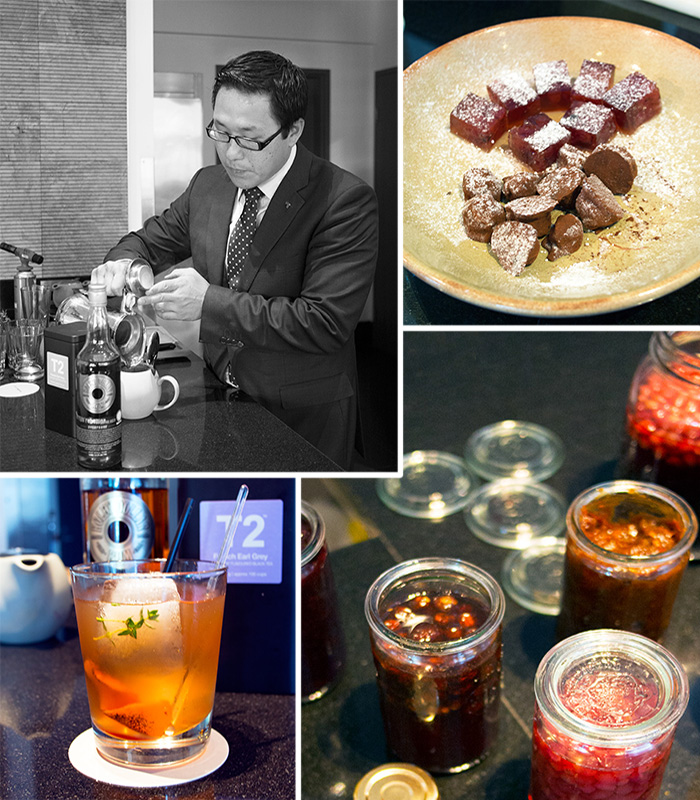 Our native ingredient experience also involves the Ned Kelly Gun Fire cocktail. One of JPB's signature cocktails, it consists of Holey Dollar Gold rum and a fruity Earl Grey tea from T2, finished off with charred orange peel and a pickled Illawarra plum. The cocktail is inspired by Australian early settlers that would have a sneaky rum in their tea.
From my last visit to JPB I knew that the Swissotel has its own resident bees. I was keen to pay them a visit and delighted that we are allowed to. We head up there before dinner to pay the 200,000 strong bee colony a visit.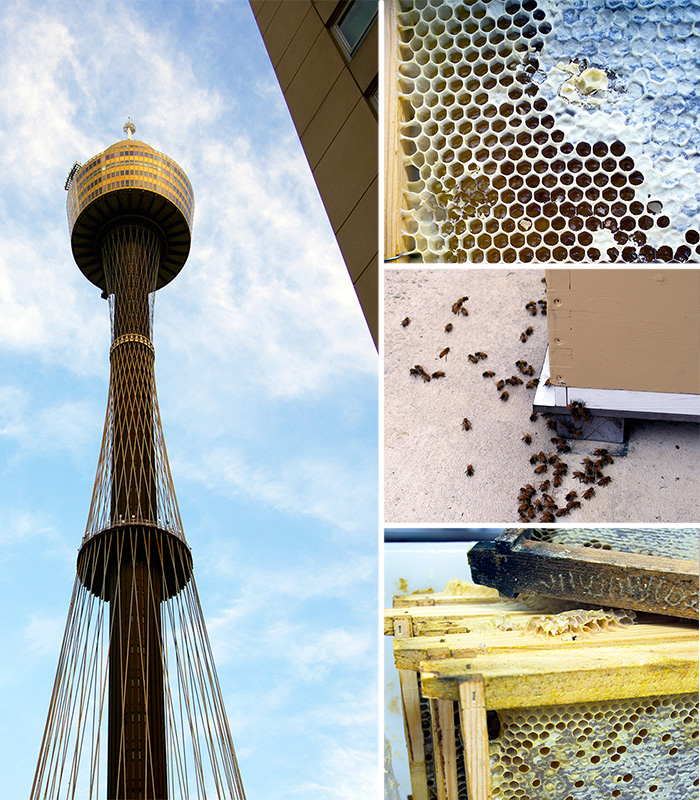 The hives are located on the 10th floor, not that far away from the swimming pool. I have a silent giggle to myself, if only the people sunning themselves around the pool knew what was around the corner away from plain sight. But pool patrons need not fear, the bees are more interested in heading off to Sydney's Botanical Garden than sunning themselves with a margarita alongside you.
The bees seem to be quite happy. Allowing me to get up close and personal to the hives without protective gear. It was just a case of moving slowly as they lazily buzzed around me. I felt really safe, and it was quite an interesting experience. I now want bees!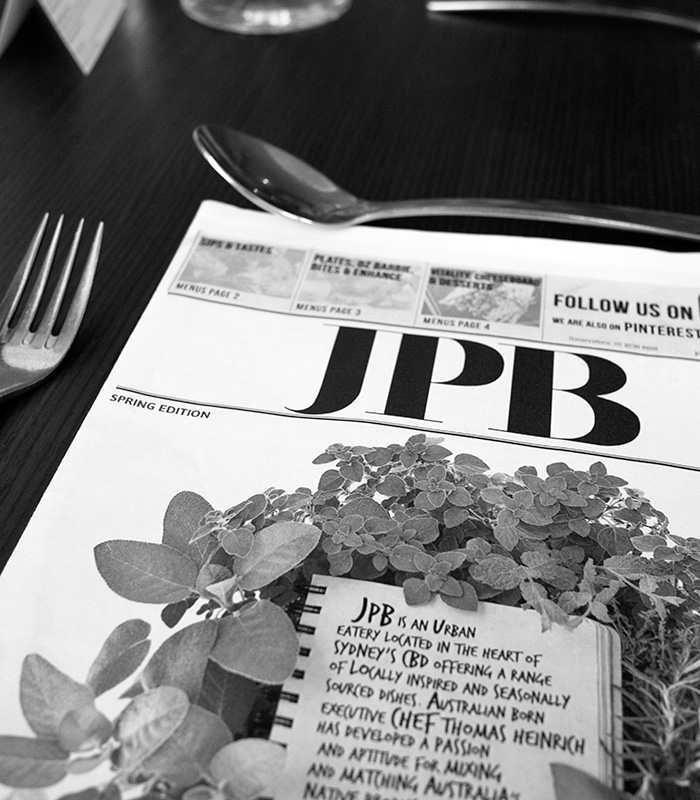 Back down stairs in the light and airy restaurant we have a hard time deciding what we want to have for dinner. There are quite a few dishes that grab our attention, and it was then we spot the chef's tasting courses. Three courses for $55 or five courses for $70.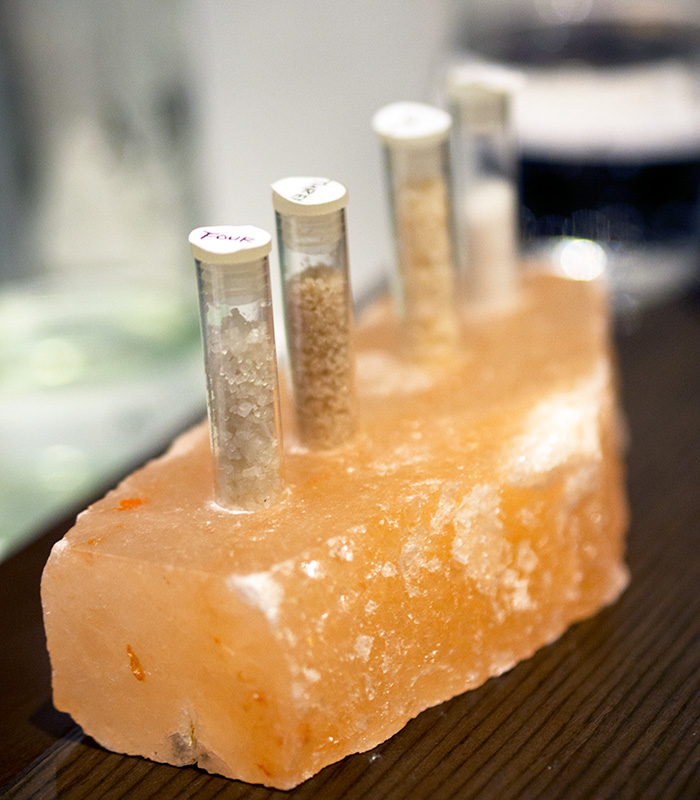 We have a chat to Thomas and generally the courses consist of the signature dishes and exciting discoveries at the market he may want to play with. I like the way he thinks. We choose the five course Chef's tasting experience (which turned into eight courses).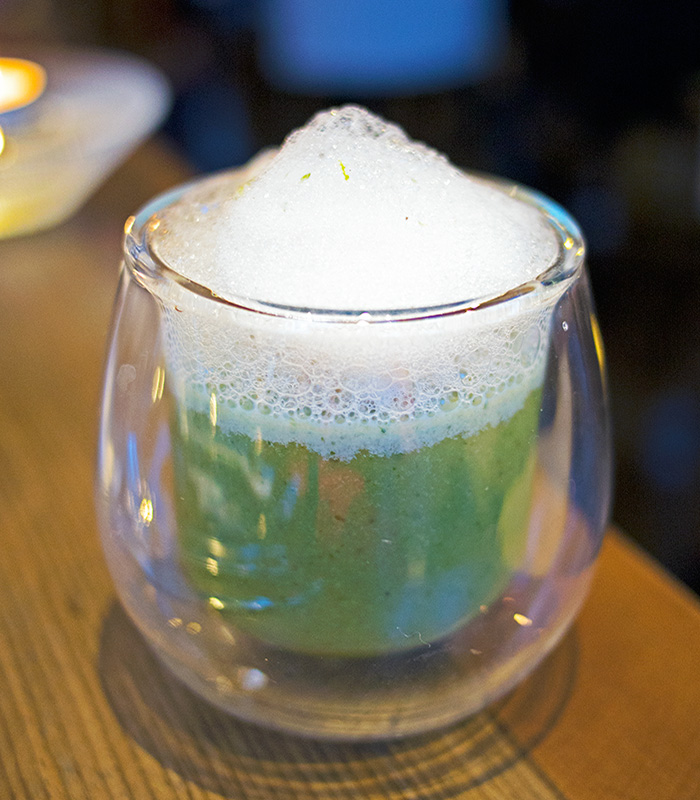 There is a surprise amuse bouche from Thomas. A cucumber gazpacho with pepper berry and mint foam. A lovely clean crisp cold soup, which is rather refreshing.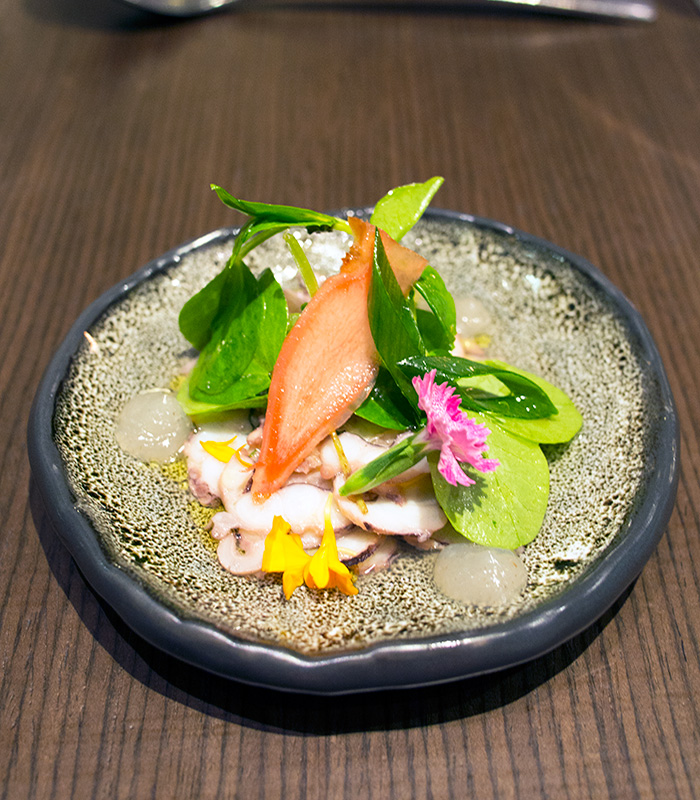 We start off light with the octopus carpaccio served with pea greens and lemon ($4.80). The dish sings spring as it is adorned with pretty flowers frolicking on the plate with the pea greens. The octopus is thinly sliced and tender, a beautiful way to start the meal in proper.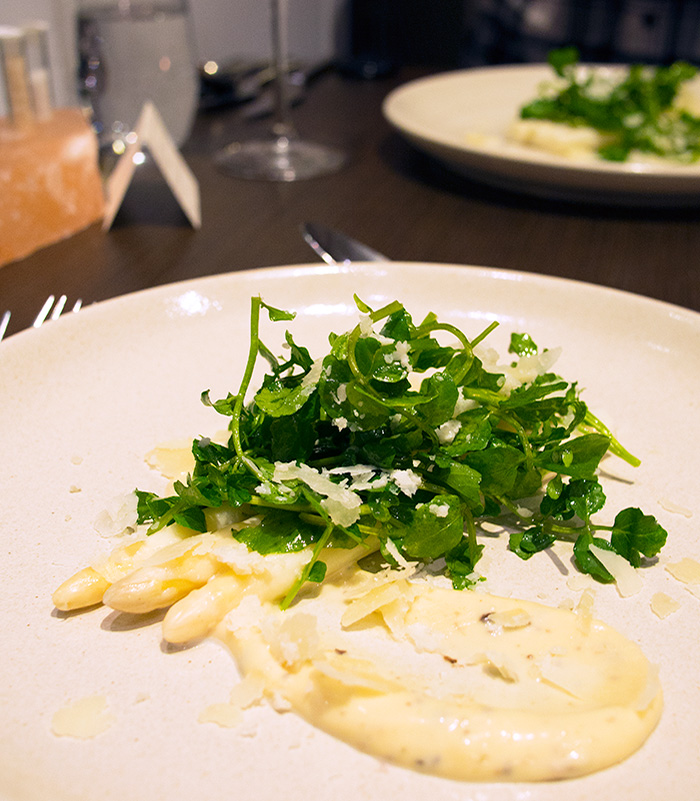 The milk poached white asparagus ($22) takes me by surprise. I was expecting soft asparagus, but instead my mouth discovers crisp sweet asparagus. It far exceeds my expectations. The sweetness of the asparagus is a lovely match to the more demanding black truffle aioli and pecorino.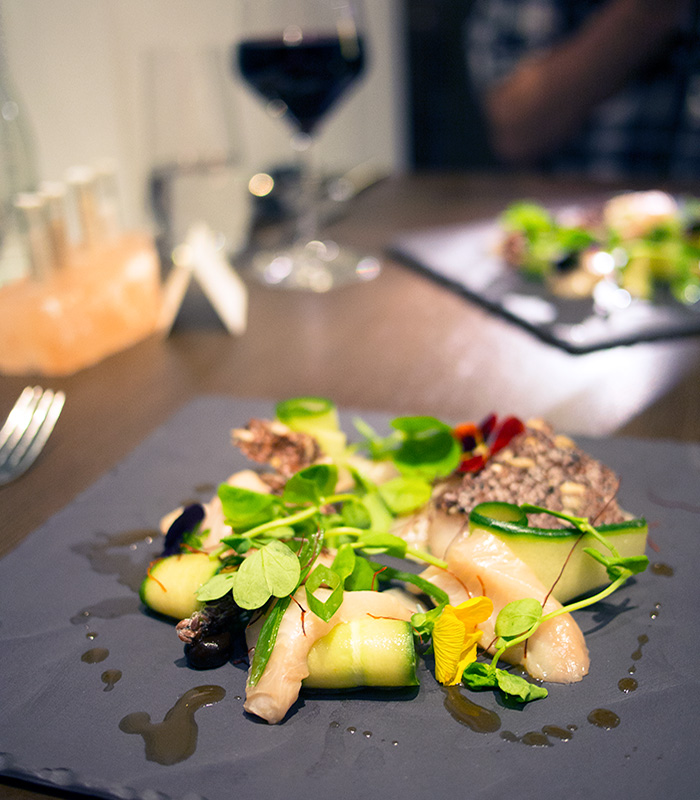 When our next course is placed in front of us, both John and I start to wonder about the portion sizes we are receiving. Like the asparagus, the Cleanseas hiramasa king fish ($21), seems to be full sized dish (later down the track we discover that this is what is happening). Once again it is a great dish, both pretty and tasty. The king fish sashimi is served with, cucumber and flax seed crisps which add a lovely textural element to the dish. The dish is then finished off with ponzu dressing and black garlic.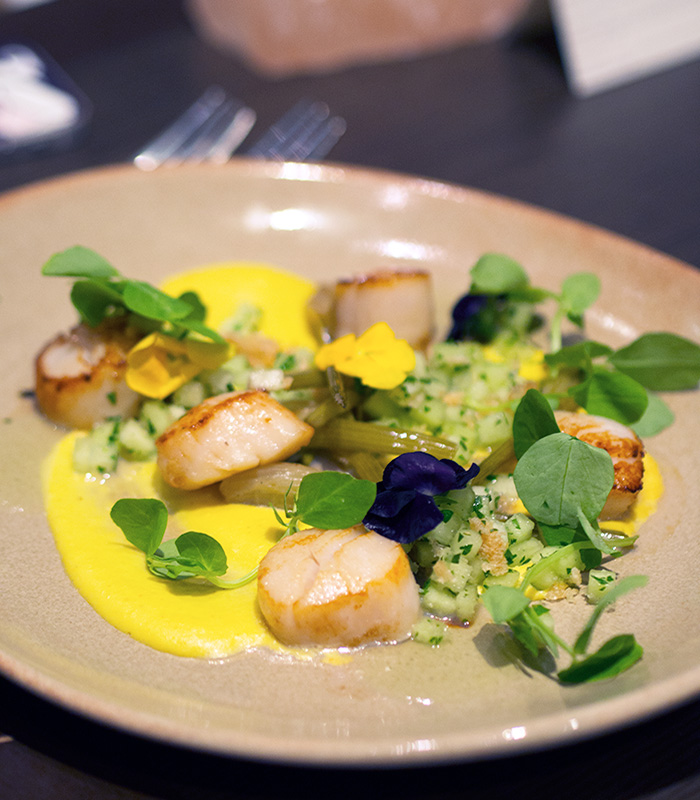 The scallops ($36) arrive, six fat plump offerings sitting on a sea of corn puree and charred baby fennel. To add to this are more pea greens, a honeydew salsa and crushed pork crackling. When I try the different elements on the plate separately I start to wonder if this dish would work. Let's face it we have honeydew melon with corn. Surprisingly when a mouthful of all the elements are had, the flavours marry very well together. I should add that the scallops were cooked perfectly as well.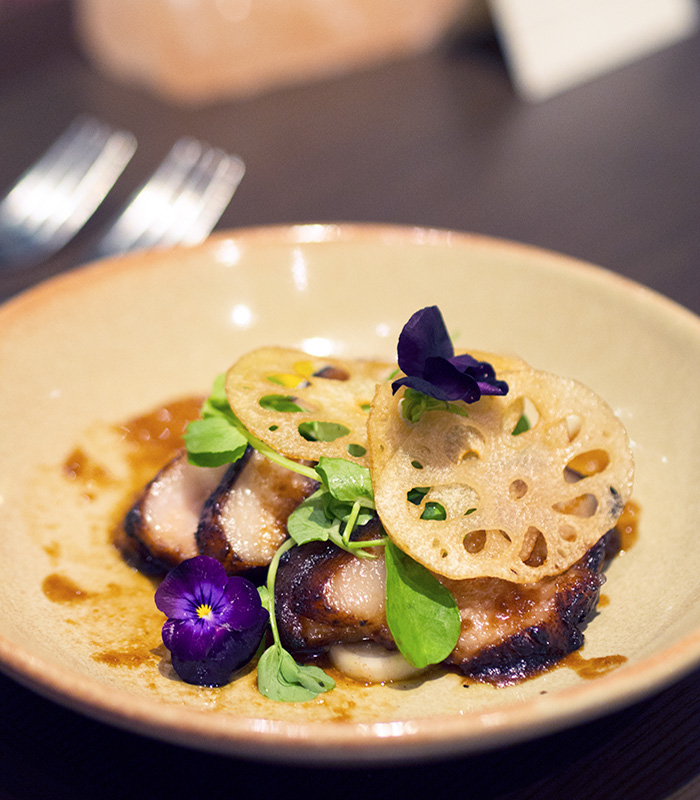 By the time the pork jowl dish arrives I am feeling rather full. Galbi braised Byron Bay pork jowl ($23) is beautifully caramelized, dark and charred which offsets the rich fatty meat perfectly. Served with pickled watermelon radish and lotus root chips. Again garnished with pea greens and flowers, each dish really is quite pretty.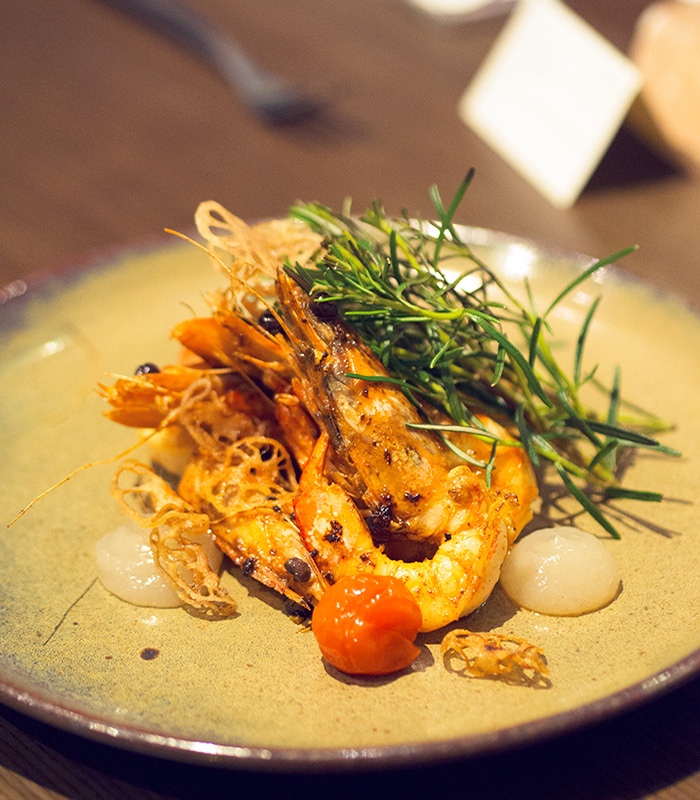 We ask to share the next dish as we are near exploding point and there is dessert to come still. Five fat banana prawns ($32), which have been given the barbeque treatment, arrive. Served quite simply with some rosemary, roast cherry tomatoes and a lemon myrtle gel. The prawns are finger licking good. I say this as I ungracefully suck bits of charred prawn from my fingers. Sadly the lemon myrtle fluid gel is a bit of a disappointment. We can't put our finger on it, but it just doesn't taste like lemon myrtle. So we set the gel aside and scoff the prawns sans it.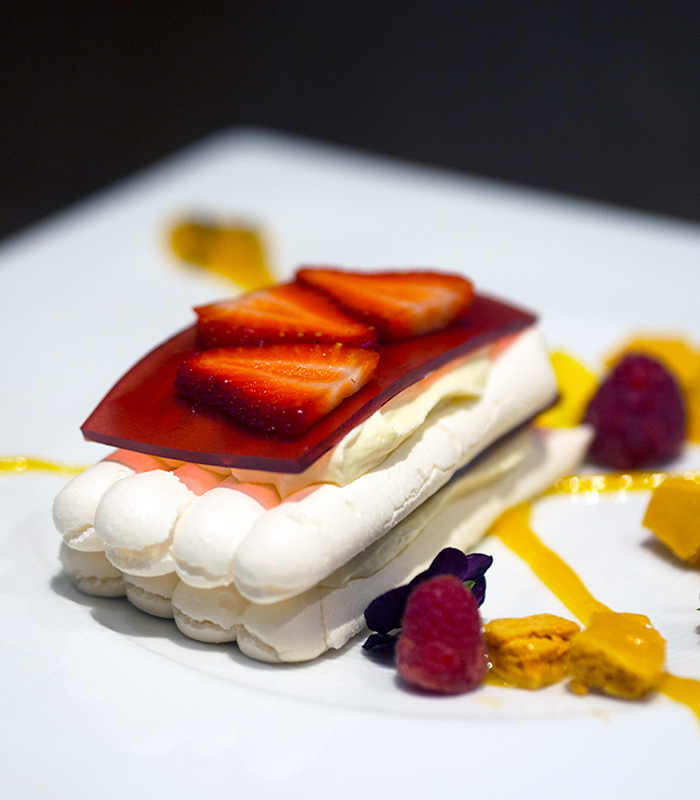 Thomas recommends Grandma's pavlova 'not' ($15). Layers of meringue are filled with Meander Valley double cream and topped with a strawberry gel and fresh strawberries. Tangy passionfruit gel graces the plate along with raspberries and honeycomb. The menu states pickled strawberry, I can't place them, but I quickly forget that as I suck on the house made honeycomb.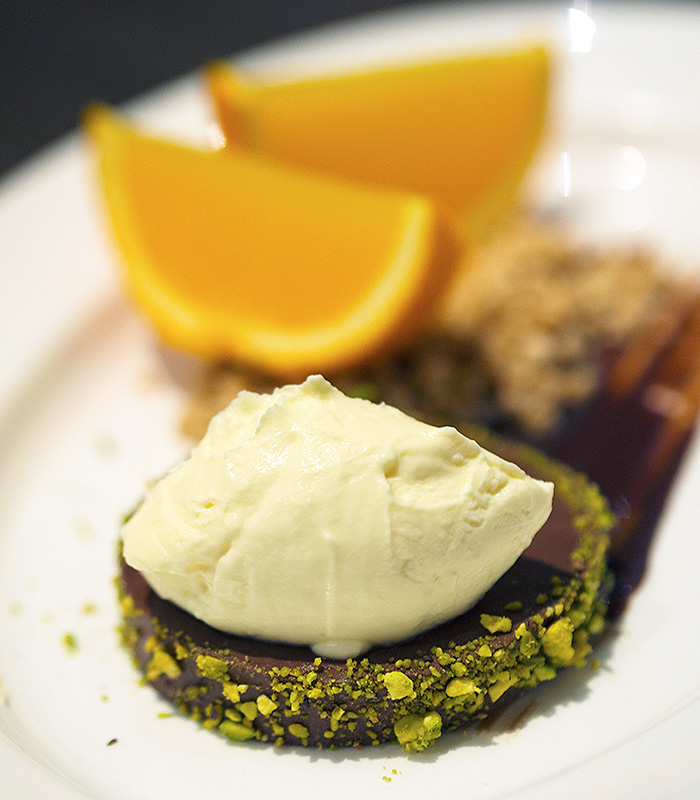 Our other dessert is the chocolate panna cotta with drunk orange jelly, sea salt and peanut biscuit ($13). The drunk orange jelly reminds me of when I was a kid and we would have the jelly orange slices at birthday parties. I'm not quite sure what is 'drunk' about them. The panna cotta is a little different to what I am use to. Instead of a wobbly set cream, it is a more solid disc, which has been rolled in pistachios.
I do love what Thomas is bringing to JPB as the new Executive Chef. Touching on Australian native ingredients whilst making the most of local and seasonal produce. It really is what a lot more chefs in Sydney should be doing.
Sara xxx
Belly Rumbles and guest dined as a guest of The Swissotel and Just Pure Bistro.
Just Pure Bistro – Jpb
Swissôtel Sydney
Level 8, 68 Market St, Sydney
Tel: +61 2 9238 8888
website