Seriously, I have never stressed over making something so much in my life.
Junior turned 18 last week and we had the party last Friday evening at Zilver (post to come). About a month ago we started talking about cakes. "I know what I'd like mum, I will email you a picture of it". What? you want me to make it?? Sure I say, email me the pic. Check my email and I literally fall on the floor. Staring back at me from my laptop is a steampunk inspired cake.
Don't know what steampunk is? That's okay, not many people do. It is something Junior has a passion for and he uses it in his manga drawings (I too have a passion for steampunk). Think of a world that is powered by steam, influenced by the Victorian era, think Jules Verne, H G Wells, cogs, gears, gadgets and have a look here for more information.
I have never played with fondant before, or decorated a cake using it. I have never used edible paints, nor painted directly on to a cake before, I have never made ganache (yes shock horror) and I have certainly never put all these elements together before.
Basically I was shi##$%g myself before I even began. Talk about my very own daring bakers challenge!
To add to my challenge, forgetting the decoration, was the actual cake itself. Junior wanted a hazelnut chocolate cake. There really aren't any recipes out there (that I could find) incorporating those two flavours that was not either flourless or a gorgeous gooey concoction. I needed something that could handle the weight of the fondant and decorations.
Eventually I came up with a recipe that I felt worked.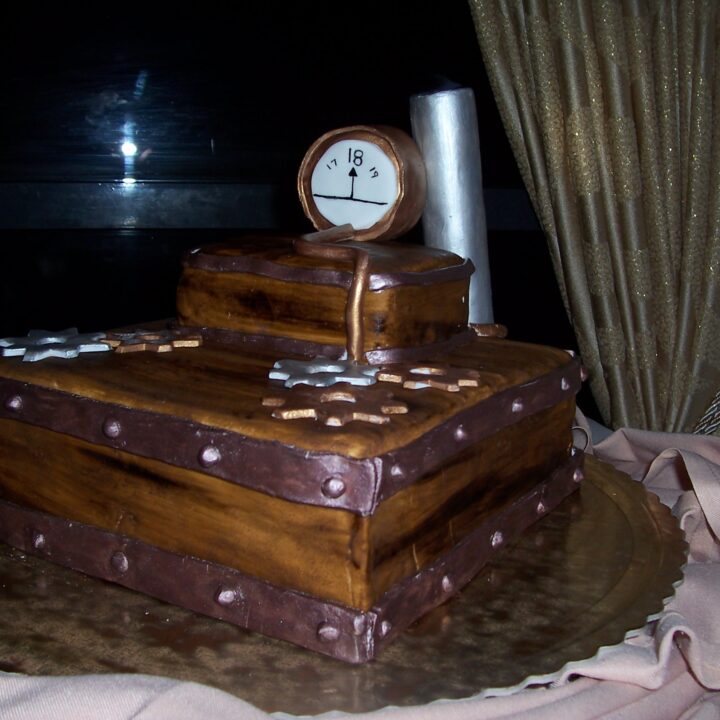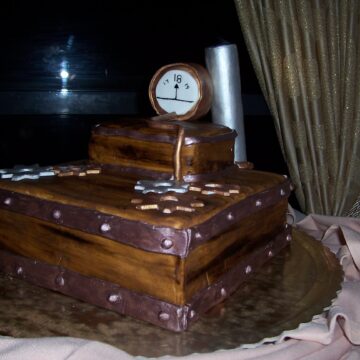 Chocolate Hazelnut Cake
Rich and decadent chocolate hazelnut cake that is perfect for decorating.
Ingredients
200

grams

dark chocolate

I use old gold

200

grams

butter

softened

1

teaspoon

vanilla essence

3

eggs

150

grams

(1 cup) self raising flour

100

grams

(1 cup) hazelnut meal

30

grams

(¼ cup) cocoa powder

60

ml

(¼ cup) milk
Instructions
Preheat oven to 160 degrees C. Grease and line a 23cm square cake tin. Melt chocolate and leave to cool slightly.

Using an electric mixer beat sugar, butter and vanilla essence until creamy. Add eggs one at a time, beating well after each addition. Add cooled chocolate and mix well.

Sift flour and cocoa together, add hazelnut meal. Fold half the flour mixture into the chocolate mixture. Fold in half the milk. Repeat with the remaining flour mixture and milk.

Put mixture in the prepared tin, smooth the surface and bake for approximately 45 minutes or until a skewer inserted in the centre comes out clean. Rest in tin for 10 minutes and then turn out on to a wire rack to cool.
Nutrition
Calories:
204
kcal
Carbohydrates:
10
g
Protein:
3
g
Fat:
16
g
Saturated Fat:
8
g
Cholesterol:
46
mg
Sodium:
84
mg
Potassium:
109
mg
Fiber:
2
g
Sugar:
2
g
Vitamin A:
295
IU
Vitamin C:
0.2
mg
Calcium:
27
mg
Iron:
1.8
mg
Did You Make This Recipe?
I do a happy dance when people share how they went. Tag me on Instagram or Twitter @bellyrumbles & #bellyrumbles
I have never taken a cake decorating class, so the cake was the result of self teaching. I love the internet, such a great source of information.
I have never rolled fondant before, so I had a go on a trial cake the weekend before. I also had a play with painting to make it look like wood. Major lesson learnt, don't mix colour paste with water as it will make your icing soggy, use vodka, amazing the difference it makes. Moisture is not our friend. Don't bother with the expensive rose spirit (95% alcohol) that you can buy from cake shops and was recommended to me, I would pour mine in a bowl, turn around to get the metallic powder paint, turn back again and it would be gone. First time it happened I was trying to work out where I had spilled it, nope just evaporates very quickly, use vodka!
I had a mental break down about 9.30pm the night before the party. I was trying to make the gears and other decorations for the cake. The expensive moulding icing I bought, just did not work (I am sure it was me not the icing) so I ended up using the cheap packaged icing I picked up at Coles, worked fantastically. The gears were nearly the death of me, I just could not get the shape. I was tired and making stupid mistakes, it was all me.
My ganache worked well in filling and coating the cake to make it ready to ice. My rolled fondant fell apart while trying to cover the cake, so there was a patch job there. Painting was fun, I couldn't find a brass colour so I mixed and made up my own colours using gold, silver and various powdered shimmers. I struggled on and in the end I really wasn't sure about my result. I think when you have stressed, lived, eaten and breathed something for a couple of weeks there is a bit of an anticlimax when finished. There weren't the amount of gears I wanted and I wasn't sure if it looked steampunk enough.

The final touch on the night was the use of dry ice to create steam coming out of the pipe at the back of the cake. That really did make the cake. It looked awesome sitting there steaming.
All in all it was a massive learning curve and I had a very very happy 18 year old on my hands. In the end it was what Junior thought of his cake that mattered to me. Also the fact that he had complete faith in me that I could pull it off.

Love you Junior, happy 18th birthday xxx
Sara/Mum xxx