What is Biodynamic Wine Making?
Organic and sustainable wine making, I know the terms, understand the philosophies behind the practices. Biodynamic? I wasn't one hundred percent sure what that was all about until I met Rod Windrim of Krinklewood Wines.
To understand how a biodynamic vineyard works you must understand the principles behind organic and sustainable vineyards. For those that are up with the lingo please bear with me for a paragraph or two.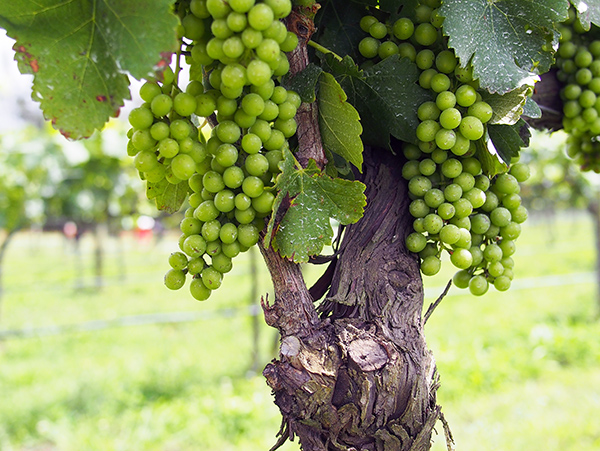 I believe that most people would understand what organic farming is. Organic vineyards function the same way. The grapes are free from spraying with synthetic pesticides, fungicides and herbicides. Chemical fertilization is also out. Wine additives are also avoided, except for the use of a small amount of sulphur dioxide, added to prevent spoilage and premature oxidation of the wine. The use of sulphur is also in debate, and some regard that the wine isn't truly organic if sulphur dioxide is used.
Sustainable vineyards are economically viable, ecologically aware and socially responsible. They operate with as minimal impact on our planet as possible, in consideration for current and future generations. There is an importance of conserving water and energy, as well as using renewable resources.
Generally sustainable vineyards will also be organic or biodynamic. But it is important to keep in mind that just because a vineyard is sustainable, it does not make it organic/biodynamic, and vice versa.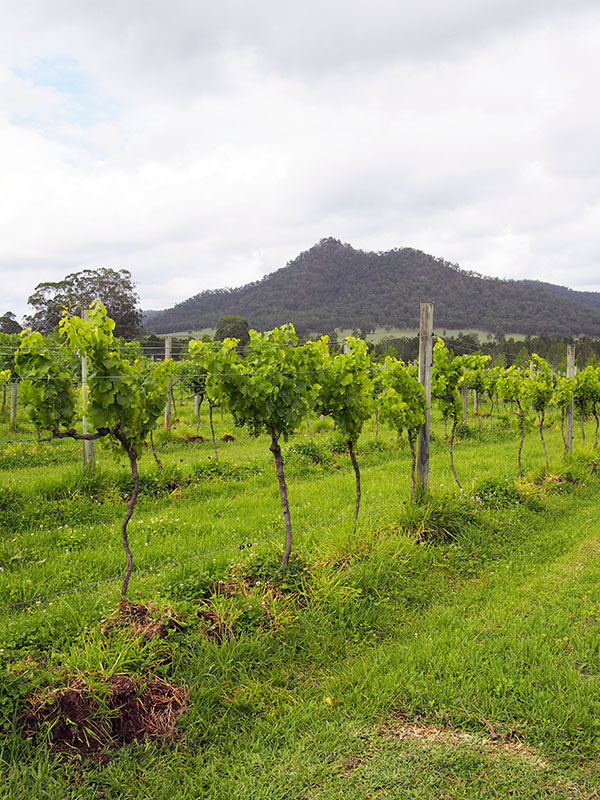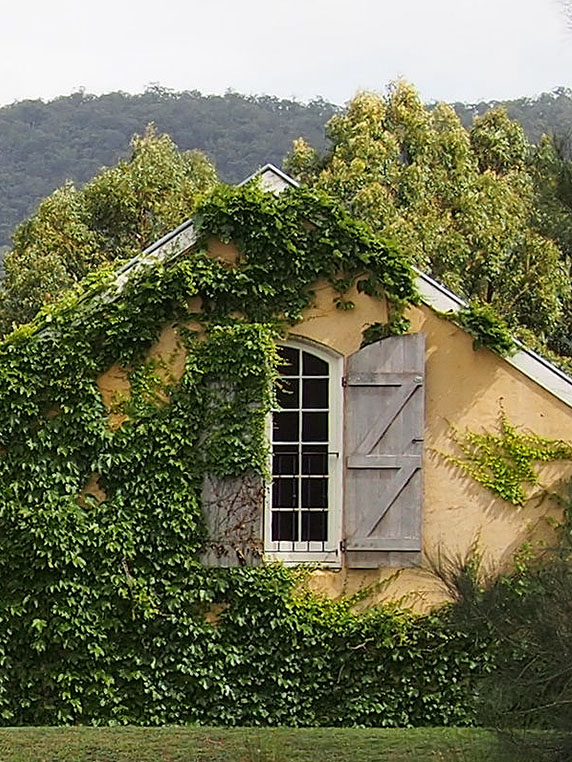 Krinklewood Vineyard is a biodynamic vineyard in the Broke Fordwich region of the Hunter Valley. You may remember the pictures of my balloon flight over the region recently. A family run business owned by Rob and Suzanne Windrim, with their daughter Carla keeping a firm hand on day to day operations.
Rob was kind enough to show me around Krinklewood to get an insight on how a biodynamic vineyard works.
Biodynamic is very similar to organic, but with a few little unusual twists. It is based on the teachings of respected Austrian philosopher, Rudolf Steiner. Cow horns are buried and the astrological calendar is followed.
Rob wanted to produce top quality wines and was inspired by vineyards in Burgundy using biodynamic principles. It was when he came across a book by Nicholas Joly, Wine from the sky, which firmly placed him on the road to biodynamics. 2002 saw Krinklewood vineyard operating on a biodynamic cycle. Something that Rob believes is better for the environment, and better for the people that live and work on the property. Plus produce wines that truly reflect the terrior of the vineyard.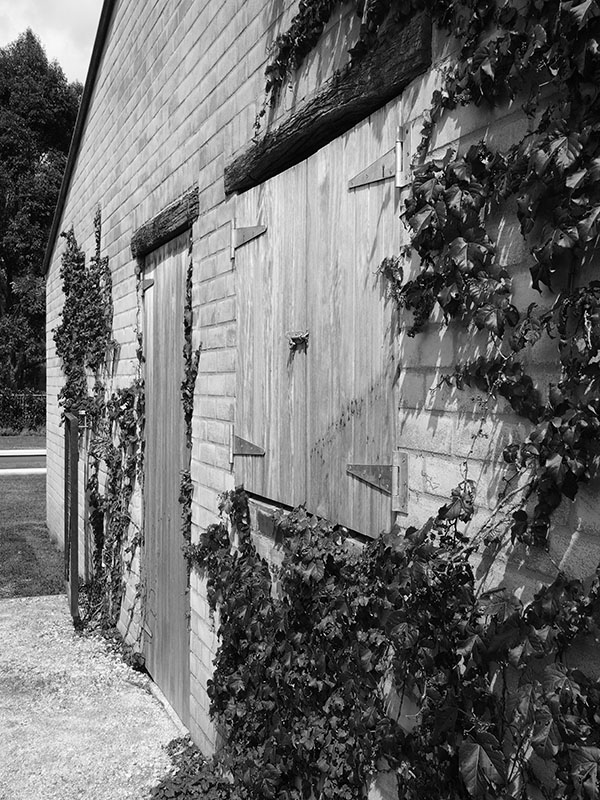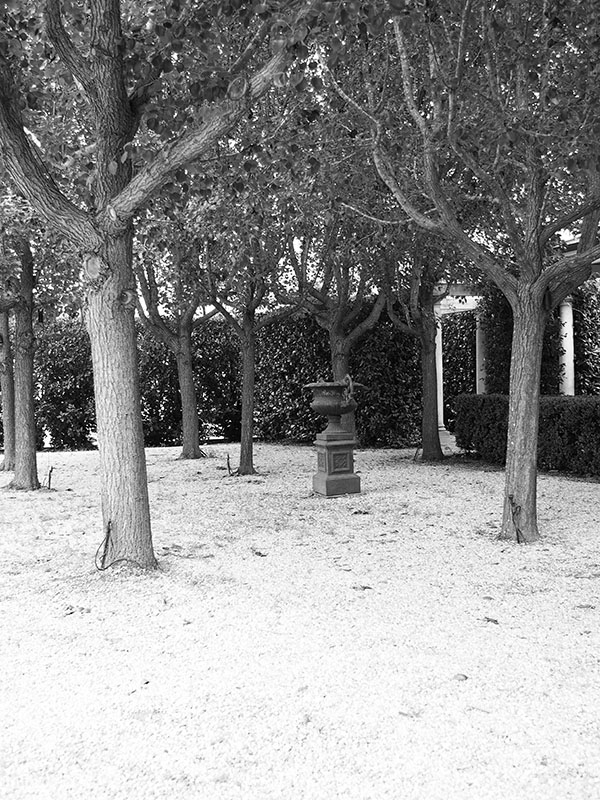 Working via an astral calendar dictates when they can work on the vines, when fertilizing takes place as well as when the grapes are picked. For example when the moon is closer to earth work will be preformed on the vines, fertilization etc. When the moon is further away, they won't touch the vines, but instead attend to other jobs around the vineyard.
Grass is left to grow under the vines as this is home to the good bugs and grubs. If we get rid of their environment then these little insects won't be around to eat the bugs and grubs that damage the vines. There is a synergy in nature, get rid of one thing then you create problems for yourself with another.
I am listening to Rob explain how it all works, and to be honest I was thinking that this guy is a little bit of a nut. He must have been reading my mind as he said, 'you must think I am a little crazy'. He assures me that there are wackier biodynamic viticulturists out there. In fact the kookier they are the better he likes them.
It was the talk of burying cow horns that made me think that Rob was a little nuts. To be honest, when I first heard mention of burying cow horns I thought I misheard the conversation.
Why on earth are they burying cow horns? It has to do with fertilization of the vines. It is known as preparation 500 or cow horn manure, which is basically fermented cow poop. Cow horns are filled with cow manure, buried in the soil and then after some time, dug up again and the fermented manure is used.
Walking around the vineyard we discover very happy free range chickens, a massive lazy male pig snoozing under a tree by the pond, peacocks and a well stocked kitchen garden and wood fire oven. Plus we discover leopard pig, the cutest little piglet this side of the hunter.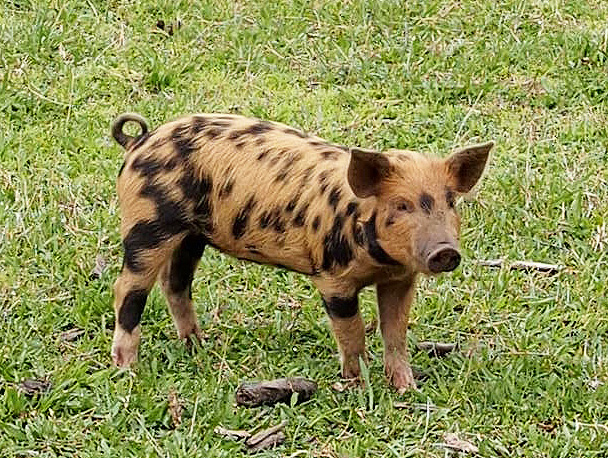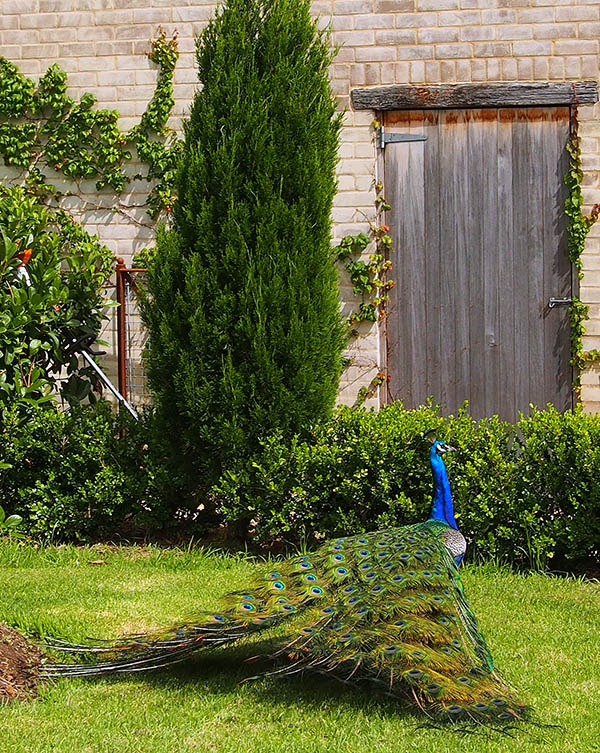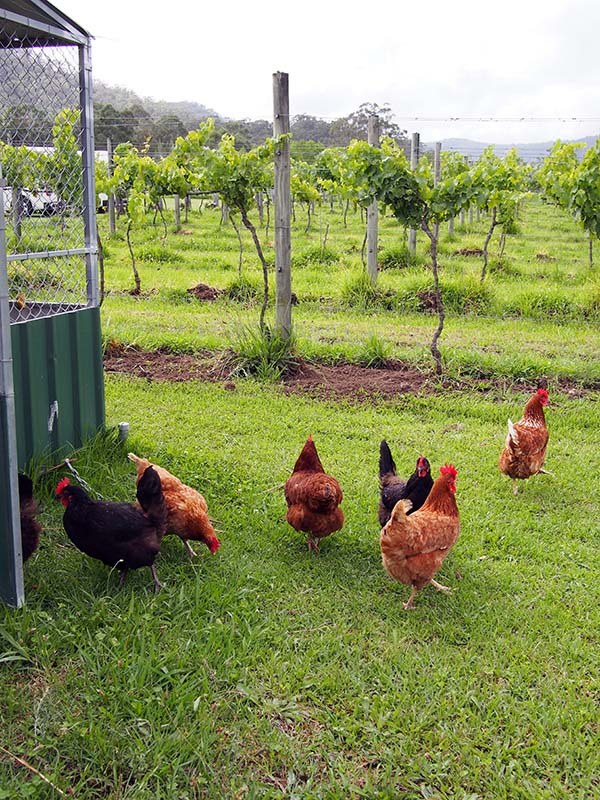 I am shown his prized possession, the egg. The egg is the fermenter they use to produce their chardonnay. Imported from France with another on its way. Quite a few biodynamic vineyards have eggs and Rob's dream is to one day have a whole shed full of embryonic style fermenters. The 'egg' wine is only available to Krinklewood wine club members.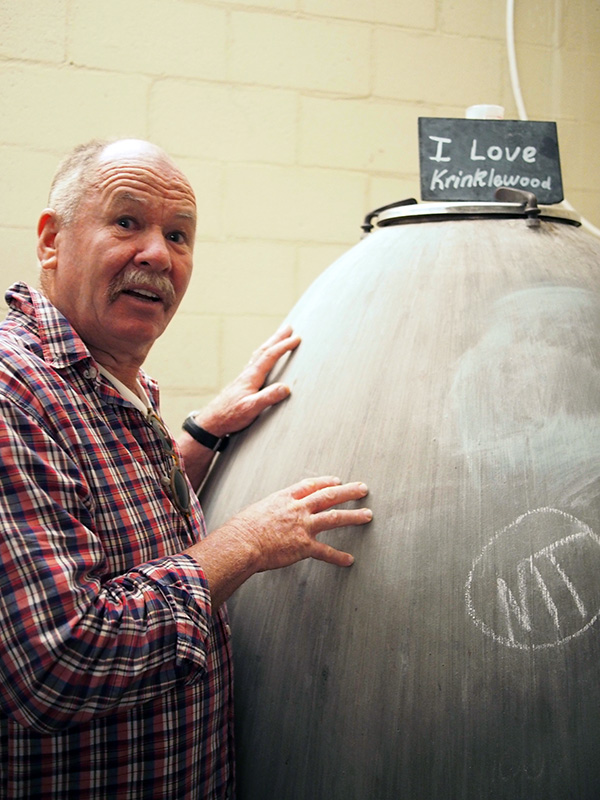 It is back to the cellar door to try some wines. I really love Rob's philosophy on what they make. He likes a dry wine, so that is what they offer, because if they can't sell it, at least he can drink it. I do like the way this man thinks, not crazy at all.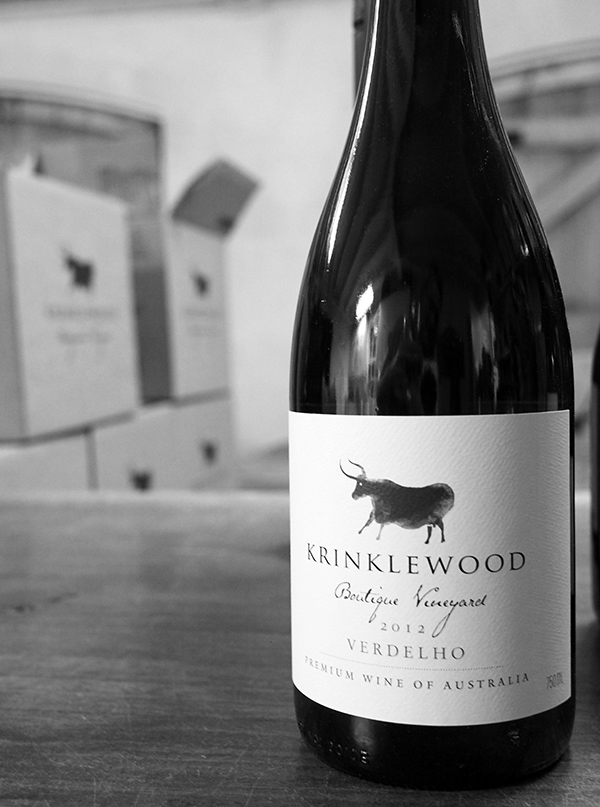 Wines are tasted, and I really like what there is to taste. I am not a wine expert by any means, but I do know what I like to drink. Like Rob, I like my wines dry, and I am truly enjoying what is on offer. In fact my travel companion, Amanda, and I like the Rose so much we head back the following day.
The vineyard is a little quieter on our return visit, it is early and we are the only ones there. We get a true feel at how at one with nature this vineyard is. We are greeted on arrival by the vineyard's dogs, Minty and Billy. Next thing we have a peacock coming up to say hi. Once in the cellar door the cooks decide they want to join us. With one of them admiring itself in the mirror as it sits on top of wine boxes.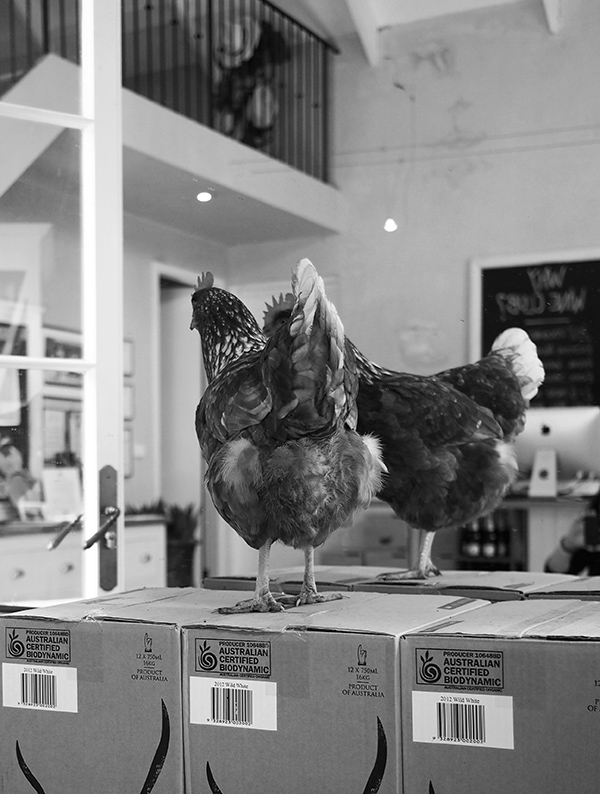 We have a chance to have a quieter chat about the wines as well as feed the chooks and peacock. We both end up joining the wine club (something I generally don't do as I visit way too many vineyards), and purchase much more wine than we probably should. Free range eggs and olive oil are also added to our haul.
When you visit the Broke Fordwich region, which you really must do, make sure you call in and visit Krinklewood.
Sara xxx
Krinklewood Biodynamic Vineyard
712 Wollombi Road, Broke Fordwich, NSW, Australia
Tel: +61 2 9986 1644
Website