Who would think that the opening of a ramen joint in Sutherland would bring me so much excitement and joy. I am thanking the ramen gods for Kuro Neko. You see my dear readers, I now don't need to travel ages for ramen, it is only 5 minutes away from home. Slowly but surely good things are making their way south to The Shire.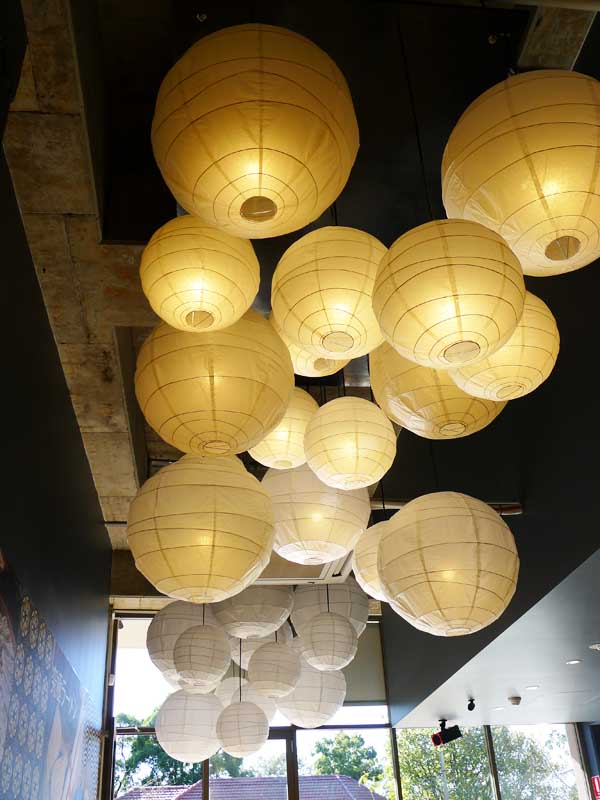 Kuro Neko has popped up underneath a new residential development on the old Mitre 10 sight in Sutherland. They have only been open since May, but every time I pass by they are doing a pretty good trade at lunch time. They are also open for dinner, but I am yet to make my way there at night.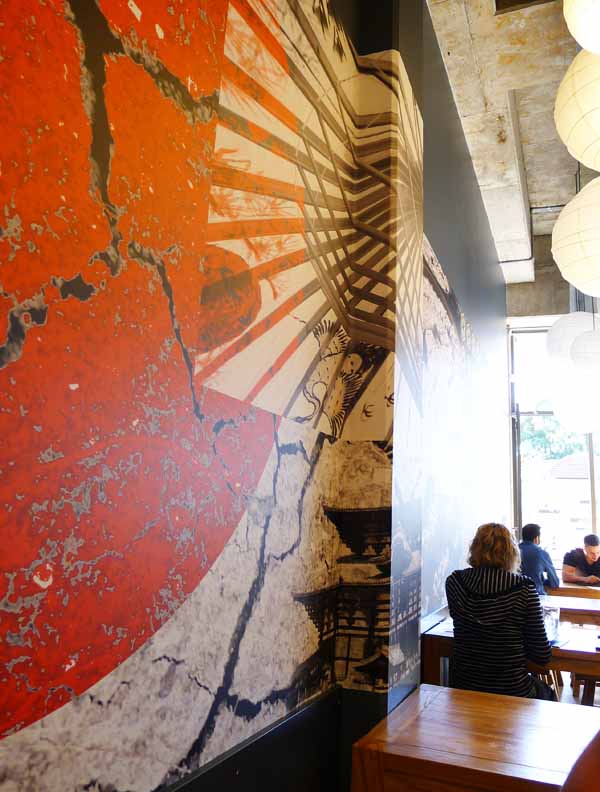 A long and airy restaurant with open kitchen and Japanese images of the rising sun, parasols and temples cover the opposite wall. The ceiling is a mass of white paper lanterns. It is a funky little establishment in the generally boring Sutherland. I can't help but smile as I sit down on my wooden torii gate inspired stool, too cute. I pray to the food gods that what I am about to order is good.
Even though I am here to try the ramen, we can't help but order a couple of other dishes to start with.
The lotus root is a thicker cut than I am use to, but still crisp. They are sprinkled with matcha salt, which is a nice touch and change.
Beside my desire to try their ramen, I spied they had pork buns on the menu too. I had to try them. Another item that I go to town to eat, which is now on my doorstep. A steamed butterfly bun filled with Kuro Neko's signature braised belly pork, lettuce, spring onion, sauce and Japanese mayo. The buns are quite large, and appease my cravings.
There is also a few other side dishes on the menu. Edamame, seaweed salad, gyoza, tempura and chicken karaage. Interestingly they also offer wonton soup.
There are four varieties of ramen on the menu, tonkotsu, tonkotsu spicy miso, and prawn & chicken, all $12. I decide on the spicy version. Pork broth topped with spicy miso, ground pork and chilli infused oil. The broth is quite light, there isn't the depth of flavour that I am use to. Also not as spicy as expected, a little bland compared to other spicy miso ramen around town. Saying that, I will be eating their ramen again as it is quite tasty, and I enjoyed it.
You can also order an extra soft boiled egg $2 or an additional slice of pork belly $3 for your ramen.
They also have four donburi dishes on the menu, spicy chunky tofu, karaage chicken, chashu & egg and mixed tempura. The chashu is a simple dish but satisfying and filling.
I am one happy woman that Kuro Neko has opened up in my part of the world. Ramen and pork bun cravings will now be easily satisfied. Add to that delightful and helpful staff, Kuro Neko is well worth checking out if you are in the area.
Do tell dear Belly Rumbles' reader, where is the best ramen you have eaten in Sydney, and what made it so good?
Sara xxx
Kuro Neko Ramen Noodle Bar
Shop 4, 720 Princess Hwy, Sutherland
Tel: +61 2 9521 5191
Open 7 days, 11am – 9pm
www.facebook.com/KuronekoRamen
Other cafes close by
Jack of Hearts and Jude – sister cafe with the same retro vibe and great coffee
Cafe 2232 – just around the corner also with good coffee
Como Grill – pub food with water views
Blackfish Cafe & Grill – right on the water at Como + dog friendly
Left Bower – house roasted beans with 70s vibes