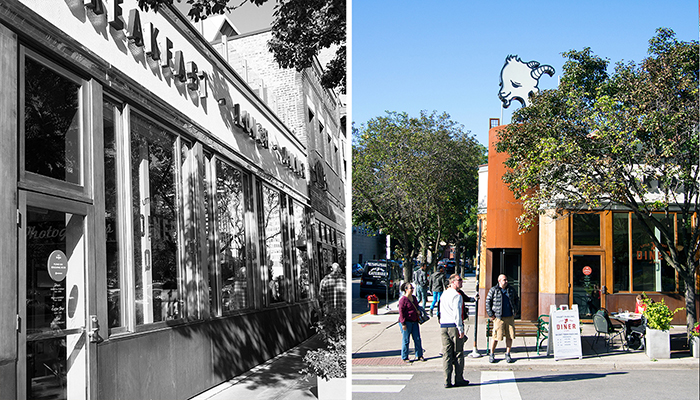 Not only did we spend time in the most haunted hotel in Chicago, we spent a good portion of it eating! Unfortunately I couldn't secure a reservation at Girl and The Goat, co-owned by Executive Chef Stephanie Izard's, but nabbing a late lunch reservation at Little Goat Diner was a fantastic consolation prize. Little Goat Diner is situated on the very hip West Randolph Street. Basically opposite her flagship restaurant Girl and The Goat.
If Stephanie's name sounds familiar, you may remember her from winning Top Chef season four. She remained the sole female chef to win Top Chef until season ten when Kristen Kish joined her in the winners' circle.
Why the 'goat' theme in naming the restaurants? Izard is the name of a goat that can be found in the Pyrenees Mountains.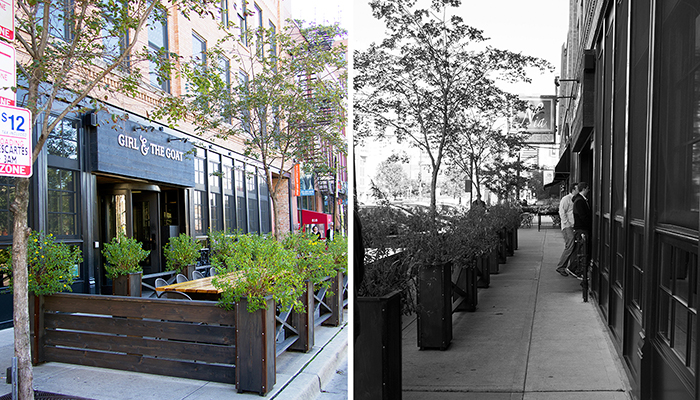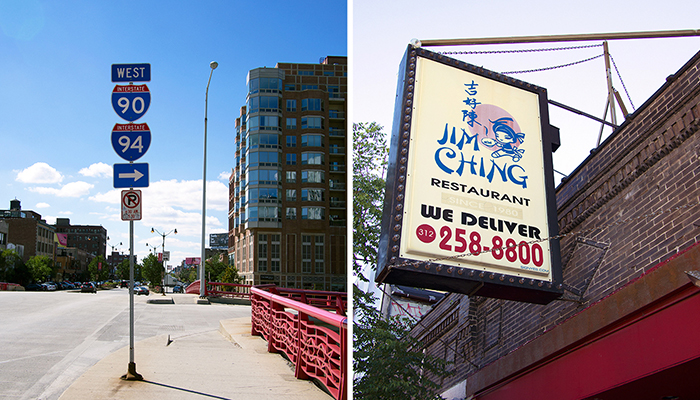 We accidently walk in via the establishments adjoining bakery, Little Goat Bread. As I confusingly try to work out where anyone would sit, I am then pointed through to the actual restaurant. The Little Goat is larger than I expected (probably why I initially headed to the bakery), a light and airy bustling space. As you expect in the States, the staff are friendly and very helpful. We are advised that funnily enough some Aussie were sitting in the same booth we were only a few hours earlier.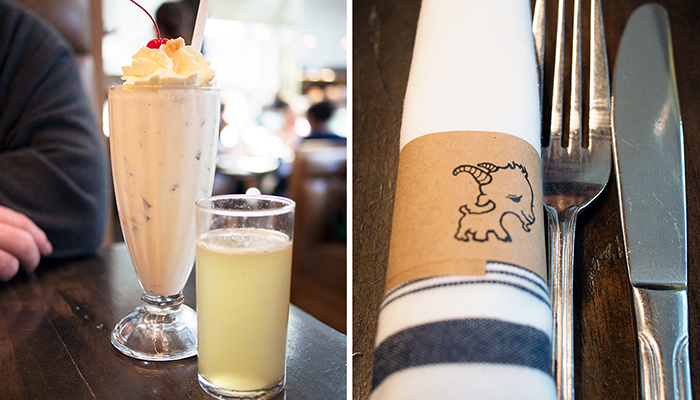 We start with some drinks. Completely throwing me for a loop Mac decides to order a smoked pork and toffee crunch shake. So out of character, but I am glad he did, as it was fun to try. It does taste like sweet creamy smoky pork. It is quite strange having a smoke smell waft from a dairy drink, but it's okay. I opt for a more adult cocktail, a little Miss Sunshine, made with Little Goat agave, St Germain and Evan Williams Goat Label.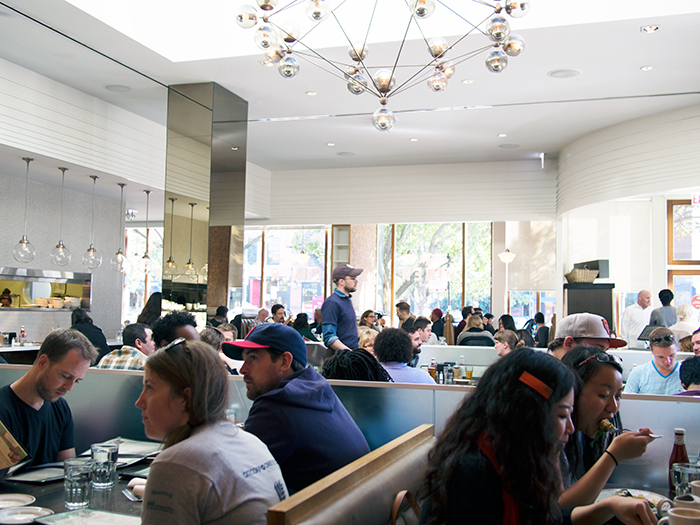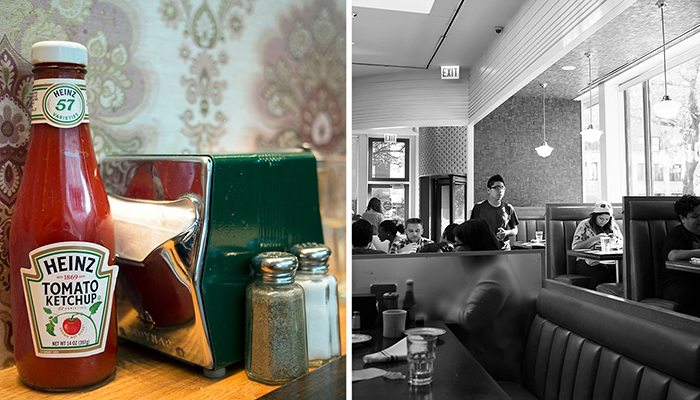 They serve breakfast items all day, and the rest of the menu includes 'sammiches', burgers, sides, salads and soups. I also spot a section on the menu titled 'Tater Town'. There are some pretty cool spud creations and it is hard to choose what to go for. It is a toss up between the smoked fries and tempura mashed potatoes.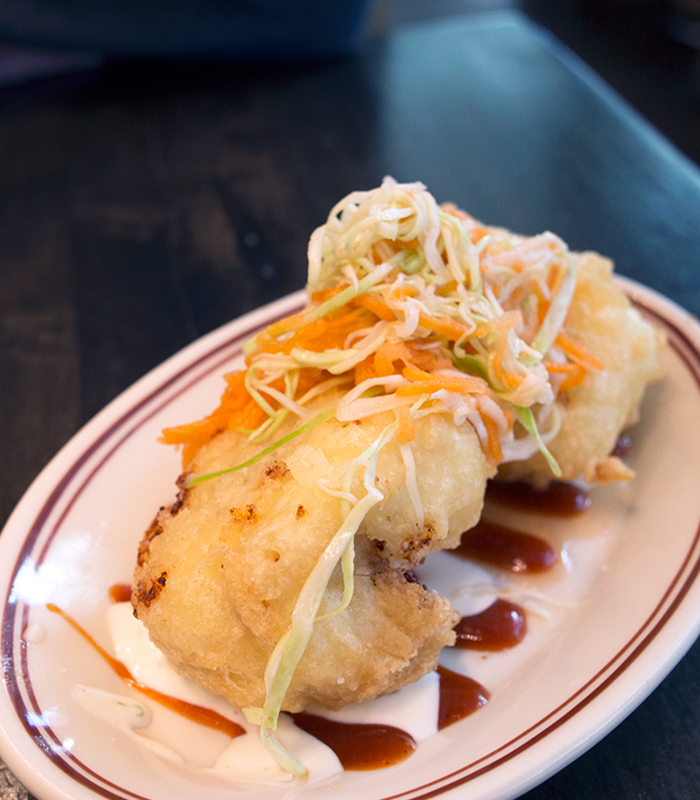 The latter won. The tempura mashed potato is a generous serve of mashed potato that has been dunked in tempura batter and deep fried. Then topped with Asian BBQ sauce and slaw.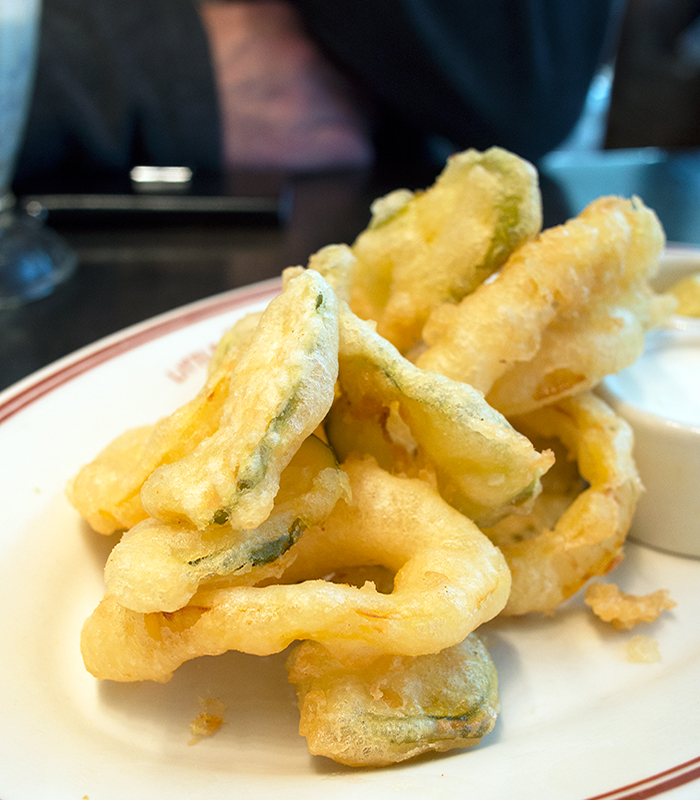 To start I also order the fried pickles and onion rings. To my pleasant surprise the onion is also pickled, a new taste sensation for me and I love them. Light crisp batter surrounding tangy pickles and onions.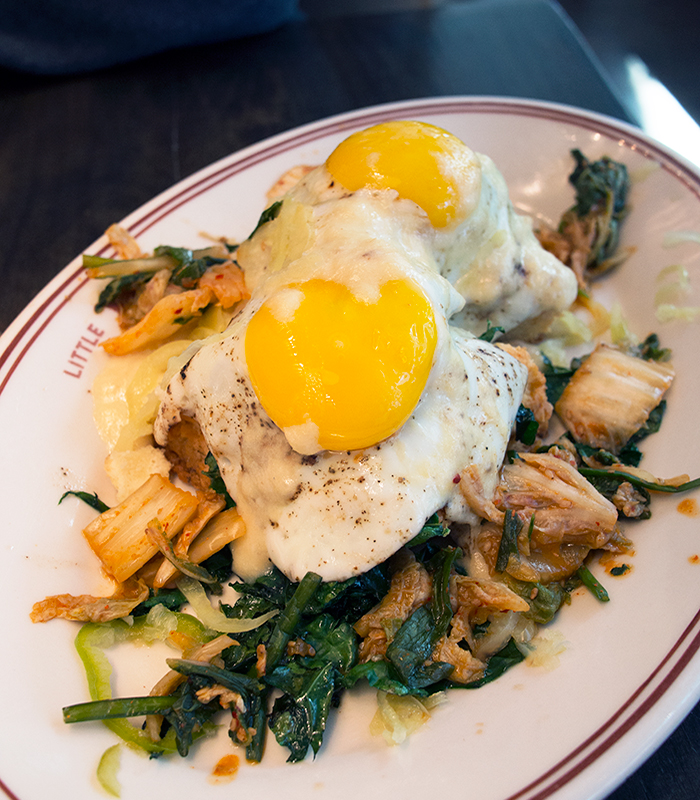 For mains Mac decided to pick from the all day breakfast menu, brandade and belly. The servings are definitely not on the small side at Little Goat. Brandade, pork belly and kimchi topped with two sunny side up eggs. A couple of biscuits are served on the side, short and light, and the best biscuits I have ever eaten in the US. Thoroughly enjoyable, except Mac isn't won over by the kimchi.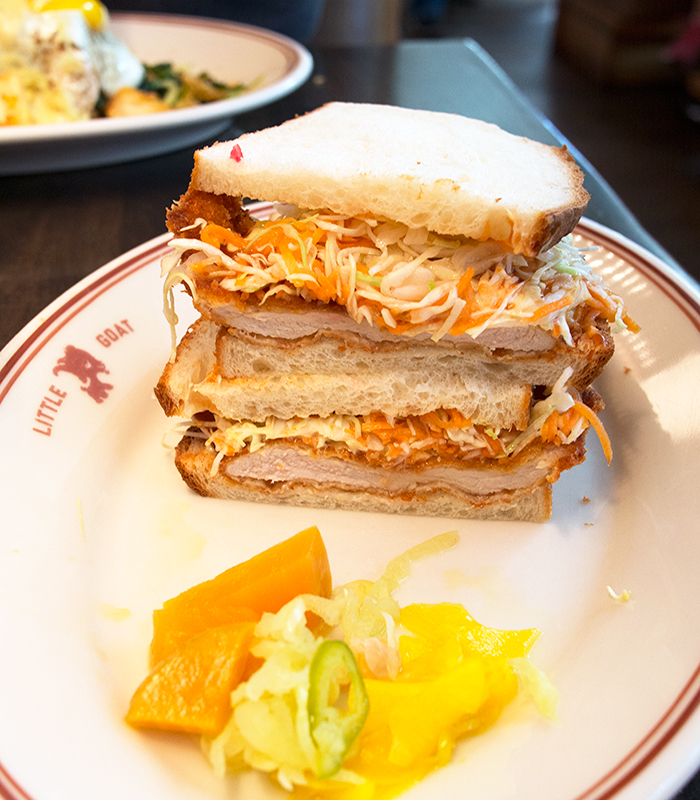 After a long and hard decision I decide on the tonkatsu 'sammich'. Two thick slices of fresh white bread are filled with crisp breaded pork, cabbage, mayonnaise and Asian BBQ sauce, with some pickles on the side. It may not look like much in the photo, but it deliciously defeated me and I could only eat about three quarters of my meal.
Heads up, if you looking to use the loo while you visit, it is best to ask as it is a little tricky to find. That's what happens when it is behind a concealed door.
Little Goat Diner
820 W Randolph St, Chicago, Il, USA
Tel: + 1 312 888 3455
Website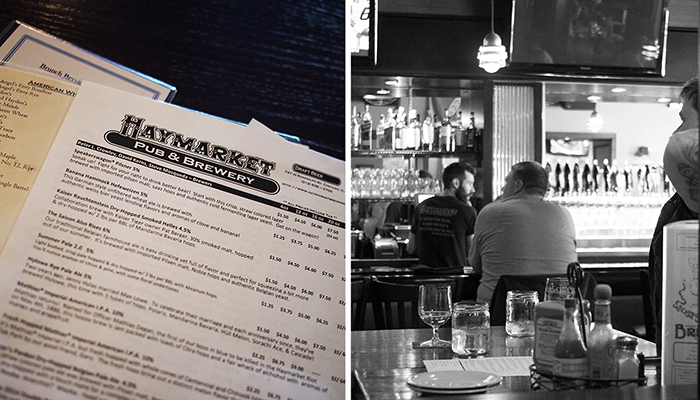 We were running a little early for our reservation at Little Goat Diner so we stopped into Haymarket Pub & Brewery for a quick beverage before lunch.
The Haymarket specializes in classic Belgian and contemporary American style beers, for which they have won many awards. You will even find Stephanie's influence by way of, Girl & The Goatee VIII. Not a beer as such, but made from tart grape juice from Klug Farm, which has been mixed with Biere de Garde yeast.
A large and spacious pub, though a little on the dark side, but in any case seems to be very popular with locals. I love how you can see the brewing tanks while enjoying a cold one. Yes you can eat here too, but due to pending reservation across the road we declined the offer.
Haymarket Pub & Brewery
737 W Randolph St, Chicago, Il, USA
Tel: + 1 312 638 0700
Website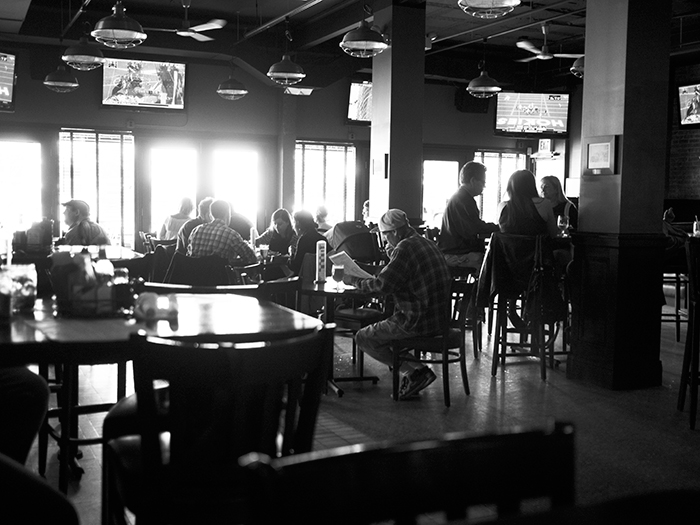 Sara xxx