Some of you may remember the Three Chefs & a Pig Dinners that happened late last year and January this year.  Three chefs, from three different restaurants, Restaurant Atelier, Bishop Sessa and Lochiel House, cooking up a pork degustation, they were simply delicious.  We attended the first two dinners but couldn't attend the third at Lochiel House.
It was a week night and Lochiel House is just shy of a two hour drive from where we live.  Even though from our place it is a bit of a hike, that wasn't going to deter me from visiting on a weekend.  A leisurely Sunday lunch was booked and we escaped to the country for a day.
Lochiel House is a gorgeous heritage cottage built in the 1820's.  Located at Kurrajong Heights in the foothills of the Blue Mountains.  A pretty cottage garden out the front and a massive organic kitchen garden out the back, it would be the envy of any chef.  Cosy inside with fireplaces, but if it is a lovely sunny day, I suggest sitting out back in the courtyard.  Enjoy the garden, and the birds and butterflies it attracts.
Owners Wayne Jenkins and Jessica Quagliata have been running Lochiel house for around 10 months and are passionate about seasonal, locally grown produce and meat from ethically reared animals.  Wayne is an advocate of nose-to-tail dishes and cleverly uses offal to introduce diners that would normally shun these lesser loved cuts of meat.   The menu is a lovely collaboration between Wayne, Jessica and chef Philip Whitmarsh.  Philip, English chef, nose-to-tail advocate, and close friend of the couple, spent quite a few months working with the couple when they first took over Lochiel House, but has since moved back to work in South Australia.
From Thursday to Saturday there is an all day brunch menu with afternoon tea also available until 4.30pm.  The evening menu showcases nose-to-tail dining with a modern European twist.  On a Sunday you can book a chook for a traditional Sunday roast or enjoy the a la carte menu.
As appealing as a Sunday roast sounded, I knew I wanted to try out the a la carte menu.
To start we were treated to a lovely amuse bouche of cucumber foam, oyster, dill créme fraiche and finger lime.  A surprise treat from the kitchen with much thanks.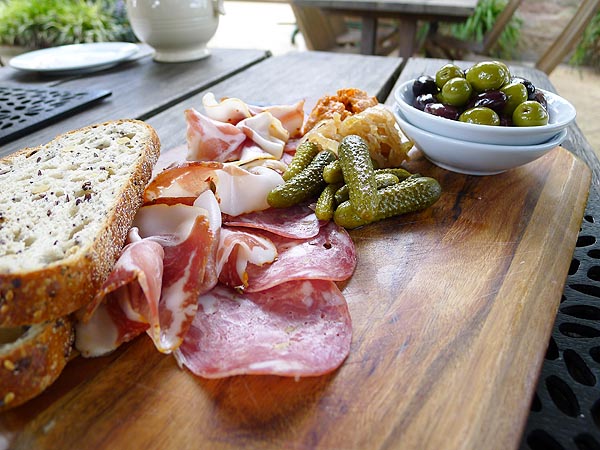 charcuterie board, breads & garnish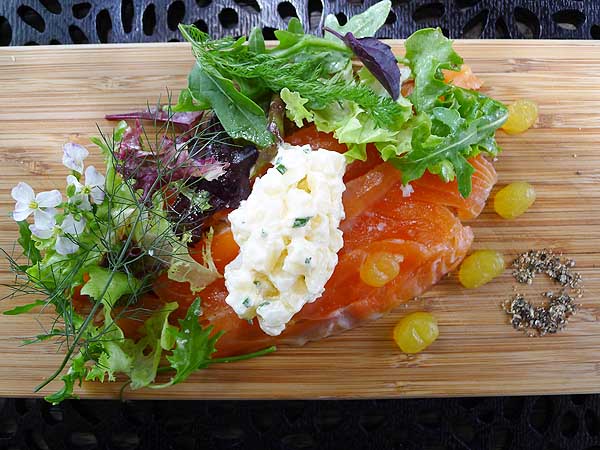 gin cured salmon, horseradish, potatoes, lemon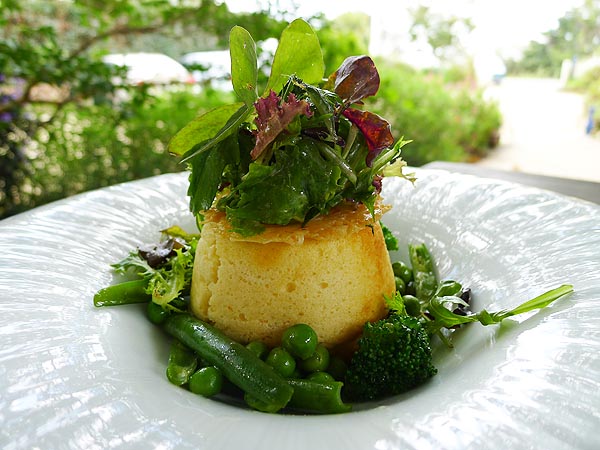 Lochiel House cheese souffle, truffled vegetables
As this is a leisurely lunch entrees are ordered to start.  The charcuterie board is generous with nduja (soft spicy salami), lonza, sweet shallots, fennel salami, cornichons and olives.  I am delighted to find out that they cure the salmon in-house.  The salmon is accompanied with pretty greens, potato salad and a tangy lemon gel, all resting on a thin crisp slice of brioche.  The cheese souffle is light as anticipated and the parmesan crips and vegetables add a great texture.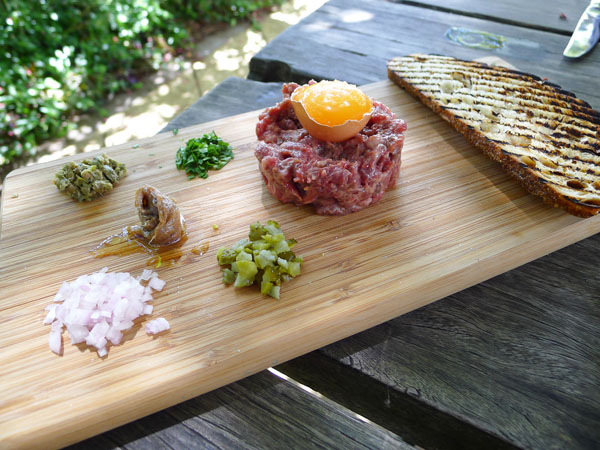 wagyu beef tartare with grilled sourdough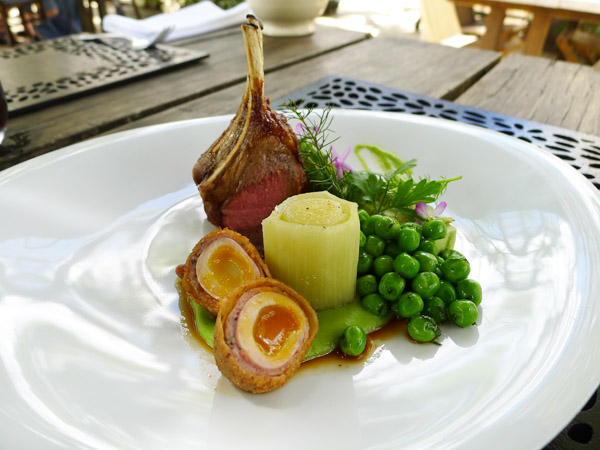 assiette of lamb with leek & peas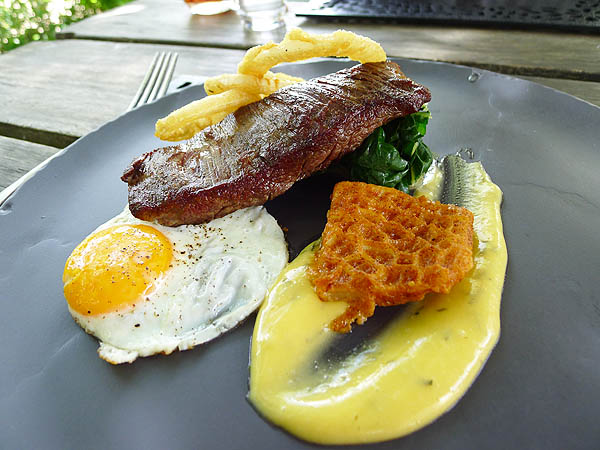 beef skirt, duck egg, bernaise, onion rings and chips
 Josh decided on a second entree for his main, wagyu beef tartare and a side order of chips.  Thoroughly enjoyed, but an extra slice of grilled sourdough to accompany the generous amount of wagyu would have been great.  Lamb was beautifully cooked and the scotch quail egg had the much wanted golden runny centre.  My skirt steak was tender and served with a killer bernaise, I do love a good bernaise.  The steak was also served with a a square of tripe and some crunchy onion rings.
Like the rest of our meal the desserts are plated beautifully.  I am not a fan of Eton mess, but Lochiel House's version is one I would order on a return visit.  A mass of ripe flavoursome strawberries with strawberry gel, meringue, cream and custard.  The simply named 'chocolate' is a powerhouse o flavour and texture.  Orange almond cake, orange segments, cherry gel, sheep milk peanut butter ice cream and various forms of chocolate goodness.  I order the 'milk & honey' (not pictures due to photo gremlins).  Panna cotta, honey gel, pop rocks, crumbled cinnamon filo pastry and meringue.
We had a truly enjoyable lunch at Lochiel House.  I do highly recommend paying them a visit if you are out that way.  It really isn't that far from most parts of Sydney, 1 hour 15 mins from the CBD, even closer from the Western Suburbs.  We just live the furthest away you possibly could, well, besides Wollongong.   I also checked out the antique shops in Kurrajong while up there, so make a day, do some shopping, check out the local fare and have an awesome lunch to top it off.  If you are lucky enough to live closer enjoy dinner, and make good use of those gorgeous fireplaces in the coming cooler months.
Do tell dear Belly Rumbles' reader, will you travel for good food?
Sara xxx
Lochiel House
1259 Bells Line Of Road
Kurrajong Heights NSW 2758
+61 (2) 4567 7754